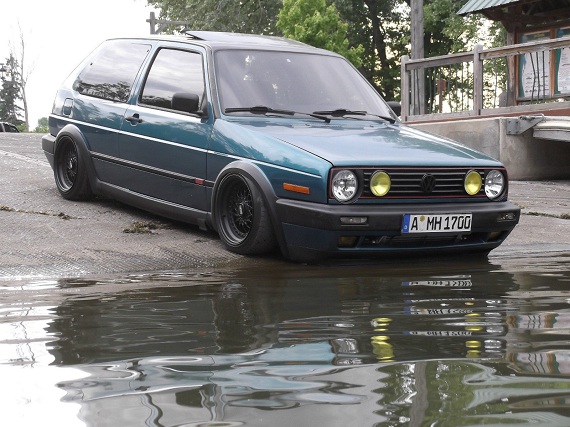 Edit: One of our Facebook readers – Steve – correctly noted that this is Capri Green and was an 8V Golf to start out. In some ways, that makes it better that a real 2.0 GTi wasn't sacrificed, though my feelings about most of the modifications stay the same. Thanks Steve, and sorry for the mistake!
I'm fairly certain that with the right backing and skillful marketing I could pitch a show to one of those crappy cable networks. My premise? Take a car that has been modified and return it to OEM or OEM+ standards. Seriously, when talking about rare cars, aren't there buyers for these rides? Don't there seem to be lots of people endlessly browsing the internet looking for that hidden, unmodified and well-cared for gem that rarely surfaces? Heck, it's what we've built a fair amount of our writing around. And even though there are plenty of people pining for original BMWs, Mercedes-Benz and Porsche models, there's a special lot that love original Volkswagens. One of the biggest reasons they long for these "unicorn" models is that so few were properly cared for, and many of those that were have been modded within an inch of their life. Take the Mk.II GTi; a solid performing replacement for the "original" hot hatch. It's near legendary status is well cemented in the halls of automotive history, and it's even one of the few models that carries brand awareness outside of motoring circles. Seriously, even people who know almost nothing about cars know what a GTi is. Within the Mk.II crowd, there are several limited models that the U.S. didn't receive, so our top of the heap has to be the 1990-1992 16V edition. With a close-ratio gearbox, revised and better integrated smooth big bumpers, the best set of BBS wheels and Recaro seats ever fitted to a Volkswagen and one stunner of a revy 2 liter inline-4, it was an awesome package. Specify it in Montana Green, and you've got the crowds drooling. Then someone goes and does this: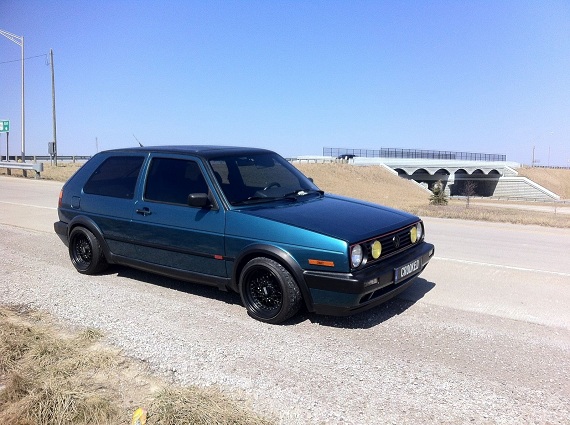 Year: 1992
Model: GTi 16V
Engine: 2.0 liter supercharged inline-4
Transmission: 5-speed manual
Mileage: "9,000" mi
Price: No Reserve Auction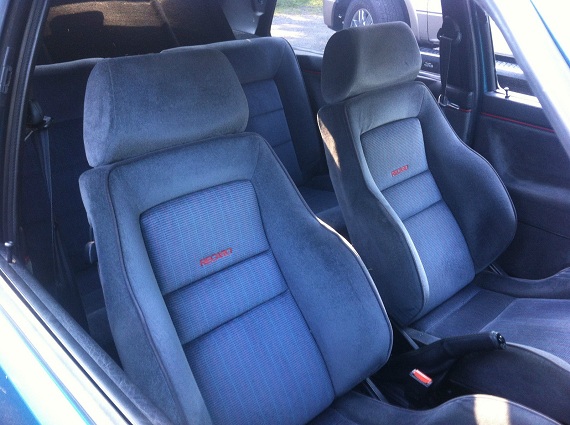 This car is my daily driver, I have put nearly 5k miles on it in the past few months without any problems
Please read the entire build thread! This car is the real deal

CALIFORNIA CAR!!
Every nut and bolt has been removed from the body car and that part or parts were upgraded or new parts put on.
There's about 8k miles on the current set up.
All glass (except pop outs) have factory etched vin in them.
Roughly 250 hp due to others with same build.
Everything was done right no corners cut.

Full air ride suspension all front suspension replaced, and balljoint extenders added to keep camber correct.
BBS RS 3 piece wheels with custom made lips.
Rebuilt 2.0L block with 1.8L 16v head port and polished and fully rebuilt.
Frontmout intercooler
50mm euro intake
440 injectors bbm fuel rail
68mm pulley
Autotech Street cams
Autotech 4-1 header
silicone coolant hoses from head to oil cooler to water pump.
Rebuilt G60 charger
Race version of greddy blow off valve ($300 blow off valve!)
Rebuilt 20a with LS Diff, re sealed, and upgraded to cable shift out of a mk4 o2m
TDI 5th gear
new stage 2 clutch and light weight flywheel
Hippach pop out rear windows
Audi pop up sunroof.
Rebuilt Recaro Trophy seats with power
added power windows
Rare 16v steering wheel
Rare Eibach front stress bar.
Upgraded fuel pump for high flow high pressure.
Corrado big brake upgrade
SS brake lines.
Pioneer stereo with hidden sub and Ipod hook up
Dual head light grill and quad round grill
Roof has been professionally vinyl wrapped gloss black with in the past month
I had a light coat of tint applied to the windshield when I had the vinyl wrap done
I had the car professionally detailed with in the past month
Brand new Toyo Proxy's

There's so much more that has been done to this car the list would be to long, check out the build thread at the bottom on this post.

I also have a whole spare 16v PL motor with 50k original miles, new full gasket kit, new oil pan, and new dipstick that I got a good deal on and could go too.
I have a full set of drilled and slotted rotors on the way
Color matched intake and valve cover
Spare G60 with 65mm pulley that need seals

Interior pics are from the 6/30/14, she needs a vacuum

There are more pics here in the original vortex forsale posting –> CLICK HERE
This is the 30+ page vortex built thread –> CLICK HERE

I RESERVE THE RIGHT TO END THIS AUCTION AT ANY TIME FOR ANY REASON AND THE RIGHT TO REFUSE SALE TO ANY PERSON FOR ANY REASON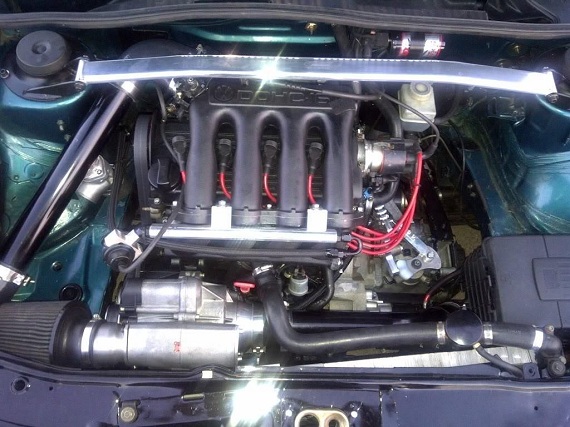 In one of my GTi Roundup posts, I commented on how Volkswagen drivers seem so obsessed with showing the outsides of their cars minty clean, yet can't be bothered to vacuum the insides out. At least this seller acknowledges their shortcomings. Okay, so can we unpimp this ride? Outside, the Montana Green looks great as always, but the stock RM BBSs – often known for bending – have been replaced by "murdered" RSs that are too wide with too short a profile tire. They could certainly be refinished in a proper color, but you're looking at a lot of work and fairly expensive project. There appears to be some rust in the rear hatch area shown, something that is common on this generation of Volkswagen – especially in New England. that would need to be corrected. On top of that, the owner touts the recent custom matte black vinyl wrap on the roof. This matte-crap has to go, folks. It's not cool. Then we move onto the suspension; the air-ride setup sure is great for looking like you've got no suspension while having paid a lot specifically for a suspension, but I'd want to return this car to the stock ride height, or perhaps just slightly lowered. They sat quite nicely originally, and it's a shame to see them so low. Presuming some things were cut or bent to get the car to sit that low, those will need to be corrected as well. Then there's the motor – again, I'd probably just want the original 9A 16V in there. I appreciate the amount of work that's gone into getting a boosted 2.0 in there, but it's just not what I'd want. Sell the parts and give me a stock unit with the light blue DOCH writing, thanks. Inside, thankfully the Recaros look in good shape and it's nice that there's a rare steering wheel there that matches – I don't mind that. But the lights seem off, with extra gauges and switches and speakers…that'll take some time to undo.
I guess at the end of the day, would it be worth even doing? For me, I'd love to try – the Montana Green 2.0 16V GTi is one of the few cars I fell completely in love with the first time I saw one, and in general this car looks mostly there. But at the same time, like many of this generation it's so far away. It's a special car, one worth saving. Bidding has yet to commence on this no reserve auction with a starting price at $8,000. If this was a mint, completely original example it might be worth that or even a bit more, but as it sits, to me it looks like a car worth at most half that – mostly because of the amount of things I'd need to un-pimp to make it mine.
-Carter