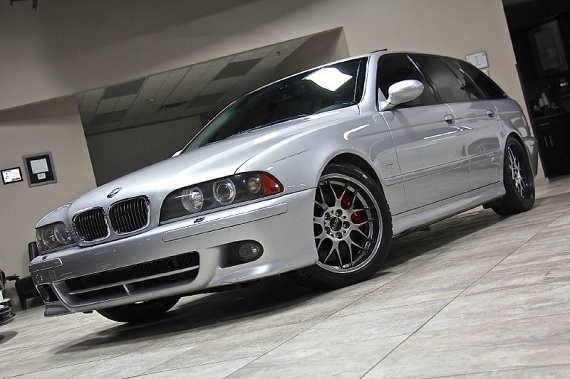 For generations, we in the United States have been unjustly denied the most versatile of the fast BMWs – the M5 Touring. From its genesis in the E34 Touring through its evolution to V10-powered monster E60, the M5 Touring has remained one of the most desirable unobtainable German cars to U.S. enthusiasts. However, U.S. fans shouldn't feel too discriminated against, because the fan favorite E28, E39 and even the new F10 have no touring option – anywhere. What is a lover of fast BMWs with 2.2 children and a dog to do? Well, you could take your E39 Touring to Dinan, who would be more than happy to turn the wick up for you: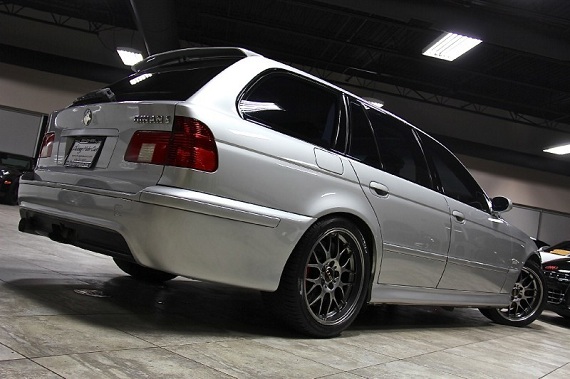 Year: 2001
Model: 540i Touring
Engine: 4.4 liter supercharged V8
Transmission: 5-speed automatic
Mileage: 73,100 mi
Price: $19,800 Buy It Now
2001 BMW 540iAT DINAN 4dr Wagon

2001 BMW 540i Wagon DINAN SuperCharged

Titanium Silver Exterior over Black Leather Interior

DINAN STAGE 3! INCREDIBLE VERY RARE WAGON!

AFTERMARKET ENHANCEMENTS INCLUDE:

Estimated 421 horsepower, 412 ft-lbs torque

– DINAN Brembo 4-Wheel Brake Upgrade
– DINAN Front Strut Brace,
– DINAN Single Oval Free-Flow Lightweight Exhaust
– DINAN High-Flow Throttle Body
– DINAN Stage 3 Touring Suspension (with matching Rear Konis custom ordered)
– DINAN Front Camber Plates,
– DINAN 3.45 Limited-Slip Differential,
– DINAN Engine Software,
– DINAN Transmission Software for more aggressive shifts and higher redline; top –speed limiter removed
– DINAN High Flow Intake Manifold
– DINAN Cold Air Intake
– DINAN Stage 3 Supercharger System,
– DINAN S3 Engine Plaque (Under the hood).

– M-Technic Front Bumper
– M-Technic Rear Bumper
– M-Technic Side Skirts
– M-Technic Rear Lip Spoiler
– M-Technic Mirrors

– BBS 18×8.5 Aluminum Wheels with Summer and Winter Tires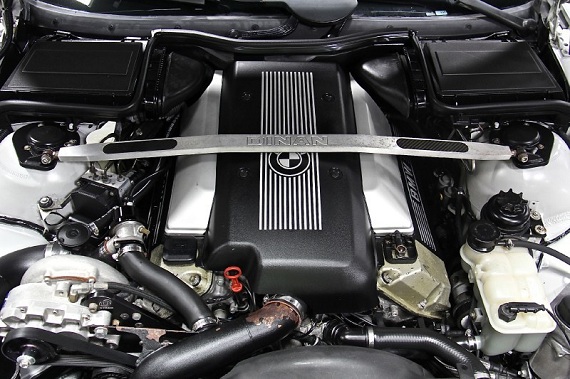 Pop a supercharger onto the already great M62, and suddenly you're producing M5 levels of power. Sure, the Touring is a bit heavier than the M5 and the Steptronic means you don't get quite as much control over the motor as you'd get with the M5. However, coupled with the power delivery of the supercharger and the nature of the wagon, I'd bet that this is still a very entertaining car to drive. Outside you get M-Technic body pieces that bring the normal Touring closer to the M5 look, and aside from what looks like a cracked front cover it looks great. The BBS RGR wheels are also an awesome – and very expensive – addition to the car and look great, aside from what seems like black paint applied to some areas. All in all, this is a well presented alternative to the normal Audi S6 or E63 AMG Wagon options that enthusiasts have been limited to. Certainly more rare to see, the pricing on this model is consequently near M5 levels. It seems in line with the level of performance on tap and the discrete but special speed package that Dinan helped create.
-Carter