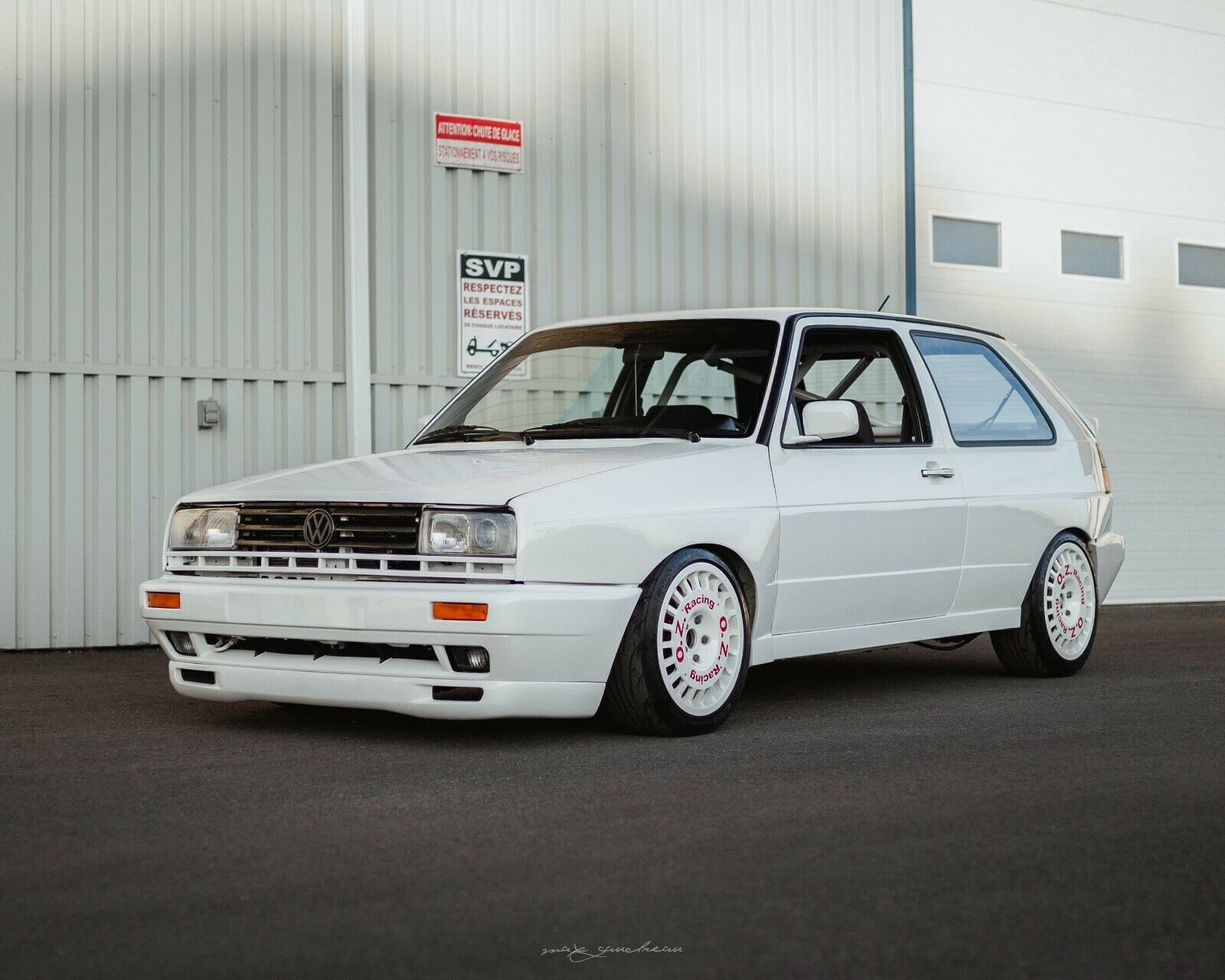 Watch out Quattro, here comes the Golf!
While in the 1980s if you bought any of the branded 'quattro' systems you basically got the same drivetrain no matter what model you jumped in, the same was not true at corporate sibling Volkswagen. To add all-wheel drive to its lineup, VW had to incorporate three distinct systems all of which fell under the moniker 'syncro'. As just discussed in the T4, the T3's system was a viscous coupling setup sending power forward with twin locking differentials. The B2 Passat shared its platform with the Audi B2, so there the all-wheel drive syncro was really just a re-badged generation 1 quattro system. But in the A2 chassis, a different viscous coupling setup engineered by Steyr-Daimler-Puch helped to transfer power rearward from the transverse engine when the front wheels slipped. The engineering was pretty trick, but underneath it all it was pretty much just a standard Golf – albeit one with potential.
So in the late 1980s when Volkswagen Motorsports wanted to enter Group A racing with the new all-wheel-drive Golf, it needed to build more than just race cars if they wanted a mean motor in it. It was homologation at its finest. Okay, maybe not, but build more they did, with at around 5000 road-going units planned of what was dubbed the Rallye Golf.
Defined by its rectangular headlights with cooling slats underneath, the Rallye continued the I'm a race car on the road … SHHHHHHH! theme with typical 1980s box-flared fenders. The Sebring alloy wheels were also seen on U.S.-bound Corrados. Despite the racer looks, the extra performance of the 1H G60-supercharged, 1.8-liter 8-valve inline-4 rated at 158 horsepower wasn't enough to overwhelm the additional mass of the rear drive system, and, consequently, a well-driven GTI 16V would be quicker to 60 and around a track. But BOXFLARES!
Consequently, though the Rallye may not win the VW drag race, it won the hearts of enthusiasts. This tribute plays into that with a visual recreation of the Rallye – lacking the viscous coupling setup, but with a lot more motivation under the hood: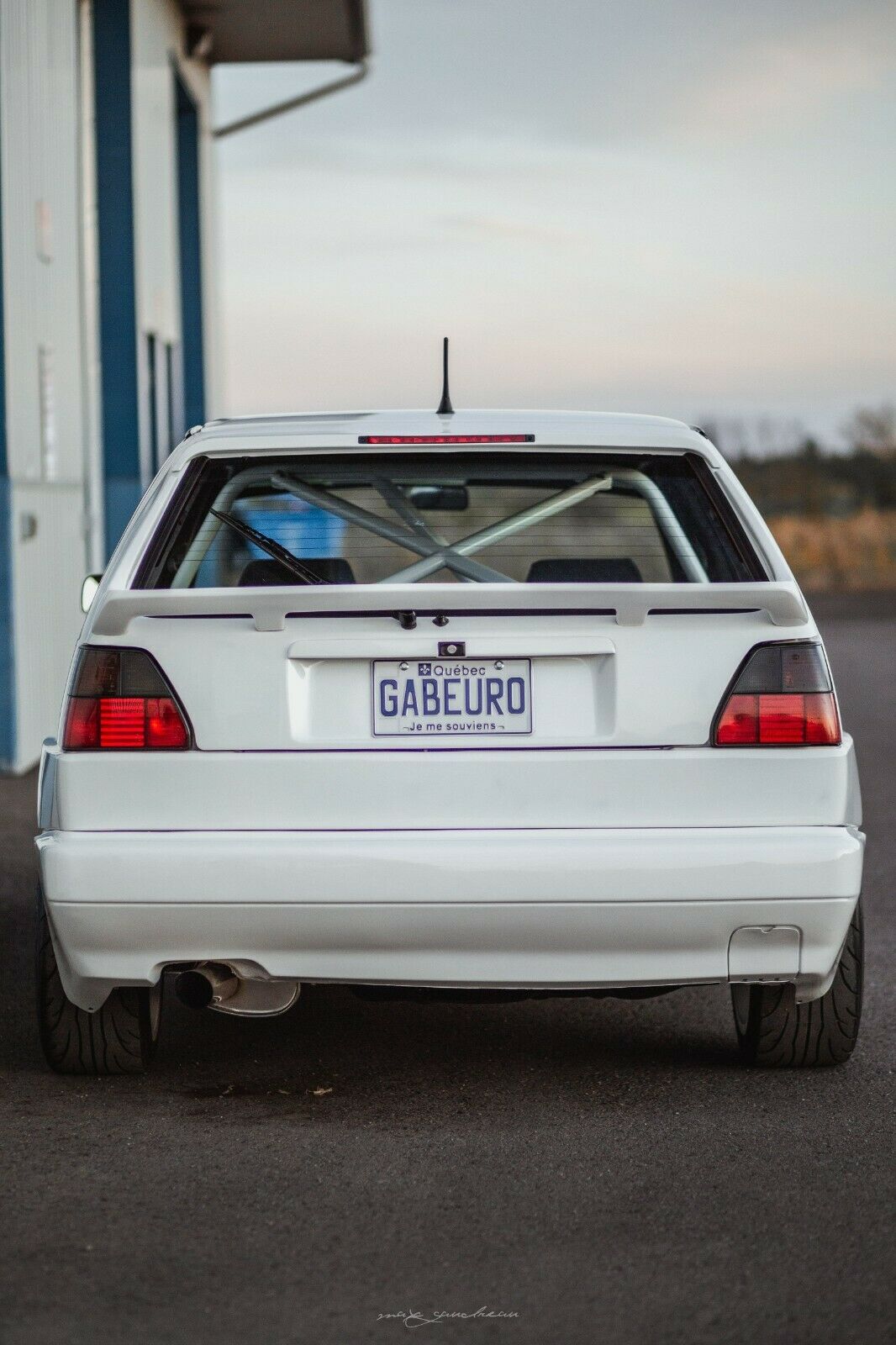 Year: 1990
Model: Rallye Golf Tribute
VIN: 3VWBA01G6LM030359
Engine: 2.8 liter narrow-angle VR6
Transmission: 5-speed manual
Mileage: 125,000 mi
Location: Montreal, Canada
Price: $20,000 Buy It Now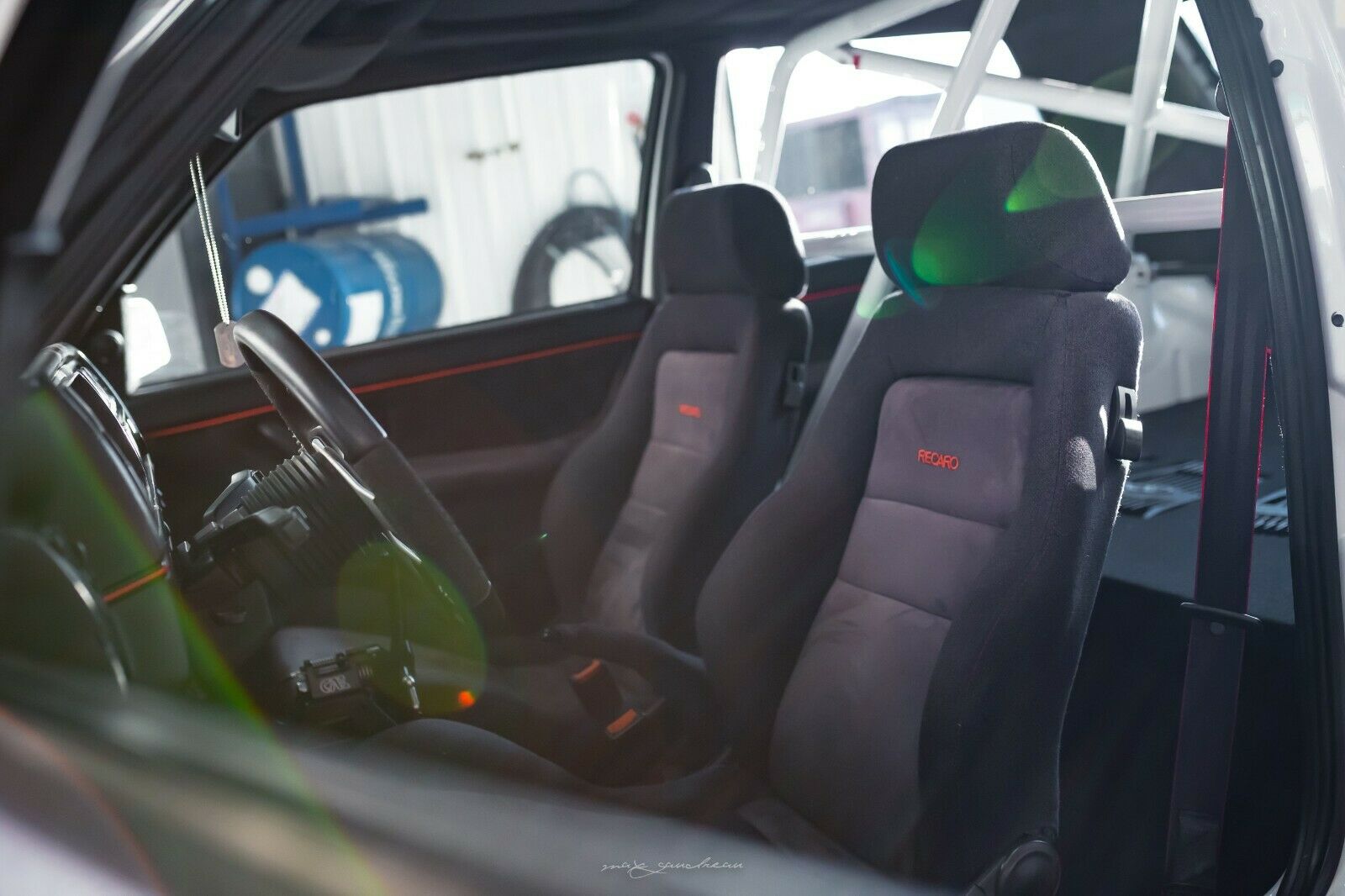 Here is the unique chance to bid on a completely restored 1990 Volkswagen Golf . Car has been completely restored inside and out . Owner is the operator of a famous renowned Quebec European facility .Car is located near Montreal , exact location is a town named L'assomption . I will be glad to assist with shipping worldwide . More photos / videos are available upon request, email me directly for more infos .

Engine /transmission

Corrado 1993 vr6 2.8 obd1 distributor Engine completely professionaly overhauled . 260 cat cams . 10000km were added since the rebuild .Corrado vr6 transmission 5 speed . Nothing was left untouched / overhauled /rebuilded at time of install. Higher compression head gasket from a mk4 .

-clutch kit stage 2
-Cae shifter( 1500$ us with race cables)

-Supersprint headers / stainless tig welded exhaust / vibrant muffler/ catalyst

Interior

-Recaro electric seat from a Corrado
-Suede headliner / doortrims f&B
-custom roll cage (professionaly installed )
-3x phoenix gold tantrum amp with c3 JL audio 5 1/4 and 6 1/2 speakers ,
dynaudio 12 in subs in custom trunk setup
-Interior has been treated completely with Dynamat after restoration
-PIONNEER RADIO DEX-P1R

Exterior

-Metal golf rally style wide body fender kit ( professionnaly installed no cheap hacking job here )
-golf rally OEM front end ($$$)
-Oz racing 16×8 magnesium wheels with carbon fans ( only the fans cost
-everything powder coated professionally ( everything that could be taken

Chassis

-complete Bilstein suspension big shaft
-Neuspeed front stress bar
-Neuspeed rear 3 point anti stress bar
-Corrado g60 caliper
-Front corrado subframe
-Mk2 gti stock rear axle
-mk3 5×100 complete conversion
-11 inch brakes with crossdrilled / slotted f&b rotor with hawk brake pads
-Zinc plated bolt hardware

Car is in incredible condition inside and out , countless hours and money has been spent restoring this car by a passionnate owner .No cutting corners or There is also a matching mk3 with widebody kit available ( see last pictures ) .This other car will go on ebay after this one has been sold . Car is advertised locally so i can end the auction anytime . No warranty implied but if something is not up to standard , we are open to help .

Be my guest to come and see the incredible condition of the car in person . Airport pickup is possible . I can deliver the car in person within reasonable driving distance of montreal , quebec , canada .(+/- 1000miles ) or assist with shipping after complete payment is received .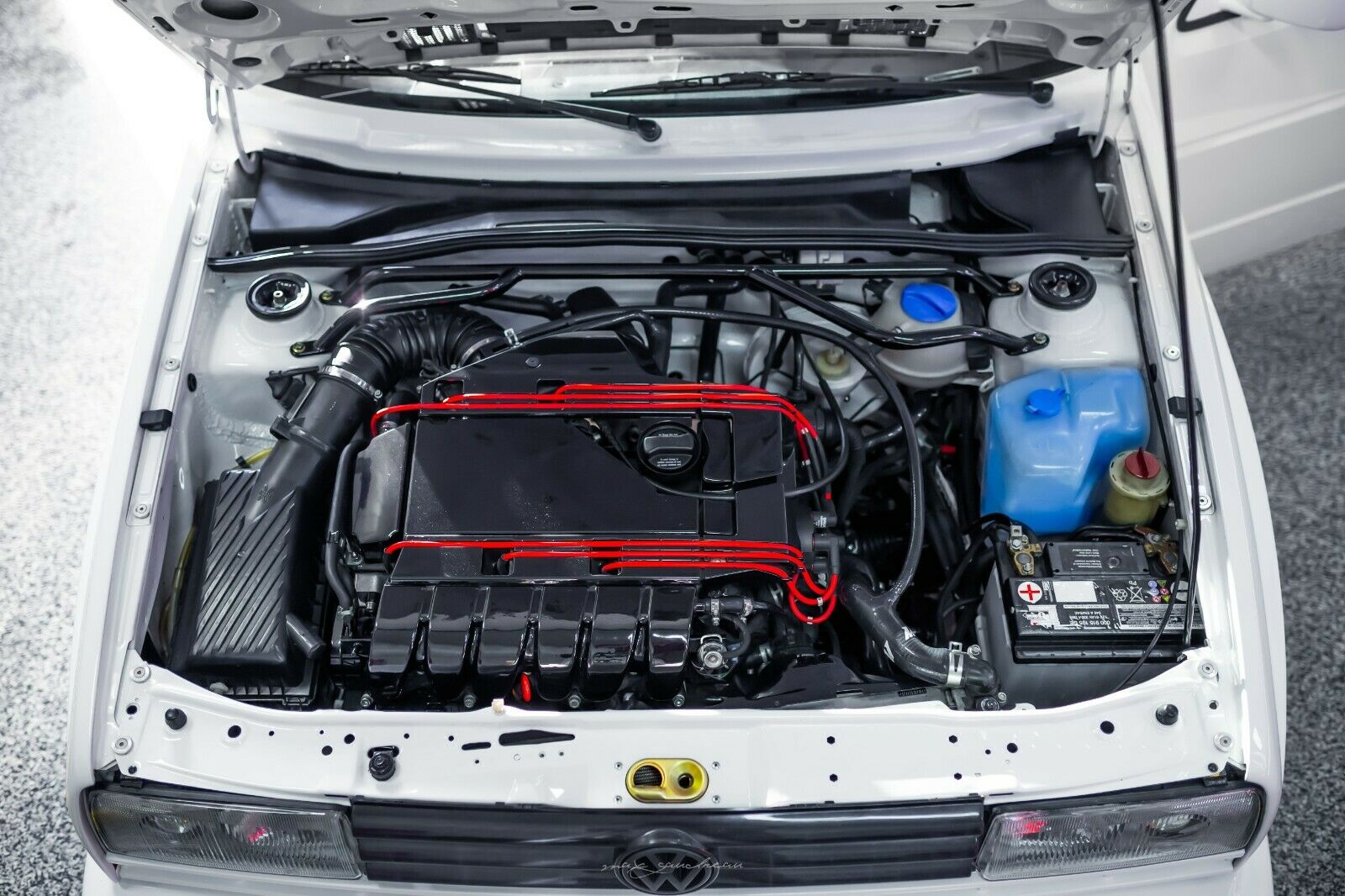 This car certainly looks the business. The all-white look is fantastic and reminds me of the BiMotor Golf Pikes Peak. There's a lot of trick stuff here, from the all-metal boxflares to the magnesium wheels. And inside is upgraded too, with slick Recaros, a stout cage and that mega-cool CAE shifter. But the real jaw-dropper is when this car is on the lift; the zinc-plating alone is to die for. It's just very, very clean in execution.
Is it enough to make up for the fact that it's not a real Rallye? Yeah, I think so. Sure $20,000 is a big ask for an A2, but we've seen them trade up there. And looking at this car I'm fairly certain you couldn't recreate it for that amount. On top of that, if you want a real Rallye, get in line. Good examples are hard to come by and they're not going to cost you any less. Volkswagen claims it built 5,000 of them, but since few made it into North America originally it's very hard to find one. I'm sure to some the lack of the rear differential is disappointing. But this car gives you the wild looks of the Rallye with even more performance on tap in a very clean build. For me, it's a win.
-Carter