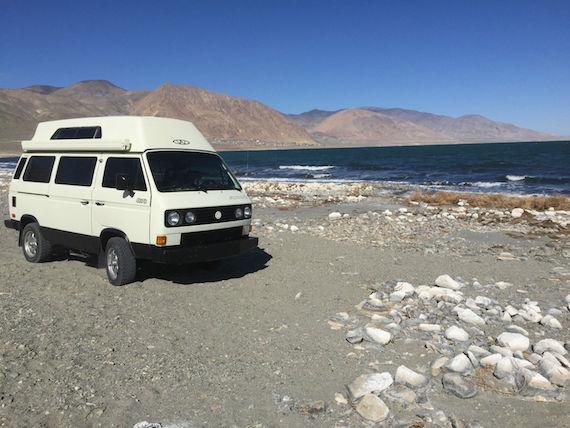 An old friend emailed me the other day for advice on getting his own adventure van. We ran through the whole gamut of options, from the classic Westy to Sprinters to Ford Sportvans to Transit Connects. We had some good discussions examining various priorities and rationales, and he had a hard time envisioning shelling out $35k for a nice 25 year-old van, even if Volkswagens are clearly the most stylish and sentimental choice. So, we looked at some other options and kept the discussion going.
Then this van came onto eBay, and I was right back in a puddle of Vanagonlove. The High Tops have grown (no pun intended) on me a lot recently with even greater sleeping and storage space than the standard Westy. They still have a small-van footprint, but bring big-van capability, especially with Syncro. This van has had some very interesting modifications, most importantly a turbocharged Ford Zetec conversion by well-known Van converters Bostig mated to a rebuilt transmission. You could spend days reading the aggressive arguments on forums debating the pros and cons of different engine swaps – 1.8T keeps it OEM+, Subaru has the most power potential, the Ford has the most parts availability, and then there's the one guy in the corner shouting "911S! 911S!" I move on as soon as people start saying THERE IS ONLY ONE GOOD OPTION, as it seems like all can result in awesome vans as long as the work is well-done and holistic. All of this to say that I have no issue with a Ford engine in a Vanagon and see it as a reliable, reasonably efficient way to more power.
The other modifications are not nearly as contentious or involved as the motor swap, but they do contribute to creating a unique and attractive van. The interior has been swapped out for that from a top-of-the-line Carat, creating an OEM-plushness the Syncro never received. One of the coolest and most resourceful modifications is using the passenger-side jump seat mounts to hold the stove and fridge combo but leaving it detachable, so it can be placed outside the van under the awning when camping. Genius! Other aesthetic and mechanical bits abound, from the always-lovely (and trendy) South African grille and headlights to big brakes and Emu shocks. A very tidy and sorted package that, despite hot bidding even as I type, is way below normal Syncro Westy prices.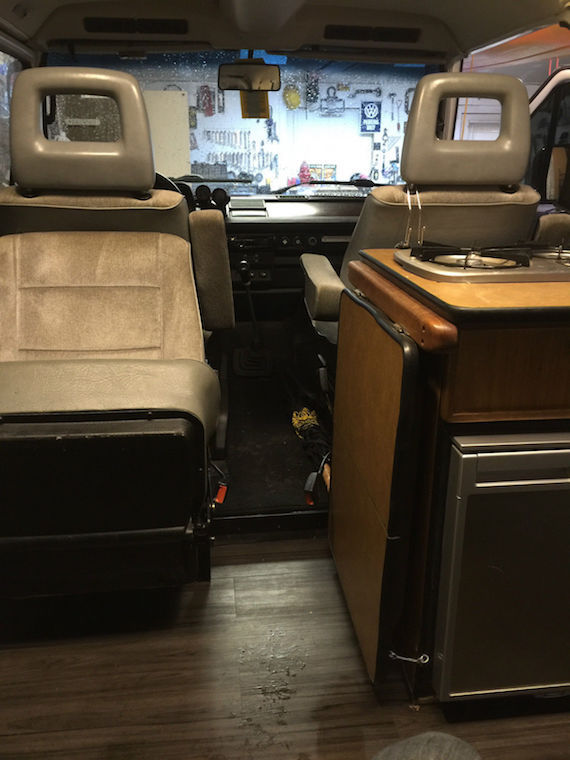 Year: 1990
Model: Vanagon Adventurewagen Syncro
Engine: Zetec 2.0 liter turbocharged inline-4
Transmission: 5-speed manual
Mileage: 232,991 mi
Price: Reserve auction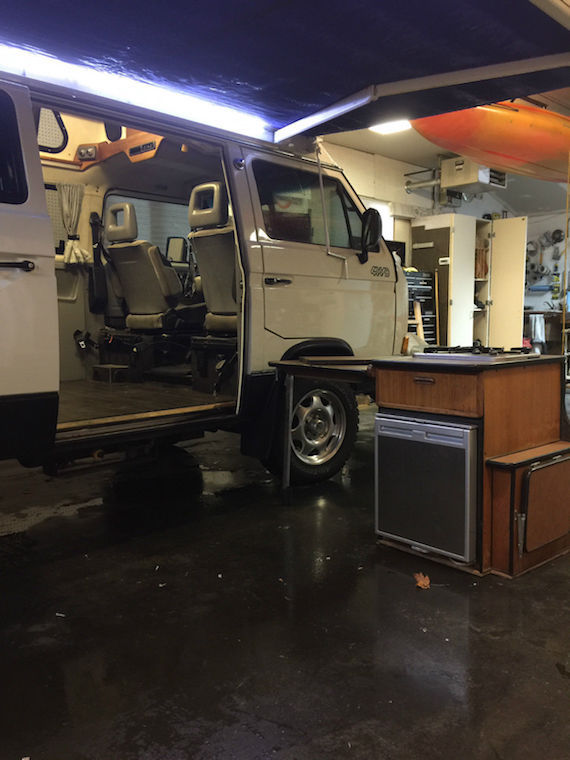 I've owned this van for over a year and the previous owner did an excellent job with the conversion and making this van run and drive better than any other van I've drove. Bellow is the list of upgrades done by me and the previous owner. For those who are familiar with the original adventurewagen interior know it gets a little cramped when the bed is down.
I installed the Carat interior with full bench with 3 headrests, fold out table and two jump seats. With the location of the jump seat behind the passenger I modified the original fridge/stove cabinet to latch in the same jump seat bracket. So when camping you can pull out fridge/stove and put it under the awning and plug in the gas and power with external outlets. You can choose between a 6 passenger camper or 7 passenger van.
Why am I selling? I owned a 2wd Westy(wife's van) and my AV Syncro. We sold the 2wd and the family wants a Westy Syncro.
Exterior- New paint 1yr ago (0 rust!), new window tint, South African grill, 10ft Fiamma knock off(color match van!!)with LED lights inside and out. RMW front, rear numbers and tire carrier, MonstaLiner quarter panel, 3rd brake light, marine grade skylight, 16″ CLK wheels with new tires.
Engine/Undercarriage- Bostig Ford Zetec Turbo, rebuilt transmission from AA transaxle, Burley upper control arms, old man emu shocks, big brake kit.
Interior- Carat interior, Propex outside mount heater, Bluetooth stereo, sub/amp combo under drivers seat, lockable drawer under pass. seat. FatMat and insulation throughout, new power door locks with remote, new power window switches, power mirrors, cruise control, switched 12V CO/propane detector, 2 knob (diff lock, decoupler), AC (needs charged), scan gauge II.
I So nice and fun to drive, I can only hope to be able to recreate this solid handling in my next van. If you want to chat or want more info let me know. I've got all service records, receipts, and intructions. 25three-two 6 1-50two7

** Just had van appraised and copy of appraisal will go to buyer.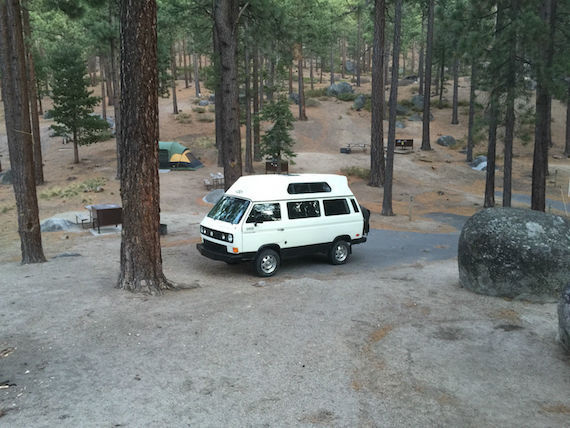 I really liked the EJ22-powered Hightop I posted this spring, yet it received very little interest (zero bids) with auctions starting at $18k and then $17k. Maybe the high tops are a little too much for people who dream of the classic Westy shape, but pretty much any other variety of Syncro will go for many thousands more than these tallboys. These may be the last chance to get a 4WD VW Van for less than $30k! Fine by me if they keep prices down as these are my new favorite, fulfilling just about all of my adventure van priorities.
-NR