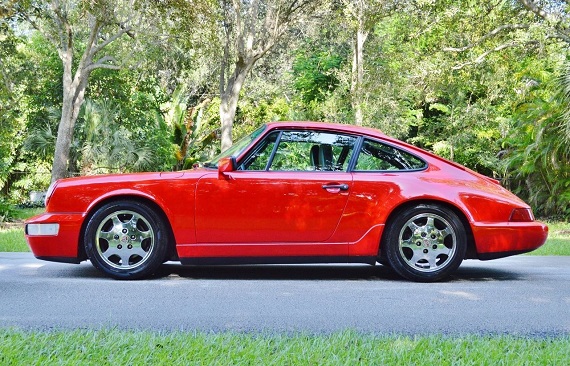 There was a lot going on in 1989 for Porsche and its 911. The model itself was simultaneously celebrating its 25th anniversary while also being whisked off into the sunset. That anniversary was commemorated in typical Porsche fashion with a special edition of the 3.2 Carrera. 1989 also saw the 930 finally get fitted with a 5-speed transmission and the Speedster made its return after a 30 year hiatus. In the midst of these movements, Porsche was set to introduce an all-new 911 showcasing its first major redesign in over 15 years, and to even more shifting, they would not only introduce a new design, but an all-new 911 model: the all-wheel drive Carrera 4. I've always found this to be a particularly bold and somewhat curious strategy, especially considering that the standard rear-drive Carrera 2 would not debut at the same time. Perhaps it was to save space for the outgoing 3.2 Carrera rather than bringing on its immediate successor. Either way, the 964 was born and though it lead a somewhat short life and itself would be completely redesigned in 1995 it feels as if momentum is now working in its favor and 911 enthusiasts are beginning to appreciate this model to a much greater degree. I count myself amongst that group. The example we have here comes from that introductory year: a Guards Red 1989 Porsche 911 Carrera 4, located in Miami, with 130,800 miles on it.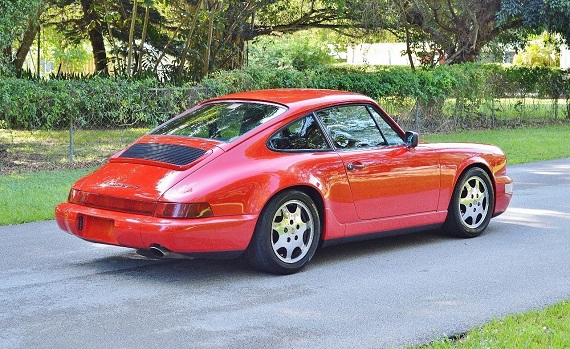 Year: 1989
Model: 911 Carrera 4
Engine: 3.6 liter flat-6
Transmission: 5-speed manual
Mileage: 130,800 mi
Price: $37,500 Buy It Now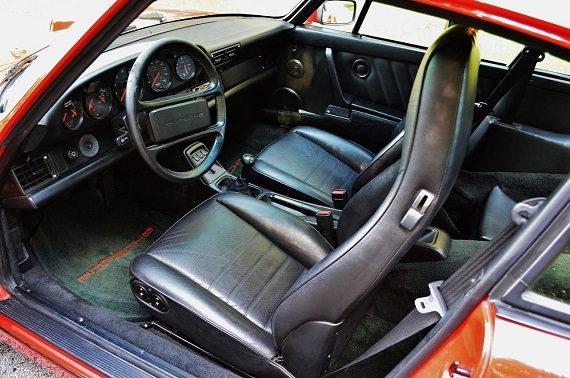 1989 Porsche 911 Carrera 4

Gaurds Red / Black Interior

Engine Rebuild / Clutch 15k Miles ago – Complete $5k service done 200 miles ago.

Mint interior and exterior with only small imperfections

All Matching Vin tags – Accident Free – Clean CarFax

Please call for more info (786) 291 – 3622 Danny or Tony (305) 988 – 3092
From a pure useability standpoint many prefer the revised and improved all-wheel drive system of the 993 rather than the 964. That probably shouldn't surprise us too much given the way new systems tend to be refined once they are released into the wild and various bugs can be sorted out. So as a "driver," and this 964 certainly fits that bill, the 993 may suit many over the 964. But there is a price to be paid for that with 993 values typically quite a bit higher than that of comparable 964s. That said, there is a certain historical cachet to a first-year model and I think in that regard an '89 C4 will have a level of appeal for many buyers. This one probably has too many miles for collectors to especially take notice, but those who want to use their 911 should get good use out of this Carrera 4. While it is higher mileage, it's far from dead. It looks in very good shape and with an engine rebuild already performed any immediate maintenance concerns may be stilled. We aren't offered a ton of information from the seller so some legwork will need to be done in that regard, but all things considered with an asking price under $40K this 964 sits at a pretty nice place on the market.
-Rob