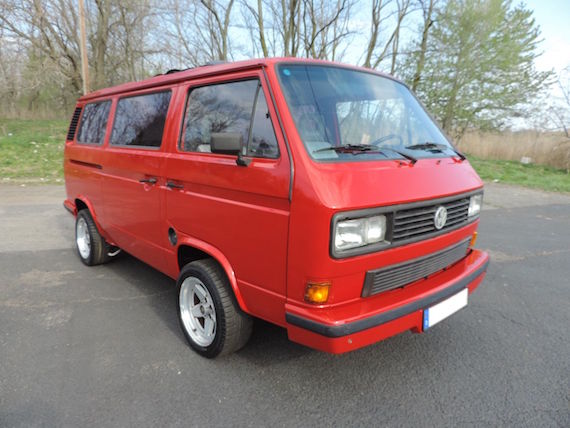 A lot of the imported Volkswagen T3s are megamachines, like Syncro DoKas, Syncro Westies, and Tristars. This sweet little red van looks pretty basic without the pop-top, but actually brings a lot to the table with specs not available here in North America. It's not quite a tin-top thanks to the power ragtop sunroof, and it's not just a people-mover thanks to the full complement of Westfalia interior items like the sink, fridge, stove, and storage cupboards. It looks pretty stock other than a "sport suspension" and 16″ 5-spokes that help it do its best impression of a '70s American cab-forward van. It looks great, is fully road trippable, and only has 23k miles on it; someone is going to be a happy camper at the end of this no-reserve auction.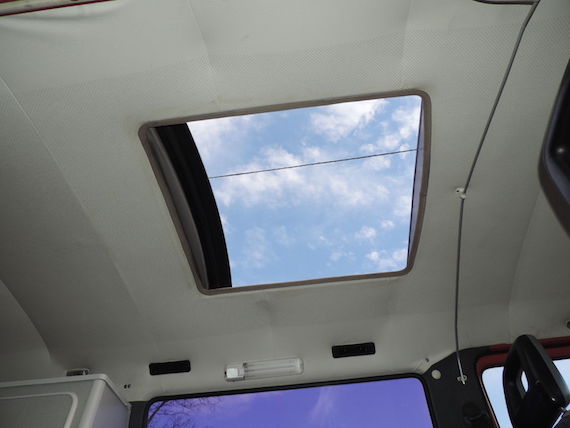 Year: 1990
Model: Multivan Westfalia
Engine: 2.1 liter flat-four
Transmission: 5-speed manual
Mileage: 23,388 mi
Price: No-reserve Auction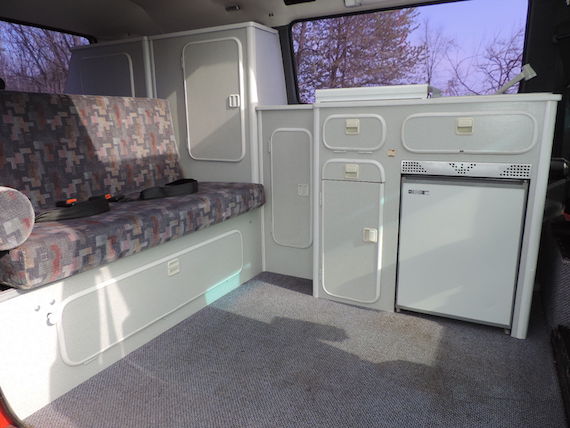 For sale is a extremely rare and coveted 1990 European Volkswagen Multivan Ragtop Sunroof Camper. Manual 5-speed. Sport Suspension. Extremely clean inside and out. Only 37,640 KM, which is about 23,388 miles on the odometer. Runs, Drives, and Looks GREAT! No problems with the van. All camper appliances work as they should.
This van is a European version, that is made for the autobahn, it is a lot quicker than the dreadfully slow Vanagons that we got here in the States. This one has a 5-Speed Transmission, Tight Sport Suspension, 16-inch Wheels and Tires and a whole lot more of other cool Europe-only options. What makes it truly special is the Power RagTop SUNROOF that is a nostalgic, yet very functional throwback to the Classic VW Buses. It is also extremely useful as you can completely stretch out and stand up in this van during camping.

This Camper has a Full Kitchen, with Gas Stove, Sink, and Refrigerator, along with numerous Storage Cabinets and a Convertible Sofa Bed. Shore/Land Electric Power Option is also built in.

The van was legally imported last year, and has a Free, Clean, and Clear Standard NJ Title with it, along with all Importation Paperwork, Spotless CARFAX and AutoCheck Reports, and all DOT/EPA conformity letters along with all European Service Records from the previous owner.

The van has just been fully Serviced top to bottom and was given a Clean Bill of Health by our shop. We would not hesitate to take it Cross-Country at the moments notice. Inspections are welcomed and encouraged prior to placing your bid. This is a very nice van, bid with confidence, you will not be disappointed.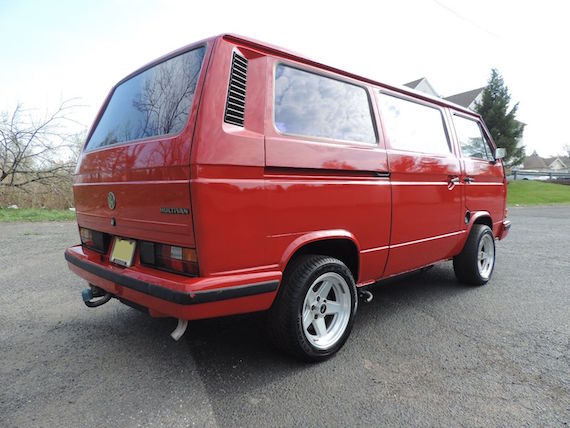 The wheel offset is a little Scooby Doo for me, but I'm guessing the wider track and lower stance help keep it planted. There's no way you'd throw out the 2.1-liter wasserboxer after just 23k miles, but this thing does look like it's begging for an engine swap. Throw a Subaru engine in there and you'd have the coolest 2WD, non-pop-top T3 around!
-NR