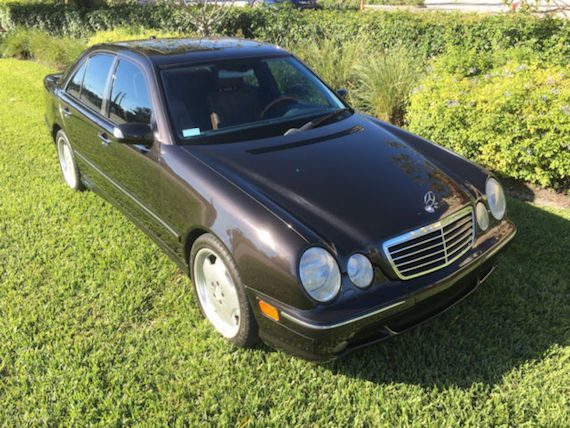 Truth be told, I've never really liked the look of the W210 E-class all that much. The design has always struck me as bloated and unflattering, the automotive equivalent of a blancmange. But all is forgiven in the case of the E55 AMG. With the addition of a subtle bodykit, 18″ monoblock alloys, lower-profile tires and a dual exhaust, the wobbly W210 is transformed into something else altogether. Squat and purposeful, the car suddenly takes on the character of refined menace, like a nightclub bouncer in a tuxedo. Performing its everyday duties, the E55 will ferry you and your passengers vast distances in quiet and spacious comfort with surprisingly little fuss. But mash the peddle and you'll find a generous reserve of power on call to propel you quickly into license-losing territory.
This car for sale in Florida has nearly 95k miles on the odometer and, being a Designo model, presents in an unusual and attractive color combination.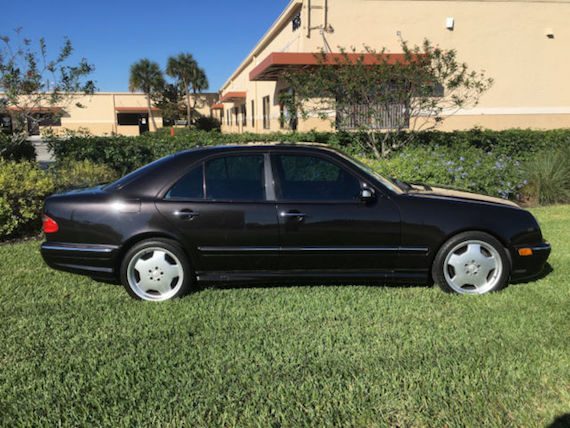 Year: 2001
Model: E55 AMG
Engine: 5.5 liter V8
Transmission: 5-speed automatic
Mileage: 94,800 mi
Price: $13,000 Buy it Now or Make Offer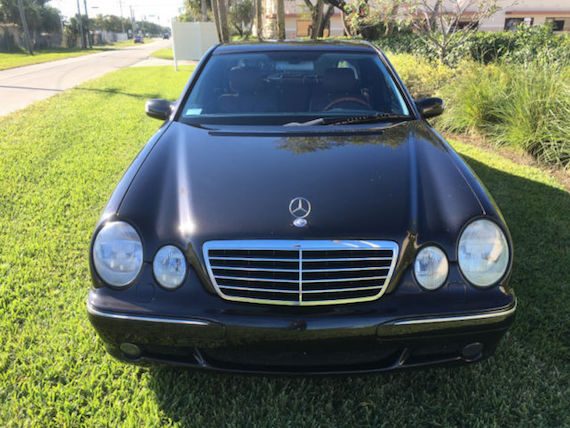 2001 MERCEDES BENZ
E55 AMG Designo

This rare model is a fine example.
Original 94,800 miles, (currently driven so miles may go up) always serviced at Mercedes, this lady driven E55 is a great and fun car to own.

Designo models were in limited quantity. Very well kept and very clean inside out.

Many options, must see to appreciate.

New tires, new front and rear rotors, new front and rear brake pads recently done.

New headliner.

Palm Beach Classics can assist you with shipping around the world.

Contact us for more information.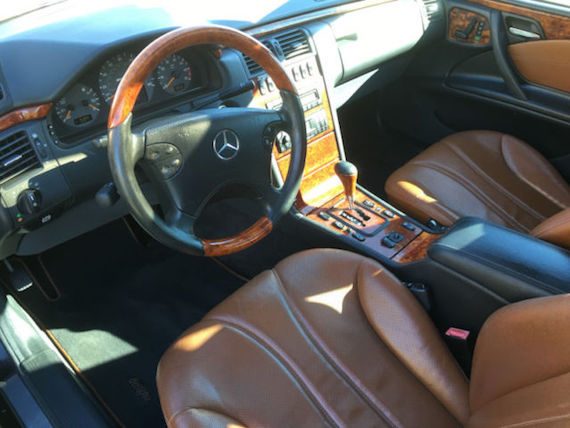 The Designo package adds a beautiful, metallic dark coffee-brown exterior paint to the outside and light brown leather seats to the inside, complemented by Designo specific wood trim on the gear shift lever surround, center stack and steering wheel. While this color palette may not be to everybody's taste, I think it's a welcome change from the silver and black colors in which these care are usually sold. Cosmetic enhancements aside, the engine in this car remains the centerpiece. The M113 is a fabulous, old school, naturally aspirated 5.5l V8 that puts out 355 hp and 391 lb-ft of torque. It's a meaty motor that, combined with a smooth automatic gearbox, provides plenty of power on tap all throughout the rev range. It's fast too: 0-60 comes up in around 5 seconds, give or take, which is very quick indeed for a large sedan that can easily seat five people.
These cars are generally more reliable than you might expect and I wouldn't be overly worried about the 90-odd thousand miles this one has travelled, provided documentation is in order. Of course, no 15 year-old AMG is going to be cheap to maintain. Potential buyers should expect regular maintenance costs to be higher than for an ordinary W210, especially tires and brake pads/rotors. Such consumables are expensive on this car so it's nice to see that, at least according to the the ad, these things have been taken care of recently. While there are no major weaknesses in the engine or drivetrain on this model, the W210 chassis is prone to rust, so it's worth taking a close look at the undercarriage. As usual, a thorough pre-purchase inspection is a must.
If I were in the market for a late '90s/early '00s super sedan, I'd probably prefer to buy an E39 M5 instead of an E55 AMG. But an M5 in nice condition would most likely cost more, maybe even a lot more. When viewed in that light, the $13k asking price on this car doesn't seem at all bad. You might even say it's a bargain, given the amount of performance you get for your money.
– Craig