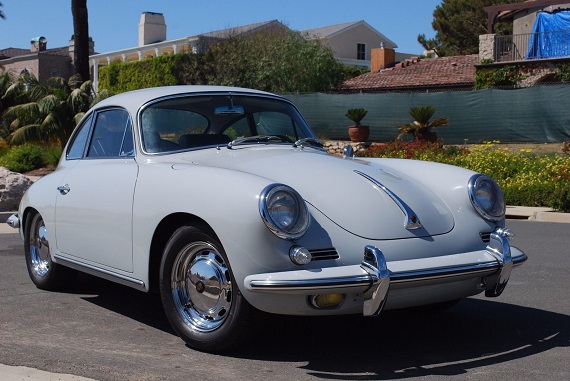 I'm going to step back from the world of ultimate performance 911s to bask in the beauty of a vintage Porsche. While there certainly existed performance variants of the 356 back in its day, by modern standards performance is very much beside the point when having a look at one of these cars. They're very lightweight – I was struck by just how small a 911T appeared relative to the cars around it when I encountered one on the street this past weekend – and there is very little separating driver from machine to dull communication between them, but fewer than 100 horses is just that and modern suspension engineering is another world entirely. Yet, when I see a 356, which I think has only happened twice that I can remember, I'm just as struck by how different they look and how elegant they can be. Many vintage automobiles possess a similar stature and it is the nostalgia for these designs that drives many to seek them out. The example here isn't entirely original – it's engine is a period correct unit from the 912 – but it comes in an extremely subtle, but still very pretty, Dolphin Grey and comes from very near the end of 356 production. Here we have a 1964 Porsche 356C SC Karmann Coupe, located in California, with what sounds like around 120K miles on it (the seller assumes the odometer has turned over, but doesn't have verification).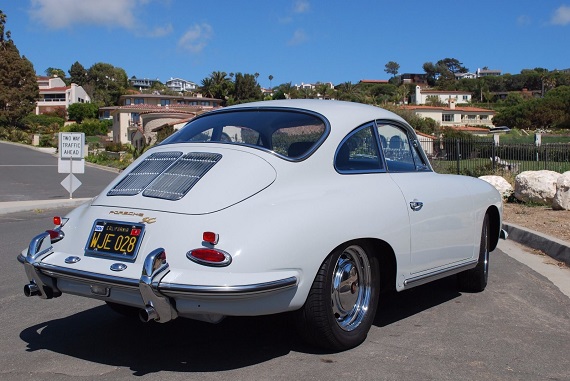 Year: 1964
Model: 356C SC
Engine: 1.6 liter flat-4
Transmission: 4-speed manual
Mileage: 119,800 mi (?)
Price: Reserve Auction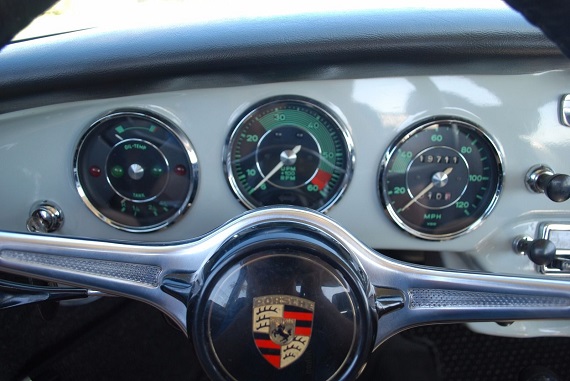 This is a California car in its original and rare Dolphin Grey color with original-issue black California plates. I have history on the car back to 1970, when the original owner sold it to James Robins. The car was kept in the California desert town of Palmdale until 1992 when the second owner's nephew inherited it. I purchased it from him in 2007.

I restored the car in 1998 with a focus on originality, keeping original parts wherever I could. Original headlights, front and rear turn signals, hood handle, horns, horn and engine grilles, ULO reflectors, steering wheel, horn button, "sorta round" speakers, interior components etc. remain with the car. The car is riding on 5.5″ chrome wheels with Pirelli tires, but the original date-matched painted wheels (with extremely old and extremely worn Continental tires) and original "blank" date-stamped Lemmerz hubcaps are included. Also included are the original toolkit with correct tools, and the original jack.

Documentation includes the factory original Driver's Manual, Blaupunkt radio paperwork, a title document from 1970, along with a stack of receipts accrued under my ownership. A Certificate of Authenticity (COA) from Porsche is also included.

Body: All original panels, floors, longitudinals and closing panels. All panels including hood, engine lid, and doors are numbers matching. This car is super-solid with no rust anywhere. Bottom of doors are beautiful. When Jim and Shane East did a windows-out, bare metal repaint of this car in 2008, they said it was the "cherriest 356 we've ever done". We retained the original paint on the dash, applied correct Glasurit paint to the exterior, and re-sprayed the undercoating. The car now has some very minor chips but presents itself as a nearly-new vehicle.

Engine: The car has a 912 engine set up to SC configuration and fitted with a third piece from a B motor. It has the correct Solex carburetors, overhauled by Larry Markham, and fitted with the correct air cleaners. The engine also has the correct Bosch 022 distributor rebuilt by Don Marks. Tin, oil filter, original oil cap, fan shroud, etc. are in very nice shape. The engine idles and runs smoothly, starts easily and has lots of power. It is somewhat noisy but valves are adjusted to specs. I've driven this car all over Southern and Central California and always returned home under my own power. The odometer reads just under 20,000 miles but this being a 52 year old car it has probably rolled over at least once.

Transmission: Original matching number transmission per COA. Transmission shifts smoothly through all 4 forward gears and reverse as well. The transmission runs quietly in all gears.

Interior: The dash still wears its original dolphin grey paint. In keeping with the theme of retaining original components, the rear seats and door panels remain original. The seats, headliner, carpets and remainder of the interior were redone to the highest standard by Autos International in 2008. New Coco floor mats are included. All lights and instruments including the clock work as they should. Even the original Blaupunkt radio works in both AM and FM bands.

Glass: All glass is original with the exception of the windshield. This is a fresh Sigla/Pilkington unit.

Electrical: All interior and exterior lights, horns, and fog lights work as they should. The car has original and correct components including all front and rear turn signals, Hella 128 fog lights, horns, relays (even the rare yellow fog light relay), voltage regulator, etc. The speedometer and clock were rebuilt by North Hollywood speedometer; the clock has a quartz movement and runs a little fast. I recently installed an Optima battery and the car is equipped with a Joe Leoni starter relay to minimize loading of the ignition switch. I replaced the generator a few years back with a correct and fresh rebuilt unit from NLA, and the starter motor was also overhauled. The voltage regulator is the original and correct "C"-style unit.

Miscellaneous: The car comes with its full set of original keys including the special "key" for extracting the original blue-tipped radio antenna; glove box key, transmission lock key, and ignition/door key. The ignition and door locks all use the same key, just as they should.

Maintenance: In the 8 years I've owned this car it has been worked on by some of the best 356 mechanics Southern California. Larry Markham did an initial overhaul, repairing clutch issues, overhauling the carburetors, installing a Don Marks 022 distributor, etc. Jim Ansite later went over the brakes, overhauled the starter motor and addressed other details. Jack Staggs worked his magic on engine, carb, and ignition tuning. The car runs great and easily exceeds any posted speed limits.

No accident body, doors and engine lid and hood all close evenly and well. An outstanding example.

Title in hand. Can assist with shipping. Car is in Los Angeles, California with easy access to the Port of Los Angeles for international shipping.

Many more photos are at https://photos.google.com/share/AF1QipP0tO2he036YrvWl1-T7queM2W8wlnYZb8eiiQFxNyFR690Ywgd60Vhy33oAGGnEA?key=Zll3eDk2MUxnbldWZUtPRDV2TWxTbHBsdkMwT0hR

I'll happily add specific photos if requested; email hc_foster@hotmail.com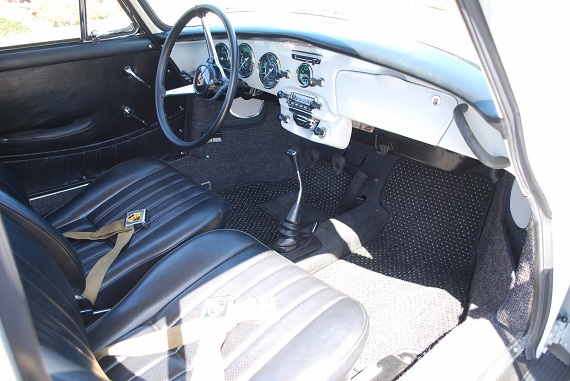 I've always held a certain fondness for the 356 and really enjoy seeing them in rare colors. Dolphin Grey definitely doesn't classify as exciting, but I do enjoy its subtlety and it looks nice over the lines of the 356 itself. And that's the general impression I have of this particular 356C. It looks very well cared for and presents nicely inside and out. The fact that it lacks its original engine is too bad as that is one item that we probably won't be getting back and certainly stands as a strike against it. However, that may only dissuade certain collectors from their pursuit and could keep the price down slightly for those who might want a nice 356 that isn't perfect, but remains in very good shape. On that note, bidding here sits at a reasonable $67,322, which is by no means cheap, but isn't a bad price at all for a late 356. The reserve is unmet so bidding will have to come up and I'll be interested to see how buyers react to the lack of the original engine. Can it come up high enough to see a sale?
-Rob