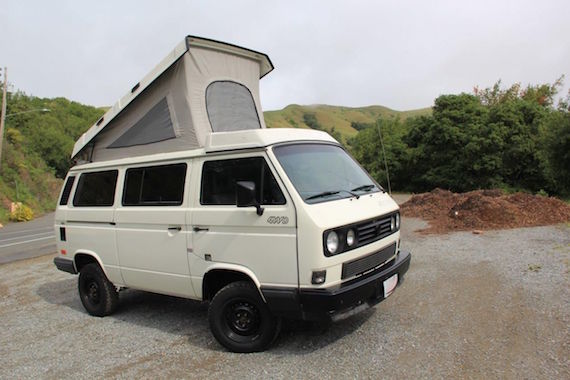 When certain dream cars end up way more expensive than you ever thought they'd be, you're forced to decide if you'll wait until you make tons of money (which may never happen), or make some compromises and try to get an example you can enjoy as soon as possible. Maybe it's just a high-miled chassis with a rebuilt engine, but when those are going for as much as a brand new GTI, what do you do? The ultimate value-killing rebuilt title is a big gamble, but with 70k miles enjoyed post-rebuild and a reserve of "well below $30k," it may just be the best overall value for a Westy Syncro out there.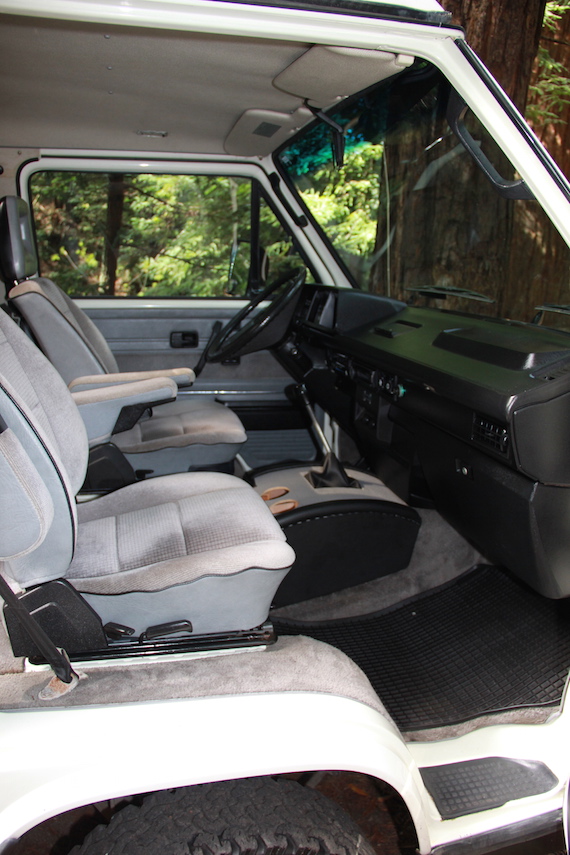 Year: 1990
Model: Vanagon Westfalia Syncro
Engine: 2.1 liter flat-4
Transmission: 5-speed manual
Mileage: 175,450 mi
Price: Reserve auction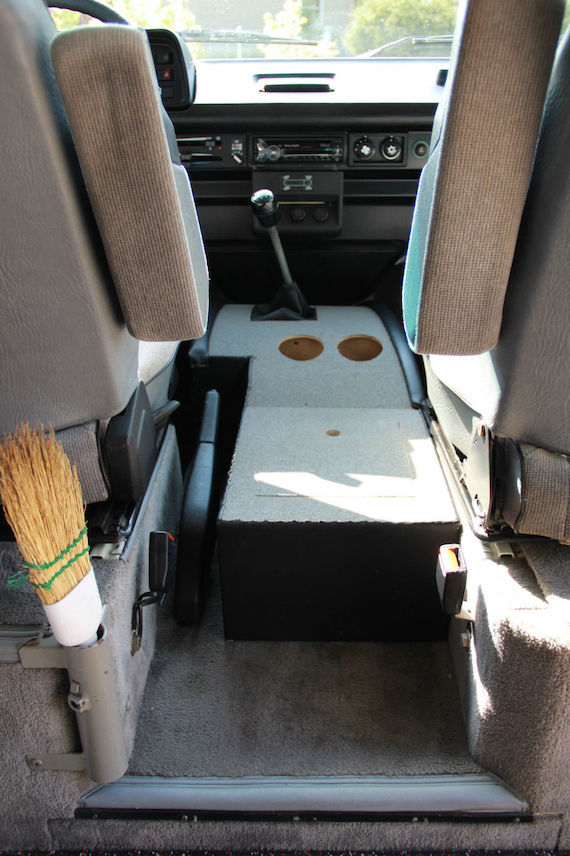 This Westy is not in pristine condition, but it's pretty clean and road and trail tested …. because it actually got used the way it was meant to be. My wife and I have enjoyed it for over 10 years, taking it down to Baja many times.

I have always considered this car as a hobby, yes when you use it, things do break down and since I'm not a mechanic, expenses add up. Still if I add the $20,000 I have put in upgrades, repairs and maintenance over the last 10 year, it's a relatively good bargain for the kind of vacation the Westy has allowed us to take. But it is time to move on, my kids have made my "hobby" much harder to keep up with (cost and time) and it is time the syncro made someone else happy.

Specifics:

This is a SALVAGED vehicle
the Vin Number is GJHBKJH98698987

CAR FAX Report follow this link: https://docs.google.com/viewer?a=v&pid=sites&srcid=ZGVmYXVsdGRvbWFpbnwxOTkwc3luY3Jvd2VzdHlmb3JzYWxlfGd4OjcxMjNlMjEyMzMyYjM2OTg

Auto Check reports follow this link: https://docs.google.com/viewer?a=v&pid=sites&srcid=ZGVmYXVsdGRvbWFpbnwxOTkwc3luY3Jvd2VzdHlmb3JzYWxlfGd4OjdjZWY0ZjkxYzEyNjczNTQ

The air conditioning (compressor) is not in working order
The Fridge no longer works.
The cruise control no longer works
All maintenance do by Auto Haus II in San Anselmo
Bus Lab in Berkeley did some of the upgrades / repairs.
Current Mileage is 175450
Engine is stock.
There is about 20,000 miles left on the tires.
Lots of accessories included: Awning, book, extra belt, leveler, tire step, Thule rack, Gary Lee's rack, custom made center console removable with 2 screws, high end speaker and blue tooth deck, and more.
All invoice / paper work available.
I have a lot more pictures posted here at full resolution: https://www.dropbox.com/sh/p4m5aqxw3peam57/AAB1jvhFSISnCZmLsP6tmZJia?dl=0#/
Pic 8818 to 8825 show the seam with no rust yet but eventually this will become an issue.
Pic 8826 and 8827 show the most pressing seam issue (right below/back the driver's side door).
Pic 8809 and 8810 are paint chips – no bubbles and no rust
Pic 8811 shows a small crack in the gutter seam (below the gutter), the top of both gutters are fine.
Pic 8799 shows paint rubbed off by Fiamma awning.
Pic 8800 shows a small crack on the upper part of the front bumper
Pic 8771 shows a small crack on the lower part of the rear bumper with minor damage to the body panel below.
Pic 8709 shows where the mosquito net was glued underneath the skylight.
Pic 8788 shows a tear in the front beam from what I'm guessing was a poor anchoring while towing the car.
Pic 8791 shows a similar tear and also the only sign of the accident where the outside of the front passenger side beam seem to have been bent.

Upgrades and maintenance:

4/19/2004 Window Regulator

5/17/2004 Maintenance – Coolant hose

6/2/2004 Cooling fan switch and relay

6/20/2004 Skylight (tinted) – Old Man Emu Struts and Shocks from Go Westy

7/14/2004 Full car Tinting (except windshield)

7/30/2004 5 x BFG Tires (at 106380 miles)

10/29/2004 Auxiliary Battery install

11/2/2004 Solar Controller

11/4/2004 Stereo – Speakers upgrade

12/2/2004 Rear Heater Core

12/22/2005 replace pulley alternator

3/28/2006 Major Service

10/23/2006 Front Brake

11/2/2007 Ipod connector

11/23/2007 Water Pump

12/3/2007 New Windshield

1/28/2008 New door lock actuator and harness

4/22/2009 15″ steel wheels x 5 from Van Café

5/11/2009 5 x 15″ BFG KO tires (at 153600 miles)

6/29/2009 Major Service + new Axle half shafts on both sides

9/21/2009 rear brake, ball joint, upper arm bushing, tie rod, expansion tank, water pump, valve cover gasket, plug wires, radiator, CV joints, rear wheel bearings, new syncro springs, decoupler, new acrylic tent from Bus Lab

10/27/2009 pop-top struts, new front windows seals

10/28/2009 Over-sized spare tire carrier

11/16/2009 Ladder

12/7/2009 upgrade headlight relay

1/5/2010 New alternator

10/11/2012 secondary battery replaced

12/17/2012 go Westy – African lights

1/7/2013 Drive shaft replacement from Go Westy

1/10/2013 new battery, major service, coolant and break flush, new belts

3/11/2013 oil pressure switch

8/7/2014 Right front Window Regulator

Question & Answer
Q: Because this is a salvage vehicle, does this affect the title? Or is this just historical information that needs to be disclosed? Thanks, Nigel Apr-15-15
A: Hi Nigel, yes, it does affect the title as the document must now show that it was a salvaged car. This is to let potential future owners of a car that it did get in an accident and some repairs were made. Insurances will look at the blue book value of the car (which for a 15 year old car may not have been very high) and compare it to the cost of fixing it and then decide to pay for the repairs or total the car. What made it worth it for the second owner is that the actual value of the syncro was well worth the cost of repair. Marc
Q: Nice Rig! Do you know why it was salvaged? Well, I featured it on my blog today and it will be seen by thousands of Westy hunters in the next couple of days. http://westfaliasforsale.com/salvaged-syncro-1990-vw-vanagon-westfalia-camper-auction-in-san-rafael-ca/ You did an awesome job at detailing the details, but if there's anything else you'd like to add, leave a comment in the post above! Cheers, Mike
A: Hello Mike, I bumped into your site a couple of month ago when I was starting to think about selling my syncro. I love it! Anyways, thanks for mentioning my van. I'll try to answer some of the questions you had: My reserve price on E-bay is well bellow $30K. I am aware that a salvaged title is not ideal. It was the source of some anxiety filled nights after I purchased the car, but after 70,000 miles on it, if I didn't know the car had been in an accident … I still wouldn't know. I was particularly worried about uneven tire wear which would have shown some potential issues with the frame. But my first set of tires did well, so I let go of the issue. As you know, it is really hard to price a syncro fairly. So I though that putting it on e-bay with a relatively low reserve would let the market decide the value. You are correct, the 2 knobs for the decoupler …. one of them is a rear locker. Yes, the center console is fully custom … I could never find what I wanted, so I made it. This one is actually version 2.0. The seam rust is certainly a concern. I did have a custom body shop (regular body shop don't even want to look at this kind of cars) look at it. The seem by the propane tank could be clean and redone, the felt that it was unlikely to be issues with that one. But the small bubbles below the driver door should be address sooner then later. I just cannot put anymore money in the car, time for someone else to take this on. The sink and stove do work well. The fridge did work for a long time and may need a good cleaning to get it going. When I bought the car, the fridge didn't work and I took it apart and completely cleaned it … and it worked for many years after that. As far as the accident.All I know it that it was a front / passenger side collision. As I show on the picture, the only trace of such accident is the dented beam under the car. Hope this help, Thanks again, Marc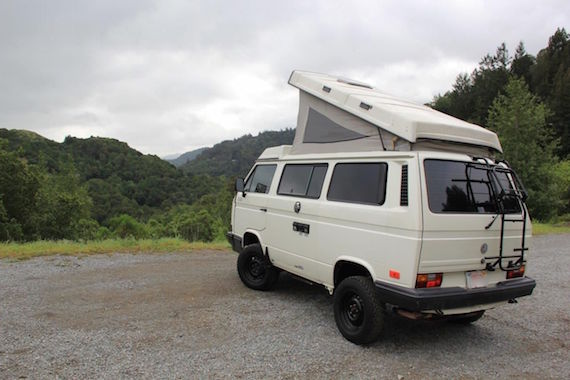 It will be a project for sure, but if you attacked the problem areas now, it could have a lot of miles left in it. If you want a 4WD Westy as much as anything but just don't have $40k+ to drop on it, this is what you get. It looks great in cream on black with the South African grille and the interior looks pretty nice, even though the appliances need work. If you accept your investment on fun as containing a continual payment plan, I think this Vanagon could lead to some great adventures.
-NR