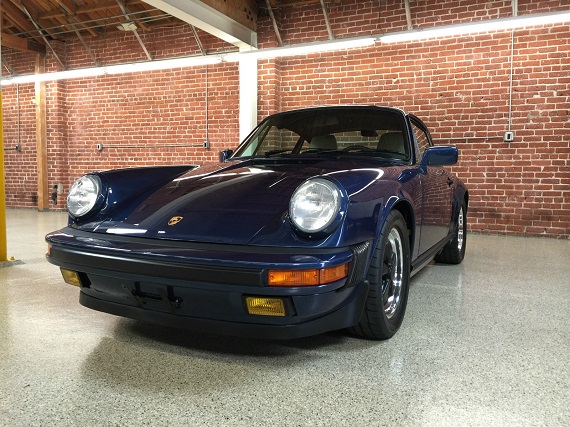 We might look at this dark blue metallic 3.2 Carrera and think that it's a standard color that we would come across fairly often. After all, Porsche did offer a variety of shades of blue, canvassing most of the spectrum, during the 3.2 Carrera's production run, and these days dark blue is a pretty common color to come across from any marque. Yet, I sit here trying to think of the last time I actually came across a classic 911 in a color like this. This particular blue happens to be paint-to-sample so by definition it is a little more rare, but even among the standard colors offered at the time there do not seem to be a lot of these early 911s in this sort of color. All of this to say that I really like this one. There are things I would change: I could do without the yellow lens on the fog lights and I always prefer a whale tail on a Carrera Coupe – and since this has the front spoiler already the tail would balance things out nicely. In a perfect world I'd prefer a different interior shade as well. Still, this is a striking exterior color that is eye catching without being flashy and, as always, a reminder of the excellent variety Porsche has long made available for buyers desiring a particular color that might sit slightly outside the norm.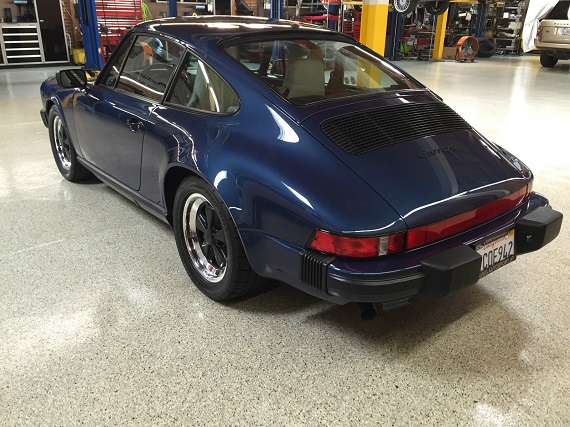 Year: 1988
Model: 911 Carrera
Engine: 3.2 liter flat-6
Transmission: 5-speed manual
Mileage: 50,946 mi
Price: Reserve Auction ($67,500 Buy It Now)
1988 Porsche 911 Carrera
Rare paint to sample Nautical Blue
50,946 original miles
High resolution pictures: https://www.flickr.com/photos/svillagrasa/sets/72157651366860598/
Excellent condition with clean title in hand
All recent work completed late 2014
• Repainted original Nautical Blue
• Newly leather-wrapped dashboard
• New stereo speakers installed by Rawlings Audio in Monrovia, CA (911 specialist)
• Original wheels refinished and lips polished and Bridgestone RE-11 tires with fewer than 500
miles
All mechanical work performed by Avus Autosport in Glendale, CA:
• New brake pads and rotors
• Suspension completely refreshed
• New headliner and carpet set from Autos International in San Diego, CA
• New front windshield
• New factory taillights
• Original engine rebuilt within the last 500 miles:
– Ported and polished cylinder heads
– Complete top-end overhaul
– High performance cams installed
– Jet hot coated mufflers and catalytic converters
– Steve Wong chip installed
– New clutch installed

Literally, not one issue with this car. Nearly $40,000 spent on restoration during 2014. Drives
better than new. Truly, the best driving G50 car anywhere!!!

List is far too long to list everything that has been done, please contact to get a more thorough
list or to come and test drive it, you won't be disappointed!
I would really like to ignore the BIN price when looking at this car since it is far too high and likely stems from the money the seller has invested in recent maintenance. All of that work is a nice bonus for the next buyer, and does warrant some increase in value for this car, but the only Carreras I have seen in the neighborhood of this BIN came equipped with the M491 package and this car doesn't have that. Bidding has been somewhat slow and I do wonder if that high BIN is deterring some bidders. This currently sits at $35,100 with a couple days remaining and I'd guess there's still another $10K to go before this reaches the sort of price where I'd expect it to sell. For a beautiful 911 with pretty low mileage and a good deal of recent maintenance there is certainly a lot to like here, but the seller is going to have to come down on the price by quite a bit.
-Rob