It's been a while since we've featured a race prepared car here on GCFSB, and what better way to motivate us to do so than Motorsport Mondays? This 997 Cup was built by Belgian race outfit GPR and won the 24 Hours of Zolder in 2007. Imported to the US in 2008, the car had a break until appearing in a few events last year.
Year: 2007
Model: 997 Cup
Engine: 3.8 liter flat six
Transmission: 6-speed manual
Mileage: N/A
Price: $80,000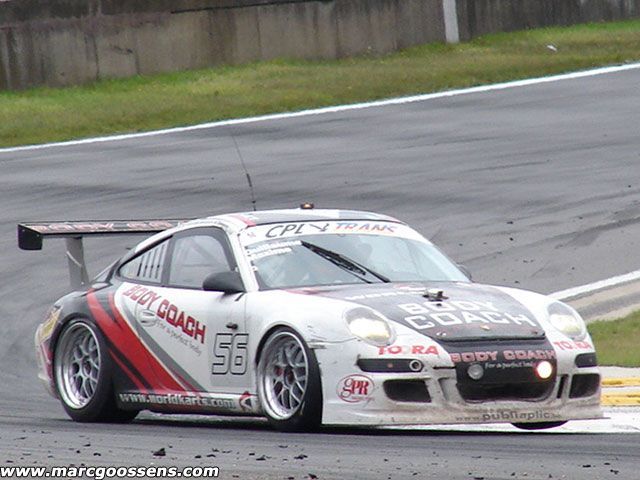 Porsche 997 "Cup" multiple race winning car. The car was number #56 below. It was the winner of multiple races in 07 including the 24 hours of Zolder. The Belgium race shop GPR Racing built it to from the ground up from a bare GT3 shell using all 997 Cup parts. The only difference from a stock Cup car is a slightly different cage design.

Around 2008, it was imported to the US. Since then it has been in the hands of the ex Farnbacher Loles race team at Goldcrest Motorsports. Last year, it had one SCCA Race at Road Atlanta and one NASA race there. Goldcrest states that there is no evidence of any previous accident damage. Goldcrest has fully maintained the car including full time trackside support. Partial work in 2012 includes:

gearbox rebuild
New clutch
Jew JRZ RS Pro's
Radios, GPS, Shift Light
Wing, hood, new harnesses
Race suspension setup

Here is a link to GPR which built the car: http://www.gprpinoracing.com/pages/fr/contact/contact.php

It was only run in 2007 and then retired by GPR. After being imported to the U.S. in 2008, it was not run again on the track until 2012 where it ran two races and three open track weekends.
Competition vehicles can be harder to value than street vehicles, but victories on the track are one good way of honing in on a price. The handful of 997 Cup cars I've seen for sale have ranged between $100,000 to $130,000, so at $80,000, this 997 Cup could be a bit of a bargain for someone in the market for a track day car with known race success.
The following is an in car video of this 997 Cup in action at Road Atlanta:
-Paul