Today's car is going to start a bit of a series of big-body Audis from the 1990s for me. Why start here? Well, the 1991 Audi 100 was a end of an era for Ingolstadt's products in the U.S. For a little over a decade the big-body cars had been powered by inline-5 motors, and the NG 2.3 liter unit under the hood of this 1991 was at the end of its life span. 1991 would see the introduction of the new V6 motor that would become the staple of Audi for the nearly decade and a half. Late 1991 also saw the introduction of the Type 44/C3's replacement – the all-new C4 chassis. Well, I saw "all new", but inside it didn't really look like it changed much. Outside, though…
There were other changes to the new 100 that I'll go through in the next post. But let's talk about today's 100, which was really just a dressed up 5000. Like all the Type 44s, it received a revised interior with the nomenclature swap in late 1988. Dynamically, though, there were basically no changes from 1987. In fact, the '87 5000 front-drive shared more in common with the Turbo than the later model which shared many components with the small chassis cars.
The front-drive 100 soundly outsold its more expensive 100 quattro and 200 brethren. Somewhere around 5,000 1991 100 front-drive sedans and Avants were sold here, but finding them today can be a bit of a trick: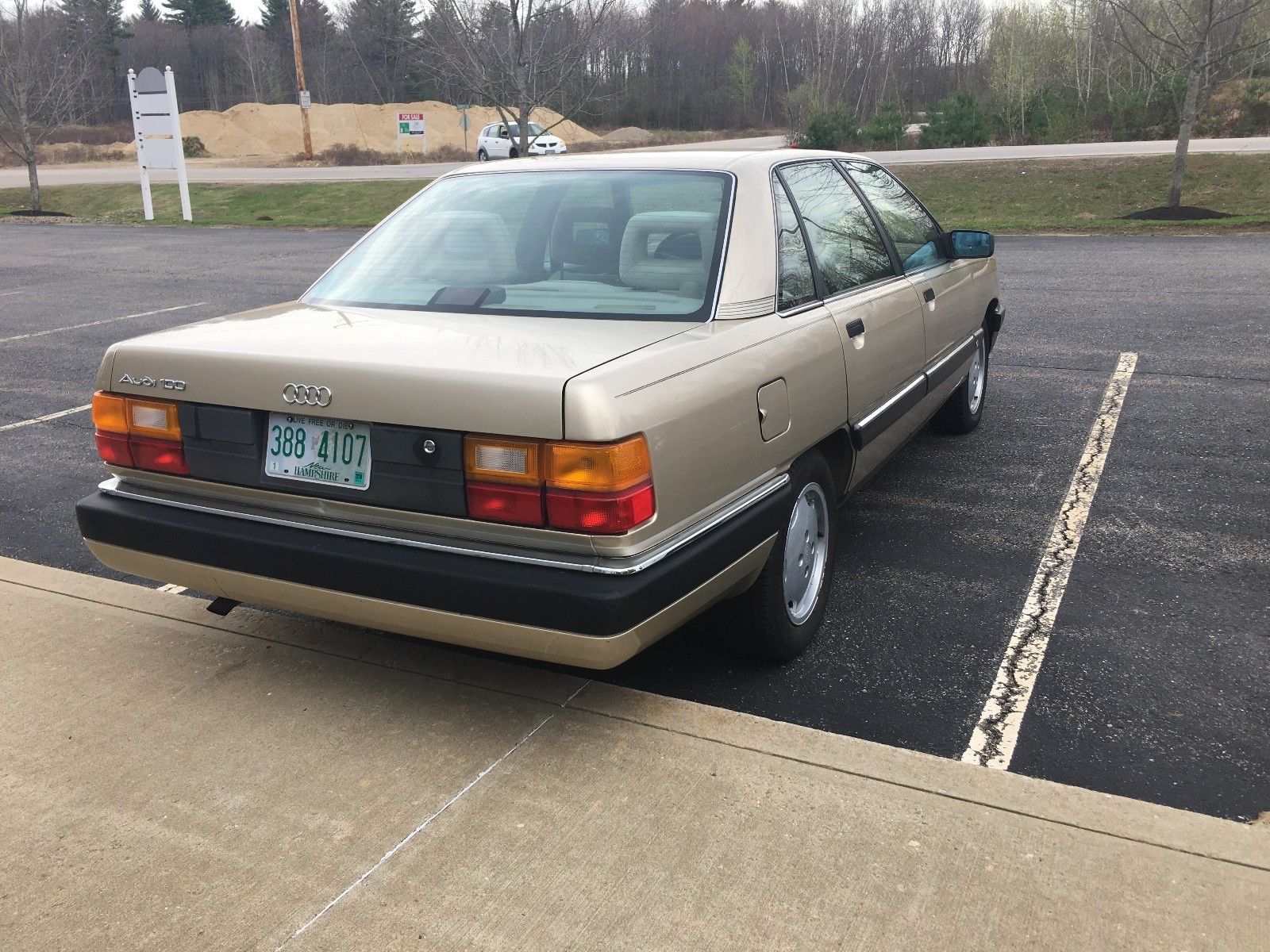 Year: 1991
Model: 100
Engine: 2.3 liter inline-5
Transmission: 3-speed automatic
Mileage No Reserve Auction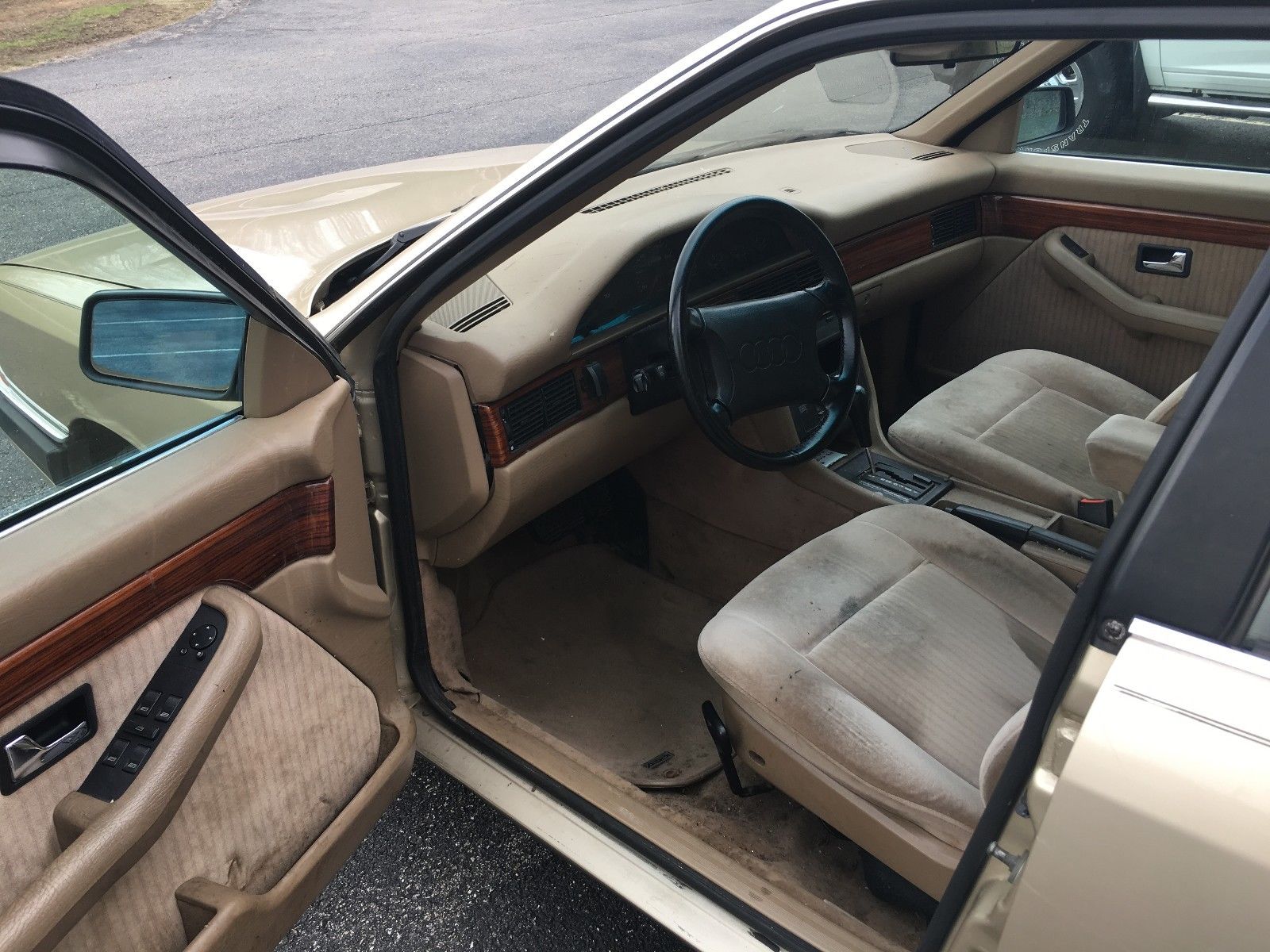 "VERY GOOD , SLIGHLTY USED AUDI 100 bought this car 9 years ago with 20,000 miles and kept it in my collection till 3 years ago.. My sons first car. It runs and drives very well, has 65,200 original miles now. car has damage to hood and right front fender, some was there when i bought it. This is a must have for an Audi person. I am selling at what I feel is a reasonable price. FIRst to see it will buy it. Just passed NH safety inspection. years of life left in her. NEEDS tlc but is very dependable. My son drove it for 5 years."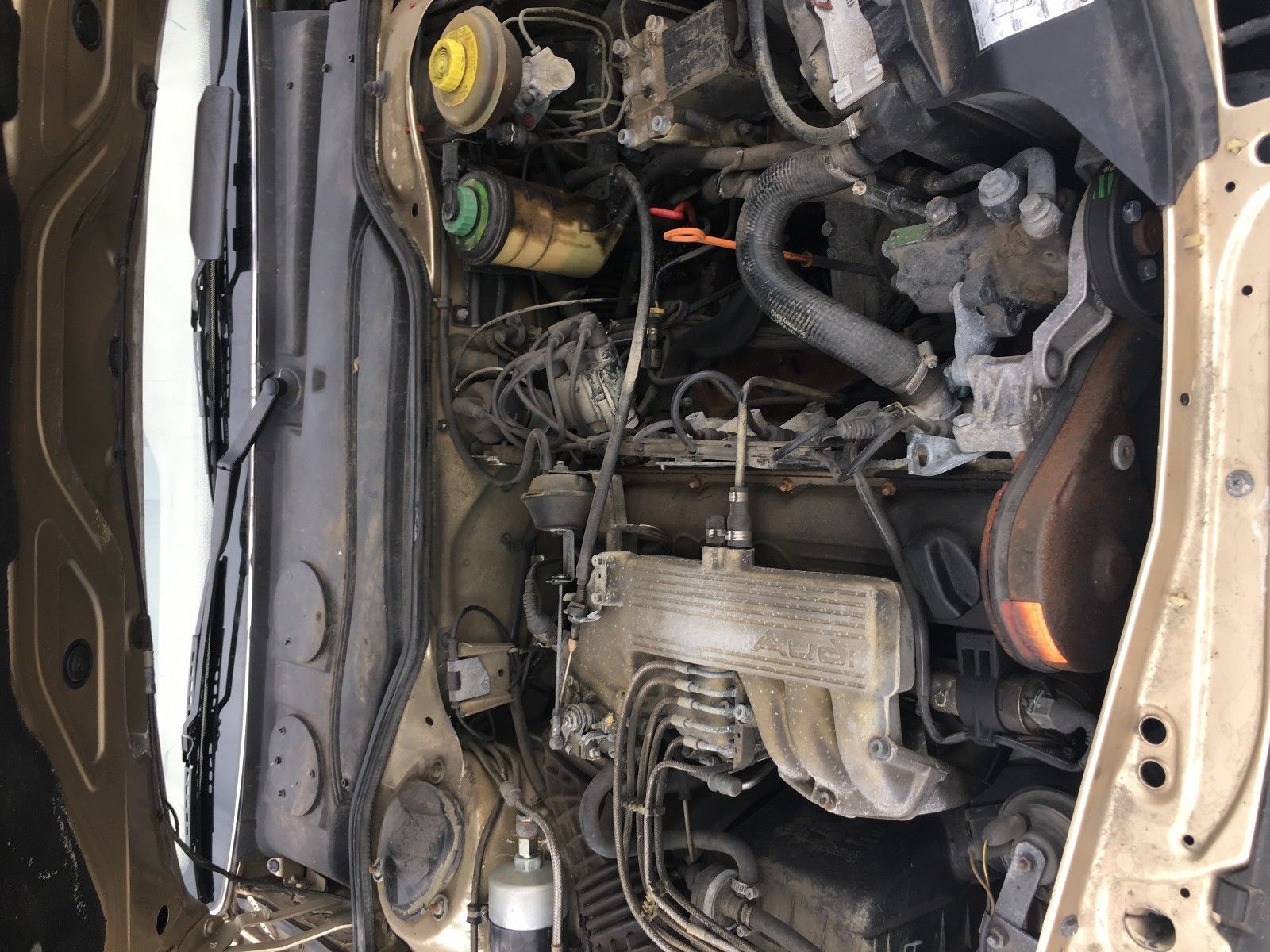 This example appears to be Bamboo and, in the true tradition of Audi in this period, carries an interior color which they don't seem to list. Tan velour isn't claimed to be an option for 1991 – you could have quartz gray, marine blue or graphite, but this car carries none of those options. It seems in good condition at first glance, but a closer look reveals the effect of "my son drove it for 5 years". The interior is stained and there are numerous dents on the exterior. Under the hood looks far more used than the 65,200 miles on the odometer would suggest. It's missing some trim and appears to wear incorrect-sized tires. The seller offers no mechanical history other than they bought it with very low mileage and it needs" TLC" which could mean anything from a wash to a full rebuild of the notoriously expensive hydraulic system.
Is this car a "must have for an Audi person" as the seller claims? No. I'm an Audi person, and I most definitely do not have to have it. But if you're looking for a clean (ish) parts runner or winter beater, this car might suit your need. The NG is good for 300,000 miles as long as you…well, put gas in it, so then you're really only battling the aforementioned hydraulics and a growing list of NLA and hard to source mechanical parts. I've always really liked the Ronal 15″ wheel design on these cars, which though it looked like the 14″ and 15″ wheels found on 80/90s from the period was actually unique to this model. The auction is no reserve and with a day to go has only hit $665. Even with faults, they just don't come much cheaper than this.
-Carter