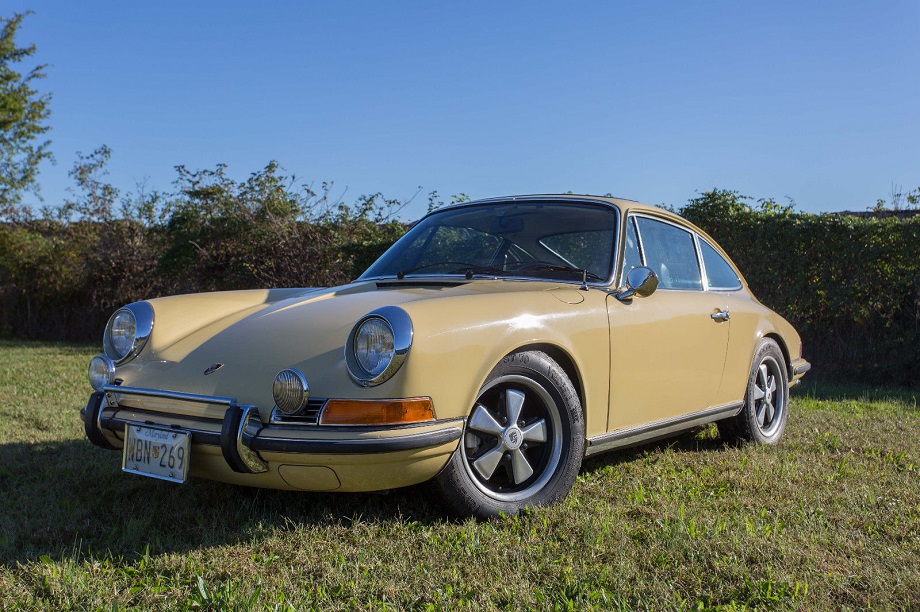 I got a good chuckle out of the opening to this ad. "Not bad!" That doesn't seem far off from saying, "Doesn't suck!", but I guess we can at least appreciate the level of honesty. I don't know that I'd say this Champagne Yellow 1969 Porsche 911E Coupe comes with a bit of risk – I think you'd probably have a sense of what you're getting yourself into – but it does clearly need some work. It's not in bad shape though. It's driver quality, that's for sure, but relative to a lot of 911E Coupes we see the price does actually appear to account for that quality.
1969 was the first year for the 911E, which sat between the entry-level 911T and the top-of-the-line 911S. The E shared a few features with the S and mostly represented a slightly less sporting version of those highly-sought after 911s. Hydro-pneumatic struts replaced the torsion bars up front and like the S the E had ventilated brake discs. It also shared its mechanically fuel injected engine, though in a lower tuned state: 140 hp vs 170 hp. Still it represented a nice step up from the entry-level T. 1969 also was the year Porsche lengthened the wheel base for all 911 and 912 models. So there are a decent number of first year aspects to this 911 and the color is fairly uncommon.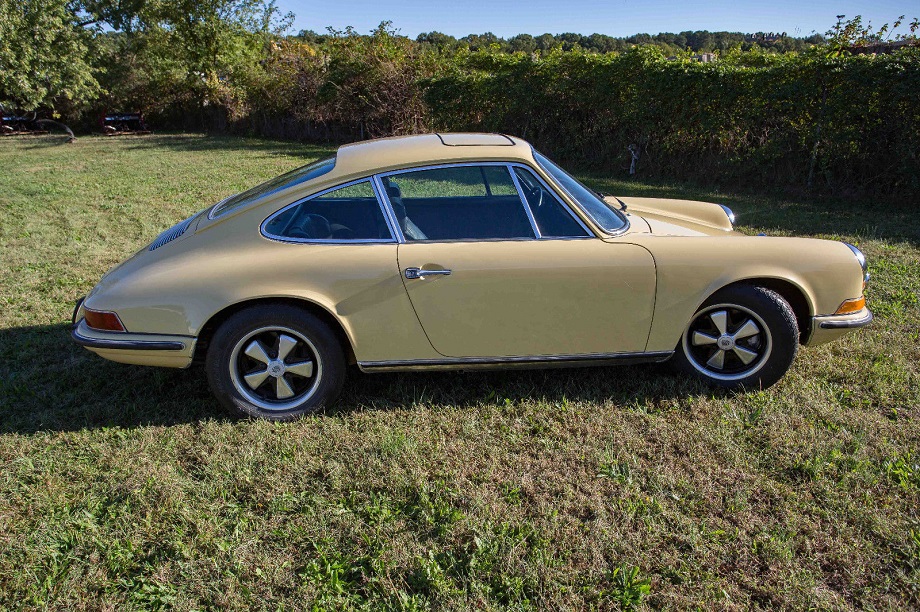 Year: 1969
Model: 911E
Engine: 2.0 liter flat-6
Transmission: 5-speed manual
Mileage: 23,220 mi
Price: $67,250 Buy It Now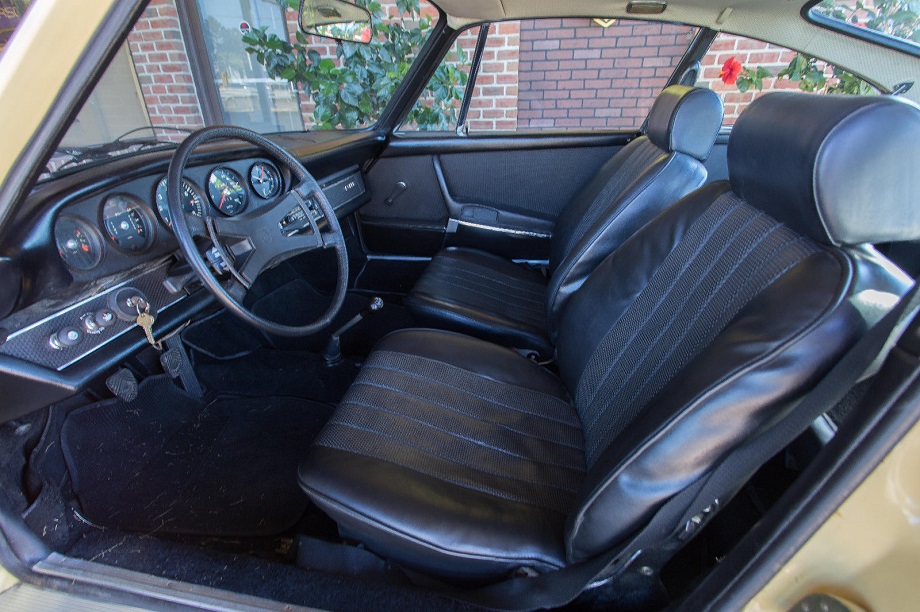 1969 911E Porsche coupe

The Good:

Matching numbers
Original Color, Champagne
New Clutch
Solid Driver
23220 original miles, comes with a owners affidavit of mileage authenticity.
2 owners.
MFI injection, run well
Original interior
Becker Radio, Original
Everything works

The Bad:
Repainted, it's a 10 footer!
No receipt documentation, work done by employee.
Dash has the "porsche crack".
Engine has oil drips (not leaks)
Floor pan has been repaired, it is solid. By our standards it need to be redone correctly.

This is a deal for the person who can put it in the right frame of mind. It is a great driver as is. drive it a few years and resell at a profit in the current condition.
OR.
Restore it correctly and document the restoration as we do ar CPR Classic East, it will be all the money in #1 condition. Great color combo.
Watch Hagerty Valuations the price on this year and model will be going up soon.
Questions, offer, call Bruce 410 822 8322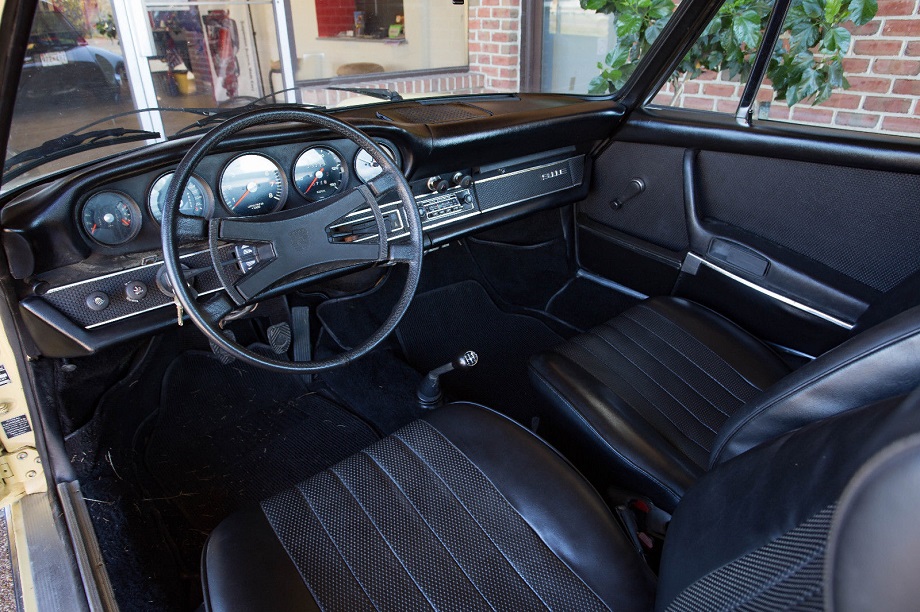 I think the seller has done a decent job of positioning this 911. We're told the good and the bad and generally can see the details. It is said to run well, which is nice.
Champagne Yellow doesn't seem like an easy color to photograph. In the sun it looks washed out and probably is making the paint job look more dated than it actually is. This isn't its original paint though the color is correct. For the most part it looks in good shape. The interior, I think, looks very good. We are told the dash is cracked though it's hard to see from the pictures. The seats and carpets look in great shape though and are said to be original. It's also very low mileage siting with just 23,220 miles on it. The mileage also is said to be original and comes with an affidavit attesting to its authenticity. That said it sounds like there isn't much in the way of documentation, either for the mileage or for any of the work carried out on it. That's going to be this 911's biggest flaw since it creates a lot of uncertainty.
At the end of the day this all comes down to price and how much effort you might want to put into bringing everything back into top condition. Were this a 911S I think you could feel confident that your labor (and money) would be rewarded; for a 911E the reward may simply be for your labor and the enjoyment you then get out of an early 911 that's been treated to a nice restoration. So it's a project, though not a major one. I guess not bad is about right.
-Rob