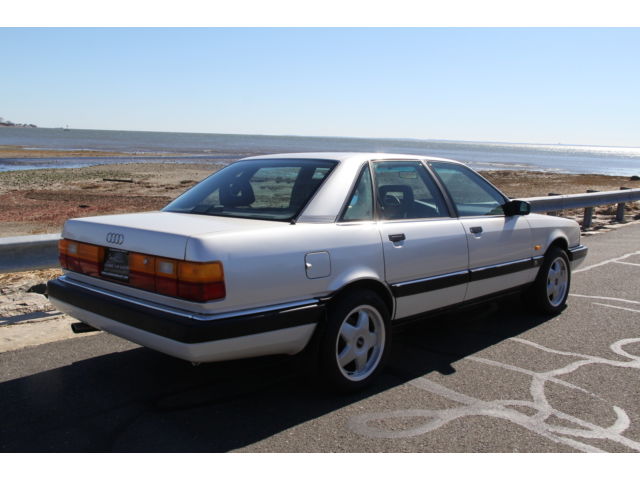 Seeing a clean C3 or D11 Audi these days is always cause for celebration, and draws and interesting comparison to the contemporary M5 I featured yesterday. While if you want to get into one of the BMWs you need to look at a lesser example or one with quite high miles (and the potential for accompanying big-ticket repairs) to get it affordable, when it comes to the Audis the same budget buys you one of the best examples on the market. The early 1990s was, for many, the height of Audi's build quality and design language, though admittedly part of that mystique is surrounded by their near disappearance from the market. Those that were sold are notoriously long lived, and while 250,000 miles on a S38 is enough to make any wallet shudder at the thought of future repair bills, for the 3B and later AAN motor – indeed, for any of Audi's offbeat inline-5s – that amount of mileage is almost expected. The result, when you look at a nicely preserved example like today's 1991 200, is almost to feel like the 162,000 miles covered are low. With some tasteful upgrades and in far above average condition, this 200 – one of only around 1,000 sold here – is a great reminder of why these older Audis have gained such a cult following: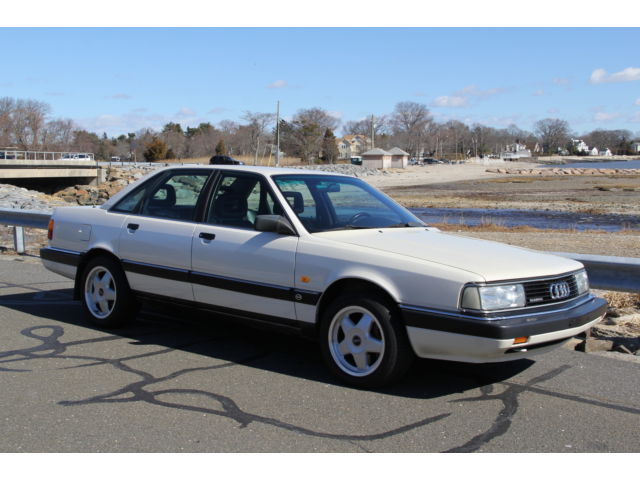 Year: 1991
Model: 200 quattro
Engine: 2.2 liter turbocharged inline-5
Transmission: 5-speed manual
Mileage: 162,000 mi
Price: $9,900 Buy It Now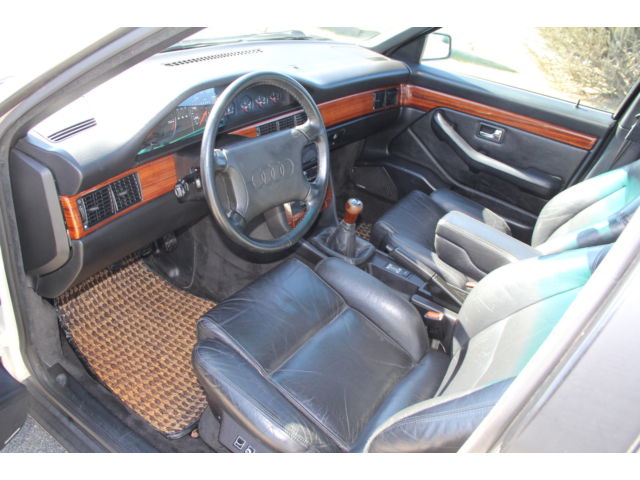 BECAUSE LIFE IS TOO SHORT TO DRIVE A BORING CAR!!!

THE CLASSIC CAR GALLERY

3266 POST RD

SOUTHPORT, CT 06890

203 256 9800

CLASSICCARGALLERY.COM

1991 Audi 200 20v Turbo Quattro Four Door "Fanatically owned, More than $7000 worth of recent work. Reams of documentation! Amazing enthusiast car!"

VIN WAUGE5441MN023206

The Classic Car Gallery is proud to present this beautiful 1991 Audi 200 20v Turbo Quattro Four Door sedan. Finished in pearl white over black leather this is one unique and rare Audi! It currently has 162,000 documented and pampered miles. Do not fear the mileage, as this car was fanatic owned, and has been very well maintained. The pearl white paint shows very well with few blemishes. The paint shines and has great depth; the color gives the car a great presence. There is no rust present around the body. The interior is in excellent condition with little wear throughout. The desirable factory sport seats are in great condition and all the seat mechanicals operation as they should. She wears UR S4 5 spoke Audi wheels shod with new Continental Extreme Contact DWS tires. The glass euro projector headlights are in excellent condition and have a 3M protective film to prevent chipping.

It was always enthusiast owned and well maintained. Recently, Thousands have been spent making this 200 a reliable and safe machine! A no expense spared conversion from the troublesome UFO brakes was just completed, Audi HP2 (S4) calipers, rotors and pads front and rear were just installed. The following preventative work was completed in the last 2 months as well;

Front and Rear Bilstein Struts and Shocks

Radiator, coolant flush and fill

Valve cover gaskets

Spark plugs

Inner and outer tie rods

Timing belt and water pump at 134,000

A Total Audi Performance chip and wastegate spring was installed along with a Magnaflow muffler; increasing power and drivability. The legendary 3B 20v Turbo motor pulls very, very powerfully through all gears. More then $8000 was just spent on the car, and she is probably the finest Audi 200 20v on the market today. She has two sets of keys, a clean carfax and needs nothing but a new enthusiastic Audi fanatic!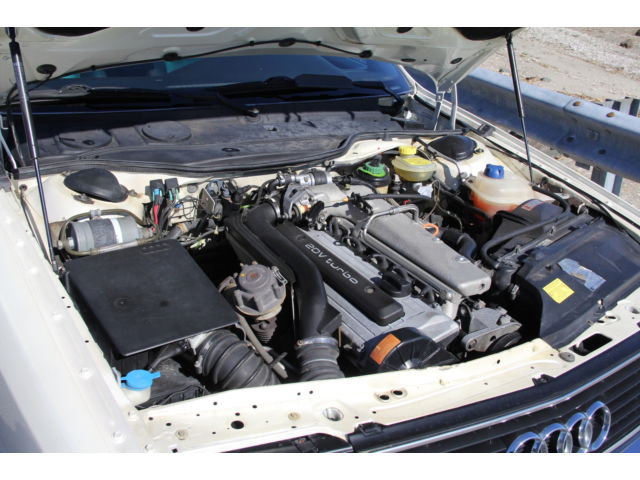 In general, the maintenance and upgrades are what you'd want. The S4 brake upgrade might not give you ultimately better one-time stopping power over the floating rotor "UFO" design the car originally came with, but it's much easier to live with day-to-day, and the accompanying suspension upgrades tighten up the slightly floaty original ride. By far the best addition is the Fuchs-made S4 forged 16″ wheels, one of the few designs that suits the 200 well other than the original BBS-made RG forged 15″ cross-lace wheels it came with. Sport seats are a welcome sight inside and are overall clean though they do show their age. The one thing I'd change immediately were this my car is the TAP chip which are notorious for causing problems. Otherwise, this is a pretty tidy example. However, the pricing places it at the top of the market and there are some small details that personally I'd expect fixed – such as refinishing the shift knob – that would bring the presentation up a few notches. Still, relative to the W124 and E34 market – themselves still pretty reasonable deals – the 1991 specific 200 is still simply the most German performance sedan your money can buy.
-Carter