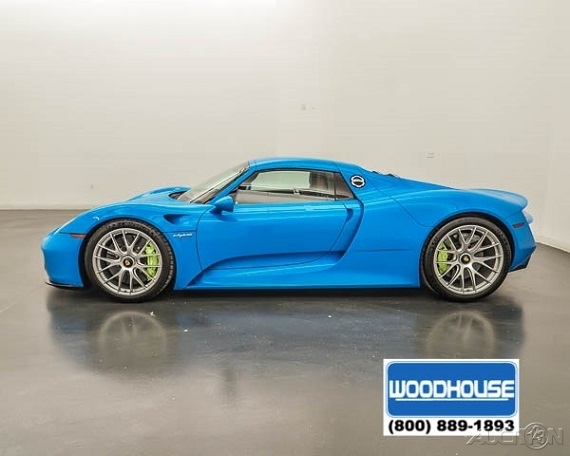 Since its debut the 918 Spyder has made frequent appearances in the classifieds, a not uncommon occurrence with these limited edition cars. I've bookmarked a few that caught my attention, but never really got around to posting them. This one I could not let pass by. Riviera Blue became one of the iconic Porsche colors with the introduction of the 993 and though the color was only officially made available for a short time we still see it pop up as a paint-to-sample option now and again. Porsche has long been known for its pastel colors and Riviera Blue fits well within that sphere. On the 918 it is stunning. There is something about the length of the car that seems to exaggerate the brightness of this color. While it could be a function of lighting and photography these pictures really jump off the page in a way that other Riveria Blue Porsches have failed to do. The owner of the Aranacio Borealis Carrera GT we featured on Sunday suggested that a potential buyer might consider pairing that audacious machine with a 918 Spyder as the showcases of a Porsche collection. Well, here you go. I can think of no better partner to that Carrera GT than this Riviera Blue 918.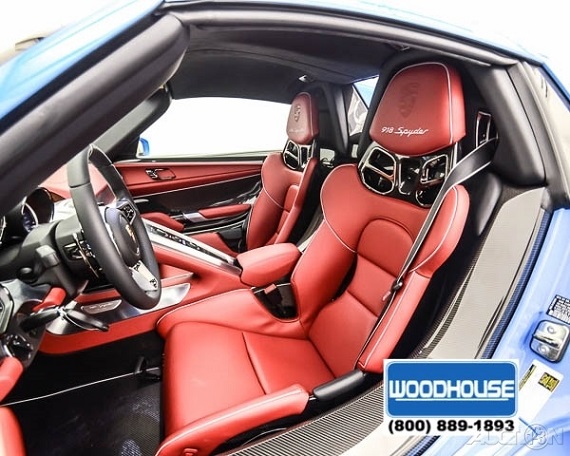 Year: 2015
Model: 918 Spyder
Engine: 4.6 liter V8/twin electric motors
Transmission: 7-speed PDK automatic
Mileage: 24 mi
Price: Reserve Auction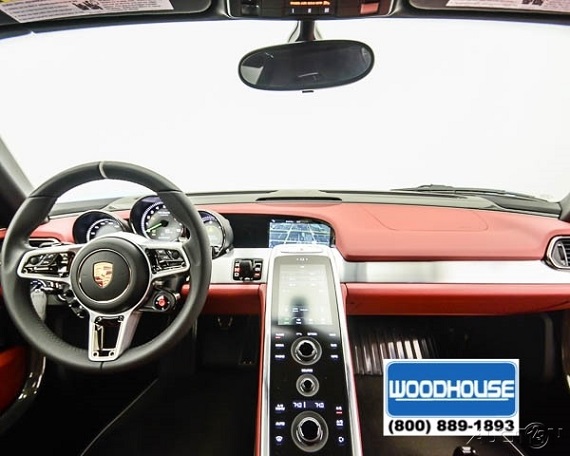 This is a unique opportunity to win an ultimate collector piece, a 2015 Porsche 918 Spyder finished in paint to sample Riviera Blue. This is a pristine condition 918 Spyder with only 24 miles. Unit number 73/918

Porsche of Omaha is a part of the Woodhouse Auto Family, an award winning chain of dealerships located in the Omaha metro area. Please call or email Alexey at 402.321-1881 alexey.afanasiev@woodhouse.com if you have any questions about this or any of our vehicles listed online. Thanks and hope to hear from you soon.

Porsche 918 Spyder.

For those who do not know what Porsche 918 Spyder is, it is Porsche's answer to the McLaren P1 and LaFerrari. 918 finished Nurburgring in 6.57minutes. Porsche 918 Spyder has a V8 naturally aspirated 4.6L engine producing 608hp along with two electric motors 127hp(front) and 154hp(mid) to produce combined 887hp and 944lf-ft of torque. 918 features a dual clutch automatic transmission with manual shifting mode.

Driving impressions according to Top Gear:

"Wow, just wow. It's incredible. OK, so if we're brutally honest the P1 is a hairier, more exciting car to drive – a more hyper hypercar. However, what the 918 Spyder does brilliantly is match the environment it's in. Cities: cool, quiet and electric; motorways: smooth, manageable, comfy; country roads: secure, immediate, massively confidence-inspiring; racetracks: razor sharp, suffers no fools. It's an intoxicating package, and so rewarding and absorbing to spend time with.

And then there's the engine. The best way to sample it is as follows: engage a high gear at low speed and shove throttle as far as you dare. What you get is this wonderful instant thrust from the electric motors (much bigger and more powerful than those fitted in either the McLaren or Ferrari), and then, as the revs rise, there's this delicious handover to the V8, an engine which is entirely savage at the top end. The whole experience unquestionably proves that hybrid is the future for supercars." Top Gear

Porsche of Omaha is happy to help out with your shipping needs. As an auto dealer we set up shipping for hundreds of customers each year. So, let us help you arrange your shipping. Or better yet, if you are flying in give us your details and we'll pick you up at the airport to pick up your new vehicle. Call or email Alexey at Porsche Sales at alexey.afanasiev@woodhouse.com 402.592.1000 for further details.

Options:

Exterior Paint to Sample, Non Metallic – Riviera Blue
Leather interior in Garnet Red with Silver Piping
918 Spyder Magnesium Wheels (20/21in)
Front Axle Lift System
Home Link System
Seat Pad for Lightweight Bucket Seats
Carbon Floor Mats with Silver Piping
Vehicle Cable 25ft
Porsche Universal Charger (AC)
Seat Belts with Accent Striping in Silver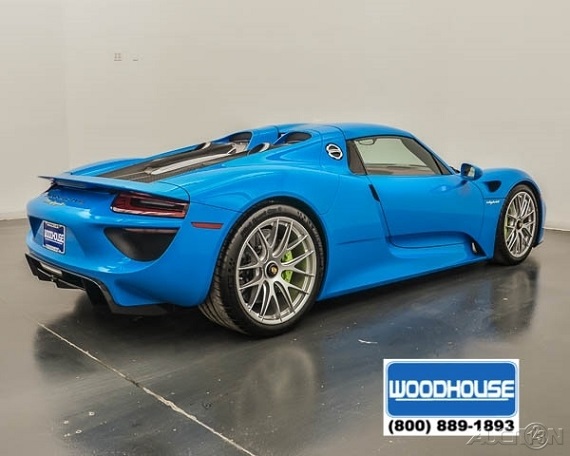 The 918 Spyder needs little introduction from me. As the most recent Porsche supercar it is a masterclass of technological wizardry combining two electric motors and a gas-powered V8 built to challenge its rivals at McLaren and Ferrari. As Richard Hammond stated during his test of the car, the 918 isn't just an attempt to build the best car of its day, but rather it uses hybrid technology in order "to save the supercar for tomorrow." It is exactly the sort of car we have grown familiar with from Porsche. A supercar that combines luxury and performance with as few compromises as possible. A car for the future that is sure to pass along its DNA to later models in the Porsche stable. It's beautiful in an understated way – relative to its rivals at least – but will never blend in or go unnoticed. Unsurprisingly, the price here is very high, but for what is already a rare and desirable machine, having one in a color like this simply takes the entire package to the next level. It is sure to garner significant attention in most any collection.
-Rob