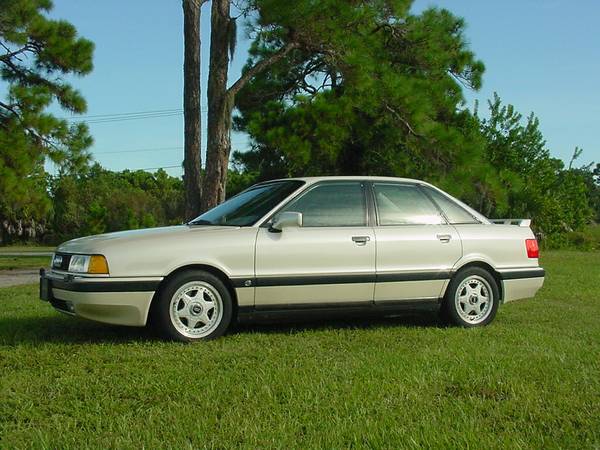 Sometimes, where a car is sold or turns up for sale is baffling to me. Sometime in 1991, a person walked into an Audi dealer in Florida. Now, considering that Audi only sold 12,283 cars in 1991 that in and of itself was something of a minor miracle. 1991 was the worst year in Audi's sales history outside of 1970 when the brand was reintroduced. To put it in an even bigger prospective, Audi sold more 100 models in 1971 than it sold total cars in 1991 – by nearly 50%. So, this person had walked by the Mercedes-Benz and BMW dealers – in Florida, mind you – and popped into an Audi dealer. Then, they selected a 90 quattro 20V. Now, starting in 1990 Audi had upped the game with the 7A 20V motor in the 90 quattro, and in terms of horsepower it was at least on par with Mercedes-Benz and BMW. But it was heavy and slower than the competition thanks to the all-wheel drive quattro drivetrain, so these 90s – and the rest of the quattros sold – were mostly relegated to Northern and Mid-Western states. And the buyer paid a steep price in 1991; around $27,000 before options. What was even crazier was that they then opted for the sport package and heated sport seats, as well as Pearlescant White Metallic paint. In short, this was the absolute most expensive Audi 90 you could buy in 1991. Yet, here it is, with low miles and in essentially perfect condition thanks to being stuck in Florida its entire life: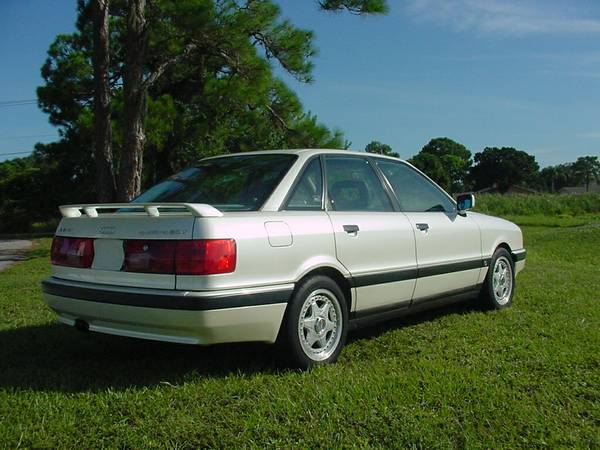 Year: 1991
Model: 90 quattro 20V
Engine: 2.3 liter inline-5
Transmission: 5-speed manual
Mileage: 135,300 mi
Price: $4,300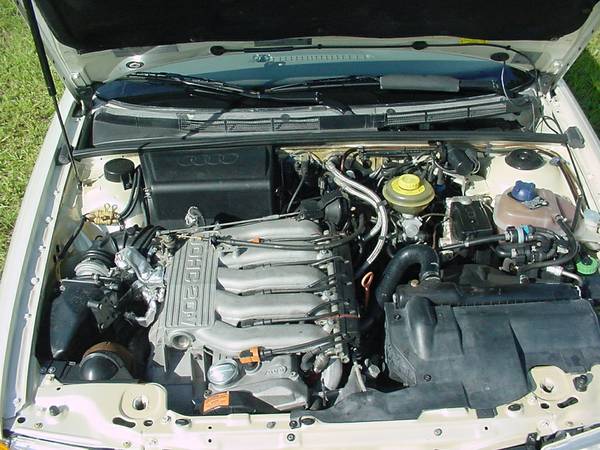 Available for your consideration a good ,non-daily driver/n (from 2003),low milage(135K), well maintained Floridian vehicle(from NEW, NO RUST!). This Audi's an all original vehicle, which has the factory sport versions; Recaro leather power seats, lowered suspension, rear spoiler, & pearl paint. The mods provided are factory Audi, model specific variety. They are, upgraded twin piston front brake calipers w/276mm rotors(can only be fitted to vehicle's w/15″ speedline wheels, and very rare on sedans), stainless equal length header(Early production), and large rear swaybar.

History, links,specs.ect:
http://20v.org/specs.htm .
http://www.audi9020v.com/ .
http://audifans.com/marketplace/ .

Recent maintance(detailed records available):
From 120K. New remanned original-carbonfiber propellershaft w/new Audi hardware(seals, bolts, ect.), new synthetic transaxle & rear differential fluid change. New German-Audi, OEM moded shifter assembly.
From 130K. Synthetic engine Amsoil change(annual). Cleaned K&N air filter, air boot, throttle body & installed a new German-Audi MAF sensor. New bosch oxygen sensor, ignition cap & rotor, & plugs.
From 135K. Front suspension; cleaning & rebooting(Lobro) half-driveshafts, w/new wheel bearings(FAG), & renewed strut assembly's(Koni-sport, H/D-strut mounts, & Sachs poly bump-bellows), and swaybar links. Brake calipers rebuilt, turn rotors, pads @75%, & system flush(ATE-amber 200). Engine; service of timing belt, which was provided: Cam seal, crank seal, timing belt idler, timing belt, waterpump, thermostat, radiator fan switch, radiator after run switch, auxiliary radiator(repaired & cleaned), radiator mounts, poly-front motor mount, coolant reservior & cap, whole system flush, new coolant, & acc v-belts(A/C,P/W,ALT). Also, cleaned & regapped sparkplugs, cap & rotor, fuel filter, new exhaust hangers.

Vehicle is adult owned, no pets, no smoking, and garage stored till the acquisition of a new vehicle(late summer 2015). This Audi drives and shows clean w/only small dings. UPDATE. Many options available to new owner: PROVIDED w/sale opts (pics available, email); Front preowned pearl-bumper(w/washer), NIB Audi OEM mid-exhaust/muffler assembly, & original(rebuildable) carbonfiber(mint) propellershaft w/a shipping carton. AFTERSALE opts; will discuss.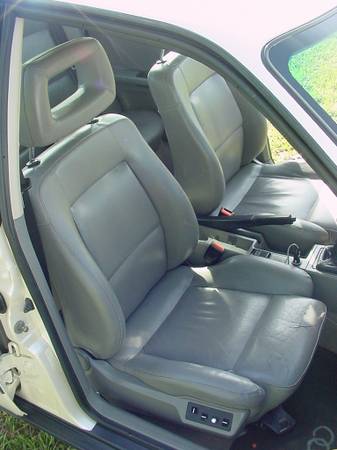 What's not to like? Well, if you jump in this car and expect that it's a big Jetta GLi, you'll be disappointed. They're quite heavy and a bit lazy off the line, and you can definitely feel the weight when you start to push them into corners. But on the fly the 7A is a magical motor and these are truly fantastic bits of kit to drive. I don't recall seeing one this nice recently and unlike the coupes, which enjoy a niche following, these 90 20V models are pretty obscure and are generally much more affordable. Indeed, I sit here on a dreary rain-filled Sunday wondering why I'm working on my 1987 Audi GT model at all with this much nicer and equally – if not moreso – rare model sitting in sunny Florida for a very affordable price. Don't be stupid; if you like these cars, don't wait and just pay the seller for what is likely the nicest example in the country.
-Carter