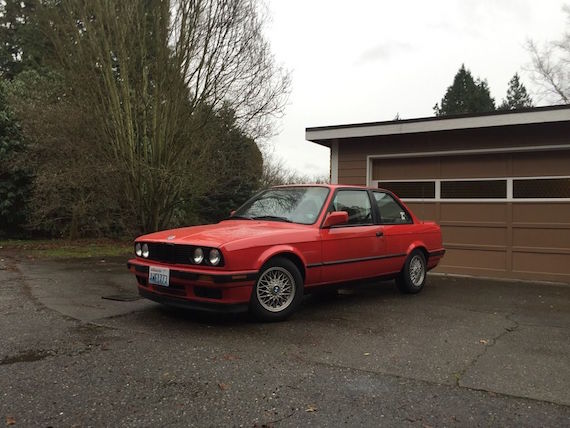 What constitutes an ///M car? That's a pretty confusing question these days as an M760Li is announced, ready to pile on to with decidedly non-Motorsport badge bunnies like the X4 M40i to rake up premium profits. If those cars can be ///Mified, then this E30 would certainly qualify as an M318is. Or M330is rather, as it now sports the early E36 M3s' S50B30. The only mileage listed is 140k, perhaps the engine and chassis covered similar distances before they were joined. Said original chassis, body, and interior look pretty decent, with some paint issues and a little wear on the seats. Those will be forgiven as the E30 relishes in its newfound 240hp glory in the hills. It would probably make a great cruiser too, if not for the low gearing that makes it do 4k RPM at 70mph. Overall it's a pretty tidy E30 package as they experience never before seen levels of demand.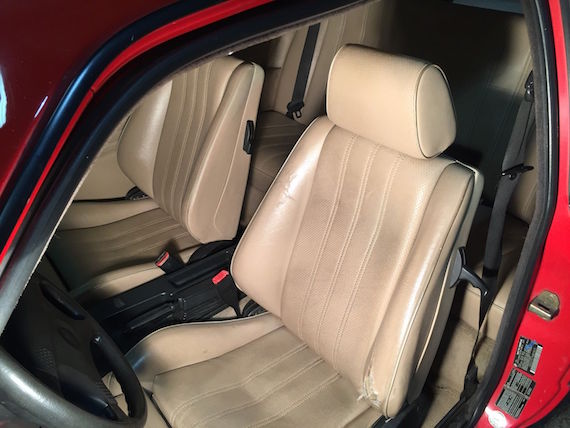 Year: 1991
Model: 318is
Engine: 3.0 liter inline-6
Transmission: 5-speed manual
Mileage: 141,179 mi
Price: Reserve auction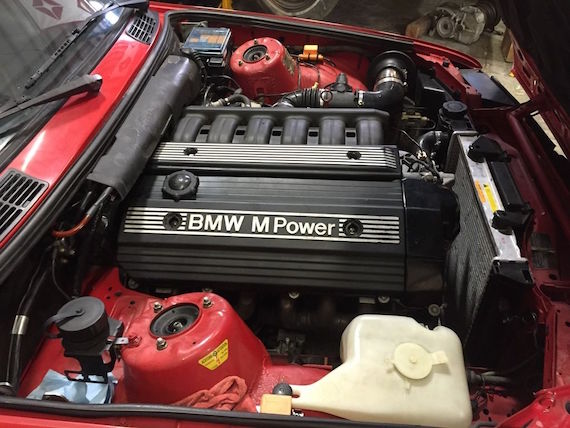 Details:
1991 318 IS E30, Slick top (no sunroof)
Red exterior, tan interior.
Mileage: approx 142,000
Car just had a major overhaul this year.
-1995 M3 Engine and 5 speed transmission were professionally swapped in
-Brakes were replaced all around, New calipers, pads, and stainless lines, Vac assist conversion with new booster.
-Suspension reworked- added front sway bar, H&R lowering springs, new control arms and bushings in the front.
-Complete new exhaust built for it- Stainless 3″ with V band for quick removal.
-Aforementioned work (engine, brakes, suspension upgrade) has approx 2k miles since being done.
Exterior:
No rust and very straight original panels, a few small parking lot door dings which could be removed with paintless dent removal if you want it to be perfect. But the paint is beginning to show signs of wear where the clear coat is fading away in spots. The most affected areas are hood and both door- roof is good. No rust.
Interior:
Seats do show signs of wear and dash has some cracks from the sun. looks like a 1991 that has been well cared for.
Engine:
-1995 M3 engine "S50B30" – All new OEM engine gasket set
-reworked head, new OEM head gasket
-S52 headers to facilitate easier swap
-Factory 95 M3 harness, 413 "Red label" ecu
-Full 3″ Stainless TIG welded exhaust, no cats, two mufflers. Sounds beautiful.
Drivetrain:
-Vacuum brake conversoin, Brand new brake calipers, pads, stainless lines front and rear.
-5 Speed manual trans
-Limited slip rear diff
-H&R Springs
-H&R front sway bar
-Bilstien struts
-New factory 95 M3 clutch
-Short shift kit
-New reman power steering rack
Overall a great running and driving car. Been using as a daily commuter and it is very fun to drive. Feels like it should have been from the factory. Aside from the intake and exhaust appears to have been factory with this engine. Factory unmodified wiring harness and ecu, no splicing.
The issues I know of with the car are as follows:
-Normal wear and tear, signs of age
-The brake bias is a bit off. May just need more bleeding but the car pulls to one side when braking. As mentioned above all calipers are brand new.
-General paint condition: Some cracking clear coat and evidence of overzealous detailing on the pass. door. Looks like maybe the edge of a buffer pad burned the paint a little.
-With the axle ratio of the rear diff it makes for an amazing autocross car but not so great above speeds of 70+ for commuting as rpm at 70 MPH is around 4000
Can get more pictures if anything specific you'd like to see. Living in Wa has not left me a day without rain to get pictures.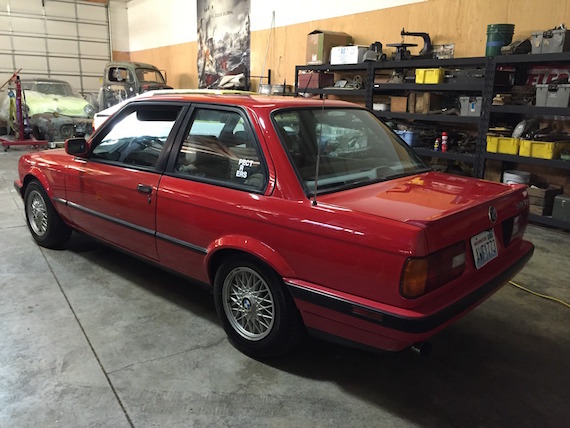 It sounds like the swap is high quality and everything is functioning well, but the cosmetic defects keep it from being the top-dollar E30 it could be. Any way you slice it, this car represents a lot of fun for the dollar with some classic BMW style!
-NR