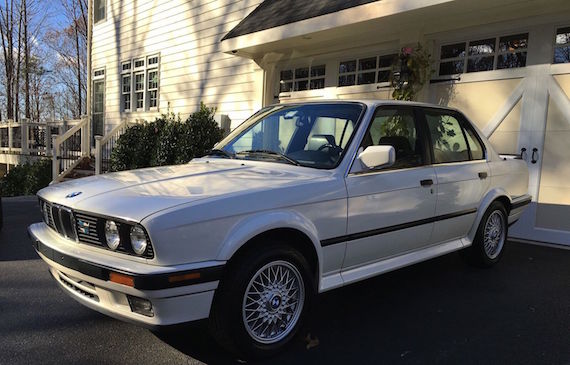 I was visiting Europe again last week, but through the magic of social media it feels as if I lived through the first blizzard of 2016. You know, there's the people who like to post photos of their vehicle temperature gauge or the folks who kvetch over the mere sight of a snowflake when in reality those were the same people complaining about a warm winter in the first place. Let's face it. It's winter. It snows. Deal with it. Now that I've gotten that off my chest, I would say it would be mighty tempting to own a car like this 1991 325ix just so I could post photos of everywhere I'd go with it in the white stuff.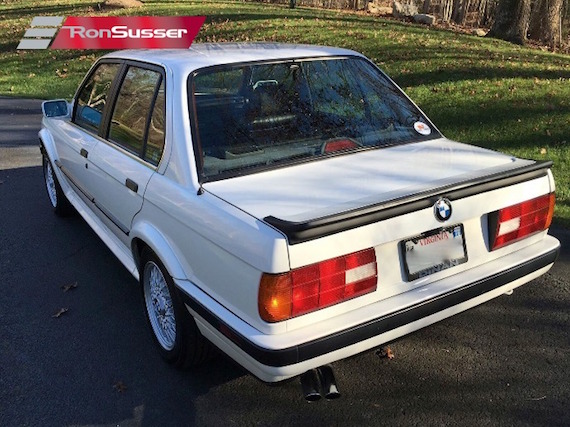 Year: 1991
Model: 325ix
Engine: 2.5 liter inline-6
Transmission: 4-speed automatic
Mileage: 96,059 mi
Price: Reserve auction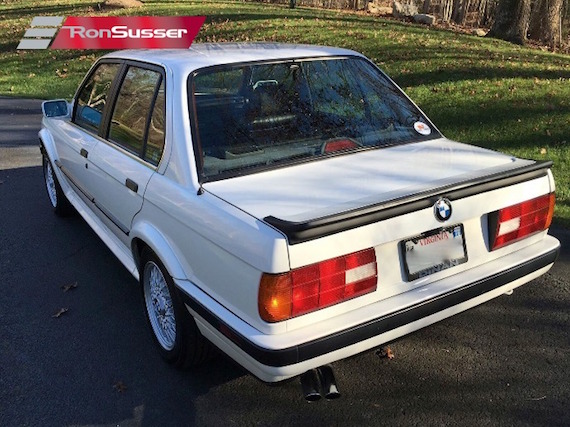 I am pleased to offer this gorgeous 1991 BMW 325iX All-Wheel Drive. This 325iX is owned by an exotic car enthusiast and is presented today in pristine/turnkey condition. Classic BMW with Alpine White exterior and black leather interior. VIN # is WBAAE0310MED53003 and mileage is 96,059 +/-.

The BMW 325iX was advertised "back in the day" as the ultimate snowmobile. It was a revolutionary concept for BMW and this example is one of the best in existence.

Options from Factory Order as noted on window sticker:

– Electric Sunroof ($275)
– Heated Front Seats ($300)
– Automatic Transmission ($700)
– Leather Upholstery ($975)
– Total MSRP $34,605

Options as fitted by Owner:

– BMW OEM M-Tech 1 Rear Spoiler
– Abraham Motorsport Euro Grill Set

Recently performed maintenance (totaling approx. $12,000)

– July 2015 at 95,252 miles

o Refinished iX 15×7 Basketweaves
o Installed brand new Dunlop Direzza DZ102 205/55/15
o Reset Oil Change/Inspection Lights Indicator

– May 2015 at 94,252 miles

o Extensive detail inside/out/trunk
o Not a single ding/dent on car

– March 2015 at 93,005 miles

o Performed by BMW Master Tech
o All new BMW OEM or Approved Aftermarket Parts

Timing Belt/Tensioner
Water Pump
Thermostat
Radiator
Cooling hoses (All)
Cooling Fan Clutch
Coolant flush
Drive Belts
Replaced Spark Plugs
Ignition Cap & Rotor
Ignition Wires
Engine Air Filter
Fuel Filter
Fuel Pressure
Fuel Level Sender
Valve Adjustment
Engine Oil and Oil Filter
Replaced Valve Cover Gasket
Head Cover Gasket Replaced due to external oil leak
All four (F&R) brake discs, pads, and wear sensors
Battery
Left Front Axle, wheel hub, wheel Bearing & Strut housing
Right Front Axle, wheel hub, wheel Bearing & Strut housing (2014)
Front Struts, Bump Stops & Dust Boots
Front Springs
Front Differential Output Shaft Seal and Sump Seal
Automatic Transmission Fluid & Filter, Pan Seal and Kick Down Cable/Seal
Rear Differential and Transfer Case Fluid S
Power Steering Fluid/Filter Reservoir
Power Steering Feed & Return Lines, Fluid Flush
Notes Regarding Vehicle

– Well documented (Window Sticker, Manuals, 2 Keys, 1991 Owner's & Service Guide, and other documents)
– A/C converted and blows ice cold
– Heat blows hot as a German vehicle should
– Everything – repeat – Everything (lights, bulbs, switches, antenna, radio, works)
– BMW floor mats included
– All tools complete
– Never mounted spare with genuine 15" proper offset spare included
– Windows are slightly tinted (can remove if desired by buyer)
– A great example of the last year of the e30
– Car Drives and performs as a bone-stock 1991 BMW 325iX should!

Standard Equipment

– 2.5L Displacement Engine
– 6 Cylinder
– 4-Speed Automatic
– Fuel Injection
– ABS Brakes
– Cross-Spoke Light Alloy Wheels 15×7 (which are NLA from BMW)
– Front and Rear Torsion Bar Stabilizers
– Hydraulic Power Assisted Steering
– And many more.. (See Window Sticker)

Comfort Features

– Anti Theft Electronic CD Ready AM/FM Stereo
– Cruise Control
– Dual Electrically Heated and Adjustable Rearview Mirrors in Body Color
– Dual Position Sunroof
– Electric Antenna (And it works perfectly… See picture)
– Toolkit

– And more (See Window Sticker)

Items That will not Convey with Car

– BMWCCA grill badge (sentimental value to owner)
– Dinan license plate frame

Other

– Making room for new vehicles incoming is reason for sale
– Can be viewed/inspected by appointment only in Fairfax Station, VA

A few Words about The Owner
I know the owner of this car personally and he is a well known car enthusiast in the Northern Virginia area. His garage currently houses multiple Porsches, Ferraris, BMW's, Mercedes etc. He is a meticulous owner and takes excellent care of his cars. Previous buyers of his cars have been very pleased with their purchases. This car will not disappoint. This IS the guy from whom you want to buy a car!!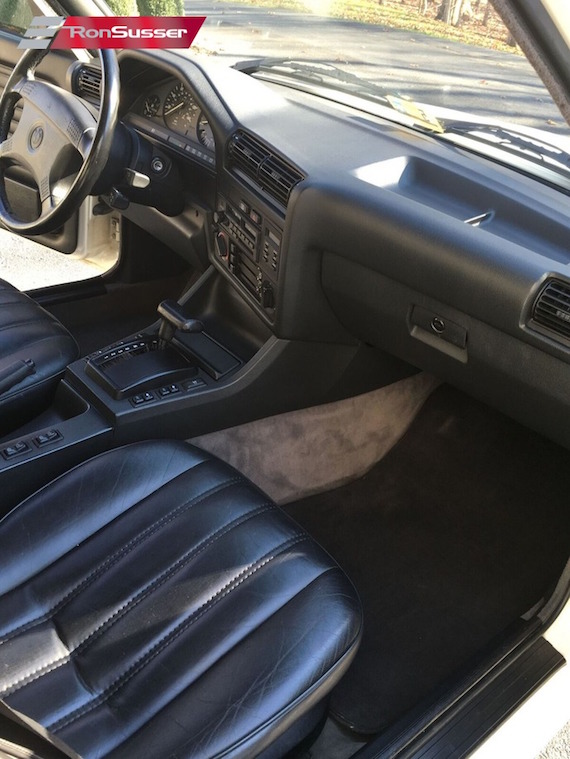 For a car nearing 100,000 miles, this E30 is sure sharp and brings back a lot of good memories of my Alpine White 325is, albeit with the intrigue of foul-weather capability. Some people might consider the automatic gearbox in this example a blessing or a curse. I would certainly fall into the latter category. While not the most valuable of E30s, the 325ix is fast becoming a favorite, mainly due to the fact that so little of them were sold here in the US. $7,000 to $10,000 is about the norm for where these cars sit. If this one had a 5-speed manual, it would bring slightly more in terms of value, but it is getting harder to find clean, unmolested originals of these Audi quattro competitors. Automatic gearbox or not, the chance should not be passed up on this one.
-Paul