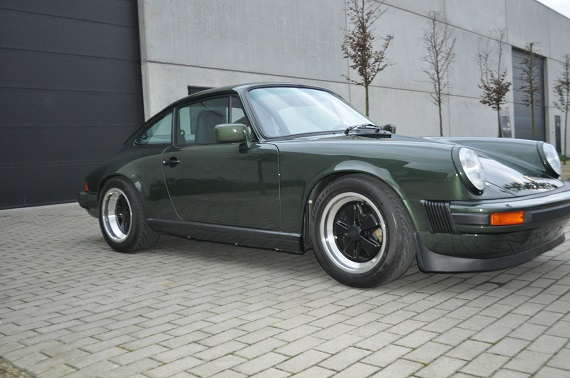 The Carrera 3.0 remains, to me, a somewhat mysterious car. Never offered in the US, these 911s followed in the footsteps of the fabled Carrera RS as a lightened and more powerful variant of an already excellent machine. The US market retained only the standard 911S, which used a 2.7 liter flat-six that remained hampered by restrictive emissions equipment. Now these highly regarded 911 models can be found on our shores, though their relationship – even if somewhat fleeting – to the Carrera RS has made them quite desirable. We've featured a few in the past and it has been tough to get a sense of where the market exactly lies as asking prices and auction bids rarely seem to match up. But here we have another, a restored Oak Green Metallic 1976 Porsche 911 Carrera 3.0 located in Belgium, that has seen plenty of miles during its life and currently shows around 112K miles.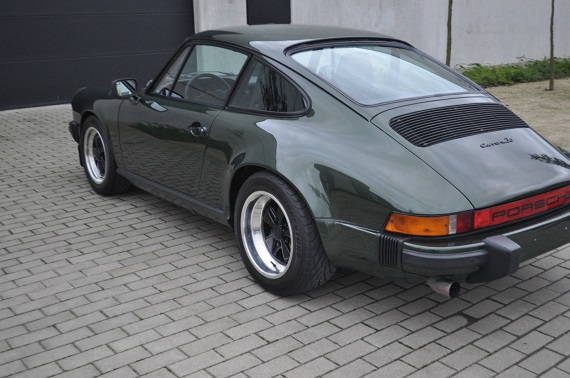 Year: 1976
Model: 911 Carrera 3.0
Engine: 3.0 liter flat-6
Transmission: 5-speed manual
Mileage: 181,000 km (112,000 mi)
Price: Reserve Auction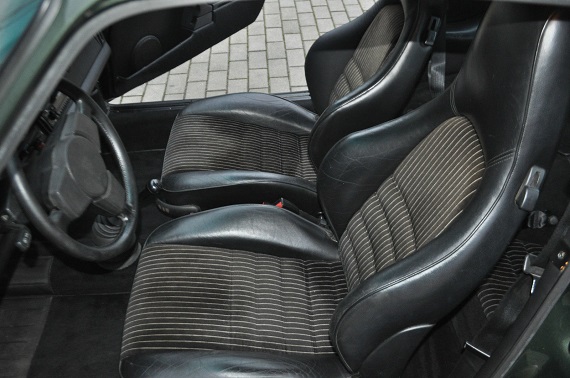 For sale is a porsche 911 Carrera 3.0L

We are selling this car on behalf of a good customer who has owned and enjoyed it for the past 10 years.
The car is originally German, was exported to the UK and is now under Belgian registration.
Its a matching numbers car, completely body off restored in its original color Oak green metallic
mechanically the car is in new condition, engine and gearbox have been overhauled in 2010 and have driven maybe 40000kms
since body off restoration the car has only driven 100kms
The car has a FULL service history from new (not the original book), but over 1 inch wide of invoices!!!

vin number: 911 6 600 106
Engine number 6660151
year: 1976
mileage: 181000kms which equals 115000 miles

bodywork
the car has been completely stripped to bare metal, sandblasted and rebuilt to its original specs (invoices for 30000€ present)
new floors, front panels, sills, … were all professionally welded in
the bodywork is in perfect condition, the paintjob is excellent!
a part of the resotration work can be seen on the fgporsche website

suspension
new bilstein sport shockabsorbers, all of the bushings are new as are the rubbers
all the parts have been blasted and powder coate

brakes
brake callipers are overhauled with inox pistons, all the brake lines are new, pedal system has been overhauled and rebuilt
all the brake lines are new

fuel system
new tank – lines

engine
the engine has been rebuilt for the first time in 1986 by Derkum Motortuning (Horst Derkum) who was an engine tuning legend at that time. special pistons – camshafts were used. Reinhold Schmirler then continued to word on this car (RS tuning in Germany) which is an even greater legend. The engine is a bit unstable upto 2500rpm, but at 3000rpm it is absolutely marvellous (due to the camshafts).
Fg porsche rebuilt the engine again in 2010 respecting the pistons and camshafts.
Balanced crankshaft and rods
High compression pistons (rs tuning) with the matching camshafts
Light and balanced flywheel, sport clutch in aluminium
A stainless steel SSI exhaust system is used

gearbox
The gearbox has been rebuilt in 2009 by FG Porsche for the cost of 5500€
A completely renewed LSD (original plated) has been fitted
All the guide sleeves – synchro – bearings are renewed

wheels
original fuchs wheels with very good tires
the front wheels are 7 inch
the rear wheels have been rewelded to 9,5 inch wide (original fuchs) to make it look even better

interior
new carpet set and new roof lining of course
very nice turboseats with stripes in the middle
the heating system has been rebuilt to the old system (to match the ssi exhaust sytem)
electrically everything works from the power windows to the electric mirrors

This car is an absolute joy and a very good investment.

For extra pictures, send us an email

The car is visible in Belgium at FG Porsche

We can help with delivery to the nearest Ports and international shipping (we are close to the port of Antwerp – Rotterdam – Amsterdam)

Deposit of $1000 within 48 hours, balance within 1 week

Telephone: 0032 475 765 647 ask for Simon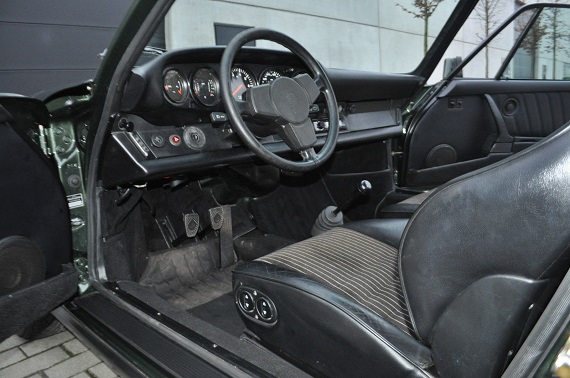 Given the mileage this car has seen this looks like a very nice restoration. The interior we'd probably label as good rather than spectacular, but the exterior looks really good. I would guess much of the attention during restoration focused on that exterior. However, there are a couple potential issues. This Carrera comes with its original Fuchs wheels, but the rear wheels have been widened to 9.5 inches. They look really nice, but I wonder how much appreciation buyers may have for them given the collectible nature of these cars and the focus on originality. In addition, it appears to be missing its whale tail. I know that some Carrera 3.0 came with the tail deleted, but there is no mention of that here and since it does possess the front spoiler then I assume it originally had a tail. Perhaps I am mistaken, but I would be looking for some clarity there. Otherwise, this Carrera looks great; it's a pretty rare color for its time and given its higher mileage perhaps it will come at a little bit of a discount. That doesn't mean cheap though. Bidding currently sits at $103,700 with reserve unmet. The last Carrera 3.0 I featured was bid up to $175,100 and that failed to meet the reserve. I don't expect this one to see that sort of figure, but it does suggest we may be a long way from the reserve here.
-Rob