Developed as an exercise in styling, technology and power, the BMW 8 series is by far one of the most beautiful cars that BMW has ever developed. Boasting cutting-edge features like keyless entry, dual-zone climate control, power tilt-and-telescope steering wheel, and windows that automatically closed at high speeds, the 8 series was the benchmark for BMW luxury, second only to the 7 series.
The advancements didn't stop with the creature comforts. The 8501 featured a 5 liter V12, and featured industry's first drive-by-systems, and a 6-speed gear box, resulted in 296bhp, and runs to 60 in just over 6 seconds, not a bad feat for a car weighing in at slightly less than the 7 series.
Despite all of the technology and performance packed in to the sexy body of the 850i, it wasn't exactly a home run for BMW, likely due to the over $100K MSRP. Over the years the 8 series has been something of beauty to stare at, any something only the few brave souls venture to own.
This Sterling Silver over grey 850i for sale in Denver, Colorado is a pristine example of one of BMWs finest GT cars.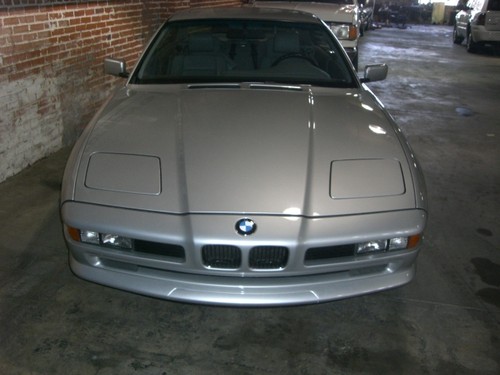 1991 BMW 850i

One Owner, 11,607 miles, All Service Records, Original BMW Phone In The Car, 6 Disc CD Changer
Dinan Chip, Dinan Exhaust, AC Schnitzer Wheels, OEM Battery Tender, All The Books, All the Keys, All The Records.
Tires are better than 60% tread left even has a custom car cover that is included in the sale.
Runs very very strong even here at altitude and is an very fun vehicle to drive.
This car is truely a rare find, Not another one on the planet like it for sale.
This car is free of any and all dents or dings, truely a time capsule car.
Please feel free to ask any and all questions before bidding and if you have a comment please keep it to yourself.
The Motorsports Gallery is a licensed/bonded Colorado dealer we are located in Downtown Denver.
There will be a $299.00 documentation fee added to the final bid total and any and all taxes that may be charged to in state buyers.
Feel free to call 303-292-0235 with any questions about the car.
This car is sold AS IS – Where IS, there is no warranty. We can help with setting up transportation.
If you bid please be prepared to purchase, a $1000.o0 deposit will be due within 24 hours of auction end. And full payment within 5 days of auction end.
To say a car like this is a poodle is an understatement; cars like this were developed to prove a point with regards to technology, and power.  When BMW was developing this car, reliability and cost of ownership certainly never entered the equation; besides if maintenance is your concern with buying this car, then maybe you just don't get it.
As far as the 8 series goes this would be what I look for, if in the market. With 11,607 miles, one owner and all of the right aftermarket upgrades, this car has certainly lived the high life compared to many others you'll find for sale. While certainly not the most desirable of the 8 series, this 850i offers the v12, and rare 6 speed making it a true drivers GT car.
The pricing on these cars tend to be all over the place, but an example like this has to fetch top dollar. All things considered, I would put this car at about $22,000, but I'm willing to bet the reserve for car this clean is in the $25,000-$30,000 range, which is way too high. We'll see how this pans out in just a few days.
-Brian