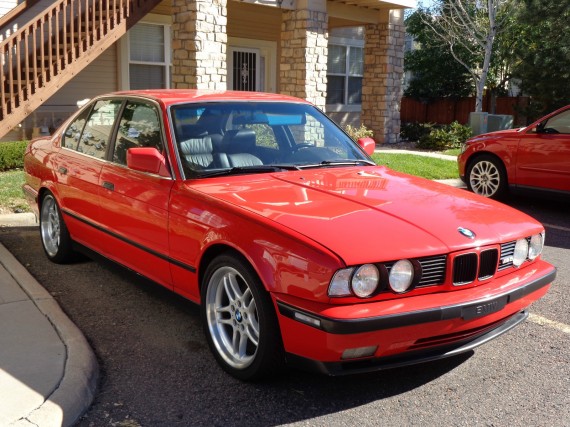 The E34 M5 remains a bargain among the various performance sedans available. Sure it lacks the glorious 4.9 liter V8 that produced nearly 400 hp in the E39. But with 307 hp coming from the 3.6 liter inline-6 the E34 still packs a worthwhile punch and a decent driver can be had for a much lower entry cost than any decent E39. At the moment these cars aren't holding the attention of the collector market, but an example in good condition with reasonable miles can still be had, driven for a few years, and then likely resold for little to no depreciation. Which brings us to the car featured here: a Brilliant Red 1991 BMW M5 located in Colorado that's seen a bit over 100,000K miles.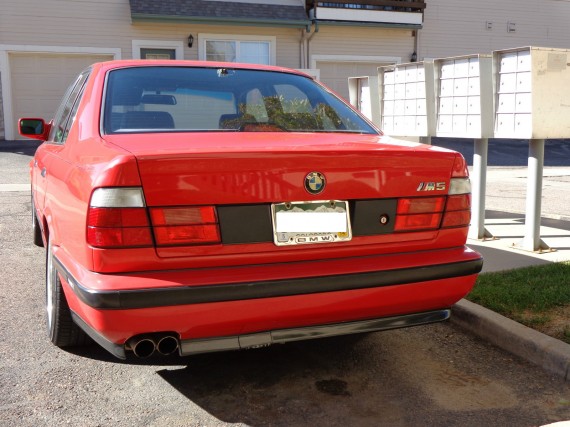 Year: 1991
Model: M5
Engine: 3.6 liter inline-6
Transmission: 5-speed manual
Mileage: 109,000 mi
Price: Reserve auction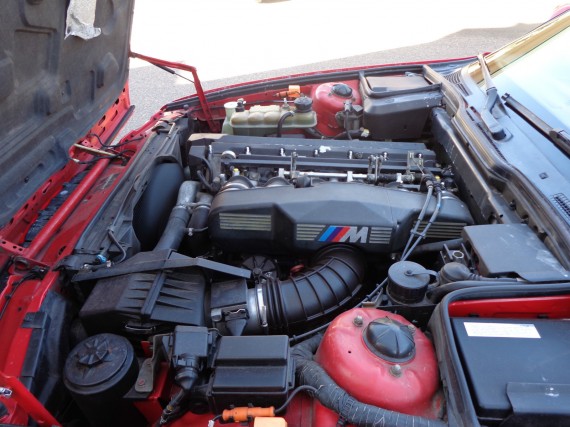 1991 BMW E34 M5 WITH ONLY 109K ORIGINAL MILES. DRIVETRAIN IS IN VERY GOOD SHAPE, MEANING IT RUNS AND DRIVES GREAT AND PULLS HARD, IT'S VERY WELL MAINTAINED WITH SOME SERVICE RECORDS AVAILABLE, BODY HAS NORMAL 22 YEAR OLD WEAR, BUT OVERALL IS IN VERY GOOD CONDITION(SEE PICS), NOT PERFECT. HAS LOTS OF POTENTIAL THOUGH. INTERIOR IS IN IMMACULATE SHAPE WITH NO RIPS OR TEARS IN LEATHER. ALL ELECTRICAL IS IN PERFECT WORKING ORDER. PRICES ON THESE ARE QUICKLY GOING UP, SO HERE IS AN OPPORTUNITY TO OWN A REAL CLASSIC. LAST OF THE HAND MADE Ms.

UPGRADES:

– 18″ OEM M-PARALLEL STAGGERED WHEELS SPECIFICALLY DESIGNTED TO FIT E34 M5 WITH 20/22 OFFSET (ORIGINAL WHEELS ARE NOT AVAILABLE)

– M TECH STEERING WHEEL

– BLACK KIDNEY GRILLES

– CLEAR CORNER LIGHTS/SIDE MARKER LIGHTS

– EURO TAIL LIGHTS (DEPO)

– BRAND NEW MP3/USB/PANDORA KENWOOD DECK

THINGS TO LOOK INTO IN FUTURE:

– A/C BELT IS SQUEAKY (A/C BLOWS ICE COLD)

– MUFFLER SHIELDS ARE A BIT RUSTY (THIS IS THE ONLY RUST THE VEHICLE HAS)

– TIRES WOULD NEED TO BE REPLACED SOON, BUT STILL HAVE AT LEAST 40% ON ALL 4.

PLEASE ASK ADDITIONAL QUESTIONS.

SERIOUS INQUIRIES ONLY!!! ALL SUSPICIOUS BIDDING ACTIVITY WILL BE RETRACTED AND REPORTED!!!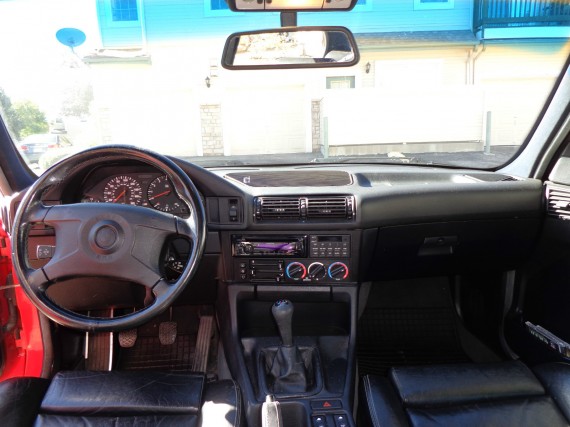 For the most part, the modifications to this car fall in the tasteful category so I don't expect they'll dissuade too many potential buyers. Both the exterior and interior look very good, though as the seller notes neither is perfect, and that's just fine. Get this car to drive and enjoy. The bidding right now is at $9,200 with reserve still on and has seen a decent bit of action. I'd expect a car of this mileage and condition to sell somewhere just a bit north of $12,000. And really, that's not bad for one of the best performance saloons made!
-Rob