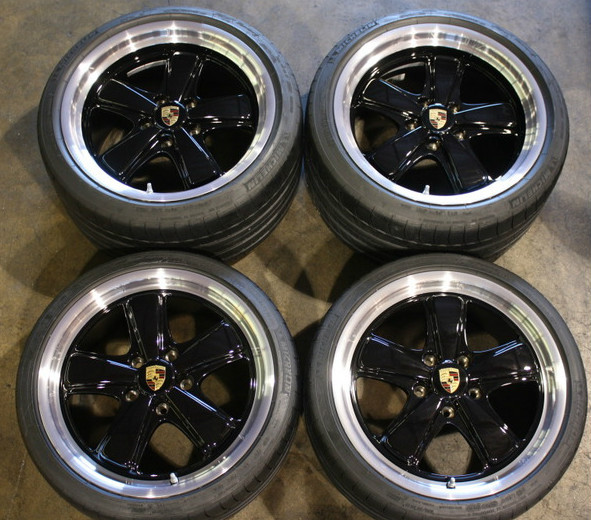 If you thought last week's BBS post was a bit of a basket case, today we're going to look at another popular style of wheel – this time, 5 spoke wheels that are always popular on Porsches. I've picked some of the most popular styles that have adorned several different generations so hopefully there is something you like here. Let's start out with a great set of "Sport Classic" Fuchs replicas:
Year: 2005-2011
Model: Sport Classic (Fuchs)
Diameter: 19″
Width: 8.5″ front, 11.5″ rear
Bolt Pattern: 5 x 130
Offset: ET 55 front, ET 50 rear
Condition: New Take-offs
Tires: Included Michelin Pilot Sport N2 235-35-19 front, 305-30-19 rear
Price: $6,499 Buy It Now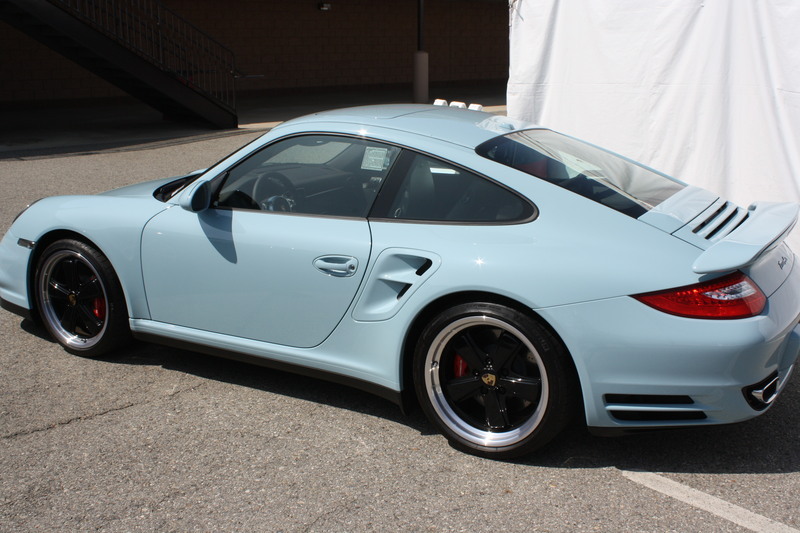 NEW Porsche 911 997 FUCHS Sport Classic Wheels with Michelin Pilot Sport N2 Tires
Porsche # 997.362.157.56 & 997.362.163.56
Stock # 1000814

987 Boxster, Boxster- S [01/2005 – 12/2011]
987C Cayman, Cayman- S [01/2006 – 12/2011]
997 Carrera, Carrera-S, Carrera4/4S, Targa, Turbo, Turbo-S, GT2, GT3 [01/2005 – 12/2011]

These are simply beautiful.

Set of Porsche 19″ Sport Classic Wheel & Tires Package

Porsche Part numbers

99736215756 8.5x 19 ET55

99736216356 11.5x 19 ET50

This is a brand new set from the dealer, with brand new Michelin Pilot Sport N2 tires (235/35/19 – 305/30/19).

Originally made for the Porsche Sport Classic, these new age Fuchs are available for your 2005-2010 Turbo and wide-body

(Carrera 4S, Targa 4S, Carrera 4, and Targa 4)

Wheel sensors installed, Balanced and ready to go!

Narrow body sets are available, same listing though so just bid and let us know you need a narrow body set.
The Sport Classics are one of the best looking OEM wheels Porsche has put on their newer cars; as a throwback they're a fantastic update of the original, but also look modern and aggressive, pulling the evergreen "911" into the current century. Like all Porsche wheels they're pricey, but this set comes with centercaps and tires – something often missing from Porsche wheels for sale, as we'll see. Still too rich or new for your blood? How about this set of OEM BBS-made 911 Carrera wheels?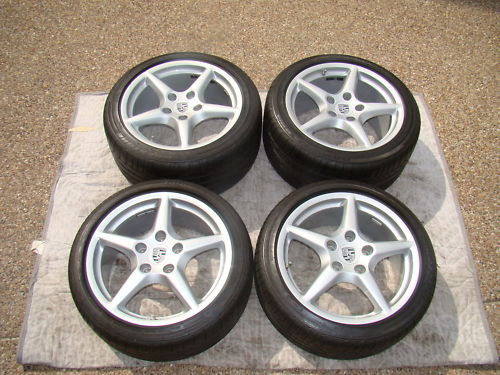 Year: 2005-2011
Model: Carrera III
Diameter: 18″
Width: 8″ front, 10″ rear
Bolt Pattern: 5 x 130
Offset: ET 57 front, ET 58 rear
Condition: Refinished
Tires: Included Continental ContiSport Contact 235-40-18 front, 265-35-18 rear
Price: $2,400 Buy It Now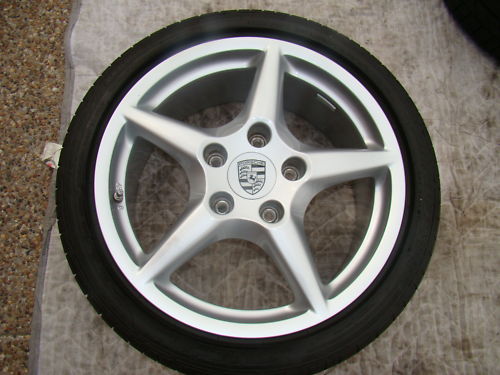 or auction is a set of Original, OEM, Factory, Geninue 18″ Porsche 911-997/996 Carrera III wheel, Tire and Porsche OEM Black Crest Center Cap set. The auction is for Wheels, tires and Porsche OEM Black Logo Center Caps. These set of wheels and Tires are in Pristine condition with no chips or ware. There is no structural damage such as bends, cracks, curb rust or scratches. The wheels are straight and round. The wheels comes with original Black Logo Center Caps. The wheels will fit Porsche,911/997, 911/996 and 911/993 NARROW BODY Vehicles. This wheels and Tires will Also fit WIDE BOBY 997, 996, 993, 944, 928 WIDE BODY and other porsche models. This Wheel is very nice when mounted on your Porsche and very rear to find especially one that comes with Continental Sport Contact Tires. Wheels and Tires are in prinstine shape and condition.

Please Note: Wheel has been refinished to a Brand New Condition!!!!

PLEASE NOTE: eBAY COMPATABILITY CHART IS NOT CONSISTENT IN ANSWERING FITNESS QUESTION. PLEASE ASK ME DIRECT OR CONTACT THE DEALER IN YOUR AREA.

Wheels and Tires Details:

Front Wheel: Part #: 997-362-136-00 Size: 8Jx 18 Offset: 57 Front Tire Size: 235/40/18 Continental Sport Contact 2 Speed Rating 91Y. Tire Tread Remaining: 90%.

Rear Wheel: Part #: 997-362-140-01 Size: 10Jx 18 Offset: 58 Rear Tire Size : 265/35/18 Continental ContiSport Contact Speed Rating 101Y. Tire Tread Re maining: 90%

The Front Tires has 90% of Tread Remaining and the Rear Tires has 90% Tread Remaining.

The Porsche dealership retails the total cost of these wheels, Tires and the Center Caps is $5705.12 plus tax. This is a nice opportunity to dress up your Porsche at a reasonable cost.

Please note that the wheel and tire will be ship in each individual box to safeguard against damage.

Please read my feedback and bid this item with full confidence.

Thank you for reading my listing.

Thank you.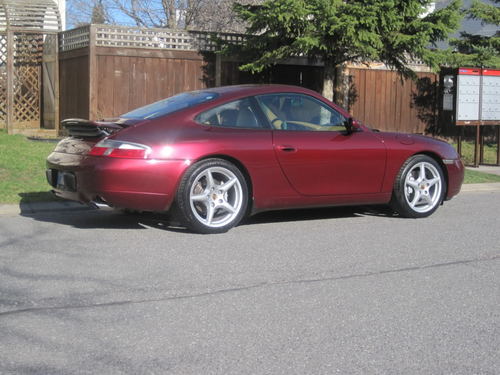 These are a great looking, simple wheel that is well built by BBS. I really thought these freshened up the 911 design when they debuted and made it look modern but also lighter. With included (and expensive) tires and centercaps, as Porsche wheels go these are a deal. Still a bit too pricey for you, but you'd like something from the same generation? How about these Carrera 4S "Twists"?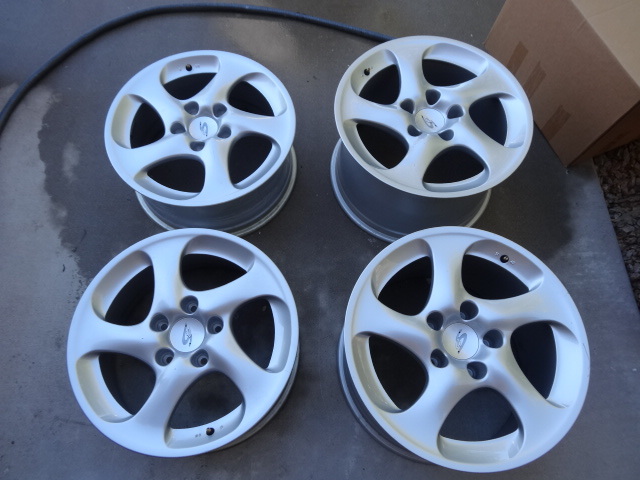 Year: 2005-2011
Model: Turbo Twist Hollow Spoke
Diameter: 18″
Width: 8″ front, 11″ rear
Bolt Pattern: 5 x 130
Offset: ET 50 front, ET 40 rear
Condition: Used
Tires: Not Included
Price: $650 Buy It Now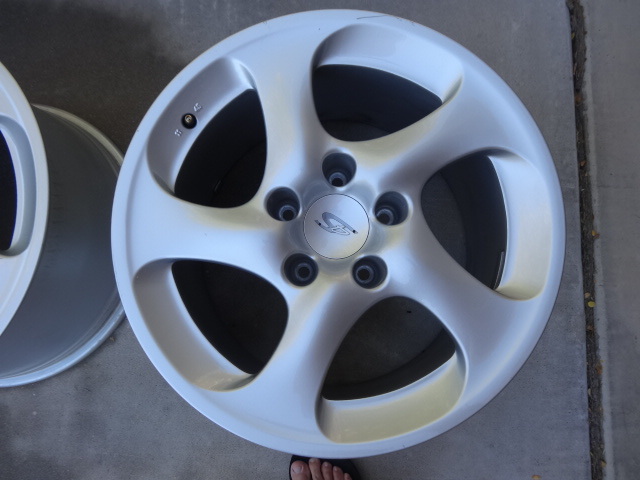 SET OF 4 PORSCHE 911 991 996 997 C2S C4S TURBO WHEELS STAGGERED. CENTERCAPS ARE INCLUDED. PART NUMBERS ARE LISTED ABOVE SO MAKE TO SURE TO CHECK THESE ARE THE ONES YOU WANT. WHEELS ARE IN GREAT SHAPE WITH A FEW MINOR BLEMISHES AS PICTURED. SHIPPED FEDEX GROUND. NO INTERNATIONAL. ALASKA, HAWAII, OR P.O. BOX SHIPPING. ALL ITEMS SOLD AS-IS WITH NO RETURNS ACCEPTED. ANY QUESTIONS JUST ASK, THANKS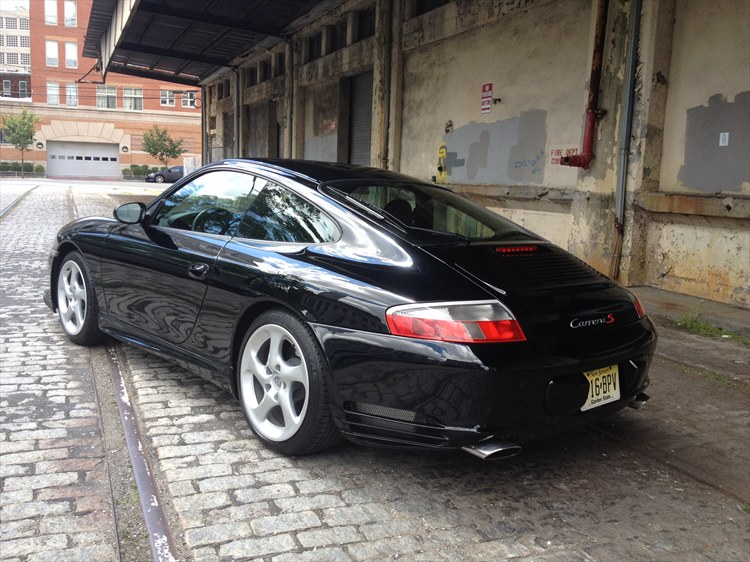 Talk about a stellar deal; with centercaps included these 18″ wheels with light use are only $650. As Porsche wheels go, that's basically giving them away. These would ideally suit a 996 or 997 widebody, with an aggressive stance and clean look. Were you looking for something a bit older? How about this set of 993-era "Cup" wheels, brand new in box from Porsche: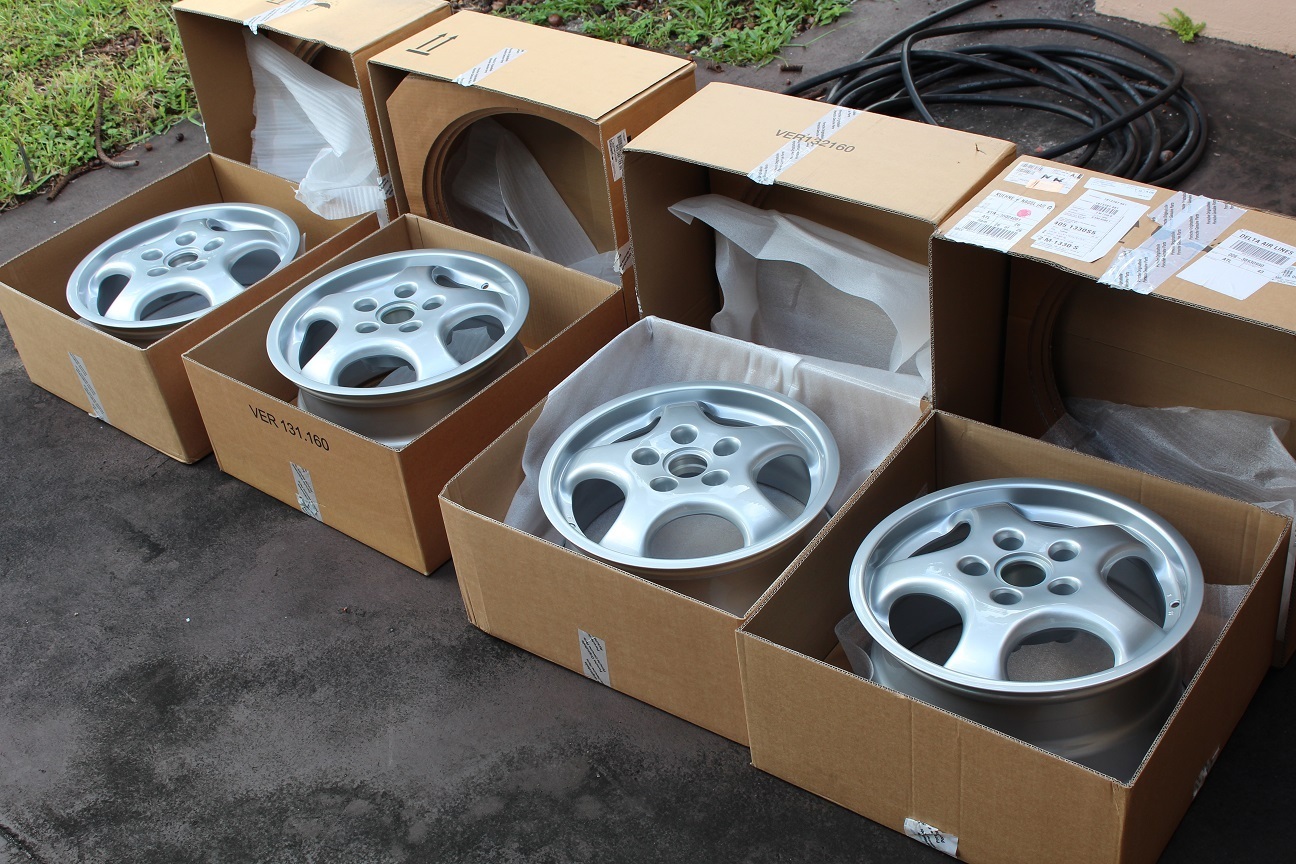 Year: 1989-1994
Model: Turbo Cup
Diameter: 17″
Width: 7″ front, 9″ rear
Bolt Pattern: 5 x 130
Offset: ET 55
Condition: Used
Tires: Not Included
Price: $4,995 Buy It Now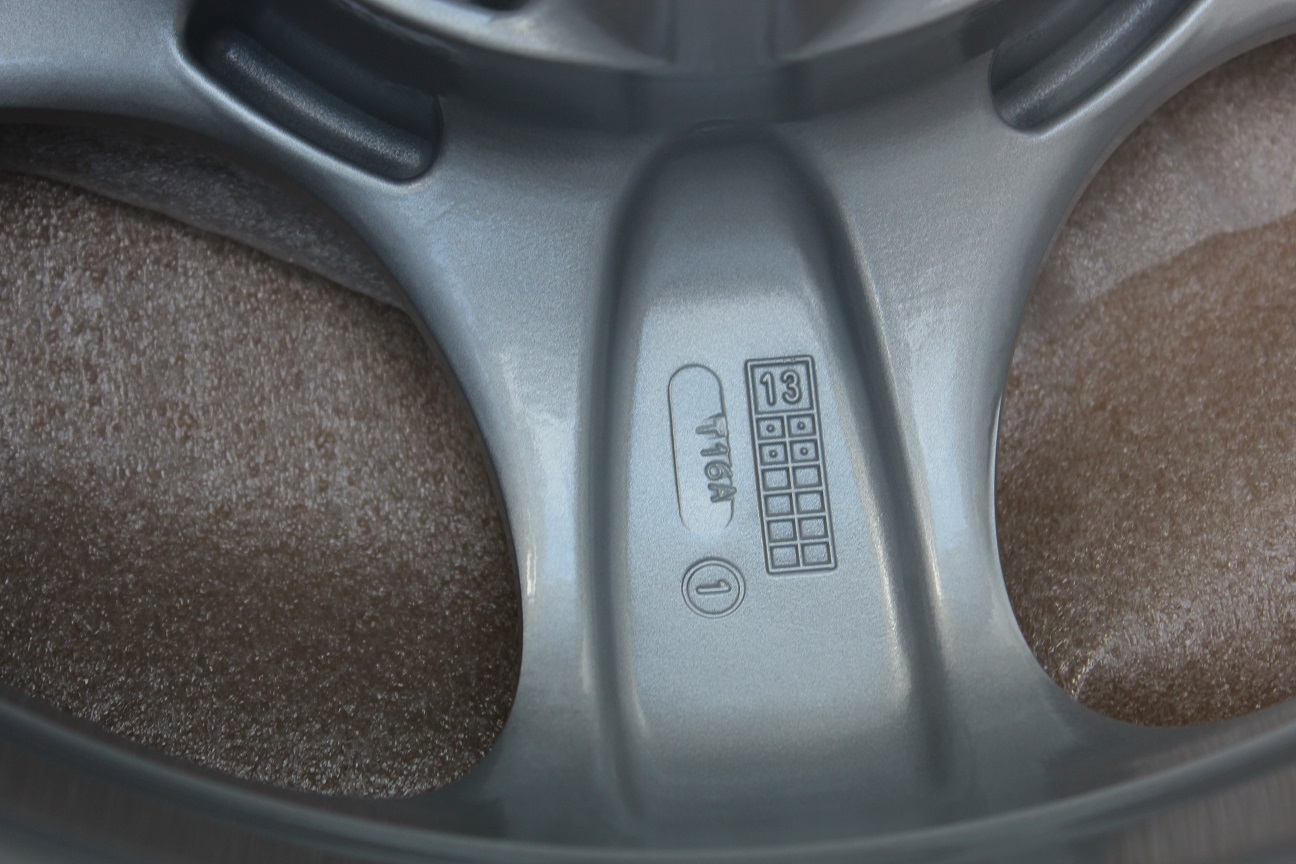 Up for sale is an extremely rare set of factory Porsche OEM Turbo Cup wheels, for a Porsche 911 Turbo ( 965 ) . These are brand new, in the box, never been mounted.

See specs below:

FRONT WHEELS:

Part # 965.362.124.01
Size – 17×7
Offset – 55 mm

REAR WHEELS:

Part # 965.362.128.00
Size – 17×9
Offset – 55mm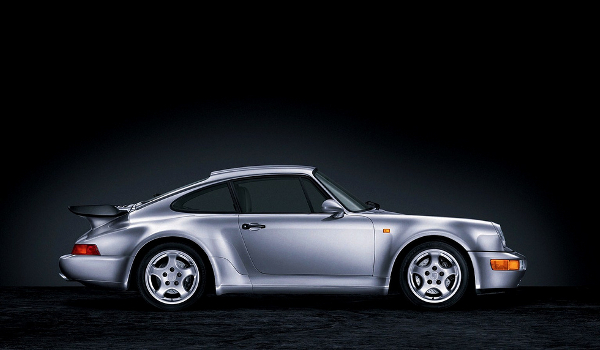 While I love the originality of these wheels and this design on the 964s, I have to say I really liked the Speedline-made multi-piece Turbo 3.6 wheels a lot more. Despite this, if you're in the restoration market for a 965, these might just be the wheels for you. In typical Porsche wheel fashion, there are no tires or centercaps and they're very expensive. Are you like me and prefer the look of the Speedlines? Have an older 930? How about these Ruf Speedlines then?
Year: 1986
Model: Ruf Speedline
Diameter: 17″
Width: 9″ front, 10″ rear
Bolt Pattern: 5 x 130
Offset: not specified
Condition: Used
Tires: Included Michelin Pilot Sport 235-45-17 front, 255-40-17 rear
Price: $4,599.99 Buy It Now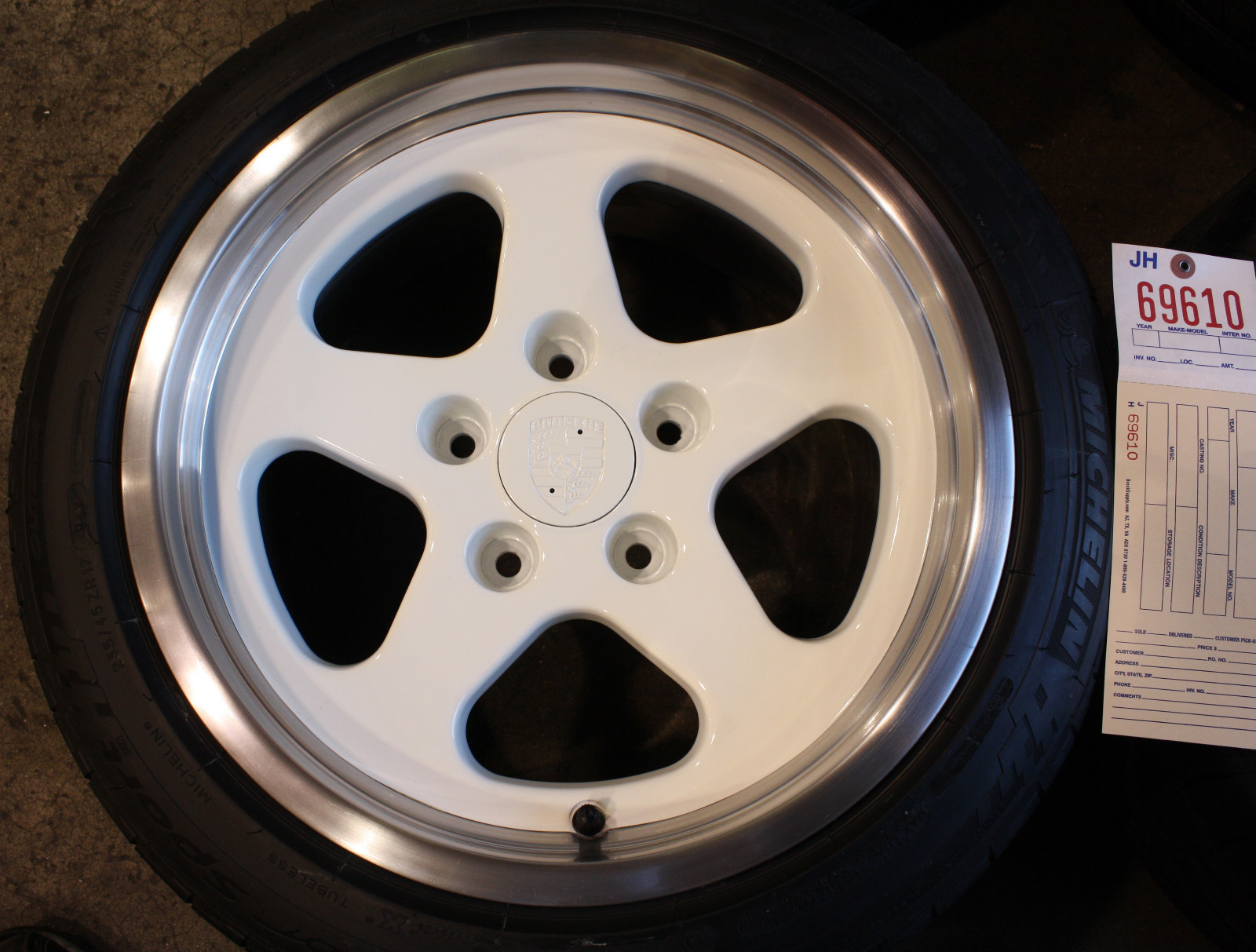 Original Porsche 911 930 1986 RUF Turbo wheels rims set w/ tires 17″ inch. (9×17) & (10×17) **RARE**

White face w/ polished lip

Up for sale is a set of Factory original RUF wheels.
These wheels pictured here have survived the test of time.
Still in factory original shape with no damage or repairs.

Like New.

In excellent condition.

Tires:

235/45 ZR 17

255/40 ZR17

Factory date stamped 1986

Inventory #: JH69610

Don't miss this set, they will bring value to your concourse car.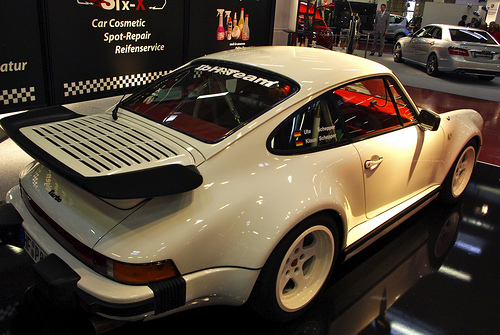 The Ruf Speedlines are one of the best period-correct modifications you can do to a 911 or 930, or even a 944 Turbo. They're not cheap, but boy are they good looking wheels. They're absolutely one of my favorites and I like the inclusion of both tires and centercaps here, though I'd prefer "Ruf" caps to make it correct. Still not your cup of tea but in the right time period? How about some original Fuchs?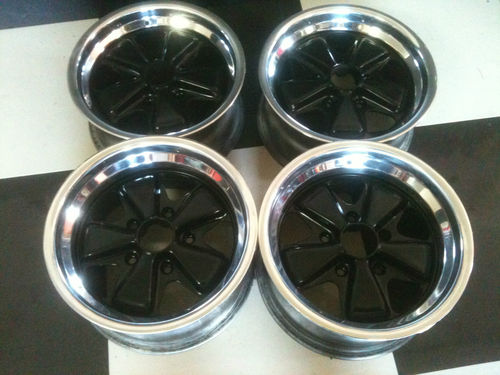 Year: 1977-1989
Model: Porsche Fuchs
Diameter: 15″
Width: 7″ front, 8″ rear
Bolt Pattern: 5 x 130
Offset: ET 41 front, ET 42 rear
Condition: Refinished
Tires: Not Included
Price: $3,500 Buy It Now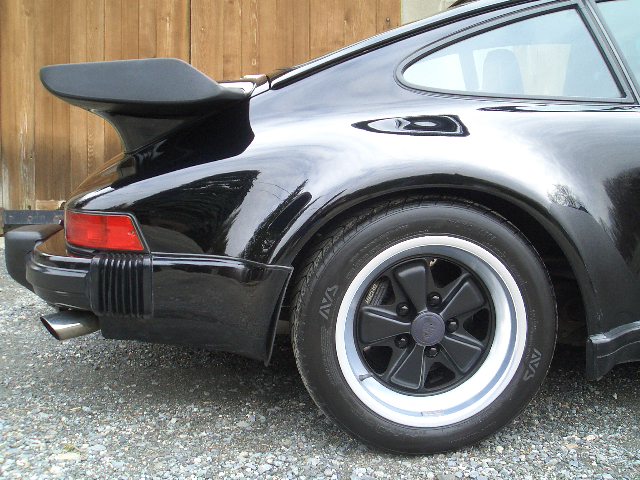 PORSCHE 911 930 FACTORY FUCHS- RESTORED

THIS SET WAS REMOVED FROM A 1977 PORSCHE 930 TURBO – THEY ARE STRAIGHT WITH NO RASH OR ANY MAJOR DAMAGE TO THEM. THE LIPS HAVE BEEN POLISHED AND CENTER REFINISHED IN SATIN BLACK.

PART NUMBERS

FRONTS 15XJ7 – 911361020 – OFFSET 41 – AS1062

REARS 15XJ8 911361020 – OFFSET 42 – AS1062

More pictures of this item are available at:

SOUTHFLORIDADISMANTLER DOT COM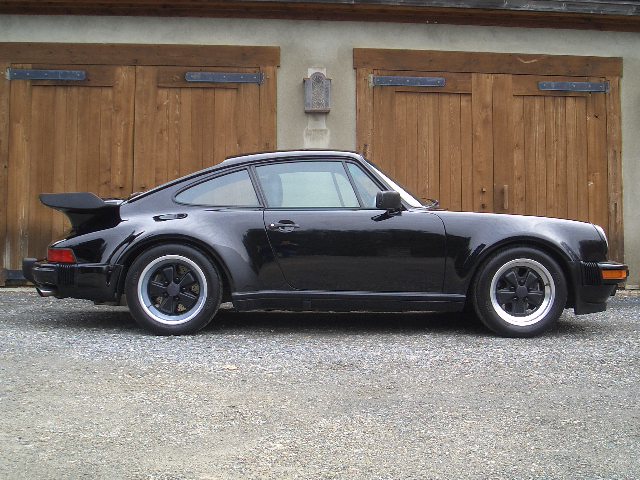 The original, and still the classic, loved design. Pricey, but good taste costs, right? I just wish for the asking price they would include the center caps.
Which are your favorite, and what would you like to see?
-Carter