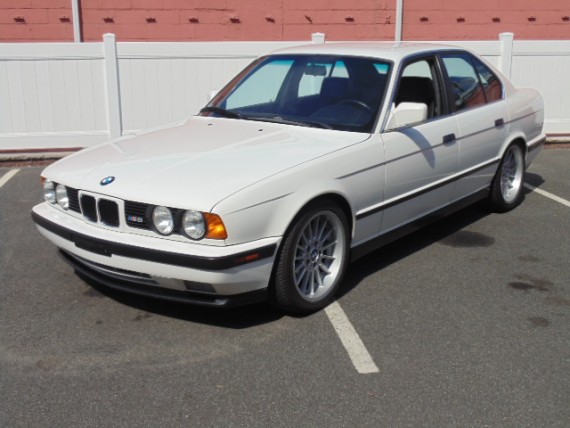 Last week I wrote up a gorgeous E34 540i/6 M-Sport that was listed just below $20k. Seems that most people thought the price on that was too high, despite the low miles and it's owner being a long time BMW enthusaist. So, when I saw this '91 M5 on Pelican Parts with a sale price about $2k lower than that of the 540i, I knew I had to write it up. I'm interested to see what ya'll think of this deal, because while this car has nearly double the miles of the 540i, it has some Dinan bits, and it's an M5. Is this car really so special that it warrants the price being within a months rent of a 540i with much lower miles?
Yes. Yes it is.
This is the E34 M5 we're talking about here. This is THE Bimmer of the 90s. I acknowledge how cool the 540i M-Sports are, but I'm an enthusaist, and I'm the target audience for specialty models. The M5 is popular with everyone, and if you're looking to get into a young timer classic, name recognition is important. There might be more costs upfront but the return on investment will be higher as well. Five or ten years down the road, when you've had your fun and are ready for something different, what would you rather be listing, an M5 or a 540i/6 M-Sport? The answer should be M5 every single time, that is if you're into making some money on the deal. I'm not saying that isn't possible with the 540i or any other specialty variants that were similar to a top dog car, but I know it'll be harder.
Name recognition goes a long way and down the road when the bubble on 90s German vehicles bursts, you'll want the well known hardware on your hands. I still don't think the 540i I wrote up last week is a bad deal. What the seller wants is perfectly reasonable for a car of that class, with that many miles, no matter how old it is. This M5 on the other hand can command nearly the same amount with much higher miles because of its cultural cachet. Have I hammered home that the M5 is the better deal? Okay, lets get into the nitty gritty of what I like about this example.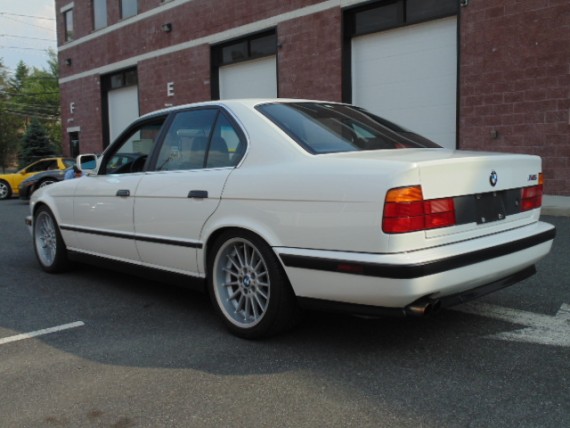 Year: 1991
Model: M5
Engine: 3.6 liter inline-6
Transmission: 5-speed manual
Mileage: 113,000 mi
Price: $16,800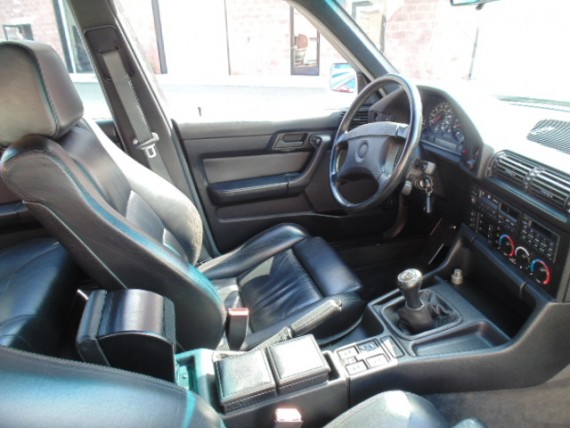 Up for sale is a 1991 BMW E35 M5, Alpine White 2 in Black Leather with 113k miles, these cars are very rare and are bound to follow the trend of the E28 M5's recent spike in value. This car is well documented and comes with both original keys and a binder with tons of service records and receipts from the various owners over the years.

This car has a few modifications that were installed to improve on the driving experience: Dinan chip, Dinan suspension, UUC short shifter. It also has wheels from a BMW E39, and unfortunately the original BMW system 2 wheels are not available with the car.

The pictures speak for themselves, but if you have any questions, feel free to call Adam (201)983-3452 . I welcome any serious buyer to bring this car for a PPI to a local NJ shop of their choice.

I am asking $16800 for this rare and special E34 M5.
Alpine White looks fantastic on most BMWs, the E34 M5 in particular. It just looks like it drove right out of a early 90s magazine ad. Maybe it's the fact that most people opt for gray, dark gray or gray/blue on their sports sedans these days, but theres something about the crispness of the white that is so timeless. The seller notes that unfortunately, he does not have the System 2 wheels. Not a big deal, the E39 Style 32s look great, period correct even.
A Dinan chip and Dinan suspension add further value to the car and up its fun factor as well. I recently drove an E34 M5 with a UUC short shifter installed and while I liked the throw length, I didn't much care for the engagement of the gears themselves. Could have been specific to that car, but if not, the issue is easily reminded as swapping out a short shift kit is relatively painless. Other than those things the car appears to be completely stock and in good working order. The seller says he welcomes serious buyers to have a PPI performed at a shop of their choosing, always good to have that piece of mind offered up front. Again, at $16,500 I think this is a good deal, not great, but good. The car is in NJ so I'd want to get eyes on every bit of the underbody, but pending no rust or rot, this looks like a solid example. I had pretty much moved on from the idea of picking on of these up as my next ride as the majority of my recent finds have been way overpriced or in rough shape. This example is pretty much in the sweet spot and I doubt it'll last much longer.
-Andrew