In the 1980s, especially in the early 1980s, if you wanted a hot BMW your best bet was to look for a "gray market" car. Equipped with stronger motors and unequipped with emissions equipment and bumper-car bumpers, they were the more pure versions of the original designs. But as the 80s drew to a close, the flood of Euro-spec cars into the U.S. dried up. It became harder to import and Federalize them, and the differentiation between U.S. and Euro versions became smaller. True, there were cars that still had a pretty big gulf; the E36 M3 is a great example of this. And it's still not usual to see fans of a specific model from any of the marques interested in what was available in Europe – or rather, what wasn't available to U.S. customers. Take the E34 M5, for example. There were a number of colors and interiors that U.S. fans didn't have the chance to partake in, but it's usually the later run 3.8 motor that raises eyebrows for U.S. fans. That, and of course the Touring model of the M5 that debuted with the E34 and wasn't brought here. But this particular E34 M5 doesn't have any of those things. It's an early run car without the larger motor, so the S38B36 is essentially the same one you'd get in the U.S. model. Interestingly, the HD93 U.S. spec car is much more rare than the HD91 European version – 1,678 produced versus 5,877. Rarity also isn't on the side of the color, as Jet Black 668 with 0318 / L7SW Black Nappa Leather isn't an outrageous combination. It is more rare to see the four post seat setup which this car has, but the real kicker is the mileage and condition with a scant 500 miles a year covered: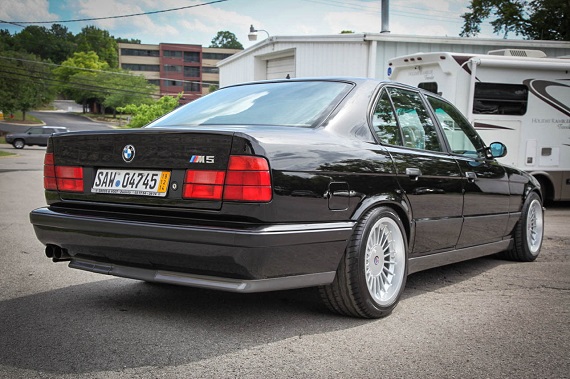 Year: 1991
Model: M5
Engine: 3.6 liter inline-6
Transmission: 5-speed manual
Mileage: 12,500 mi
Price: Reserve Auction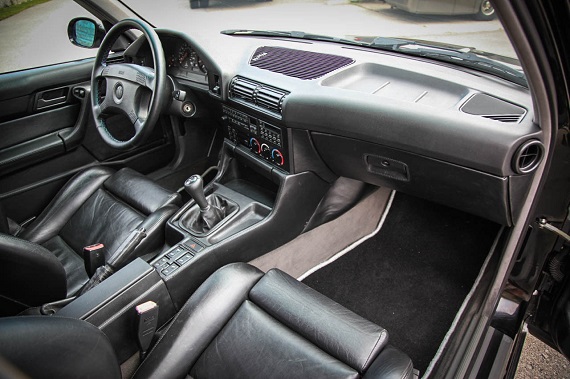 Up for sale is this stunning and incredibly low mileage Euro Spec, German import 1991 E34 M5. This M5 has traveled just 12,500 miles in it's 25-year old life so far and comes with a clean and clear US title. It is Schwarz Black over Black extended leather. The extended leather package was a package not offered on US spec M5s. It Makes the door cards, center console, lower dash and glovebox lid all leather, much like the E28 M5. This also has the very cool manual heated seats and manual rear shade. This M5 comes complete with it original books and ALL service stamps from day 1 to present with dates and kilometer readings. This M5 was imported earlier this year and had a US cluster swapped into upon import, but the original Euro cluster is included in the sale. It also has a few tasteful upgrades including the side mirrors, authentic Alpina Wheels (9.5 wide fronts, and 10" rears!) strut brace, and exhaust which is an Alpina mid-section and Eismann muffler. Everything on the car is in 100% good working order including all instrumentation and ice cold AC. The paint has very few blemishes, mainly in the front lower section which is to be expected with normal driving and age, and shiny wonderfully. Easily a 9.5 out of 10. The interior is very tidy with only a few blemishes, the main one being a sagging portion of the original headliner and a loose edge to the leather rear center armrest, both very fixable. This M5 is a remarkable find that anyone would be proud to put in his collection. Just received 2 new front tires, rears are 95%. Also received new rotors, pads, and sensors all the way around and a fresh oil service. Please feel free to call or e-mail with ay questions. *** ——————————————————– Disclaimer: *** Mandatory Doc Fee of $250 must be collected and is not included in the sale price.*** We do our very best to represent the vehicles we sell both cosmetically and mechanically. Our best advice to potential buyers is that if you aren't sure of something or have a question, PLEASE CALL. Our stellar eBay reputation over the last 15-years should put anyone at ease, but please do your research, ask questions, and buy all means feel free to have any of our vehicles inspected prior to purchase. All the vehicles we sell have been serviced and inspected to some degree (please refer to description for details) BUT, with all that being said, all our vehicles are being sold AS-IS and WHERE-IS unless otherwise stated in the description. These are used vehicles so please expect there to be small blemishes, imperfections, and some repairs needed. If you need help making inspection or transportation arrangements, please contact us and we will gladly help! We are not like other car dealers! We are 'Car Guys' just like you and aim to please all of our customers to the best of our ability! Please call with any questions or concerns today!

Click here for the full description and 76 photos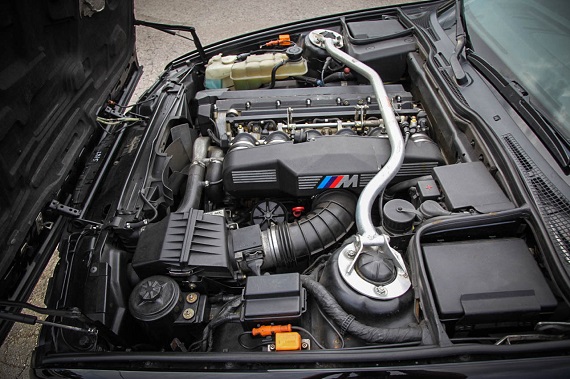 While there are some neat upgrades to the car like the Alpina wheels, to me they actually detract from the appeal of this car. For example, this car was equipped originally with the optional 9″ M-System 1 rear wheels that would be really neat to see. Other optional equipment, like the shades and extended leather, are neat to see too. Of interest is that the car was apparently specified originally with model designation delete, but the M5 badge has been added back in both front and rear. It looks to me like it's lower than stock, too, a thought backed up by the upper stress bar in the engine bay. While the modifications like the wheels, loud exhaust and tinted corner lights give a tougher look to this generally understated super sedan, I think I'd prefer it in original condition especially considering the low mileage – but the mods are easily reversible, minus perhaps tracking down the original wider rear wheels. Bidding has been very active but the reserve is still on at what is a pretty substantial $26,000 current bid. That's a lot more than we've seen for most E34 M5s, and more than some Euro 3.8s have traded for recently (including a super cool Daytona Violet/Hurricane '93 I just missed out on posting recently, which hammered for $20,000). But while the specific example here may not be the most rare or outrageous M5 available, in this case low mileage and great condition trump color and motor. It will be interesting to see where this one lands and if the reserve is ultimately lifted in a week's time.
-Carter