Warning!
This post is in our archives. Links in this post have been updated to point to similar cars available to bid on eBay.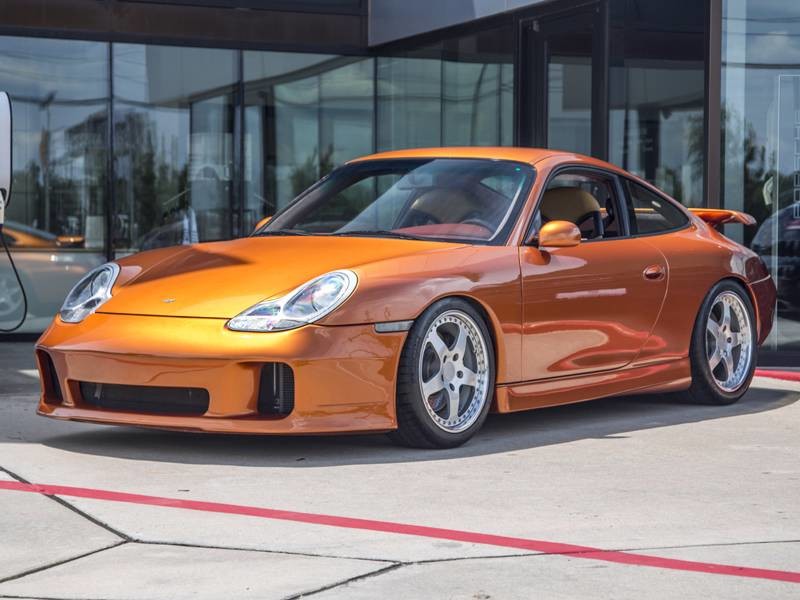 You'd be forgiven for not knowing much about this model because Ruf has been known mostly for their outrageous turbocharged models and the RGT was their first real stab at a naturally aspirated model. But a pretty serious stab it was, with a GT3 derived dry-sump flat-6 pumping out 385 horsepower from 3.6 liters – some 30 more than Porsche managed from the same motor. This goal was reached by massaging the heads with larger valves, integrating Ruf's proprietary engine software along with model specific catalytic converters and exhaust. Performance was close to Turbo levels, with 60 arriving in 4.6 seconds and a terminal speed reported to be 190 m.p.h.. The narrow bodywork also had special Ruf front and rear bumpers along with a purposeful wing that mimicked the race cars, and indeed was later similarly adopted by Porsche on the post-facelift GT3. It ran alongside the first generation 996 GT3 as an equally potent but (theoretically, at least) more street-biased suspension setup. Compared to that model, the expensive Ruf model was apparently a bit of a headscratcher for most and apparently only 17 were produced in the year this car was made. I was lucky enough to see one of these cars new at Summit Point back in 2001; at a time when the GT3 was unavailable in the U.S., it was certainly a revelation to see the lightweight race-inspired RGT and in Viper Green it reminded me of the car which ultimately inspired it – the original RS. Today's car is a different kind of revelation and is certainly one of the most unique RGTs out there: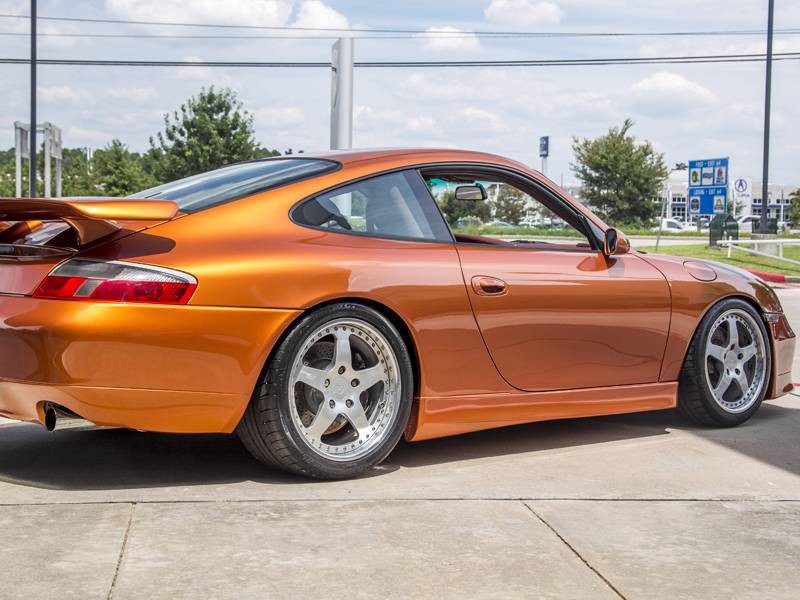 Year: 2001
Model: RGT
Engine: 3.6 liter flat-6
Transmission: 6-speed manual
Mileage: 31,516 mi
Price: Reserve Auction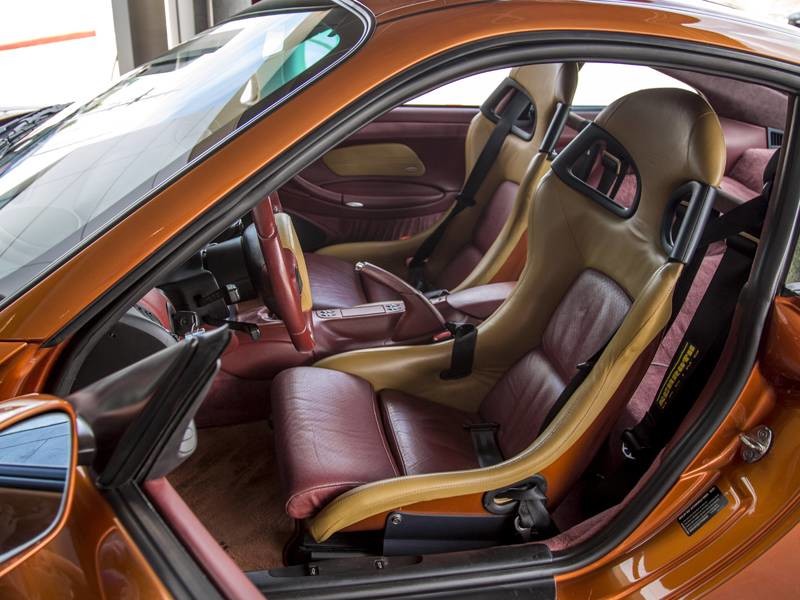 2001 RUF RGT

Porsche of North Houston proudly offers this beautiful 2001 RUF RGT in Orange over a Red / Tan interior with 28,124 miles. The RUF RGT is powered by a 3.6L horizontally opposed six cylinder engine producing 385 hp and 277 lb-ft of torque through an All Wheel Drive and a 5-Speed Manual Transmission. This RUF RGT is 1 of 17 ever produced and is a rare all wheel drive model. This RUG RGT is further enhanced with the following:

GT3 Bucket Seats w/ Paint Matched Shells
Leather Interior
All Wheel Drive System
Factory Integrated Roll Cage

Porsche of North Houston is a member of the Indigo Auto Group and has received the highly coveted Porsche Premier Dealer status. Our dealership features a beautiful Porsche Corporate Identity showroom, fully staffed factory certified service center, parts department, finance department, detailing department, and Porsche accessories boutique. Allow us to also help arrange transportation of your new car directly to your home anywhere in the world. Trade-in proposals are always welcome. If you like this vehicle and have questions, simply call, email, or drop by our location at 18111 North Freeway (I-45N) on the north side of Houston. We invite you to Activate Your Ownership with us today!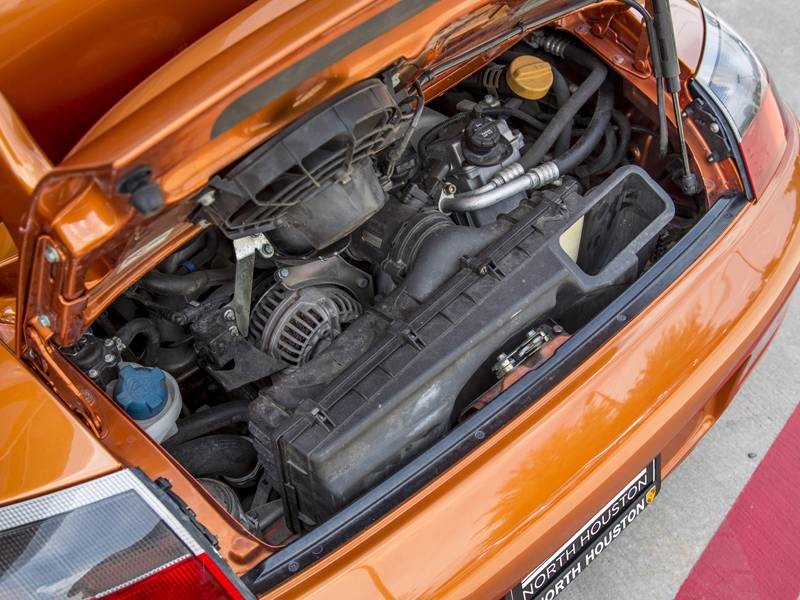 It's not a misprint on the drivetrain; this is a special order all-wheel drive RGT. Why someone would choose to do that is a bit beyond me, but nevertheless here we are. It was an unusual option, though I believe the dealer is likely incorrectly listing it as a 5-speed when it appears to be a 6-speed – although they're also 3,000 miles off in the description as well, so perhaps it's very poor ad copy. Unusual too is the exterior color of metallic orange which looks like it may have been borrowed from Lamborghini, but even more outrageous is the Dharmacakra flag-inspired red and gold interior. All Ruf models are unique, but this one takes the cake as one of the most unusually optioned cars I've seen. It's been perpetually for sale for the last few years, appearing in 2012 on the RAC Performance site for sale with then 26,500 miles for $75,900. Since then little appears to have changed; the car does not wear the appropriate RGT Speedline wheels but what appear to be Kenesis 3-piece wheels appear on the car in the 2012 photos, too. However, in 2012 the car wore the original "RGT" badge on the trunklid, though it has disappeared since. Presentation isn't bad but for such a special car I'm surprised to see such a dirty engine bay; sure it's been 6,000 miles and 4 years since 2012 but it was spotless then. One thing of note to potential buyers who will immediately pull out their "THE END IS NEAR signs with the posting of a 996 model in regards to the IMS bearing; like the turbocharged models, the GT3 engine utilized the Mezger IMS setup carried over from the 964, so bid with the same confidence the original buyer had when he selected the colors. The auction is a reserve one and has only hit $35,000 so far, less than half what the asking price was a few years ago. On top of that, 996 GT3s have been on the rise in value, but I'd suspect that it's the strange color combination that will keep most away. Today's value should come close to or exceed the 2012 asking price, so it won't surprise me to continue to see this car pop up for sale for a bit until just the right person falls in love.
-Carter