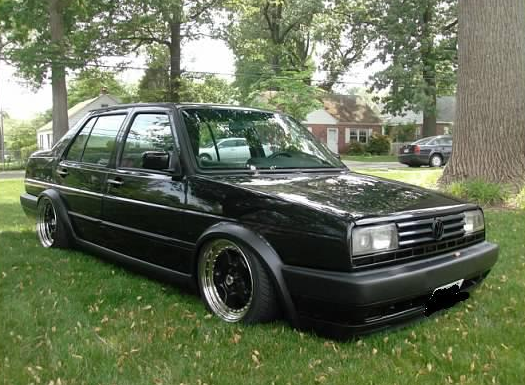 Mk1 and Mk2 Jettas are sharp cars, and the ease of finding and modifying them makes them a great proposition for motivated German enthusiasts. I'll get it out of the way early that air suspension and a vastly upgraded engine seem like contradictions to me, but today's GLI has been done well and thoroughly with an eye towards the VeeDub show scene. Highlighting the parts-bin accessibility of VAG, this Jetta has a TT heart, Golf Rallye headlights, G60 flares and Mk3 suspension and brakes. A conventional suspension would raise the desirability factor for me, along with a lower price. The seller has totalled up all of his receipts to price the car, which we know is a common mistake with modifiers.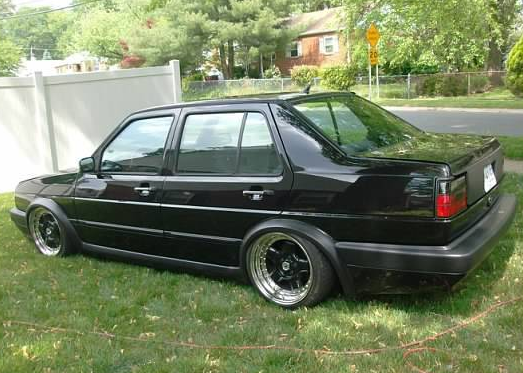 Year: 1991
Model: Jetta GLI
Engine: Audi TT 3.2 liter VR6
Transmission: 5-speed manual
Mileage: 59k mi engine, 115k mi body
Price: $22,500 Buy It Now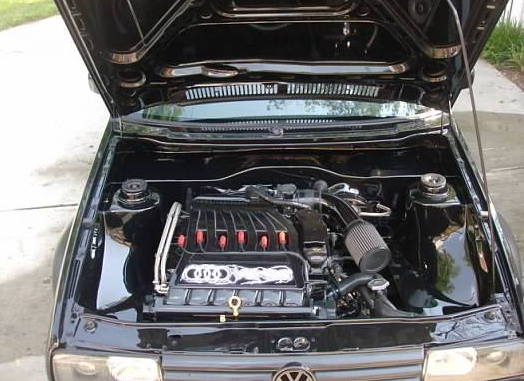 1991 VW Jetta original GLI
Fully customized, VERY good condition
$22,500
[price based on physical items receipt total]
 Body Work:
• shaved banana lights
• shaved rear seams
• shaved turn signals
• shaved exhaust hole
• shaved rear tow hook
• shaved spoiler
• fully 'shaved'engine bay
• painted engine [black]
 Custom paint — color: Black Cherry
 Flares:
• Front: G60 front flares: Front arches cut;
• Rear: G60 front flares; Rear arches cut and reseamed
 Smoked Hella taillights
 Blackened Golf Rallye headlights
 Audi TT 3.2L engine swap [59K miles on engine]
 Lugtronic stand-alone engine management/full custom wire-tuck
 Techtonics Tuning downpipe
 custom 3″ downpipe back exhaust
 Pusher style Slimline fans
 Black center Schmidt 3-piece modernlines: Front: 16 X 8; Rear: 16 X 9
 Kumho Ecsta 205/40/16 tires
 BagYard Supreme air-ride struts
• Two Vivair 400c compressors
• Eight Asco valves
• AVS 7 switchbox
• 5-gallon air tank airbrushed [riveted metal]
• Mason Tech Sumpsaver Skid Plate
 1998 MK3 5-lug suspension & brakes
 Original GLI Recaro interior
 114,593 miles on car body

Reason for selling: Moving on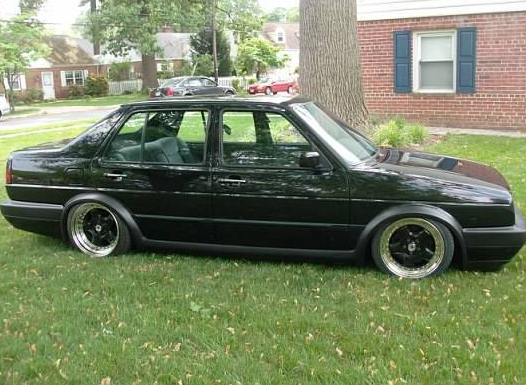 The seller is going to have to be generous with people clicking "Make an Offer" before it actually gets sold, as I see his price as at least 25% too high. I'm sure the TT engine, suspension, work, etc. all cost a pretty penny, and the car appears to be very nice, but no one is going to buy a Mk2 VW Jetta for $22.5k. If he adds up the parts and they really are worth that much, then maybe he should consider disassembly. In reality, he should accept a lower price and pass this nice VW project on to the next enthusiast.
-NR