Need to transport seven of your friends all in one swoop? I have just the car for you. Today's featured car is none other than the legendary Mercedes-Benz W124 diesel … that seats eight! Believe it or not, this car wasn't hacked together behind Crazy Vaclav's Place of Automobiles but it was actually Mercedes themselves that pumped out 776 of these 6 door W124s for whatever reason. So let's cut to the chase and take a look at this 1991 250D six door.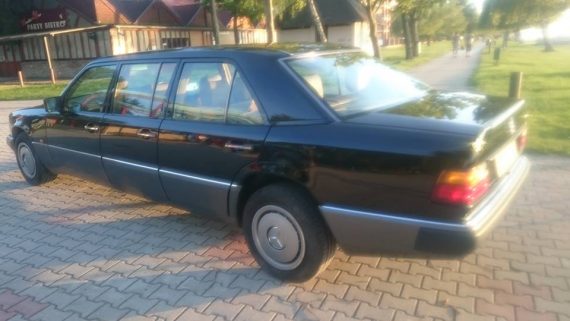 Year: 1991
Model: 250D 6-Door
Engine: 2.5 liter inline-5 diesel
Transmission: 4-speed automatic
Mileage: 178,000 km (110,604 mi)
Price: €8,900 (~ $9,883 USD)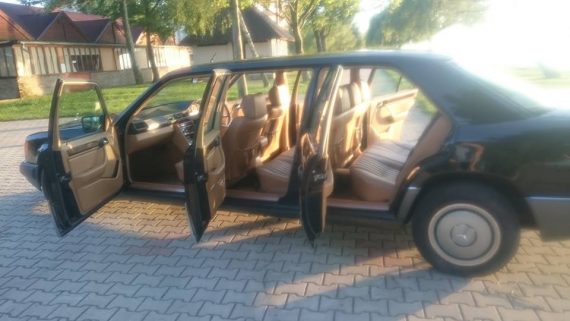 Translated from German

Mercedes W124 250D 1991 Long Original 6 doors 8 seater Pullman Limousine right wheel

Mercedes 250D 1991 Original Pullman limousine, right hand drive. With its impressive length of 5.54 m and six doors in this rare original diplomatic Mercedes version. Take state guests in the rear space, you can travel comfortably on the three rows of seats with generous space and comfort. Mercedes produced only 776 vehicles of this long version over all years.

Unique opportunity for a Mercedes Pullman with incredible exclusive presence, reliable technology and versatile application. Sensational, beautiful and rare, this original Mercedes Pullman is a highly elegant and exclusive Mercedes. A collectable item! Mileage of only 178,000 kilometers from new and collector worthy. Unique opportunity to own a Mercedes Pullman with incredible exclusive presence, reliable technology and versatility.

Production figures: 776

100% corrosion free

Mileage 178,000 km Original -108,000 mile.
Body color: Black, Color Code 040

Furniture: MB TEX, color: bamboo

Garaged, UK-English Registration, vehicle owners: 2, ABS, arm rest, Electric windows, Electric Mirrors, Tinted Windows. Leather Steering Wheel, Non smoking vehicle, radio, power steering, central locking

Cell No: 0036209313572 Janos speak German, 00447909009240 Thomas speak English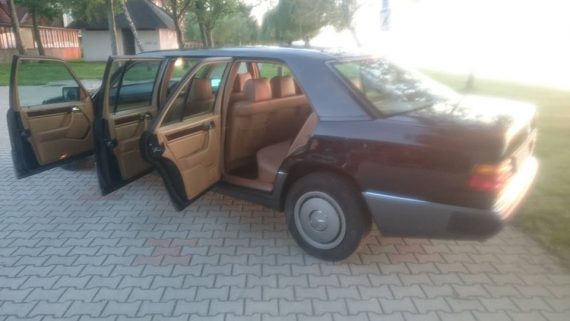 Let me apologize in advance for the poor photos. I didn't take them and they clearly aren't doing the seller any favors by shooting directly into a sunset. So this thing is right hand drive and diesel all while sporting six doors like it's totally normal. From the looks of it, everything seems to be totally OEM quality like a regular W124. The middle row sports three seats as well as the rear so this is a true eight seater sedan that you shouldn't have any problem stuffing eight bodies into just for the laughs. In my research, it seems like most of the W124 six doors that I found are right hand drive located in Great Britain. So my educated guess tells me that maybe they made these to skirt around some kind of taxation? It just seems odd that Mercedes would make tooling to make smaller doors, a new floor pan, longer driveshaft, crash testing, and then only make 776 of them. Maybe someone knows why exactly these exist? I'm open to any information out there.
The seller is asking €8,900 ($9,883) which doesn't seem crazy for a W124 diesel, but once you buy it you are basically stuck with it. No sane person out there is going to want a six door, right hand drive car for a decent chunk of money. Another thing is that I have no idea where this car is actually located. The eBay ad says it's in London, the plates in the photos are Hungarian and the ad is written in German. So if you and your spouse are suddenly expecting sextuplets and don't want to give up your W124 diesel, this might be an option for you.
– Andrew