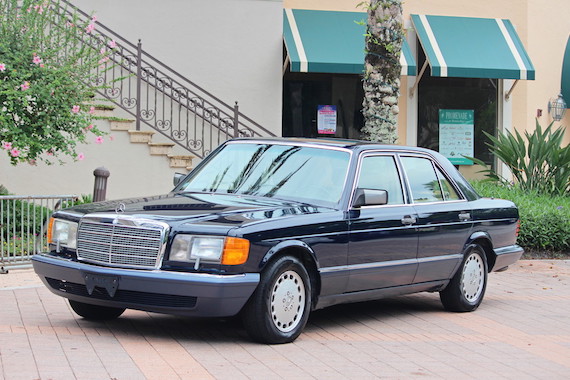 I've been living with my W126 300SE for several months now. In that time I've clocked up about 1,500 miles and taken the car on a few road trips in the mid-Atlantic region. Apart from a couple of initial hiccups (which I wrote about here), it has been a pleasure to own and a real joy to drive. Comfortable, stately and classically good looking, my friends joke that all it needs is a set of ambassadorial flags on the front bumper. It's true that the 3.0 liter motor lacks the low-end torque made by the larger V8 models – I have to use the kick-down switch at the bottom of the throttle pedal more often than I did in my smaller W201. But once up to cruising speeds on the highway, the 300 behaves much like the 420 and 560. The six cylinder M103 motor is robust and relatively easy to fix (except for the fuel injection system, which can be a bloody nightmare when it goes wrong). And the proportions of the short-wheelbase exterior are, to my eye at least, just right.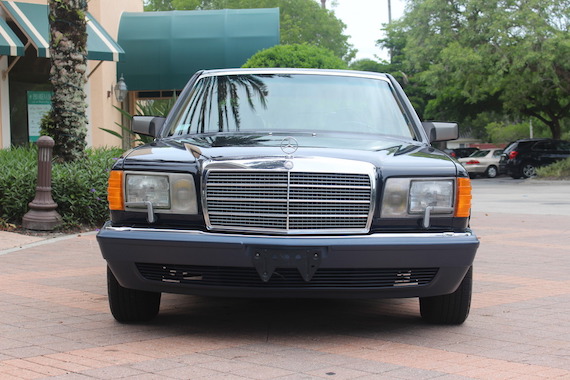 Year: 1991
Model: 300SE
Engine: 3.0 liter inline-6
Transmission: 4-speed automatic
Mileage: 58,278 mi
Price: No reserve auction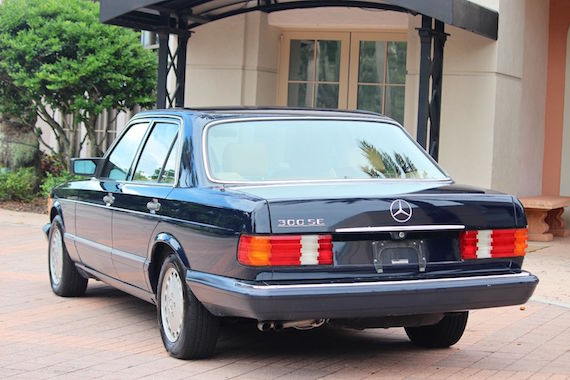 Here is one of very few remaining true classic beauties a 1991 Mercedes-Benz 300SE with only 58,278 miles. Extremely clean and well taken care of inside and outside. Paint is in a great shape without any major flaws. Interior as you can see in the pictures is original and in outstanding shape. Engine runs great and transmission shifts like in a brand new car. One has to see it to believe it. Please fee free to contact me if you have any questions.

PLEASE place a bid or submit an offer ONLY if absolutely serious. By submitting an offer or placing a bid, you agree to pay $300 cancellation fee if you decide not to purchase the item.
high bidder to contact me within 24 hours of auctions end .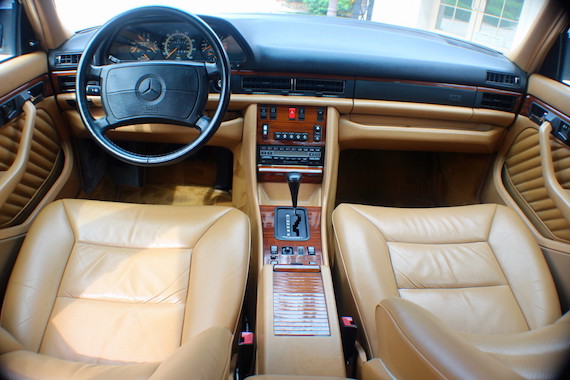 This particular example is a low-mileage Florida car in Midnight Blue (904) over a saffron leather interior. Dark paint really suits the W126 body shape, and here the blue is a nice change from the more commonly seen black. Both the exterior and interior look to be in excellent shape, with no major blemishes apparent. While the ad is short on details, the seller states that the car runs and drives very well.
The 300SE is regarded by some as the "entry-level" W126, but this car was relatively well specified from the factory. In addition to the standard goodies (electric seats, sunroof, automatic climate control, driver's airbag) and attractive color combination, it has a passenger side airbag, upgraded factory audio system with Bose speakers and, interestingly, Automatic Slip Regulation (ASR). This is Mercedes's traction control system of the period, made available as an option on W126s for 1991.
Potential buyers will want to have a PPI done to ensure the car measures up in person, paying particular attention to any oil leaks (for which this motor is notorious, at the valve cover gasket and the headgasket) and any trouble starting (indicating fuel delivery issues). Despite the low miles and apparently excellent condition on show here, the sixes tend not to command the same prices as V8s of comparable condition. So I suspect it'll sell for somewhere between $7,000 and $8,000. That's still a lot of car for not a lot of money. And it'll last forever, if properly maintained.
– Craig