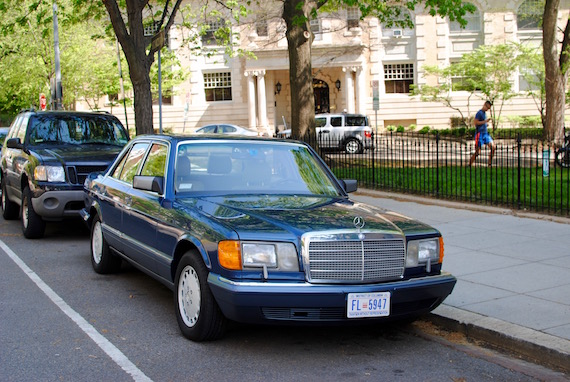 As readers will know, I've been on the lookout for a 300SE for a while now. In fact, one of the first cars I wrote up for GCFSB was a 300SE, which should tell you something. After a couple of false starts, I finally have a W126 I can call my own.
I found it on Craigslist while looking for cars to write up for the site. It stood out because it was in exactly the spec I'd been looking for. It was a 1989, a Gen II car with the more modern looking leather seats and updated exterior side cladding. It was in a great color combination, nautical blue over mushroom cream leather. And, unusually for a 1989 six cylinder, it was equipped with a passenger side airbag and upgraded Bose sound system, options that are more commonly found on the V8s. It also had only 116k miles on it, and was priced fairly. Unfortunately, it was located in Austin, TX, while I'm in Washington, DC.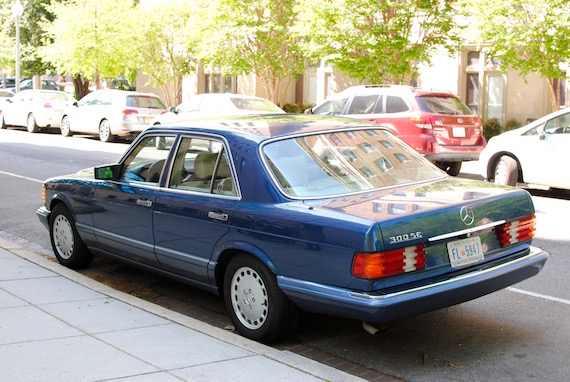 After a lengthy back and forth with the seller, apparently an enthusiast who assured me it was in excellent running condition, I decided to buy it sight unseen and have it shipped to me. After a couple of weeks of delays on the shipping company's end (I went with the cheapest option, and it showed), the car finally arrived. At first I was thrilled. It looked great.
But my excitement soon turned to disappointment as the hauler tried unload it. The car wouldn't start. To be more precise, the car would start with a puff of black smoke out the back and die immediately. It did eventually start on the fourth or fifth try. It then ran rough for a minute or two, like it was misfiring, then smoothed out. My heart sank.
We eventually got it off the transporter and I gingerly began driving it, uncertain what the problem was. On acceleration from low RPM there was a definite hesitation and the car felt sluggish, slower than the other 300s I had driven before. The economy gauge on the dash also wouldn't peg left on idle, as I know it should. In fact, at startup it was nearly in the middle. I've had a Mercedes with the M103 engine before and I knew this could be caused by vacuum leaks or problems with the CIS-E fuel injection system. So it was off to a mechanic for diagnosis.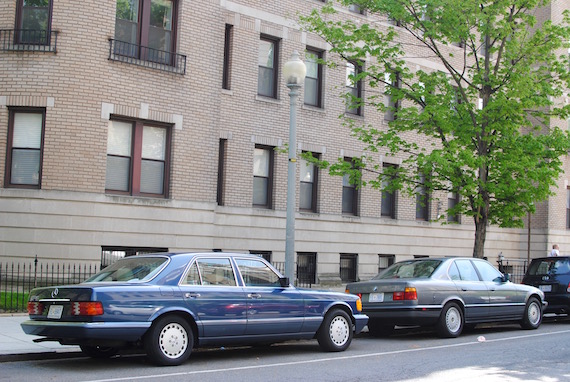 Mechanic 1 said that there was a vacuum leak inside the fuel distributor and that I needed to buy a new one. He said I could take my chances with a cheap one from eBay, or he could get me a re-manufactured unit for $600. I had never been to this shop before. I only went there because my preferred mechanic couldn't fit me in for another week. I wasn't sure I could trust him. So I held out for a second opinion.
A week later mechanic 2, a Benz specialist to which I used to take my 190E, said the fuel distributor was fine. He said that the car was running rich – which would explain the poor starting and running and condition – because the 02 sensor had failed and the duty cycle was stuck at 90%. So the first line of attack was to install a new 02 sensor.
Unfortunately, even with the new sensor onboard he couldn't dial in the fuel mixture correctly, though he was able to lean it out considerably. Cold starts were still hard but the car was running much better than before.
Suspecting a short or another sensor problem somewhere, he eventually diagnosed a broken fuel injection ECU/ECM, the black box behind the carpet in the front passenger footwell. Reading the threads on the forums, I gather that the ECU provides pre-programmed settings for the air/fuel mixture on cold starts before the 02 sensor reaches operating temperature and takes over. Apparently ECUs rarely fail, but when they do, they produce symptoms like the ones I had been experiencing.
I ordered a used ECU from eBay that matched the part number on my old unit. Once it arrived, I put it in myself (it's as easy as changing a battery) and crossed my fingers. The car started from cold on the first turn of the key and settled into a smooth idle. Success! I took it back to mechanic 2 for a final adjustment of the fuel mixture, and then took the car for an emissions inspection. It passed with flying colors.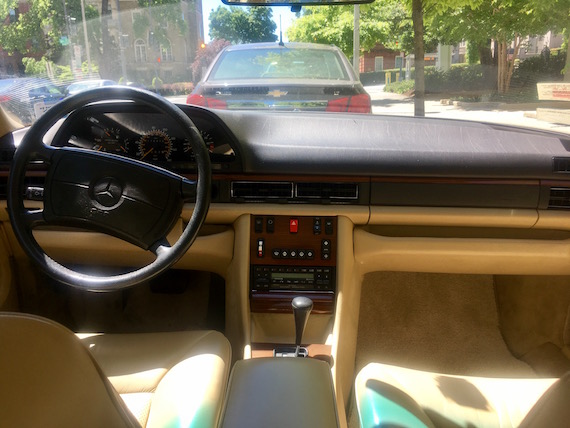 Now that it's finally running properly, I love it. The interior, in mint condition, is a very comfortable and relaxing place to be. I look forward to doing long distance trips in it with my wife, who approves of the passenger airbag. All the electrical accessories work, including the heat, A/C and original Becker radio. The nautical blue exterior really is gorgeous and I've received numerous compliments from strangers in the short time I've been driving it. There are a few blemishes in the paint, some small scratches here and there, but that's about it. I'll probably have it gone over with a dual action buffer at some point.
Some people complain about the 300SE/L being too slow, but I think the performance is fine for what it is. It pulls quickly enough in city traffic and cruises admirably on the highway. The handling is also nowhere near as boat-like as I feared it would be. I think this is where the short wheelbase SE really excels over the long wheelbase SELs. I do miss the E34 525i which this car replaces – it was admittedly a much more spritely car to drive. In an ideal world, I would have kept both.
I texted the seller in the vain hope he might offer me some money back. He had, after all, assured me that it needed no repairs. I've received no reply, and I suppose his silence speaks volumes. I think I learned a valuable lesson here. I will probably never buy another car sight unseen again. Not unless it's from someone I know I can trust. I will also not be going back to mechanic 1.
– Craig