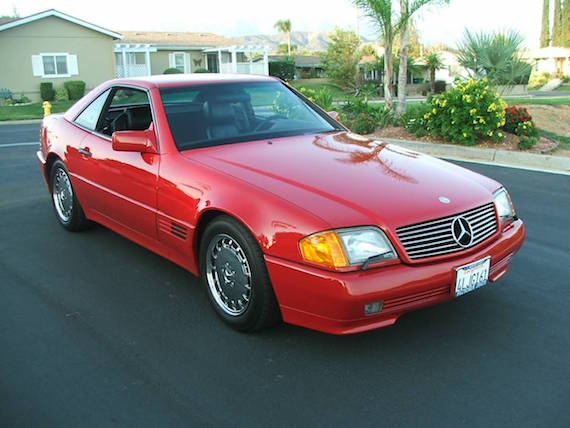 The R129, produced between 1989 and 2002, is a bit of an odd duck. It's too old for those in the market for a roadster with modern levels of power and convenience. But it's not yet old enough (or rare enough) to be of interest to collectors or vintage aficionados. The upshot is that a nice example can be had for relatively little money and it might well appreciate in value over the coming decade, following R107 values through the roof. The 600SL was the halo car of the lineup, with a monster of a V12 under the hood. But the 500SL – powered by a 5.0 liter V8 that developed a perfectly usable 320 hp – is where real value for money can be found. Perhaps not as sporting as one would hope, these SLs nonetheless continue in a long line of high quality boulevard cruisers known for their high precision engineering, longevity and classic good looks.
Year: 1991
Model: 500SL
Engine: 5.0 liter V-8
Transmission: 4-speed automatic
Mileage: 53,700 mi
Price: Reserve auction with $9,800 Buy it Now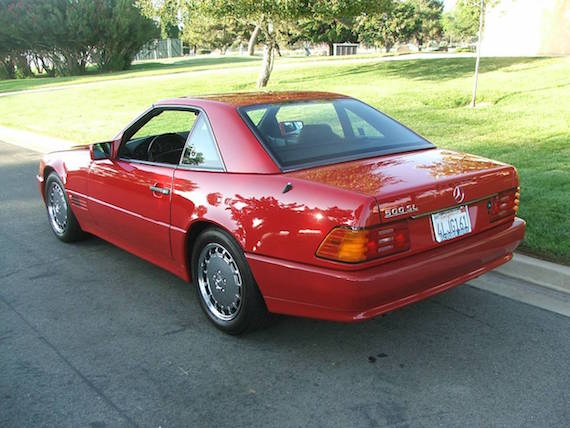 GET THE BEST AND FORGET THE REST!

RARE CARFAX DOCUMENTED 53,700 MILE CALIFORNIA CAR

HISTORY

This absolutely gorgeous example of pristine Mercedes Benz history was purchased new on October 7, 1990 at Jim Slemons Imports, 1301 Quail Street, Newport Beach, California. This is recorded in the original Mercedes Benz Owners Service and Warranty Information booklet that is included with the car.

The rest is Carfax history, documenting the low miles this fine automobile has today, having been driven an average of just over 2,000 miles a year!

6 years ago, I purchased this classic from an elderly couple. Their title (a copy of which is included with the car's documentation) had been issued to them on June 29, 2000 when, at that date, the odometer reading was 23,789 miles. The miles on the car, when I purchased it from them, were 30,528. Since that time, my wife and I have enjoyed over 23,000 miles of memories, driving a pristine, pampered automobile that gets attention wherever it goes.

The reason we're selling the car is because we will be purchasing a motor home, traveling the US for a year or two, and looking forward to meeting a lot of wonderful people out there in this great country of ours. So the Mercedes, along with a few other cars in my collection, will need to find new homes instead of languishing in storage. Who knows. Perhaps this one is waiting for you!

COSMETICS

The 500SL, one of the last, best Mercedes-Benz automobiles, was designed by the legendary Bruno Sacco, who described it as "the most perfect car of my career." The quality of materials and engineering throughout is, believed by many, to be unmatched by anything Mercedes-Benz has to offer today.

When I first saw this low mileage Mercedes, I thought "Oh, my goodness. This car is incredible!" Here is a sportscar that looks, in my opinion, every bit as good in person as it does in the photographs. It is PRISTINE original. Obviously, it has always been garaged and well cared for. But there's more!

When you get a chance, look down the sides of the car in some some of the photographs that follow. In them, you will see a car that is AS STRAIGHT AS AN ARROW. And everywhere you look it's the same. The entire car has never been in an accident. The paint is FACTORY ORIGINAL, and simply stunning. It is a people magnet. Of course, there absolutely is no cancerous rust.

All chrome, rubber, lenses, glass, engine compartment cosmetics and more are in the same superb to near-new condition. The windshield is excellent. Includes 4 matching high-speed Mastercraft Touring LSR 255/55R16 radials that I put on the car shortly after purchasing it. Today, I see little sign of tread wear, and the sidewalls are without crack or other evidence of aging. The previous owners assured me that the soft top was in good condition, but I've never removed the hard top from the car.

THE INTERIOR leather has obviously been well cared for with conditioner over the years (which I have done as well), The seats are beautiful and supple. All carpets, including trunk carpeting, the area behind the seats, floor mats, door panels, visors, chrome interior door openers, mint condition leather steering wheel, dash, rear view mirror, gearshift knob, wood grain decor, hard top headliner, gauges, seat belts, center console, switches and more are in superb original condition. The car has obviously never been smoked in.

MECHANICS

But the best is yet to come! This red rocket runs and drives just as good as it looks. The ground-breaking M119 dual overhead cam, 32-valve, all-aluminum V-8 engine fires right up, has excellent oil pressure, does not smoke or drip oil, runs cool and strong, and does everything that these legendary power plants have been doing so well for so many years.

Matched with a surprisingly lively 4-speed automatic, the engine delivers tons of smooth rev range – and sounds magnificent doing it. And the well-tuned chassis handles just about everything you can throw at it with grace, comfort and agility. The transmission falls in gear nicely, and shifts like a good Mercedes should. The brakes and emergency brake are excellent. The power steering pump will sometimes drip smaller spots of fluid in between drives. My mechanic tops it off when he is servicing the car. This has not changed during the 6 years that I've owned it and hasn't been a problem.

WHAT WORKS? All power windows, gauges (including the clock, which keeps good time), steering column adjustment, steering lock with ignition/starter switch, headlights, including high and low beams, headlights 'on' warning buzzer (activated when the engine is off and you open the driver door), brake lights, running lights, rear license plate light, trunk light, interior reading lights, door panel lights, front and rear turn signal lights, dash turn signal flashers, emergency flashers, and the emergency brake release and console storage compartment light. To the best of my knowledge all warning lights work.

The AC blows ice cold, and the heater works well, as does the automatic climate control adjuster. Also working is the sliding arm rest (on top of the center console), the radio, speakers, windshield wipers, all AC and heat vent adjusters, cigarette lighter, ash tray release button, lighter and ash tray cover, small center console wood grain storage compartment cover, remote rear view mirror adjuster, central locking, including trunk and gas cap locks (activated either by an interior switch or by turning the outside door lock key in either door), the latch to open the center console storage compartment, driver and passenger chrome seat back release levers, right and left exterior door mirror remotes, seat belts, all power seat adjusters, front window defogger, the rear storage compartment latches and more. The passenger shoulder belt retractor is currently not working.

Some of the things that I have never used (and have therefore not tested) are the adaptive damping system adjustment switch, snow chain switch, the switch to store the steering column memory, seat memory switches, roll bar switches, soft top and hard top switches, headlight windshield wipers, rear window defroster, the anti theft alarm system, and the heated seats. Based on the condition of the rest of the car, there's a very good chance that all of these things work as well. One of the hinges on the lid of the driver door storage compartment is somewhat loose, leaving the inside of the lid not quite flush with the door panel. Also, the Sony CDX-A30 compact disc player does not work.

The above is based on my personal observation, and is not a professional inspection or warranty. You can expect that some things may not work up to your own, or your mechanics standards, and that work will most likely be found that you or your mechanic would like to do.

INCLUDED

Included with the car is a CURRENT CALIFORNIA SMOG CERTIFICATION, receipts documenting work that I've had done, such as regular synthetic oil changes and, shortly after I purchased the car, new front brake pads, replaced serpentine belt, coolant, brake fluid, power steering fluid (just about all the fluids), new power window switches and a complete transmission service, and a fresh Interstate battery.

Also included is good California title with current registration in the name of my corporation, a copy of the title in the previous owners name, factory spare and jack. Bill of Sale will include "This car sold as is, with no guarantees or warranties expressed or implied". Please see photographs of other items included, such as a custom fit car cover by California Car Covers, factory first aid kit, Mercedes roadside emergency kit, a leather storage packet containing the ORIGINAL 1991 Mercedes Owner's Manual, the Car Care Guide, Supplemental Restraint system booklet and more. I had 3 extra keys made at Walters Mercedes-Benz in Riverside, California, which are a nice addition to the key I already had, plus the remote, and a hide-a-key under the car.

PAYMENT TERMS

$1,000. deposit via Paypal on or before 2 days from close of auction. Balance due on or before 7 days from close of auction via cash (in person), or bank wire transfer of funds, please. Nothing personal, but A NON-PAYING BUYER WILL BE REPORTED TO EBAY.

Any questions? Feel free to email or call me at (909) 838-9160

All the eBest,

Craig Kendall)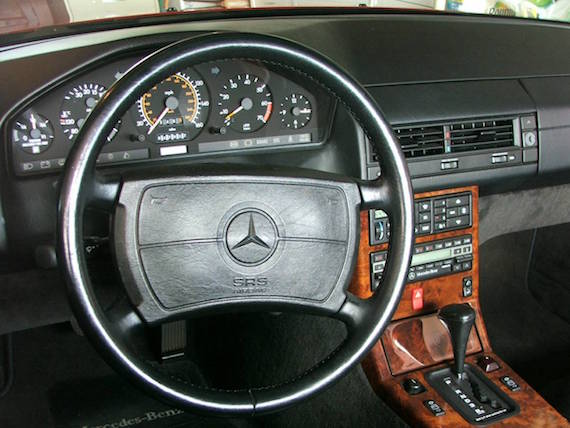 This '91 looks gorgeous in signal red over anthracite black leather. The chromed wheels – a styling trend typical of Californian cars, it seems – will have some people gnashing their teeth, but I don't think they look too bad here, and the car's appearance testifies to the very low 53,000 miles on the odometer. Inside and out, the car looks immaculate in the photos, with all glass, rubber, chrome, leather and body panels said to be in tip top condition. The only real flaw noted is a power steering fluid leak, though it is described as very slight.
For under ten grand, I think this represents very good value for money. To my mind, the only question marks arise around some of the power accessories that the seller says he hasn't tested and therefore cannot confirm work (how hard would it be to test the heated seats, for example?). And the fact that the folding canvas roof has not been tested, because the seller hasn't removed the detachable hard top during his ownership. The hydraulic system that raises and lowers the soft-top must be vigilantly maintained and is very expensive to fix when it fails. So it really should be tested to provide buyers with some peace of mind.
– Craig