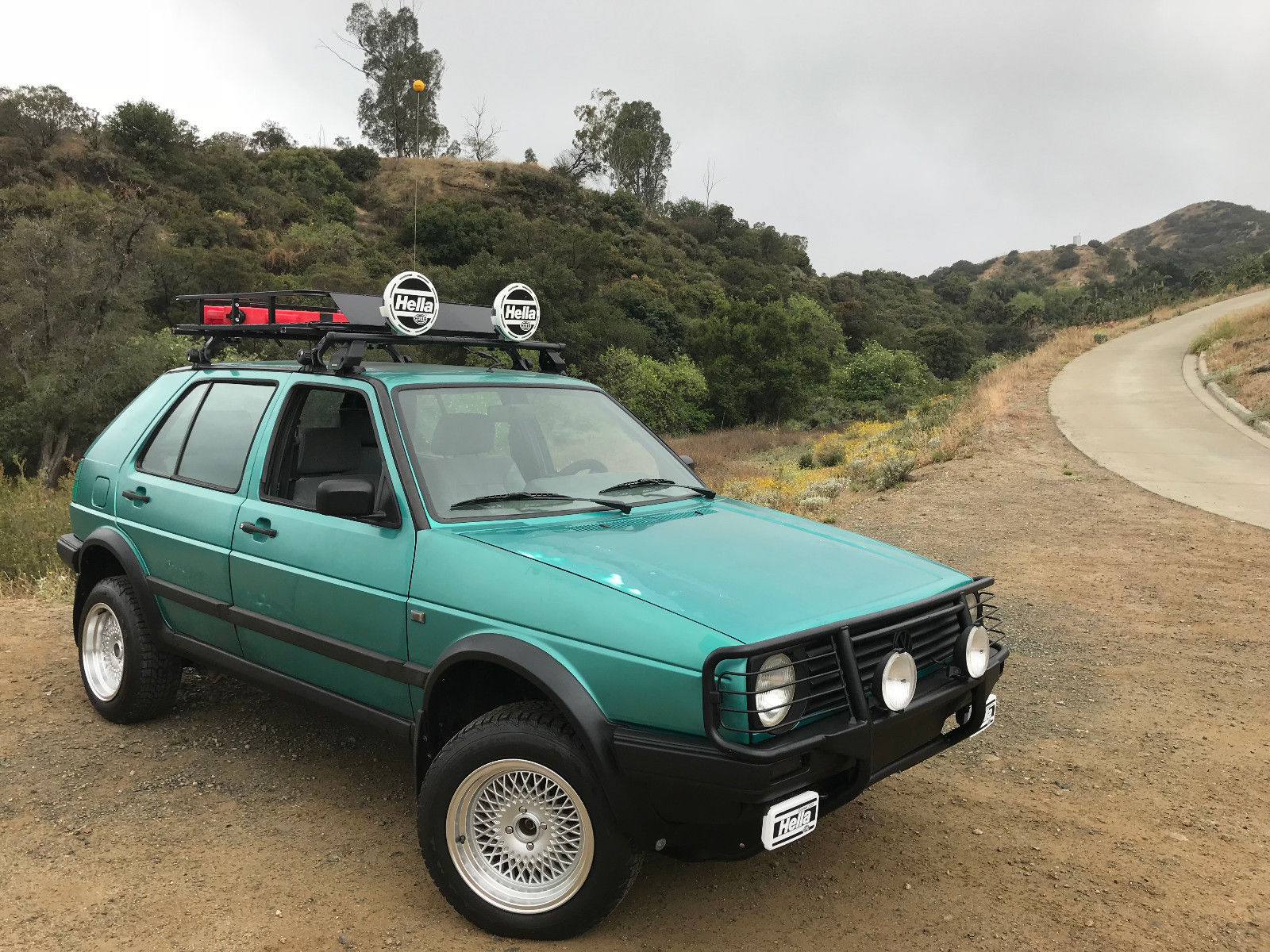 I was in Stuttgart in 1998 when what I thought was someone's version of a good joke rolled by me. It was a dark green Mk.2 Golf; not particularly abnormal since they were still mostly less than a decade old and Germans notoriously care for their cars better than most other nations. However, it was about a half-foot taller than it should have been, equipped with some cool looking Speedline wheels, brush guards and a spare tire mounted to the rear. Germans have an odd sense of humor, so it seemed to fit that this was one mullet short of a Hasselhoff Fan Club. I had no idea that I was looking at a factory model; remember, this was in the infancy of the internet and as an American, knowledge of every single European model of the Mk.2 was hard to come by. But the "Country" graphic scrolled down the side gave me a clue, and after some research I found out that this was more than just a one-off.
Though the idea sounds simple enough since parent company Audi had an all-wheel drive system that was ever so popular, mounting that longitudinal transmission and drivetrain into the transverse engine Golf was impossible. Instead, Volkswagen contracted Steyr-Daimler-Puch to design a viscous coupling setup for the Golf with a new independent suspended rear. Like the contemporary Quantum (Passat) and Vanagon setups, it was dubbed "Syncro", though outside of all-wheels being driven the three systems shared almost nothing.
The result was a few fan-favorite models. Performance types love the Quattro-inspired Golf Rallye, Golf G60 Syncro and Golf Limited models. But undoubtedly the most recognizable Golf to wear the Syncro badge was the jacked-up Golf Country. Utilizing an already heavily modified Golf Syncro, Daimler-Steyr-Puch installed some 438 unique pieces to create the light offroading Golf way before the Outback was conquered by Subaru. Since new, they've always commanded a premium and have been the object of lust for American Volkswagen fans who like to do things just a bit different. Now legal for import, they're popping up time to time: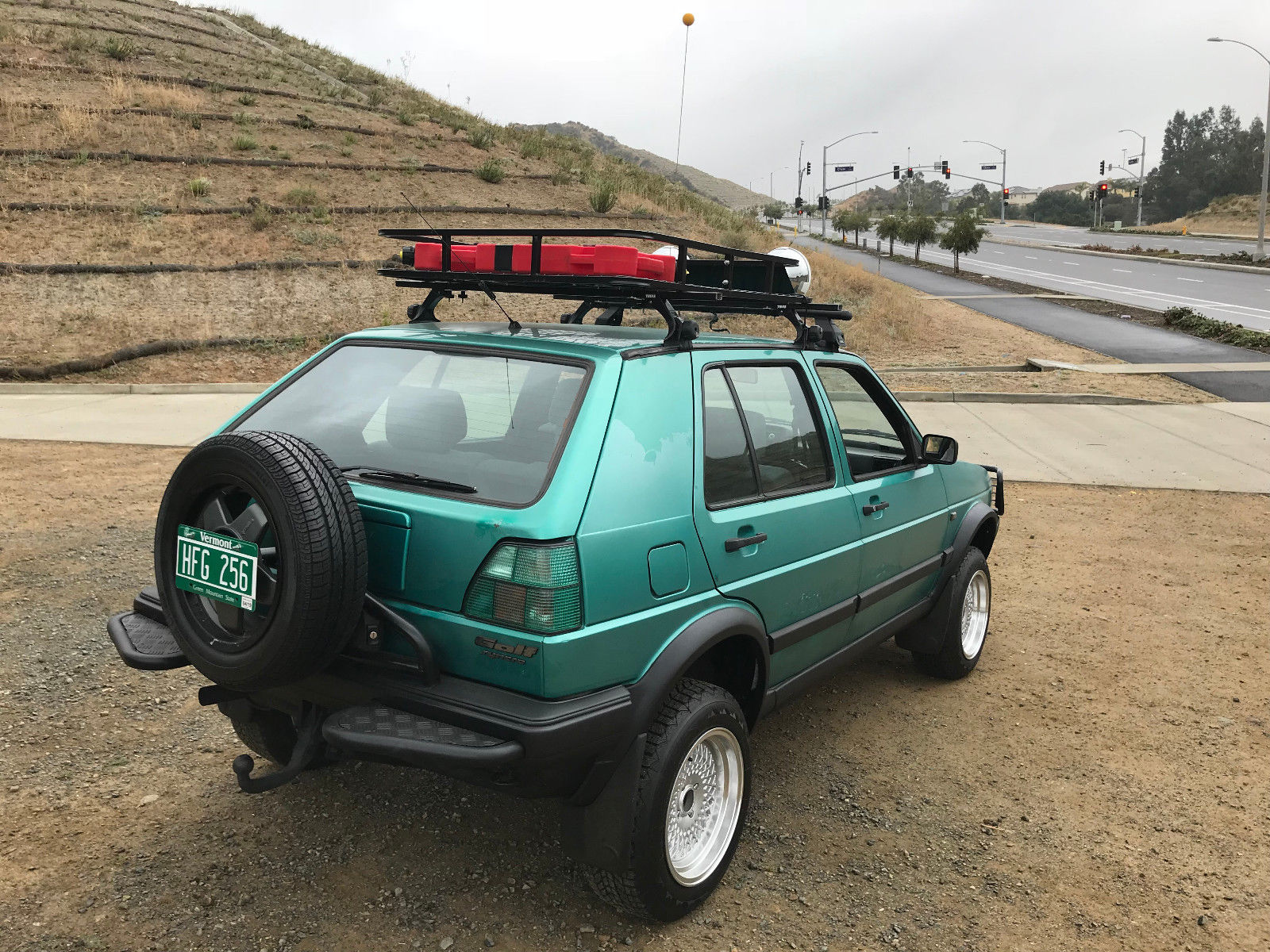 Year: 1991
Model: Golf Country
Engine: 1.8 liter inline-4
Transmission: 5-speed manual
Mileage: 124,000 mi
Price: No Reserve Auction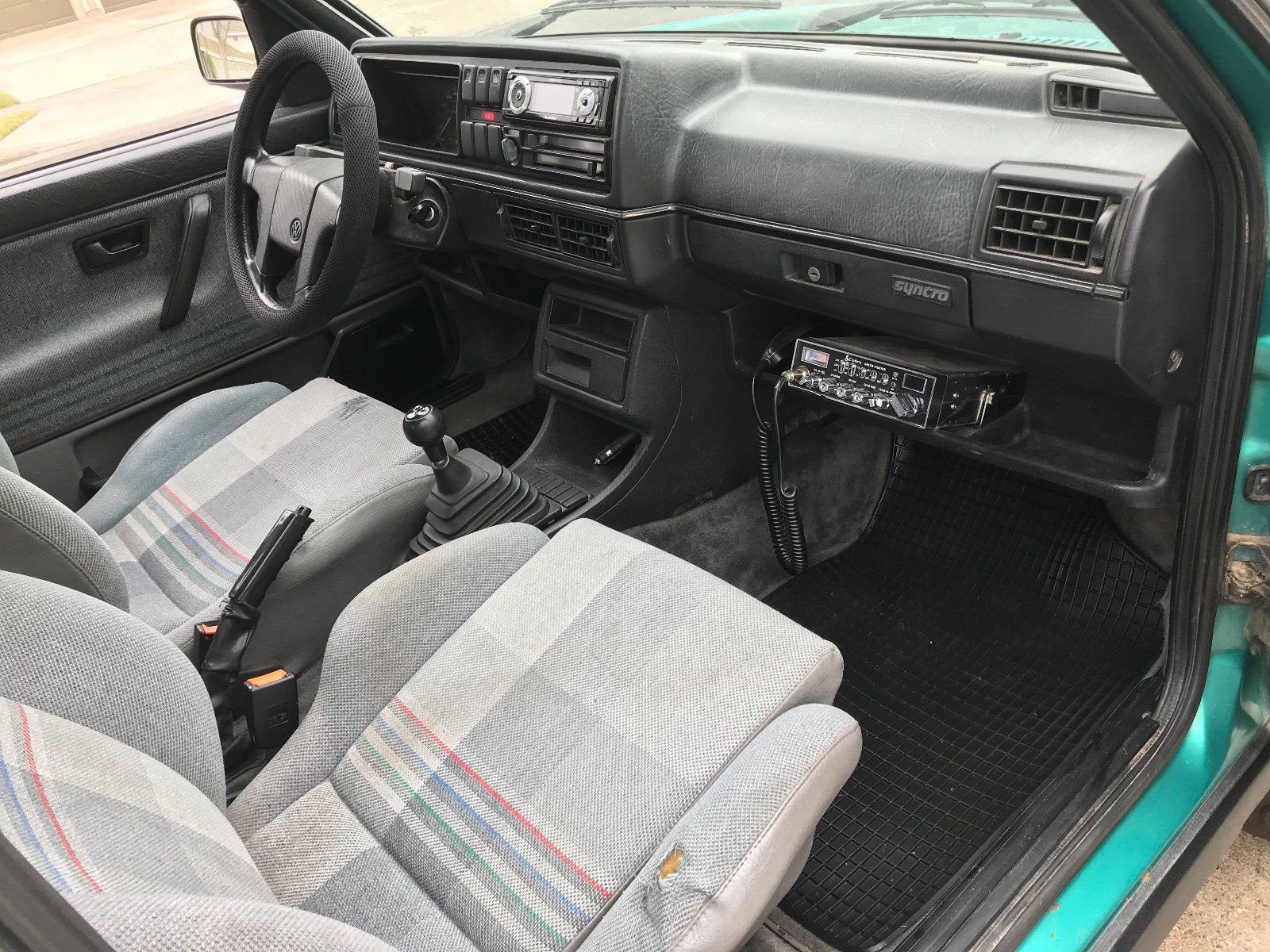 RELISTED DUE TO DEADBEAT.

PLEASE READ THE ENTIRE LISTING. I MAINTAIN PERFECT FEEDBACK AND A GOOD NIGHT'S SLEEP AND MY REPUTATION ARE WORTH MORE TO ME THAN MONEY. THE VEHICLE IS FURTHER ALONG IN MY VIEW THAN, 'A PROJECT', HOWEVER, THIS IS SUBJECTIVE SO PLEASE REVIEW THE PICS CAREFULLY. I CAN FORWARD A LINK TO OVER 100 ADDITIONAL PICS, MANY DETAILING THE RUST SPOTS. PLEASE ASK ANY QUESTIONS PRIOR TO BIDDING.

This auction is for a solid runner. Perfectionists should avert their eyes and move on (maybe bid on the 'Chrome' version that's been listed for the last year for a bazillion dollars).

Wikipedia

7735 cars produced (never sold in US), co-manufactured by Steyr-Daimler-Puch in Austria, designed for medium off-road driving. It had more suspension travel, Syncro four-wheel drive, improved ground clearance of 21 cm, bullbars at front and rear (generally over a single headlight grille), a skid plate for protecting the engine area, sub-frame to protect the rear Syncro differential and propshaft and a spare wheel mounted externally on a swing-away triangular frame on the back. In Europe, it was offered with the acclaimed 98 bhp (73 kW) 1.8 8v 1P petrol engine.

My Ownership

Purchased from importer (who purchased from original owner in Germany) and driven primarily to the beach and back with my kids. Since the car is cosmetically rough, I intended it to be my local mountain rig during snowboarding season, instead it has remained garaged in SoCal tethered to a battery tender. Since I've had it, I've changed the oil, and vacuumed the interior. That's it. A weekend's worth of work would be transformative to the vehicle's running condition.

It is very seldom driven. We have (2) drivers for (6) cars and are parents to (3) young kids. What's more, we are in the midst of moving and I travel 1-2 weeks out of the month for work. Bottom line, the car deserves more attention than I currently have time for. THE VEHICLE CAME FROM THE FACTORY WITH NO A/C. HEATER WORKS WELL.

Mechanical Condition

· Mechanically sound. Good runner, goes down the road straight and smooth. The 8V is still peppy, however, the vehicle is not fully sorted. ONLY 124K MILES (199472 KM'S).

· Weeps coolant from lower radiator hose

· Weeps fluid from differential drain bolt

· Engine is dry otherwise

· Has intermittent warm start issue where it takes a few additional cranks to start. I'm told this could be a fuel pressure regulator or accumulator. I've seen both for under $150-200 on ebay.

· Brakes feel a bit spongy and could use re-bleeding

· Has an intermittent 1-2 gear grind when shifting quickly. If rpms are allowed to fall slightly or shifting to 3rd first (leaving clutch in), the grind is non-existent. The gear DOES NOT pop out. The forums suggest this condition may be mitigated or altogether remedied with a fluid change

Exterior

· The Montana Green paint is original but most of the clear coat is gone producing a patina'd, underdog look. I dig it, others may not

· There are some spots where the paint has been abraded down to the white primer. I'll let the new custodian decide whether to paint it or leave it as is. To me, it's only original once

· Prior to my ownership, the bumpers, flares, rocker covers and skid plate were painted either satin black or with some type of texture coating. It looks decent

Interior

· Abrasion/scuff/worn cloth in seat bottom, front leading edge, driver seat

· Hole in outer bolster, passenger seat

· Missing OE floor mats, rubber ones included

Rust

Moderate in the usual MK2 places, lower fenders, lower door corners, lots of surface rust on undercarriage. As previously mentioned, I have driven my (3) kids to the beach in it several times which I would not have done if I believed structural rust was evident. The previous owner did some spot coating with rust inhibitor. I do not have access to a car lift but I'm sure more can be done (particularly to the undercarriage where a spray on application might be better). In bone dry SoCal, I have not worried about it or noticed any of the rust progressing. IF YOU SEND ME YOUR EMAIL I WILL SEND YOU A LINK TO SEVERAL CLOSEUPS OF THE RUST SPOTS. I WOULD CATEGORIZE 90% OF THE RUST I CAN SEE AS MINOR.

More highlights

The good

· Clean and Current Vermont registration / plates (no paper title as vermont does not issue paper titles older than 15years) allowing simple transfer to your state

· Hella Driving lights

· Smoked front parking/indicator lights

· Cross Bars and roof rack

· CB Radio

· New bilsten HD rear shocks

· New firestone winterforce tires

· New aftermarket 15" bbs rs-style wheels

· Recent oil / filter change

· Always garaged in SoCal under my ownership

The bad and ugly

· Moderate Rust as stated (please message me if there are certain shots you would like to see)

· Lots of non-oem hardware throughout

· Many scratches and dings (PDR can address)

· Missing original body decals

· Majority of clearcoat gone

· Couple dents on Brushguard

· Turn signals don't work

· Needs Brake Job with a rebleed as a minimum

· Light weeping from differential drain bolt

· Light weeping from lower coolant hose

· Missing OE floor mats

· Driver side roof seal (aka hockey stick) / door seal has seen better days. I will supply replacement, non-OE bulb seal material. I notice no water intrusion (whilst washing car), however, the vehicle has never been driven in the rain while under my ownership.

· Amateur-ish body work on rear lower valance

· Exhaust leak(s)

· A bit cold blooded, idle stabilizes as she warms up

Extras

· Cap and rotor

· Belt

· Touch up Paint

· Door seal

· 16" wheels, tires and spacers

Items not included

· Rotopax spare fuel carrier

· I do not have the factory wheels

Lastly

· Please do your own due diligence in regards to titling/plating/emissions in your state.

· NO RESERVE AUCTION. PLEASE TAKE INTO CONSIDERATION CAR'S RARITY, ITS FLAWS, MANAGE EXPECTATIONS AND BID ACCORDINGLY. PLEASE ASSUME NOTHING AND ASK ALL QUESTIONS PRIOR TO AUCTION'S END.

· Will work with out of state buyer's transporter for pickup and loading

· IN PERSON INSPECTIONS PRIOR TO AUCTION CLOSE WELCOME.

· $500 NON REFUNDABLE DEPOSIT DUE WITHIN 24HRS, BALANCE IN 7 DAYS.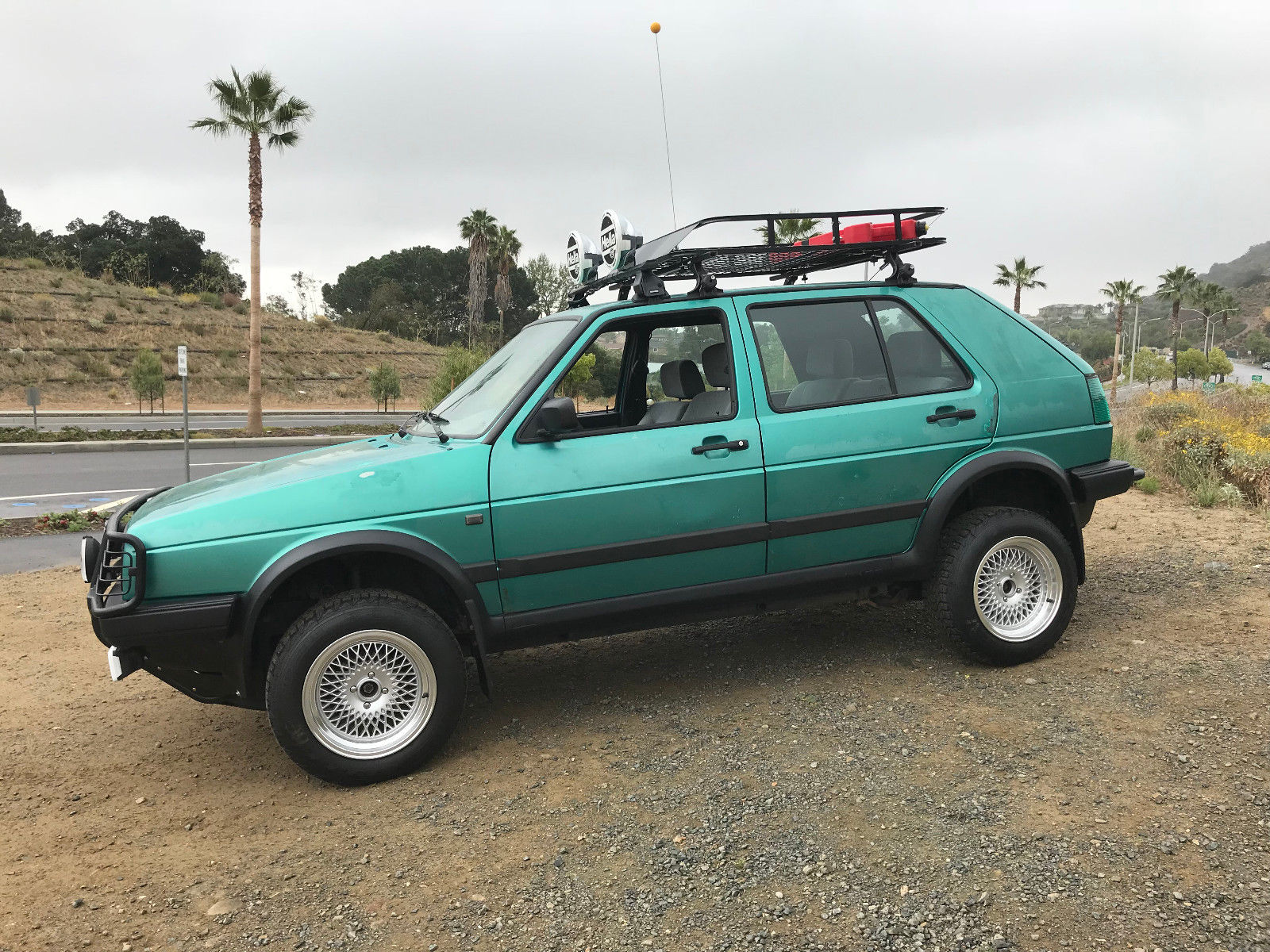 Volkswagen's signature 'Montana Green' looks great here and the color's name makes much more sense when considering the Country rather than the GTI. This one has even more added flourishes to help it stand apart; extra lights and racks, Hella color-matched taillights, beefy Winterforce tires – it looks even more the part. It's a bit of a shame that the original Speedline wheels are gone outside of the spare, but they can be sourced. Condition is great from 20 feet but less outstanding the closer you get, though the seller does a good job of outlining problem areas in an unusually detailed description and photo gallery.
Bidding is active and no reserve, and with four days to go it's still very affordable in the grand scheme at $5,000. As we've recently seen, that money buys you a really nice GTI – and one without the issues of this particular chassis, too. But I'd not be surprised to see that number nearly double over the next few days given the desirable nature of these Country models.
-Carter