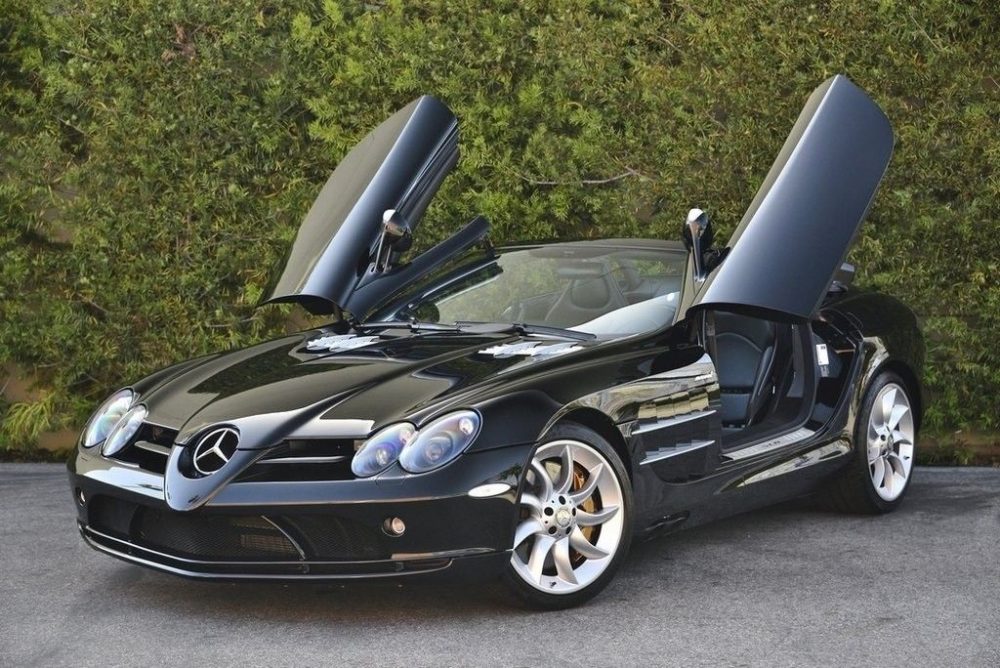 I am not going to say the Mercedes-Benz SLR McLaren is forgotten, but it's not exactly the first or even 10th car that pops into your mind when someone says "Supercar." The SLR isn't a bad car at all, but rather it gets lost in the admittedly small sea of supercars from the 2000s and on. The performance numbers are good with a 0-60 mph time in the mid-to-low 3 second range and a 0-100 mph run in 7.5 seconds. Mercedes put out the standard coupe as well as some special editions over the eight year production run that gained a little notoriety but today I wanted to look at the SLR Roadster. Normally when you take a supercar and try to make it into a roadster, some of the original design language gets washed away simply because things need to happen to actually make the roof come off and keep the car up to same standard. I think the SLR Roadster did an excellent job of keeping this car as true to the coupe design as possible. Let me explain why.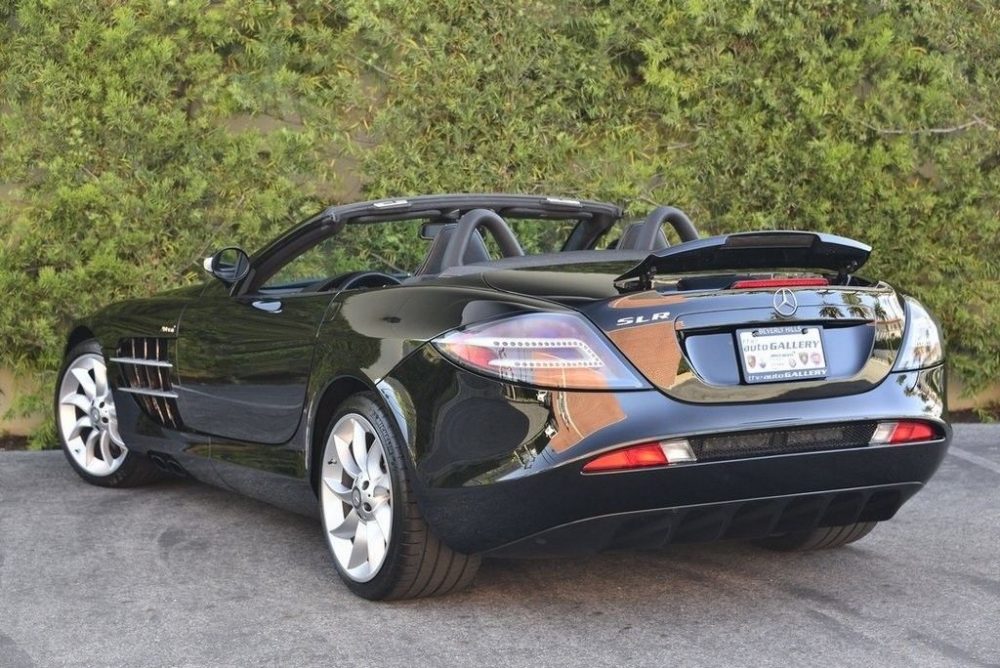 Year: 2008
Model: SLR McLaren Roadster
Engine: 5.4 liter supercharged V8
Transmission: 5-speed automatic
Mileage: 9,983 mi
Price: $298,220 Buy It Now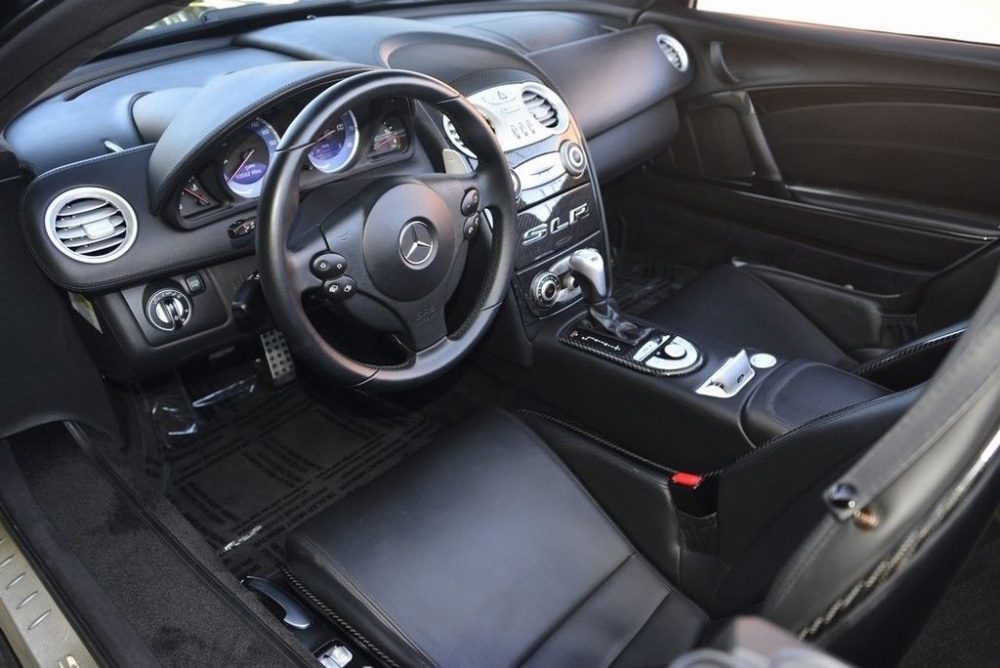 The Auto Gallery Beverly Hills is very proud to offer for sale this extremely rare 2008 Mercedes McLaren SLR Roadster.

Recently traded to us by a Southern California customer, the condition of this SLR is spectacular. Both mechanically and cosmetically this SLR has been extremely well cared for. The exterior paint is fantastic with no chips or scratches. The interior leather is very fresh with no scuffs or wear. Our service department also just performed a Fluid & Filter service to the vehicle.

Finished in a Pure Black (non-metallic) exterior and a Black Semi-Aniline Leather interior with Carbon Fiber trim, this is the most desirable color combination for a SLR McLaren Roadster.

This is also a heavily equipped SLR including:

18″ 10-Spoke Wheels
Red Brake Calipers
Black Carbon Trim
Carbon Fiber Seats in Large Width
Roof Linkage Covers
Multi-Function Sport Steering Wheel
Bose Premium Sound System
Bluetooth Hands-Free
Carbon Ceramic Brakes

This is a stunning example of a highly collectible and exotic motorcar. We offer special finance and leasing options and happily accept trades of all makes and models. Call or email today for additional information and history of this motorcar. As with all of our vehicles it is CARFAX certified.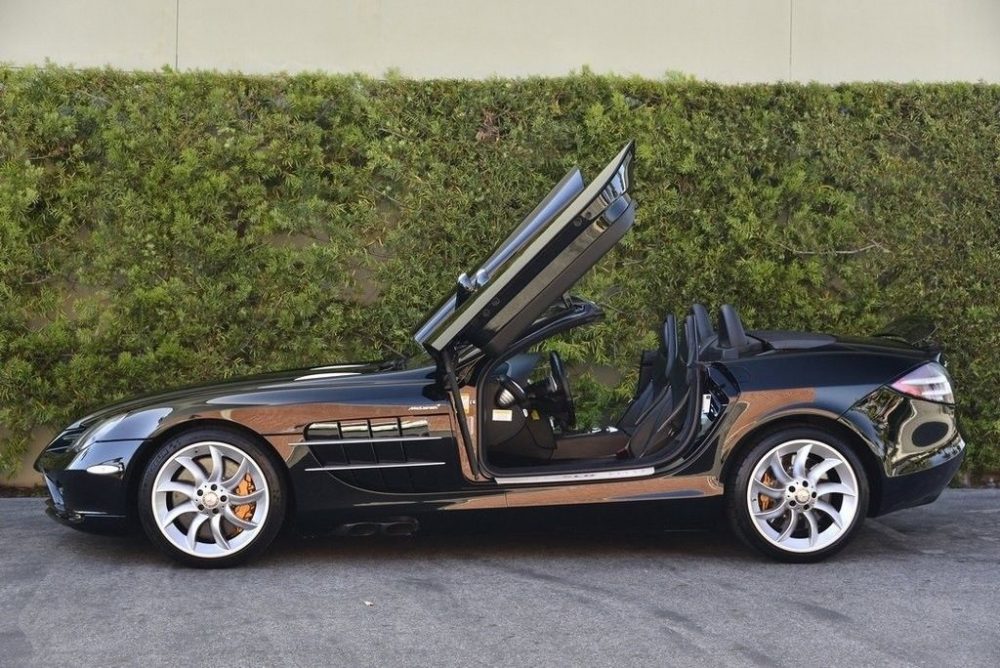 Looking at the side profile of the SLR Roadster, you can see how little of the roof they actually had to remove to actually make this car topless. The low-slung windshield comes so far back over the driver cockpit that it actually covers about half of the opening from where the door opening starts and ends at the back of the seats. Because of this, the same basic shape is kept and the important bits, like those amazing doors, are kept. Yes, you do give up some of the "openness" you might feel from other topless supercars like an Audi R8 Roadster but if you are driving an SLR Roadster I doubt you are going to be in a sour mood anyway.
As for this specific car up for sale in Beverly Hills, it looks like fairly standard spec with no crazy options or colors. You do get the carbon fiber package which is a nice touch over the normally cheap plastic that the SLR was originally sold with. The interesting thing about the SLR is that you got to choose a different size of seat depending on how large you were. The seats in this car are the "large" size which I assume has something to do with it because an American market car. If you wanted to swap them out for a different size, these McLaren-built seats will run you a cool $15,000.
The pricing on these cars took a jump about five years ago along with every other European sports car that people wanted and now have landed in the $300,000 and up range. I'm actually really surprised that this example's asking price is just below $300,000 because normally the asking price for Roadsters are much higher. Even with the nearly 10,000 miles, this car is priced much more aggressively than other cars on the market. If I had $300,000 to spend on a car I don't think I'd pick the SLR Roadster as my first choice, but options are a good thing and I don't think I'd blame someone for dropping the coin on one of these.
– Andrew