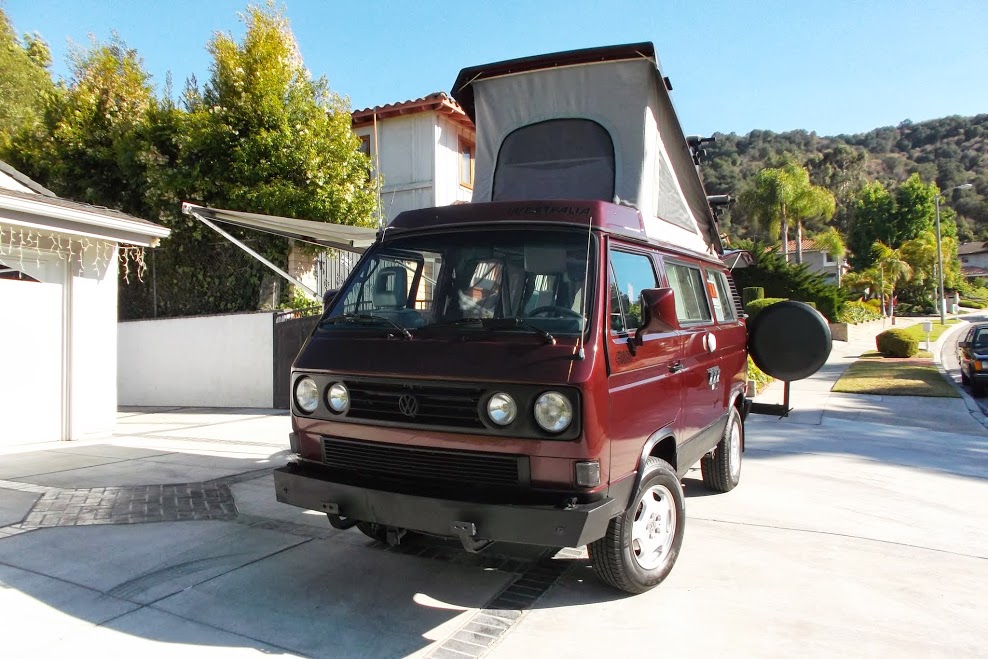 With summer underway, it's time to start planning that holiday. Whether it's the woods or someplace seaside that you are headed, a Volkswagen Vanagon Westfalia would be an excellent rig to get there in. This well sorted Syncro Westy comes to us from our reader Pete and has a few practical add-ons to make this Swiss Army Knife on wheels a bit more usable for those long excursions.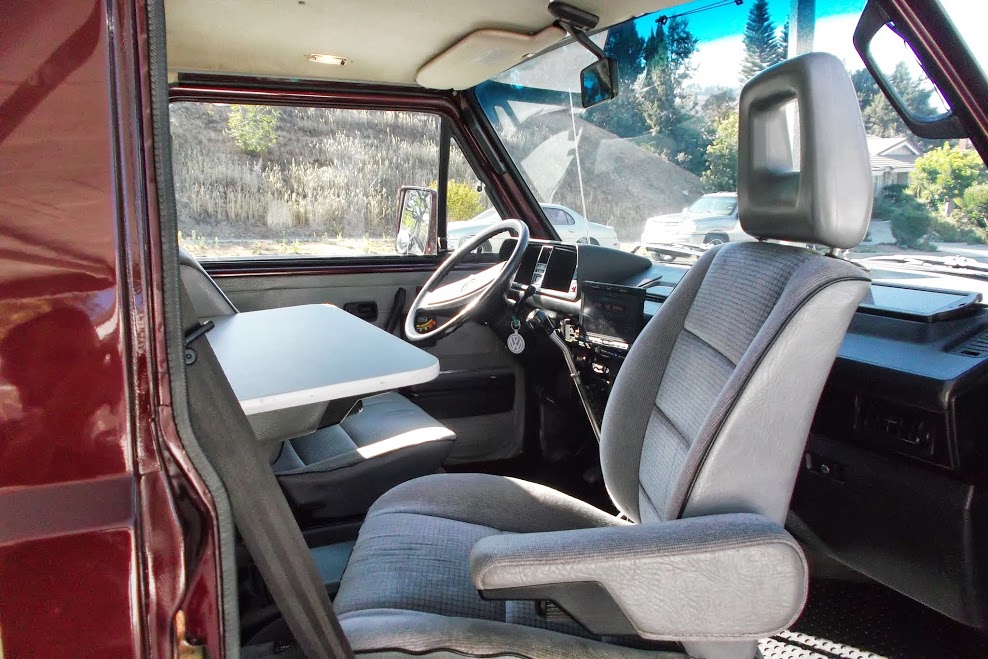 Year: 1991
Model: Vanagon Syncro Westfalia
Engine: 2.5 liter boxer-4
Transmission: 5-speed manual
Mileage: 182,500 miles (less than 6,000 miles on new engine)
Price: $73,995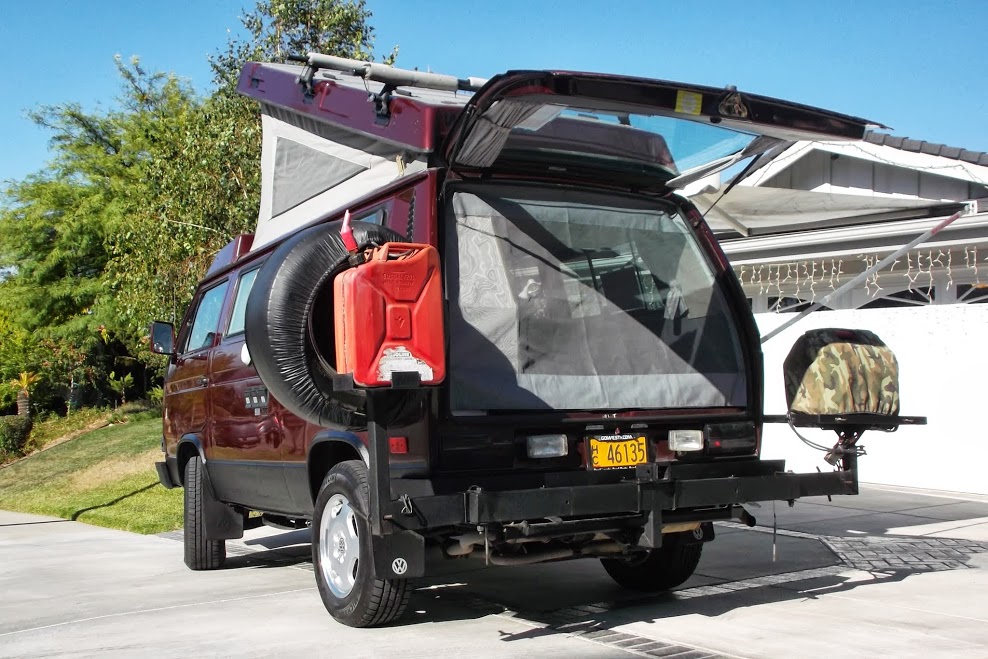 '91 VW Syncro (4WD) 2.5 Westfalia Full Camper. $99,500. VIN: WV2ZB0253MG003421.

We priced this after comparing the last 22 Syncro campers in past 6 years by GoWesty, looking at mileage, condition, upgrades, & restorations on all 22 w/ours. This price is quite fair, considering everything the others don't have. This is our first VW Westy camper, bought from 2nd owner-a private party 1/'06. Finally the configuration's exactly as we want, but hurt my knee & shoulder causing pain getting in/out w/2" lift kit. Almost all of very significant upgrades/restoration/repairs were done by the GoWesty experts, & it has always been garaged. YOU MUST SEE!

All GoWesty & other invoices plus CARFAX report (totally clean & w/all their guarantees offered) available online. Please email me for links at pete@unityadjustments.com.

Options:
5 speed manual w/Granny low, all 3 knobs: 4WD + true front/rear lockers, A/C, front/rear heaters & defrosters, cruise, PS, PB, PW, front/rear windshield wipers/washers, power door locks, keyless entry, stereo, all original curtains, Dometic 3-way refrigerator, sink, & 2 portable eating/work tables w/poles.

Upgrades and Restoration:
GoWesty 2500 cc (was 2100 cc) waterboxer motor w/indestructible pistons (125 hp. = +39%/175 ft-lbs torque = +50%): replaced at 176,910 mi. on 11/21/10, & now about 182,500 mi. (less than 6,000 mi.), GoWesty Road Warrior 4 year/48,000 mi Nationwide transferable (no cost) warranty. Same fuel economy if driven the same (15/16 city, 19/20 hwy. w/cruise). After break-in period, only Mobil 1 synthetic oil & filter (15-50 oil/M1-205 filter), & changed every 3,000 mi. (not 3,500 as rec'd.). 2.5 VW matching emblem beside Syncro emblem on PS of the rear hatch.

GoWesty gears: 2nd (1.18:1=8.7% higher) / 3rd (1.18:1=4% taller / 4th (0.77:1=9% taller).
GoWesty custom-geared transaxle & front diff: 5.43:1 final drives, front & rear (12% lower).
Original (4WD) Viscous coupler replaced w/a true 4WD (drive shaft de-coupler & solid shaft).
South African BIG brakes.
South African upper & lower grills.
2 in. GoWesty lift kit.
Porsche 911 power window system w/dash switches.
Porsche 930 Turbo rear axle system.
GoWesty custom, double, swing-away bumper-mounted rear steel shelves/racks: DS=mounted
spare & 5 gal. gas can, PS=shelf for 2 KW gas generator.
Yakima roof rack system.
GoWesty steel plate bumpers w/integral 2 in. hitch in rear.
GoWesty's off-road kit: 5 Michellin P250x70Rx16's & GoWesty alloy wheels w/5-locking nuts.
Bed-liner (black) texture coat on entire lower body.
Deluxe aux. 2nd battery system w/2 Interstate MTP-91 heavy duty batteries.
Jensen stereo w/surr. sound: TV/CD/DVD/AM-FM w/7 in. tilt-up/swivel touch screen, w/remote.
Drop down SSL DVD/TV 15 in. monitor/2 wireless/infrared headphones & remote.
500 watt JC Audio amplifier & woofer speaker below rear seating.
Fiamma F45 10 ft. x 10 ft. x 6+ ft. high awning.
Old Man Emu shocks & struts all around.
Cobra C/B system w/dash speaker, high power amplifier & high power antenna.
3 vent 100% acrylic pop-top tent, w/zippered/covered/screened openings.
2 GoWesty's snap on mosquito screens for side (zippered), & rear openings.
GoWesty snap on Rainfly: waterproof tent cover.
Coleman 1200 watt inverter w/2-110 volt receptacles: 6 total in Westy.
4 illuminated 12 volt connections: 2 in kitchen & 2 on dash.
Refrigerator has an extra custom electric exhaust fan… keeps food at 32-33 degrees.
Side step for sliding door entryway, w/heavy-duty grab handle at entry.
3 heavy-duty grab handles total: both front doors & sliding door entryway.
Repainted factory Bordeaux (Burgundy) with all decals – black.
Halogen outside & Hella inside headlights: w/high output load reduction relay kit for Halogens.
Wurth rubberized undercoating, complete steam-cleaning, & all rusted parts replaced.
Grover diesel truck air horn & compressor with tee configuration w/rubber hose & air fitting.
Roadmaster tow setup & RV wiring, w/auxiliary synchronized airbrakes.
Keyless entry w/2 remotes.
Updated propane tank.
Skid plate w/air compressor above it.
Hot Wire air mass sensor replaced old-fashioned air flow meter.
Bosch high-powered, clear lens fog lights for back up lights.
4 smoked signal lens covers.
2 new fluorescent lights above in kitchen: cooktop & storage/closet area.
Solar trickle charger for start battery, hard-wired, on dash.
Roof painted silver: reflects heat from camper's interior.
4 GoWesty mud flaps.
Curved tailpipe end to help avoid water intrusion into exhaust system.
Rubber floor mats, heavy-duty: front/aisle/rear – black.
Campmobile cargo area matching grey carpet mat.
1 hidden anti-theft kill switch.
Streamlight Strion always-charged, super bright flashlight behind driver's seat.
Covercraft® car cover.
Complete VW service manual, & all OEM owner manuals.
And on, and on, and on, and on…

Repairs and Replacements: All normal maintenance timely, Syncro tranny, A/C condenser & all the seals/gaskets/hoses, Bosch alternator, aluminum OEM radiator, OEM water pump, full Vanagon GL waterboxer clutch job & w/fly wheel, wheel cylinders, cooling/fuel/elec. systems gone thru completely, w/many replacements, proportioning valve, dash instruments replaced/repaired/recalibrated, straightened gas tank neck so if fuel gauge's at red line… it has 2 gals. in the tank… when at empty… it's EMPTY!, spring pads, $1,600+ reliability servicing-Inv. 75995P 7/01/2006 w/lots of Bosch® parts, $2,500+ GoWesty super-duper ultra-major service w/all items back to zero miles… & lots, lots more.

QUESTIONS? CALL PETE: 626.333.0199, 7am-8pm PDT, daily.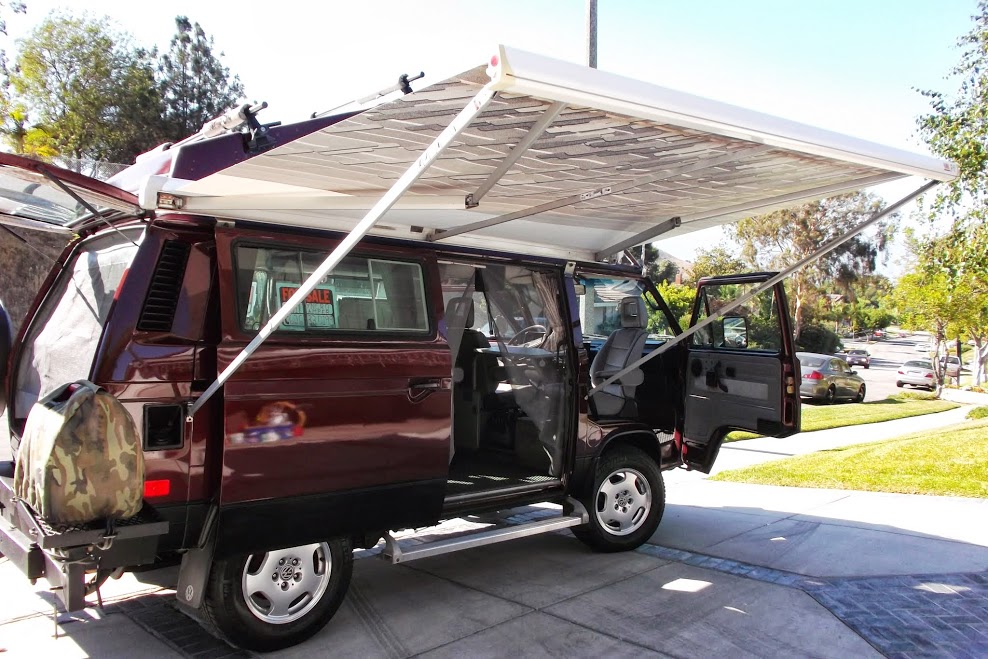 For those not paying attention, the market for these campers is hot. Very hot. Find a good one and it will set you back a decent chunk of change. This final year Syncro has to be one of the most well-sorted examples of its kind that I've run across in recent memory. It doesn't seem like one square inch of this van was left alone in the quest to make this Westy nicer and more convenient for travel. At almost six figures, a lot of people will scoff, but if you must have the best Syncro Camper out there, few are going to measure up to this one.
For those interested in this Westy, you can contact the seller, Pete at (626) 333-0199 or via email at pete@unityadjustments.com . Good luck with the sale, Pete!
-Paul