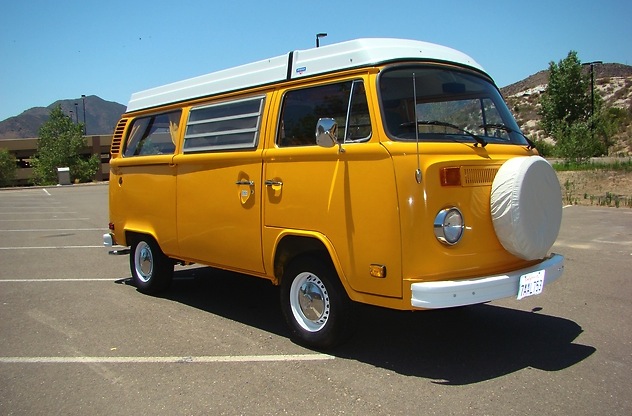 Camping isn't my bag. Much like skiing, I view it as a big schlep. I gave it a shot once out in Arizona a few years back and, well, I haven't been back for more. Maybe it's the urbanite in me, but packing up a bunch of your belongings and getting back to nature isn't my thing. I can see where the escape appeal comes in, though. Having the right tool for the job certainly makes said holiday a little bit easier. Like this 1976 Volkswagen Westfalia Camper. We've featured a lot of Vanagon Westfalias here on GCFSB, such as this 1991 Volkswagen Vanagon Syncro Westfalia from last week, but the T2 Transporter based Campers are a bit harder to source in good nick, given that a lot of them were driven by peaceniks and potheads who didn't have vehicle preservation at the top of their agenda. But this particular Camper has weathered the years well. Rarely is a collector vehicle so very usable.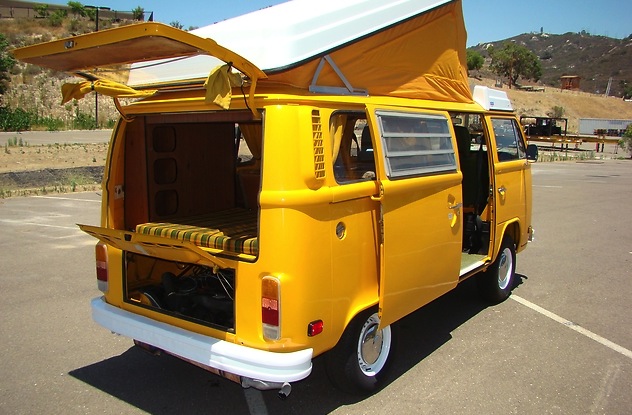 Year: 1976
Model: Westfalia Camper
Engine: 2.0 liter flat-4
Transmission: 4-speed manual
Mileage: 15,555 miles
Price: $19,995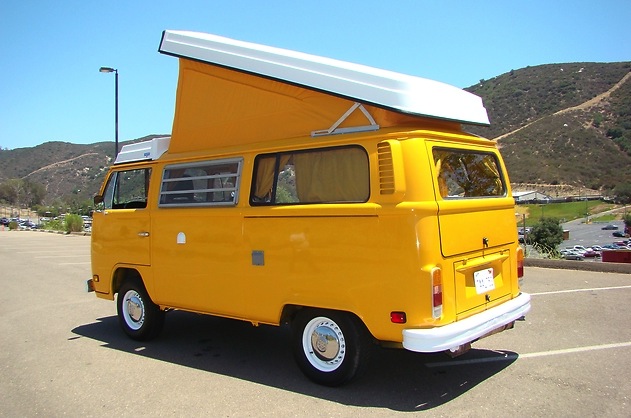 You are viewing a great 1976 Westfalia Campmobile, original, a beautiful survivor that looks great and drives great. This is a highly sought after make, model and color combination Westfalia Camper. Buy It Now or put your best offer in, these sell quick. This Westy is freshened up, not restored. Free shipping in the Continental US and Hawaii, or port to port transport from LA to select UK/European ports with Buy It Now.

Mechanically….It is very tight and solid, and is ready to cruise and camp. It is powered by A GD code 2.0 liter just tuned motor. New wires and gas lines. The manual transmission shifts properly through all gears. Electrical system is in good working order. Exterior lighting including headlamps, turn signals, tail lights, are working properly.

Exterior…….This Westy is eye catching. It was just repainted in its original Marino Yellow (L20A). All the fixed/stationary windows and exterior fixtures were removed before paint and replaced with new or good condition originals. There is a new front windsheild seal, rear side window seals and back window seal. There are new side markers, mirrors and antenna. There is a new canvas in the poptop and new poptop seal. The body is nice and straight. The floor and underside are solid.

Interior is nice as you can see in the pictures. Door panels are original, new seat stand mats and new front seat upholstery with original vinyl. There are four seat belts – two lap/shoulder belts for front bucket seats and two lap belts for the rear bench seat. The front passenger seat swivels to face the rear. Passenger compartment has original upholstery on rear bench and original carpet.

Campmobile equipment includes:

Rear bench
seat converting to double bed with locker below.
Rear deck mattress.

Swivel seat
Clothes closet with vanity mirror
Ceiling
cabinet
Linen closet
12 volt fluorescent ceiling lamp
110-125 volt AC
electrical hook-up receptacle
Double outlets, master switch and circuit
breaker
Louvered windows
Cabinet with stainless steel sink.
12 volt
water pump
7 gallon water tank
City water hook up
Pop-up roof
Luggage rack
Double bunk inside pop-up roof

If you are interested in owning this vehicle, you must act quickly. This is not a regular auction with a set time frame. This "Buy It Now/Best Offer" auction can be ended at any time if buyer hits "Buy It Now" or submits an acceptable offer. Do not wait to make an offer until the last day or hours, or you may miss out on this nice Westy.

All in all, this is a nice driving, nice looking Bus. Take a look at all the pics. Please do not make an offer if you do not intend to buy. If you are making an offer and need shipping to be included, please state that in the terms of the offer. Otherwise it will be assumed that you are handling the shipment of the vehicle yourself.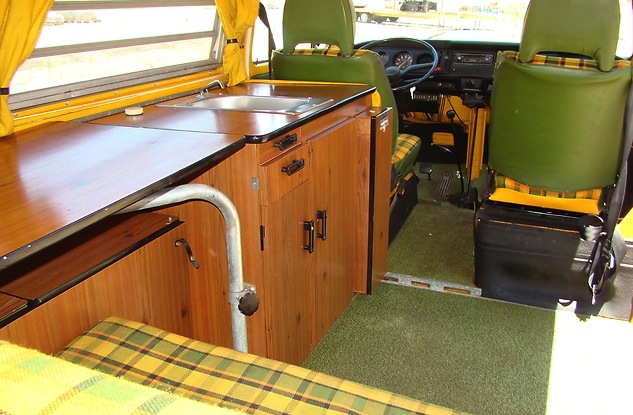 Early T1 Transporters are bringing a mint these days, so if you are shopping on a budget, the T2, or Kombi as it is known in some markets, is a great compromise that gives up little in appeal. I wouldn't necessarily call this particular Camper original, as it has had a repaint and some freshening around the edges, but it has stayed honest to its origins. The asking price of just under $20,000 is a bit on the high side for one of these. In comparison to a T3 Westy, however, it's a bargain even if you are giving up a little bit of modernity in the process.
-Paul