The UrS4 is where it all started for Audi's S program in the US. With turbo 5 cylinder power and Quattro AWD this was the beginning of an era for Audi; an era that is still going strong. These days it's becoming incresingly rare to see one of these cars as clean as this black on black S4 for sale in WA state.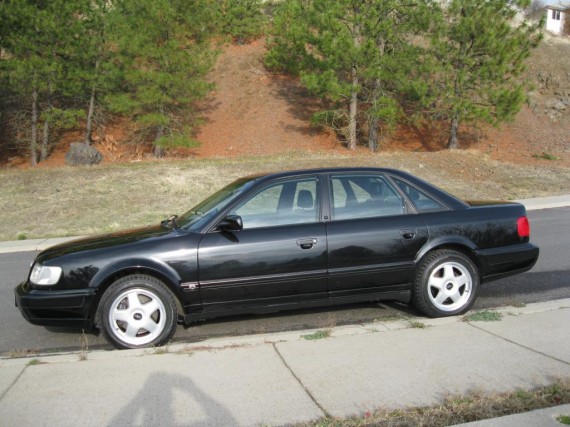 Selling a very clean, well maintained, rare UrS4. Possibly the first one that came into the U.S. due to the VIN. Car is black on black, which is one of 50 in this color combo for the year. 148k original. For 20 years old, thats quite low. Only owned, and driven by pure enthusiasts. Bible of maintenance history. Car has never been in an accident, original paint and clearcoat in exceptional condition. Body is laser straight, not one scratch or door ding ever. Always garaged.

Upgrades include RS2 turbo, RS2 exhaust manifold, RS2 green top injectors, software, fuel regulator. Samco black silicone hoses. Custom front mount intercooler, comparable to the Apikol one, yet was made to fit correctly under the front bumper, while retaining the factory bumper grills. Porsche Big Black 4 piston calipers which are needed on a 170mph car. Bilstein struts with lifetime warranty. Powder coated black valve cover. Last timing belt jobe less then 30k ago. Wheels professionaly refinished with warranty. Properly relayed and wired headlights with HID balasts, foglights can run with highs/lows, rockguard on lenses. Dual rear fogs for brake checking, at the touch of a button. All integrated of course. S2 3 spoke steering wheel (original included as well). Not a beverage ever spilt on the interior. Ghost fuel pressure and boost pressure gauges mounted in glovebox. Bose stereo completely overhauled, with OE specs, sounds great. 10 disc in trunk. Everything works flawlessly on the car, inluding heat, A/C, sunroof, cruise, all heated seats, every single light and gauge.

Intentionally professionally built as a daily driver, yet capable on the autobahn. You wouldnt know its pumping 350hp unless you hit the throttle, and hold the hell on. Drives straight, smooth. Runs perfect, looks perfect. No disapointments. This is the ultimate sleeper. 509-869-1669
Pricing on this car isn't as simple as KBB.com, because if it were, we'd be looking at a $5,000 car. These cars have a huge following with Audi and German car enthusiasts the like and with cars like this becoming increasingly rare, a premium is being paid. Having traveled only ~7,500 miles per year its whole life this gently worn S4 offers all of the right options and upgrades to command a top dollar in the UrS4 market. While not as desirable as the pearl white, a black on black S4 is a close second in desirability. Couple that with the RS2 upgrades and immaculate condition, and this car is with the $11K price all day long.
-Brian