All of us here at GCFSB have waxed poetically about the Mercedes-Benz 500E. A super sedan of epic proportions, this collaboration between Mercedes-Benz and Porsche is revered by enthusiasts to this day. There is one W124 E class that gets a bit overshadowed by this monster of a luxury car, and that is its more tame sibling, the 400E/E420, powered by a smaller version of the M119 V8.
My father purchased a used 1992 400E when I was in college. He bought that car after his beloved 190E 2.6 from the same model year was totaled in an unfortunate accident. I preferred the 190E to the 400E, but that V8 sedan was a great cruiser and the power delivery of the engine was intoxicating. In silver, it was an unassuming sedan, but could surprise a few people off the line at a stoplight. This Smoke Silver E420 for sale in Florida won't turn a lot of heads on the street, but its understated elegance is charming.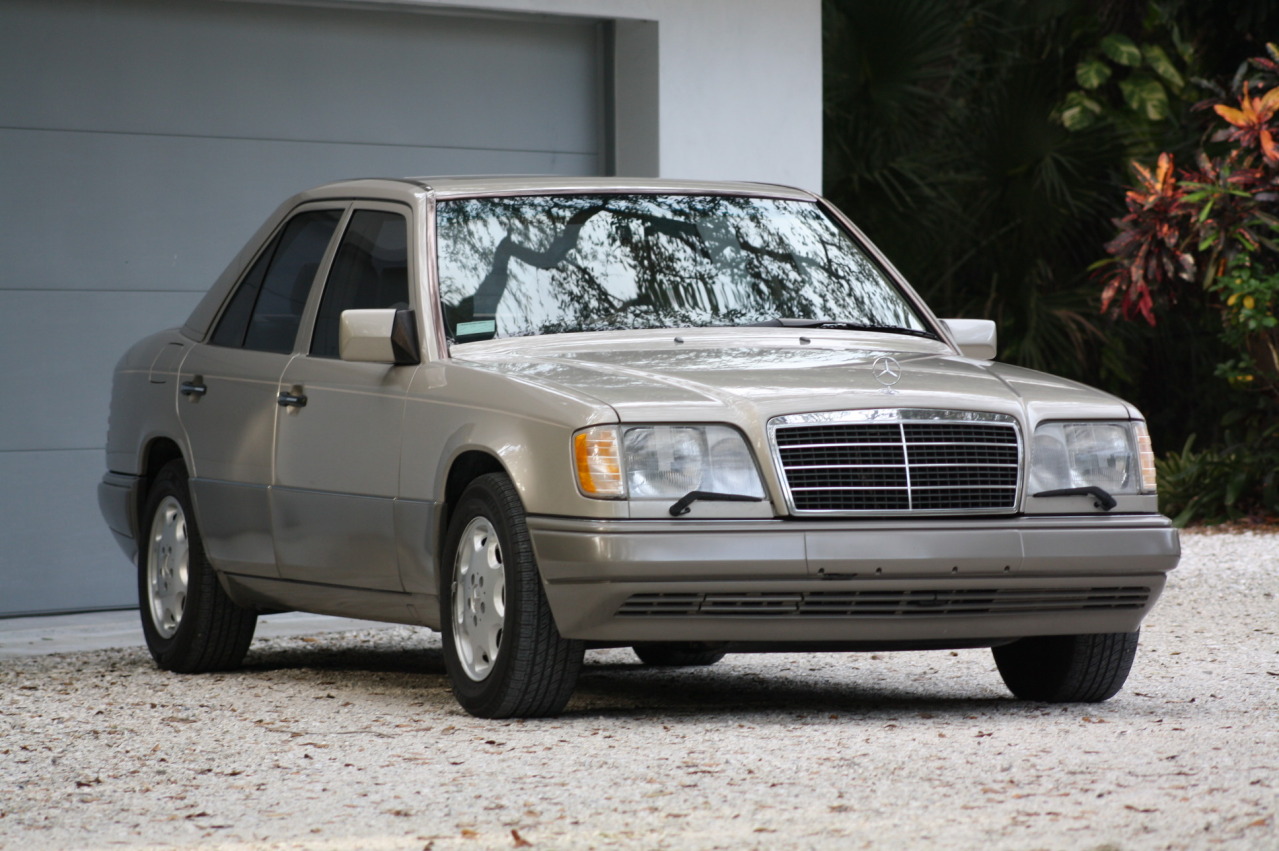 1994 Mercedes-Benz E420. 84,962 original miles. Smoke Silver exterior – factory paint color code 702. Tan leather, clean Carfax, no accidents at all. I believe the paint to be 100% factory original. No repaint anywhere on the entire car. Strong and cold air conditioning. The tires are closer to new than to replacement. All four factory original alloy wheels are in perfect condition.

I'm told that the car is a one owner. That the original owner lived in Atlanta, Georgia and then moved here to Sarasota, Florida in mid 2005. The owner then had to re-title the car in Florida…hence there is a "vehicle purchase reported" on Carfax. I cannot guarantee this information, I'm just told it is a one owner.

No blemishes in the interior. No cracks in the dash top, no cracks in the wood anywhere. No wear in the driver's seat bolster. No tears or blemishes in the leather or any part of the interior. Perfect paint and body, absolutely no rust anywhere. No deep scratches. No major dings, body gaps are perfect all over the car, bumpers never hit. The car drivers perfectly, no pull to one side of the other. The steering wheel is perfectly straight when the car is going perfectly straight. No rattles or strange noises of any kind.

Excellent brakes, the car comes to a perfect even stop as the brakes are applied. Superb condition throughout the entire car. Engine runs smooth and strong, transmission shifts perfect, everything works. Please call me if you have any questions. My name is Tom and I can be reached at 941-323-7670.
There's always a ever present glut of E320 cabriolets on the market; these along with the 500E/E500 are the priciest of the W124 family these days. The sedans, including the 400E/E420 are more affordable, but harder to find in good condition. As it stands, this E420 is worth somewhere in the $5,000 to $7,000 range. Speaking from experience, these are stout cars with exceptional build quality. My only gripe is that these cars came with 205/65-15 tires, which isn't quite enough to handle this car's power in certain conditions. That aside, as long as the fuel costs don't put you off, these V8 W124s represent a lot of car for the money.
-Paul