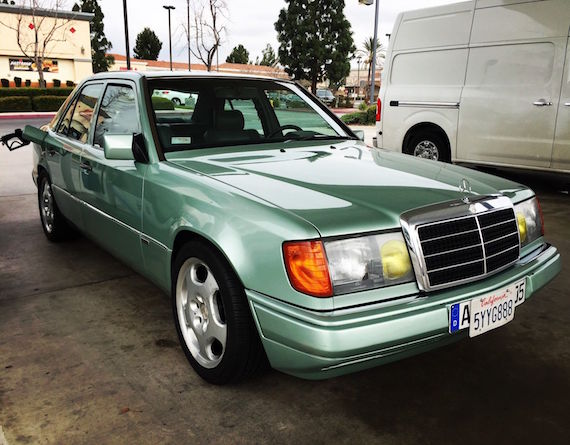 Someone on the Facebook page recently said I tend to post cars in boring colors like black, silver or gray. They are not wrong. It's hard to find the models I like in anything else. There are some great exceptions, of course. BMW has some really neat colors available through its Individual program (my favorite is Velvet Blue). But there's no getting around it; most of my favorite 80s and 90s German cars left the factory with conservative paint jobs. That's likely no accident. Staid colors are generally well suited to the lines of the cars, especially since the design language of the period was itself quite conservative. Still, I feel under an obligation to find you all some more interesting colors. And this is my opening gambit: a 300E in Crystal Green (256). The W124 can be had for very little money these days, and used as a cheap runaround until it clocks at least half a million miles. Yet it still offers the luxury, solidity and build quality that earned Mercedes its reputation for making some of the best cars in the world.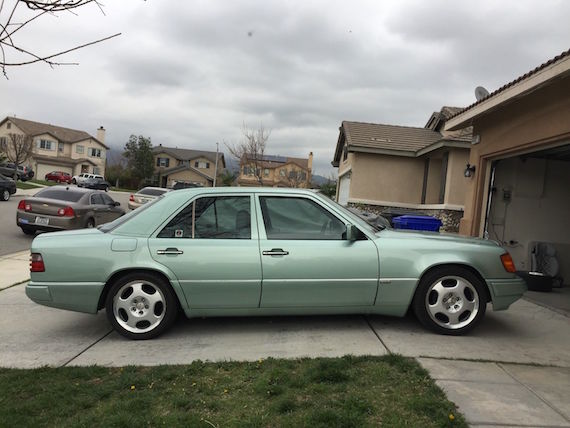 Year: 1992
Model: 300E
Engine: 3.0 liter inline-6
Transmission: 4-speed automatic
Mileage: 211,534 mi
Price: No reserve auction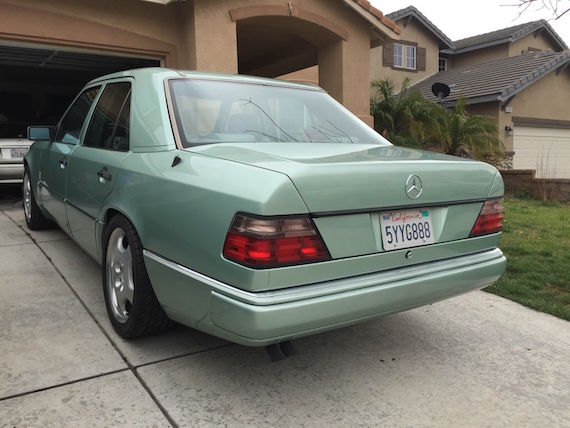 I am a mercedes benz enthusiast selling this well loved w124 with no reserve.

2006 was when i purchased this vehicle from a fella in Orange County. Loved the color and interior. Despite the high miles at that time (193,000++), it was a very good purchase. As you see in the pictures, you would know this car was given a lot of TLC.

I took the car in for a complete make over in 2007 just because. Car did not need any paint and body work but I wanted a better look. Dupont paint and went monochrome. Immediately after, I did some suspension and wheel upgrades (H&R springs). Also modified the look to "euro" version. (Depo head lamps, euro turn lights, and a pair of new 500e tail lights.) Not to be outdone is the sound system. Car is equipped with an all Alpine audio system from the head unit, amps speakers to the subwoofer. This car is such a beauty and cool to drive with its 'refreshing look'.

Regular maintenance done on the car: head gasket job (2011), New BEHR radiator, EHA valve, strut mounts, ac control unit and regular oil changes between the years 2012-current)

Car has some noticeable paint chips on the left front bumper and minor scratches on the left rear door. overall exterior would rate 8-9/10 . car has no noticeable dents or oxidation. 10 yr old paint job on the car looks very good.

I would rate the interior a 7/10. no tears in the seats. no cracks on the dash. the only minor flaw is the upholstery on the ceiling area and by the door pillar. otherwise, everything is in good shape including all door panels.

Mechanically, i will rate it an 8/10 since the car will never be perfect. minor concerns are cold air passage only through the side vents and windshield vents. brake intermittently lights on and off on the dashboard which is caused by the break sensor. it never bothered me. oh, and the antenna needs to be replaced.

Reason for selling the car is due to the growing fleet and I have been "garage surfing" my vehicles around relatives' homes. I am selling a total of 4 cars and will stop once I sell at least 3. That means I'm rolling the dice and whichever car that does not sell, stays!

Car is registered and will get it smogged next week. That's one good plus for the winning bidder 🙂

-make sure to have sufficient funds ready before you bid

$500 (non-refundable) deposit required immediately when auction ends via PAYPAL
paypal address : teamzz@aol.com

Car is sold in AS IS and WHERE IS condition with all faults – known and unknown described or not described.Should there be ANY mechanical issues discovered after the purchase of the vehicle there will be no recourse offered by the Seller. Seller makes NO warranties as to the condition of the vehicle.
NO REFUNDS. ALL SALES ARE FINAL!

With that being said Good luck and bid with confidence!

Any questions please message via eBay thanks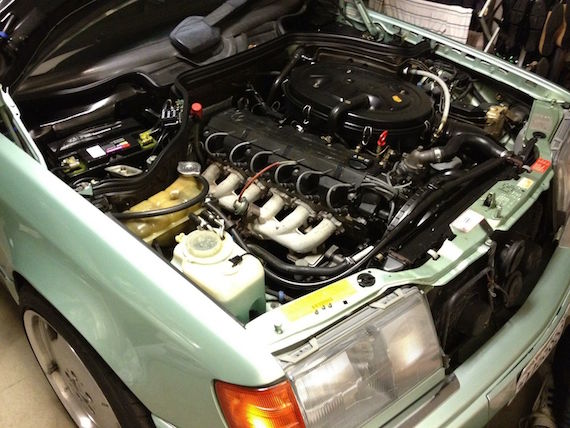 This enthusiast-owned example has over 200k miles under its belt, but is still going strong. The owner liked the green paint so much that when it came time for a refresh in 2007, he opted to repaint the car in the same color, this time including the bumpers to match. And it looks like it was a decent job, although the front impact strip now has a couple of unsightly chips.
There are some other neat touches: Euro headlights with "French" style yellow fog reflectors, H&R suspension parts, "smoked" rear taillights from a later W124, an upgraded sound system and newer, later model wheels. Some blemishes to the interior are noted but there are no pictures of the inside of the car to inspect. A VIN check suggests the car has a gray leather interior. The engine bay looks clean and the M103 motor was treated to head gasket replacement in 2011.
Is it a minter? No. But it's a tidy car that appears to have been treated well by a knowledgeable, enthusiast owner. This would be perfect for somebody who wants a bit of German metal for daily driver duties, but only has a few grand to spend.  And at least it's not black, silver or gray.
– Craig