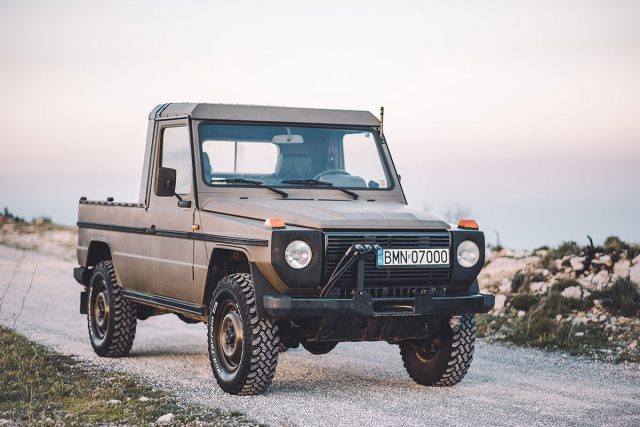 The W461 Mercedes-Benz is a rare build of the G-Wagen that was dedicated for military and parapublic service. They are still as stripped down and basic as any W460 but the interesting thing is that production for these ran all the way up until 2001. Since the W463, the version that was catered for civilian use and still in production today, started in 1991, that means Mercedes was building two different G-Wagens at the same time for over 10 years. Once discontinued in 2001, Mercedes-Benz just decided to equip the W463 with whatever the specific military requests were at the time and carry on their building process that way. So when a W461 popped up for sale in Spain, I had to take a closer look at it. Of course, this one has a few specific features that makes it quite unique.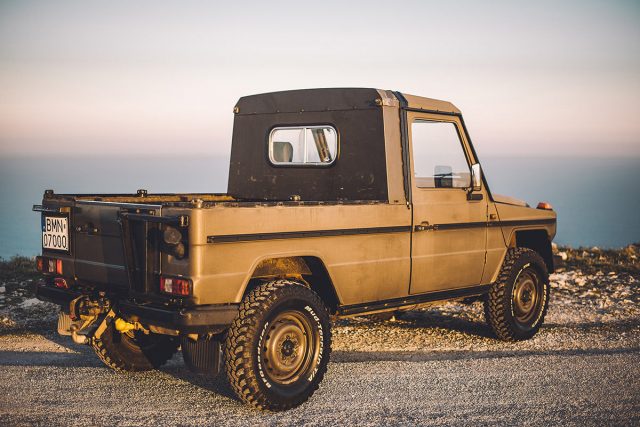 Year: 1991
Model: 230GE
Engine: 2.3 liter inline-4
Transmission: 4-speed automatic
Mileage: 71,600 mi
Price: Reserve Auction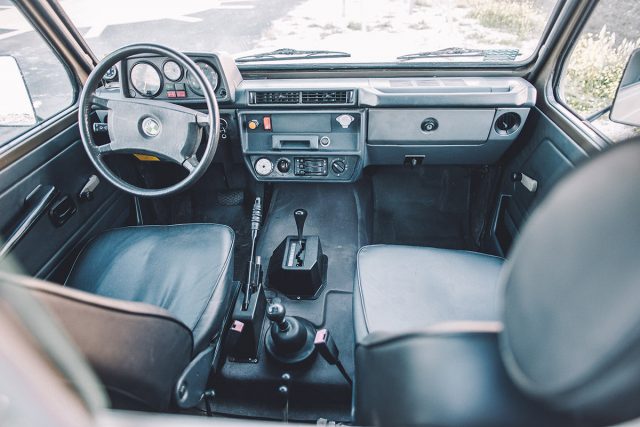 1991 Steyr-Daimler-Puch (Mercedes-Benz) 230GE Pickup/Canvas Back

ACTUAL VIN: VAG46121917906304

Ex-Swiss Army, with rare automatic transmission and petrol engine. This w460 was one of the well-appointed Geländewagens supplied new to the Swiss Military, and it spent its entire life in that capacity as an Army support vehicle. Very low mileage and always beautifully maintained, it is entirely rust free and needs nothing. Runs and drives perfectly.

A true mil-Spec G-wagen, the Swiss trucks are exceedingly rare because they were equipped with the desirable 4-speed automatic transmission. This example is relatively unique in that it has been configured as a pickup truck (although a steel frame and rear canvas back is supplied, and photos of it fitted on the vehicle can be seen in the gallery.)

A tow hitch has been fitted (the vehicle is rated to tow more than five tons), and hydraulic fittings on the front can be utilized to operate various different types of equipment if desired, including a plow.

Straight, rust free and entirely undamaged, it is a unique piece of Mercedes-Benz history, an unusual bit of Swiss Military history, and a massively capable off roader with a drivetrain and body configuration ideally suited to use in the United States.

Olive drab paint is flat (of course) but even, and body panels are straight and undamaged. Interior is in excellent shape, as you would expect of the mileage) and everything works as it should. The vehicle fires instantly, even when ice cold, and drives exactly as you would expect a Mercedes-Benz product of this vintage to drive. Although not fast, acceleration is more than enough to keep up with modern traffic on virtually all road types, and the four speed automatic makes the operating experience entirely simple. Suspension, brakes and tires are all in excellent condition, and the vehicle has been recently serviced and is fully ready to go.

_____________________________________________________________________________

NOTE: THIS VEHICLE IS LOCATED IN DENIA, SPAIN.

I am an American, living in Spain, and I export vehicles to the USA regularly. Although shipping costs are not included in the price of the sale, I have contacts with an established worldwide shipper and will work directly with the buyer to arrange delivery to the USA. I will drop the vehicle off at the port of Valencia for you at no additional cost, help you prepare all the proper documentation for shipping to the USA, and assist with US customs and importation on the USA side. The whole process goes very smoothly, usually takes less than 6 weeks, and usually costs less than $2000, port to port. Delivery through my shipper is available to New York, Baltimore and Jacksonville.

Once the vehicle is in your possession, you will also have all the documents you need to register the car in any of 49 states. (California excepted.) I can even arrange transportation within the USA, from the port to your driveway. In short, I am here to help with every step of the process of delivering this vehicle to you.

You are, of course, welcome to fly here and test the car for yourself before you bid, but if that is not feasible, I will be happy to take additional photos, videos, etc. and send them to you. Whatever you need. We can speak on the telephone, or by Skype, so you can see the vehicle in real time before you bid.

If you have any questions, please ask and I will post as many answers here as possible.

For more details, see www.autologymotors.com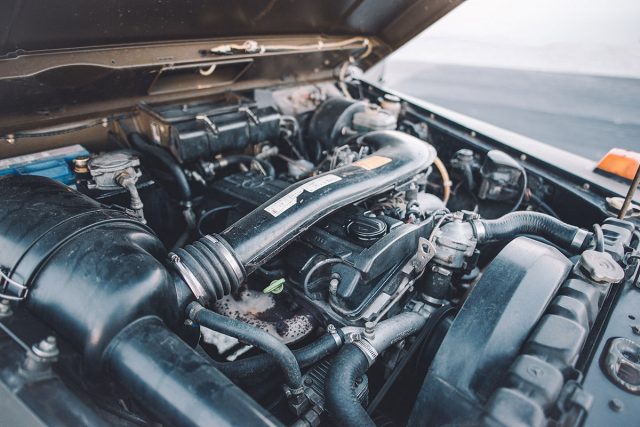 First off, this isn't technically a Mercedes-Benz. It was sold as a Puch from the company Steyr-Daimler-Puch out of Austria. They are a contract manufacturer who are responsible for the modern 4Matic systems and a bunch of other cool advancements, including the Halfinger Carter looked at recently.. They are exactly the same vehicle as the Mercedes, but they just have some different badges. This Puch G was sold to the Swiss military and judging by the hydraulic fittings on the front end, was probably used for some kind of construction or plow work. What's surprising to me is that it has a 4-cylinder gas engine and an ultra rare automatic transmission. I can't remember that I've ever seen an automatic in a military-spec G but maybe that's what the Swiss asked for. Also, this W461 is setup in a truck configuration but my guess is that this wasn't originally built this way judging by the rear window not looking very "Mercedes-like". Inside, it's the same bare necessities of bare floors, no air conditioning and no radio as well.
My guess is that this G has only been in private ownership for a few years because the Swiss military didn't start replacing them with newer diesel G300s until 2014. How it ended up in Spain is anyone's guess but seeing as it is the coastal resort town of Denia, it surely looks fairly nice for being a military vehicle. I don't have a ton of insight as to where the bidding might end up on this one. Usually trucks like these hover around the ballpark of $15,000-20,000 but seeing all the special things that this G has, it wouldn't shock me for it to end well north of that number.
– Andrew