Warning!
This post is in our archives. Links in this post may have been updated to point to similar cars available to bid on eBay.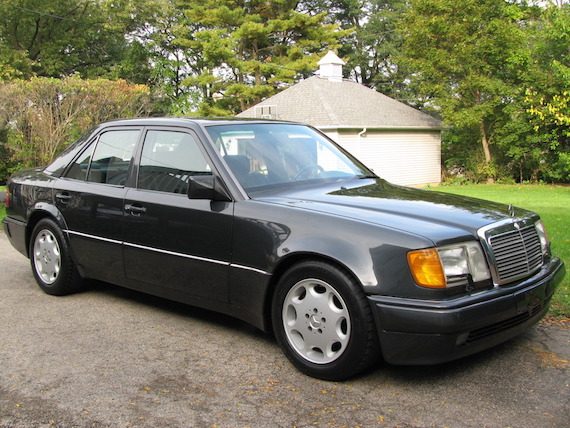 The product of a Porsche-Mercedes collaboration built on the W124 platform E-class, the 500E is a 90s super sedan that tends to fly under the radar (or did, until recently, when the collector market began to take an interest). The flared fenders and squat stance are the only external cues that set these cars apart from your average Stuttgart taxi. But beneath the surface lies a wider track, beefier brakes and a 5.0 liter V8 engine developing about 326 hp. That lump is sufficient to propel the 500E to 60 in just under 6 seconds. While that's not super impressive by today's standards, it was quick for the time. And the chief virtue of the 500E was never really its acceleration from a standstill (torquey and quick, though it was). It was its ability to cruise the autobahn at 160 mph all day, every day, while four passengers sat in dignified comfort in the cabin.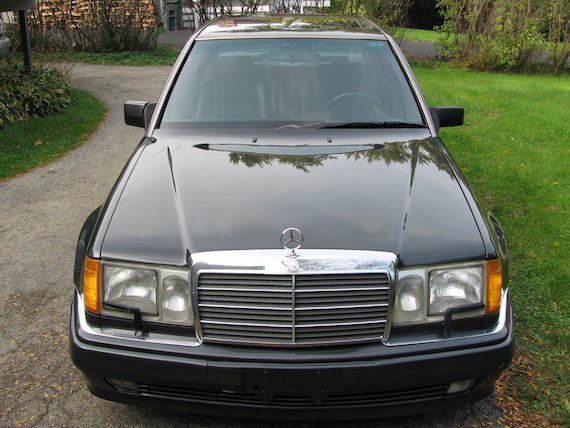 Year: 1992
Model: 500E
Engine: 5.0 liter V8
Transmission: 4-speed automatic
Mileage: 156,060 mi
Price: Reserve auction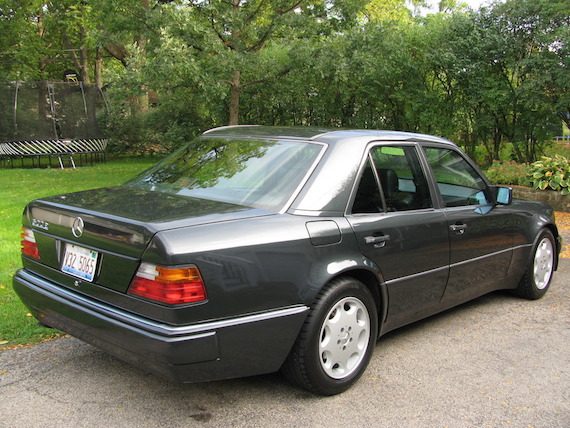 Please scroll down below this description for tons of detailed pics of the car. Depending on your internet speed, they may take a while to load.

I have the listing set up to accept bids only from US bidders in an effort to prevent scammers from ruining the auction. If you are a legitimate bidder outside of the US and you have a way to have the car picked up in Chicago, contact me through ebay and confirm that you can arrange international shipping, and I will add you to the list that allows you to bid.

I'm listing this car for a friend of mine. Please read his very detailed description below:
I am reluctantly selling my 500E so I can start a new project on an '80s Porsche 911 that I just picked up. I consider myself a "value add" collector of '80s and '90s German cars. These were the cars on my wall posters when I was growing up and now I get the opportunity to buy them and enjoy them. Because I travel a lot for work and selling on ebay is not my business, I always ask my buddy Chris to help me. He, like me, is a straight shooter and I think he does an amazing job to show every last detail and imperfection of the vehicle before you buy so there are no surprises. I say "value add" collector because I don't buy pristine collector cars. First, I can't afford them. And second, I really enjoy the process of taking cars with a good base and making them great cars that can still be used as drivers. The cars I typically buy and restore are passed over by collectors because of mileage. I like the fact that they have some miles on them because then I don't feel bad when I use them. I think this car fits that description perfectly. I have spent the last three years giving her whatever she needs and then some. Detailed service records will be included with the vehicle and I would welcome any buyers to speak directly with the various shops that have done my work. That's also something that I should point out. I am not a weekend mechanic figuring it out in my garage. Not that there is anything wrong with that. But the buyer should know that all of my work was always done by professional shops with solid reputations. I have always enjoyed the process of getting to know my mechanics and putting a plan together of what we are going to do and when.

I know a lot of the ads for these cars go into the unique history of this car and how it's at the Porsche museum in Germany… the wolf in sheep's clothing… and why it's so special. My assumption is that if you are looking at this car, you know what it is and it's superfluous to add all that content that is easily accessible online. The only thing I would note that you might not have seen yet is that in the October 2016 edition of Robb Report celebrating 40 years of publishing they did a 10 best of … over the last 40 years. The 500E was listed as one of the 10 most influential cars built in the last 40 years and a car to watch from a collector standpoint. Here is a link to the article in case you have not seen it: http://robbreport.com/automobiles/slideshow/10-most-important-luxury-cars-last-40-years/1990-1994-mercedes-benz-500e

I bought the car locally from the second owner who purchased it from a local MB dealer who took it in on trade. When I bought it, the car was solid but it was in need of some TLC and the owner had lost interest. During my ownership, I have given the car new life, and approached it with an open check book. A couple of highlights in terms of the service history:

Rebuilt the transmission. Reverse gear was going out, so while your in there…

New wiring harness.

New valve cover gaskets.

New exhaust. All three pieces which took almost 2 months to get from Germany. These are original MB parts that came with MB stickers on them.

New hydraulic suspension unit and replaced all lines up to pump on motor.

New power steering pump and lines.

New alternator.

New AC compressor.

New motor mounts.

Refinished the body work in several places where rock chips, minor dings and some surface rust had occurred.

Refinished all four wheels.

Repaired some minor wear points and tears on the upholstery (driver's seat bolster) and refinished steering wheel.

Detailed paint correction service and sealing using only German Modesta products at one of the most reputable detail shops in the country.

New summer tires in August. I have a pair of winter tires that will come with the car. I would never drive in the snow or salt but I do enjoy a fall and spring day where it's cold but the roads are clear, and summer tires don't grip very well in the cold.

There are many more pages of service history and I'm happy to go over as much detail as you like but those are some of the big tickets items that I think make this car stand out. The only thing left to do would be to get a new controller unit for the radio. The FM radio does not work. AM works fine. This part is about $200. I never did this because I was planning on upgrading the stereo while leaving the stock head unit. There is a great shop here that does this work for classic car owners who want to retain the original look but would like some modern features like Bluetooth and better sound quality. If you want, I can put you in touch with the shop that does the hidden upgrades.

A friend of mine who is an avid collector of 40 plus cars (and spends real collector money on his cars) always loved the 500E like me. It represents a level of quality and the end of an era of hand-built cars. He always wanted a 500E, and after driving mine he was determined to get one. For the next year and half, I helped track down 500E's that might be suitable for him. We passed on four cars over that time until we found one that was collector owned. That car is a 60,000 mile example that has been owned by meticulous collectors its whole life, and let me tell you I am jealous! That car will now live out its life in CA getting the highest level of care. What that experience put in perspective for me was how nice my car is considering its less than perfect owner history and significantly higher mileage. I think at the end of the day, that's what makes these cars so special. If you nurture them and look after them, they will give you unlimited miles of enjoyment. They truly are a piece of history, and I have thoroughly enjoyed being a part of its ownership history. If I had more resources, I would never sell this car. It's a blast to drive, It looks amazing, it is appreciating in value and, with the right care, it will run forever.

There are 385 pictures below detailing the condition of the car. Please look at all of them carefully and ask any questions you have before bidding. You can call Chris at 773-474-1744 or contact him through ebay.

It's located in the city of Chicago. If you are local and would like to see it in person, please call 773-474-1744 to set up an appointment.

Shipping a car can be expensive, so be sure to look into it before bidding.

Winning bidder picks up in Chicago or arranges for/pays for all shipping. $500 deposit via PayPal due within 24 hours of auction close. Remainder via one of the standard payment methods within seven days. No PayPal for remainder unless you contact us first. The car is to be picked up within three weeks of auction close. $25 per week storage fee after that.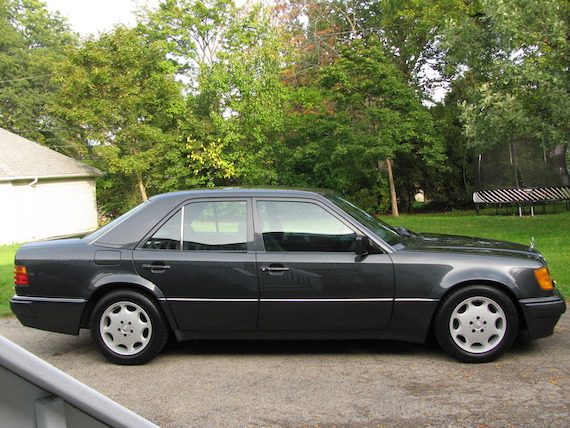 This car looks great in 199 Blue-Black over anthracite leather. While the mileage is relatively high (156k), the current owner is a fellow enthusiast who has worked to restore the car over the last few years, and it shows. There are a dizzying 385 photos in the listing detailing almost every aspect of the car. While they show a few blemishes here and there (seemingly limited to a few chips and scratches in the paint), mostly the sense one gets is of a well-loved, driver-quality car that has been brought to high standards. I really enjoyed reading the seller's description and looking through the photos; I think it's a great example of how to write heartfelt and engaging copy for an interesting car, aimed at the enthusiast community.
The asking prices prices on mint, low mileage 500Es now stretch into $25-$30k+ territory. Since this is a driver with higher miles, not a museum piece, I would expect it to sell for somewhere south of that, perhaps in the high teens.
– Craig