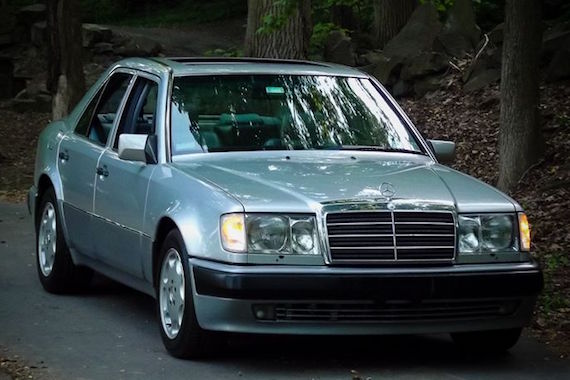 The 300k-mile 500E I wrote up last week was a bit of a hot mess. It needed extensive cosmetic work along with who knows what else. But to my surprise, it sold for $7,700. I wish the brave soul who bought it all the luck in the world, whether they restore it to its former glory or use it as a comically powerful beater. The sale price got me thinking: how much would you have to pay for high mileage 500E that wasn't all torn up? As if on cue, this nice looking example popped up on eBay. The miles are high, but the condition of this Porsche-Mercedes mashup looks great, a testament to the longevity and durability of the W124 platform on which it is based.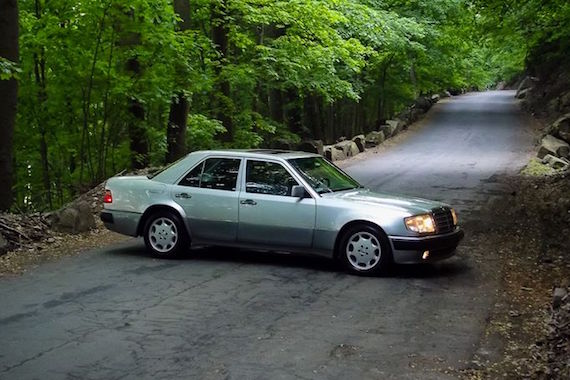 Year: 1992
Model: 500E
Engine: 5.0 liter V8
Transmission: 4-speed automatic
Mileage: 193,893 mi
Price: Reserve auction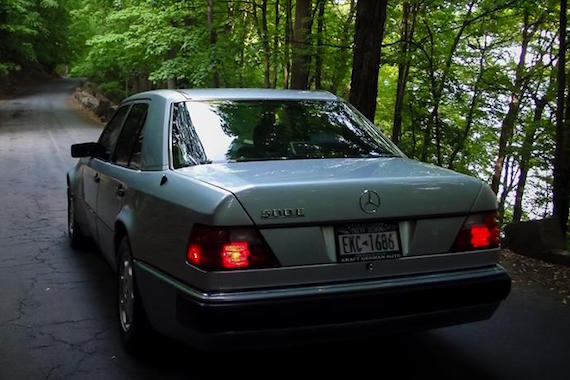 "The 500E you can drive anywhere."

This 1992 Mercedes-Benz 500E comes with an impeccable documented maintenance history and has benefited from extensive amounts of preventive maintenance. Everything works! The complete opposite of a low-mileage queen, this desirable silver 500E has been enjoyed daily and is hungry for the highway. The last 25-years of careful ownership makes for a wonderful original example with lovely patina.

If you're not familiar with this rare Porsche-Mercedes-Benz Collaboration, please read up on its fascinating super-sedan history. There is a great information page for the 500E on Wikipedia.

Well over $10k of recent work to make this a top quality driving machine: (serviced/new)
Tie-Rod Assembly
Inner Fender Well Cover
Undercover Splash Guards
Headlight Seals
Coolant Expansion Tank & Cap
Transmission Mount
Engine Mounts
Sway Bar Bushings
Brake Discs & Pads
Brake Pad Sensors
Turn Signal Relay
Air Vacuum Hoses
Front Lower Control Arms
4-Wheel Alignment
Brake Bleed & System Service
Belts
Retractable Antenna
Front Flex Discs
Parking Brake
Catalytic Converters
Auxiliary Cooling Fans
Oxygen Sensor
Headlight Bulbs
Chassis Lube
Pneumatic Locking System Serviced
All Fluid Change Including Transmission Service & Brakes
Strut Mounts
Neutral Safety Switch & Shifter Bushings
A/C Evaporator and Heater Core
A/C System Charge
Power Steering Pump & Box
Rebuild Both Rear Axles
Distributor Cap & Rotor, Spark Plugs
Rear Springs
Hood Insulation
Fuel System & Injector Service
Wiper Fluid Washer Tank & Nozzles
Fuel Pump & Fuel Tank
Power Steering Hoses
Alternator
Brand New Continental Extreme Contact Tires
The car is currently located in NY and I am happy to set up an appointment to show or arrange PPI at buyers expense. The car has been fastidiously maintained by Kraft German Auto Specialists and they are happy to vouch for the astounding condition. Have peace of mind, fly in and drive this 500E cross-country. For any additional info, questions, or concerns, please give me a ring at (281)797-8021. Thanks again and happy bidding.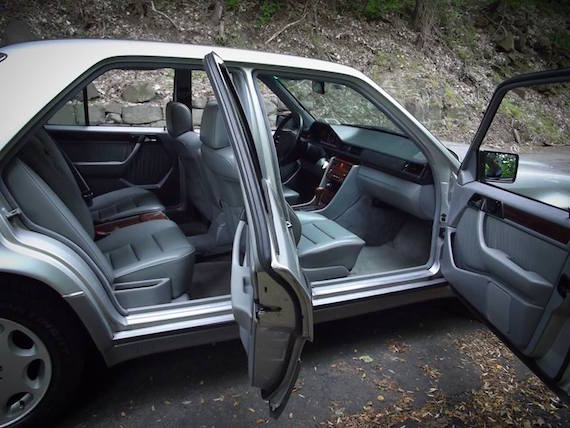 The seller has taken some moody pictures of the car. It's all very atmospheric, though I think some more candid and better lit shots would have been nice. What we can see is a clean Astral Silver (744) exterior over an equally tidy gray leather interior. The silver paint is a nice change from the more usual black or smoke silver (really champagne), and the interior looks remarkably clean for a car with 192k miles on the odometer.
The car wears correct 8-hole alloy wheels and Euro-spec glass headlights. While the headlight wipers have been removed (US wipers don't work with Euro lights), the blanking plates beneath haven't been swapped out, leaving some unsightly wiper components on show. The maintenance history listed in the ad doesn't throw up anything out of the ordinary. Most of the items listed are standard wear and tear jobs on the W124.
A google of the VIN turns up a couple of interesting threads about the car. A previous owner posted over at the MBWorld forum in 2013 listing the car for sale for $12,500, back when 500E values were a little softer than they are now.  Some more information about maintenance history is provided there. The VIN also surfaces in this thread from 2014, when the watchful contributors to the 500E board noticed a scammer was reusing images and copy from an old ad for the car. This affair appears to be wholly unconnected to the current seller.
It will be interesting to see what this car sells for now that the market for 500Es has really heated up. I expect it to settle somewhere in the $18,000 – $20,000 range.
– Craig