In my last C4 S6 post, I mentioned how the mid-year changes of the short run for the re-badged C4 made each one feel a little bit bespoke given that so few were sold. That's certainly the case here, as the running changes manifest themselves in interesting ways on this particular 1995.
The most obvious of the items that can be seen is that this car wears the earlier 16″ Fuchs-made forged wheels more traditionally associated with the S4. These were replaced later in the run by the Avus design Speedline wheels the S6 (and most S models for the next few generations) wore, but early production S6s were delivered with the leftover Fuchs wheels. Which is more desirable varies by preference, but in this case I think the Fuchs work really well. Early cars also retained the infrared locking system (denoted by a receiver at the base of the B pillar) and the manual locking rear differential button in the center console. These were replaced later by a radio locking system and electronic rear differential, respectively, in the 1995.5 S6 refresh. But what also is interesting to me, and perhaps one other Audiphile, is that this car has the later closed headrests, unlike the S6 we saw last week.
At the end of the day, these minor differences matter little in what was otherwise a very desirable package no matter what parts Hans grabbed to install that groggy Monday morgen. Presented in semi-ignominious yet signature Emerald Green Mica with Ecru leather, this one nonetheless looks like a keeper: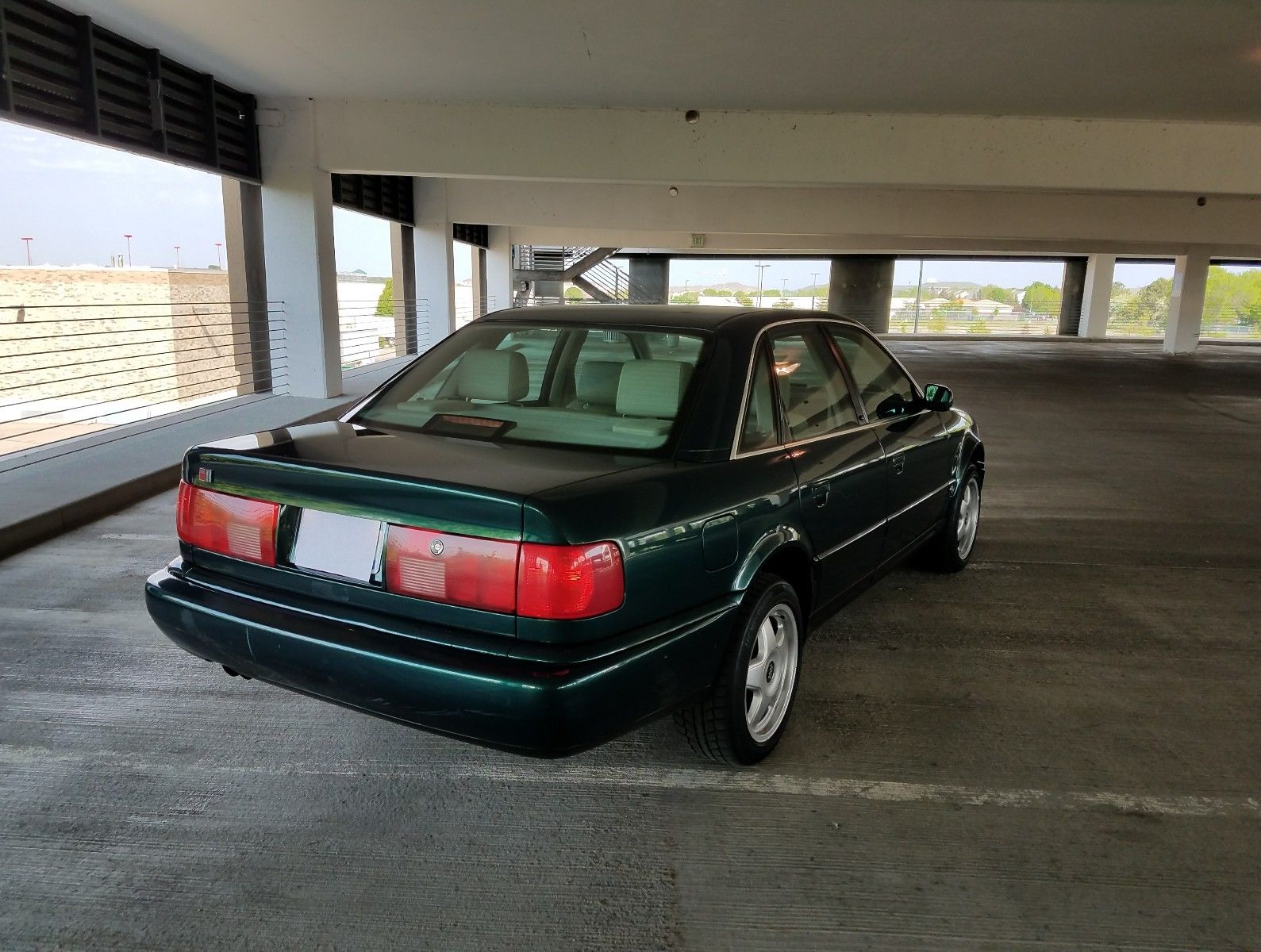 Year: 1995
Model: S6
Engine: 2.2 liter turbocharged inline-5
Transmission: 5-speed manual
Mileage: 162,000 mi
Price: No Reserve Auction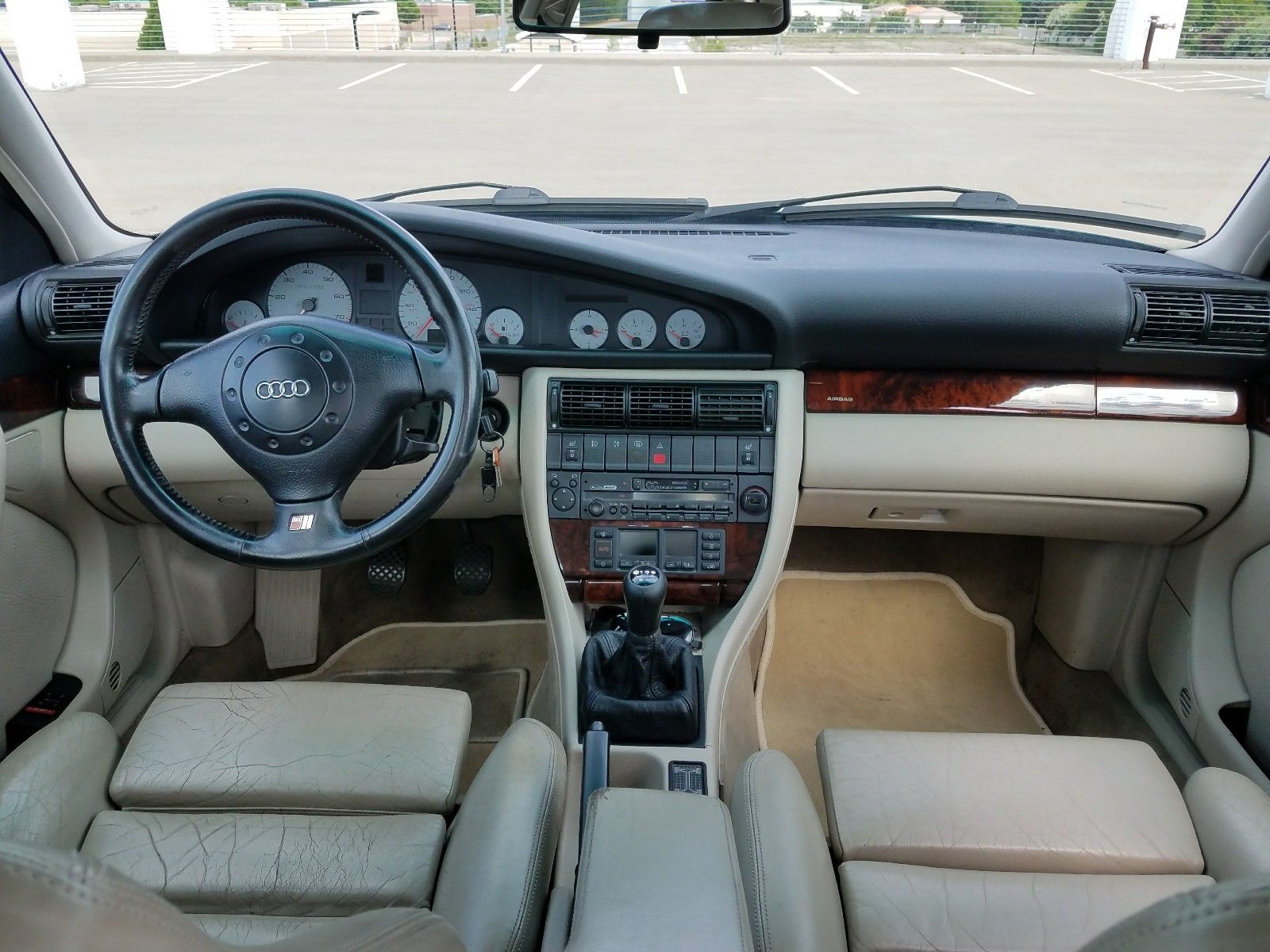 Up for sale is my 95 URS6 sedan.

Emerald green metallic over tan ecru leather

2.2L 5 Cylinder Turbo with 5 speed manual transmission. All wheel drive.

162K miles. Daily driver.

Im the 3rd owner. Owner before me was a 52 year old woman. Have copy of previous title as proof.

This S6 has not been modified in any way. It is completely original and well cared for.

Car starts and runs great every time. Suspension is smooth, engine is powerful, transmission shifts great, clutch does not slip. Rear differential lock also works.

Body and paint is in excellent shape for its age. No major scratches or dents.No rust on the fenders like most other Audis of this model. Only area to point out is rear left bumper scuff/scratches from a parking lot mishap that was poorly fixed with touch up paint. See Picture.

Everything works, all exterior, interior, and dashboard lights, all power accessories such as windows, seats, locks, and sunroof function as they should. Rear trunk push lock also works.

All 4 heated seats works and are really nice during the cold temps. Leather is in good shape with only the drivers arm rest having some wear. Clean carpet, no stains. Non smoker.

New front and rear brake rotors and pads, fuel filter, air filter, cabin filter, wipers, front CV axles, engine speed sensor. Resent oil and filter change. Car currently has winter tires installed but they have more than 70% tread left.

Some areas of annoyance are the radio does not want to turn on. Not sure why, have radio code and a new wire harness for an aftermarket radio included with sale. The autocheck is displaying low washer fluid even when full, and brake pad wear indicator light because the new front performance pads did not have wear sensor wires.

This car was purchased from an auction with the rear bumper damage as shows in the pictures. Both the previous title and and current title are clean. I have proof. I don't know why the Carfax states "total loss" when the only thing that was damaged was the rear bumper. This car has no other accident history. It is NOT a salvage title car.

This is a clean, unmodified, well taken care of example of a future Audi classic. There are not many left in this condition and with low miles. It even still has its working factory mobile phone in the arm rest.

I can gladly assist with inspections and shipping or pick up from the airport if needed.

Car is located in Apple Valley, Minnesota. Please don't hesitate to ask any questions.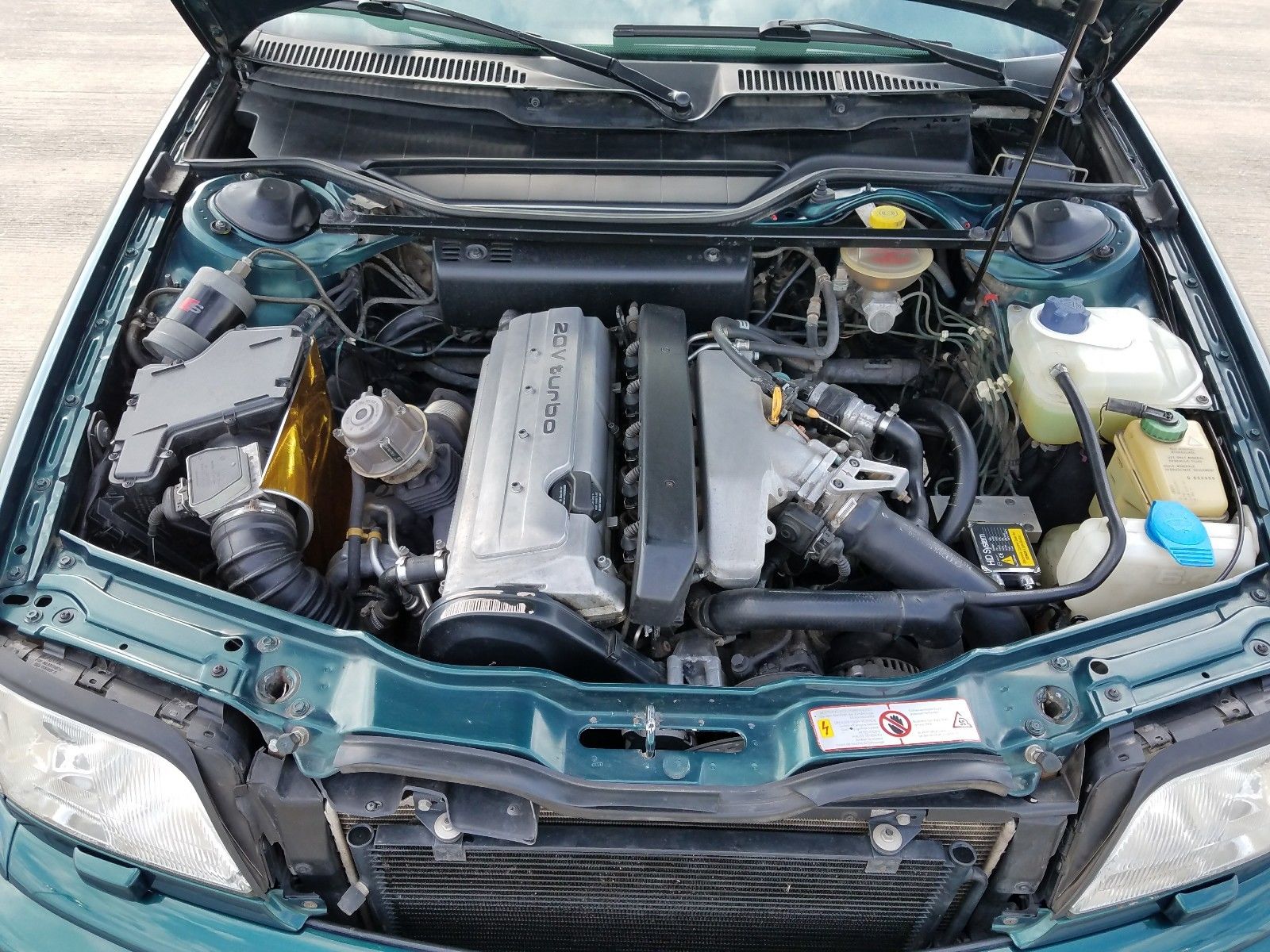 Outside of some minor electrical gremlins and the bumper fix, the general condition of this car is far above average and the mileage below. Condition is especially telling under the hood, where usually the AANs appear crusty and dirty with age unless they've been apart; not the case here. While the Ecru does show its age on the driver's seat, this is fairly typical and generally speaking this one is better than average. The Fuchs wheels have some rash and clearcoat damage on the lips (also typical), and both bumpers need new paint. But this S6 has a lot going for it, as the rest of the paint appears unusually good for Emerald Green Mica (which, like Europa Blue Mica, often suffers clear coat failure). All of the major electrics work and in unmodified form, this is a sweet looking package. As a bonus, the seller has listed the car as a no reserve auction. While there's some SNAFU with the title history, it seems reasonably explained and the bidding has just hit $3,500 with a few days to go. In normal circumstances, this car should hit $5,000 – $6,000, which still gives you a tremendous amount of value in performance; you can't buy this car's competition anywhere near this amount in equal condition.
-Carter