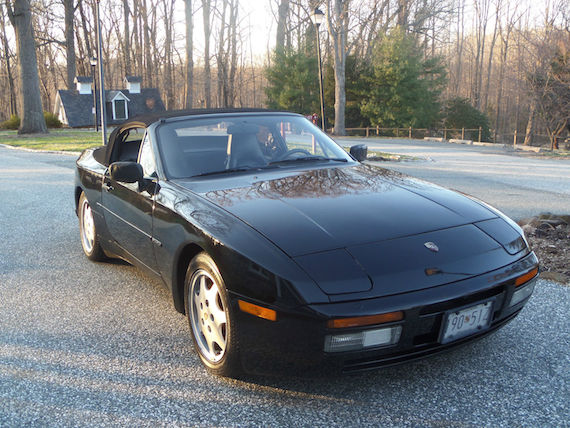 For years, the Porsche 944 soldiered on as a sports coupe. It wouldn't be until 1990 that Porsche decided to test the waters with the 944S2 Cabriolet. Sold in limited numbers, the car would offer buyers a cheaper alternative to an open roofed 911. It's longevity in the market was short, as Porsche unveiled a 944 replacement for 1992 in the form of the 968. Porsche would yet again offer a drop top variant in the new lineup, however. Let's look at two very nice examples of these rare convertible Porsches, the first a clean 944S2 Cabriolet for sale in Maryland.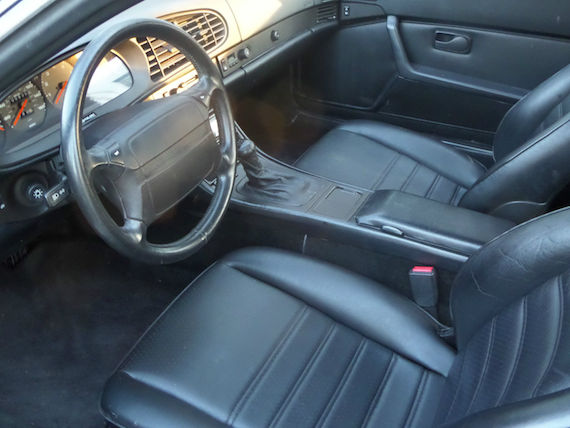 Year: 1990
Model: 944S2 Cabriolet
Engine: 3.0 liter inline-4
Transmission: 5-speed manual
Mileage: 105,839 mi
Price: Reserve auction
Up for Auction is a very nice 1990 Porsche S2 Cabriolet
Triple Black with 105,640 miles
3.0 liter 16 valve 4 cylinder, 5 speed
ABS, Driver and Passenger Airbags

Originally purchased at Len Stoler Porsche here in Baltimore in December of 1989. Traded in 2000 with 50,000 miles and resold at Valley Motors Porsche. I purchased the car from the second owner as a private sale in February of 2009 with 102,000 miles as a backup car for the family. I had a full service and review performed at that time and the car was deemed in excellent condition with no prior body damage. The front was repainted and disclosed by the dealer in 2000.

The car was garage kept by both owners and I have extensive documentation on the car (which I am rummaging through files looking for). The car passed the extensive Maryland inspection and emissions less than 4,000 miles ago in 2009. The timing belt was changed at 92,000 miles. I replaced all tires with Continentals in 2009 as well as a new top and replacement of the lower seat leather (getting stiff and stitching coming undone). I have kept the car fully serviced and have had some minor electrical work done (fix fog lights and rewire stereo which previous aftermarket unit was drawing on the system).

Replaced the brakes in 2009. Car is serviced at least 2x a year by my mechanic and is only used in good weather. There is an Alpine head unit as shown in the pictures that has a USB input as well as Sirius receiver integrated and installed in the head unit. I replaced the windshield and repainted the front end after a branch fell and dented the passenger fender and cracked the windshield. All body panels are, to the best of my knowledge, original to the car. I did file an insurance claim at that time and will most likely show up in history. I have not checked to see. Work was done to a very high standard. Taken out of winter storage and driven 200 miles this past week.

The car drives strong and has a solid clutch. Shifts very well. No leaks. I average 27-28 mpg in spirited driving. Oil pressure is excellent and the temp gauge never passes the 1st quarter of the range. Air Conditioning works well. Power top is fully functional and the original fitted boot is in the trunk. Cruise, Pwr Windows, Locks and Pwr Seat Height all work as they should. Dash has no cracks and Lloyd mats are in excellent condition.

Only issues that I am aware of are the interior overhead light does not go on when the door is opened, the clock in the dash is broken (common problem), the struts for the trunk should be replaced as they are original and do not "pop up" when you press the electric release, which does work, however, the key works fine. There is some minor curb rash on the wheels and a couple of minor dings.

This is a good driver quality car that has been very reliable and more practical than I every thought. My kids are now at an age where they don't fit in the back and would rather not be seen with Mom and Dad anyway so we are going to spend more time running my 280SL.

If I could demand that a PPI inspection be done, I would, but I cannot. I do greatly encourage inspections. Please ask questions, I will do my best to get back to you. I will not answer questions about the reserve. Make me an offer if you like. Car is sold AS-IS WHERE-IS with no warranties expressed or implied.

I am located a little north of Baltimore, MD. Shipping and pick up is the responsibility of buyer but I will do my very best to accommodate you. Deposit of $500 is due with in 24 hours of auction end. Balance my be received before title and car are released.

Thanks for looking!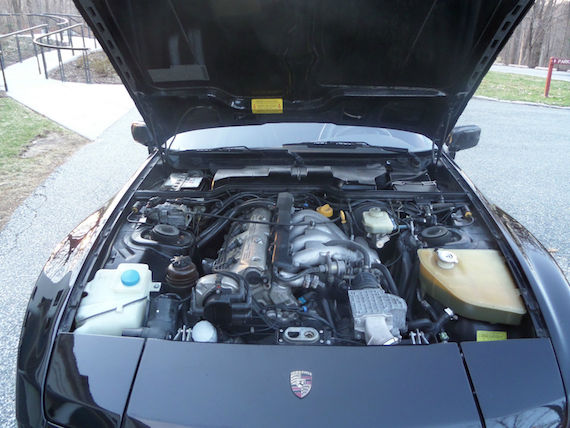 This appears to be a very tidy, no excuses car. Parts of it may not be original, but the work done seems to be of a high standard. Considering the few current faults and mileage, you're probably looking at around a $12,000 to $15,000 car. It's rare that you come across these cars period, let alone one in good shape, as just over 2,400 were sold in the US from 1989 to 1991.
Next up, we have the above car's successor, a well-cared for, Signal Red 968 Cabriolet for sale in Arizona with the desirable 6-speed manual gearbox.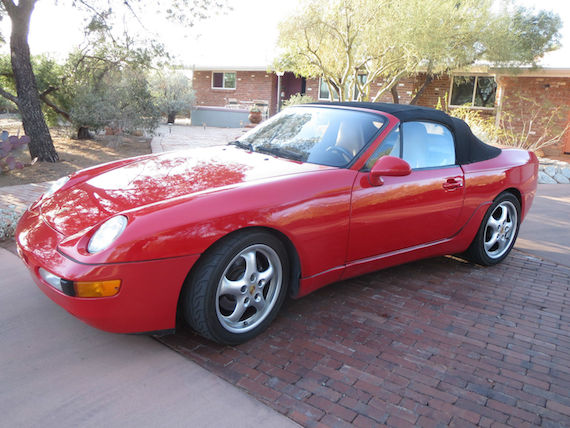 Year: 1992
Model: 968 Cabriolet
Engine: 3.0 liter inline-4
Transmission: 6-speed manual
Mileage: 118,756 mi
Price: No reserve auction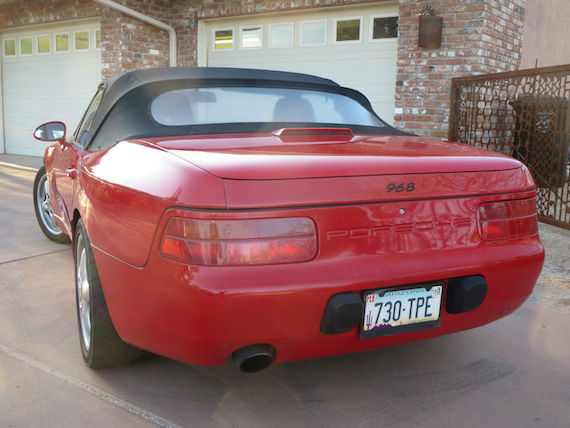 This is a well maintained example of the highly desirable Porsche 968. Owned by a five Porsche family, this car is offered for purchase only due to space constraints. Born in Germany but a lifelong West Coast resident (CA. & AZ.) this car knows nothing of harsh winters!

Vehicle features:
*Rare Gards Red/Camel leather combination
*High end Nakamichi 6 disc stereo
*Yokohama tires on factory Porsche rims (tires 80% front/70% rear – manufacture date mid 2011)
*New clutch and hydraulics (2009)
*New cam belt, chain and tensioner (2009)
*New windshield (2013)
*Optima battery

Vehicle is offered for sale locally as well, so auction could end at anytime. Bid early to ensure an eBay sale!

Transportation is the buyers responsibility. Local pickup is welcome or I will help to facilitate pickup by your shipper.

A deposit of $500 is required, through PayPal, within 24 hours of auction close with the reminder due and vehicle claimed within seven (7) days. Payments methods accepted; PayPal, wire transfer or cash please.

Good Luck and Happy Bidding!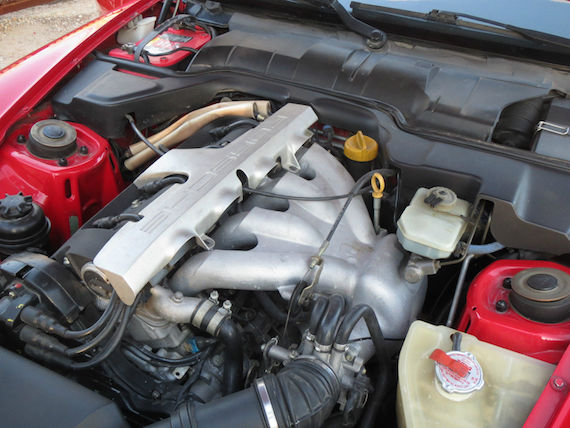 Looking over this 968, it sends off the all the vibes of the kind of car you'd want to put on your short list if you were in the market. Owned by folks who know the marque, recent clutch and cam belt service and a decent color combination. Very nice 968s have been creeping towards the $20,000 mark. If this was a lower mileage car, it might reach close to that, but as it sits, somewhere around $13,000 to $17,000 is probably a reasonable estimate as to where bidding will settle.
-Paul