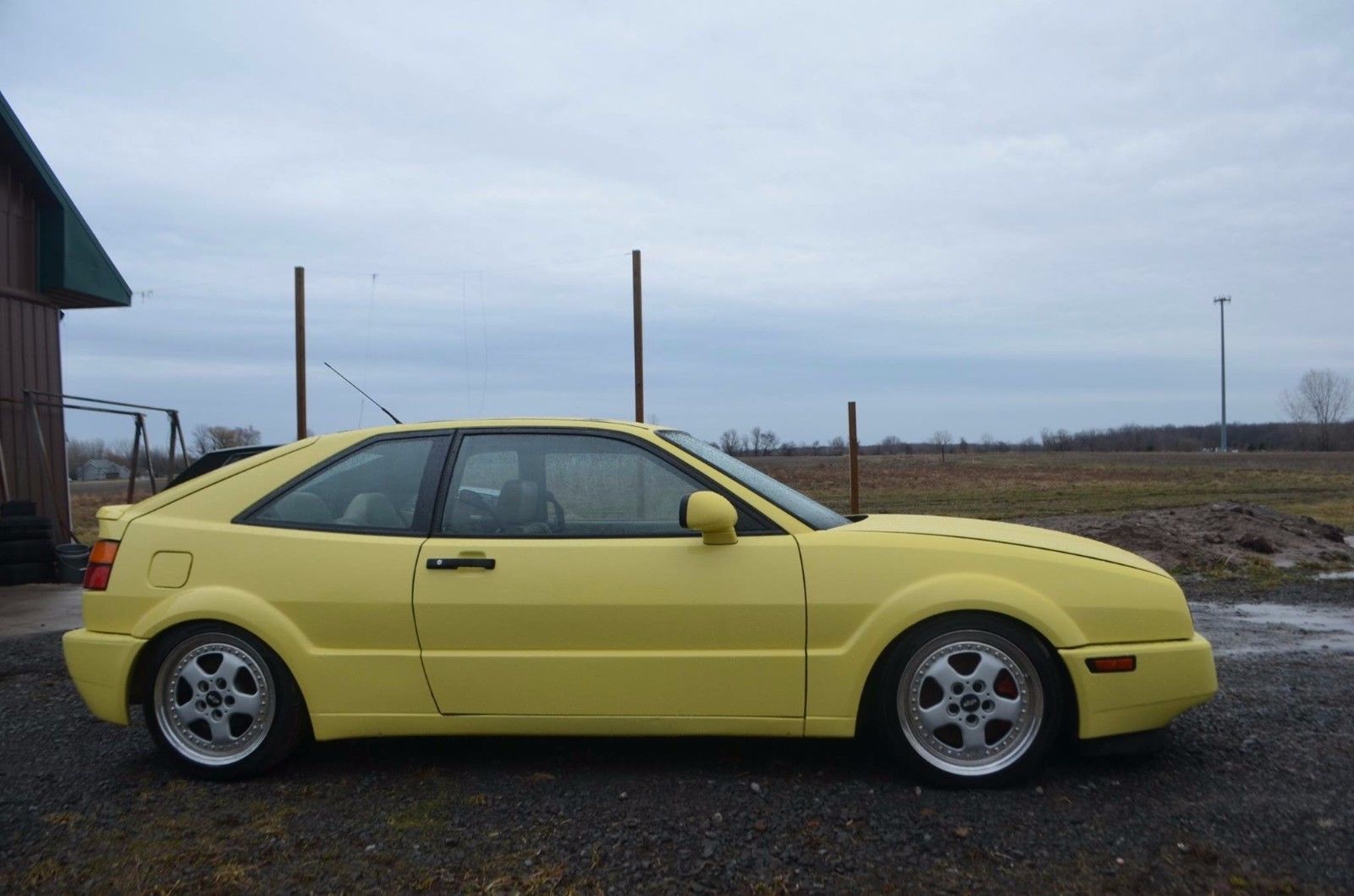 Update 7/10/18: Now with a lower $9,000 no reserve opening bid, much better photos and a black leather interior, the neat Jasmin Yellow Corrado 24V VR6 has been relisted relisted here
Update 3/11/18: The seller of this unique Corrado has relisted it again on a no reserve auction, but now with a higher $12,500 starting price.
Update 11/1/17: I was taken to task for my critique of the pricing on this example. The builder and many of his avid fans chimed in to offer more history and background of the build and its thoroughness. Additionally, the seller was able to point toward the $10,000 recent sale of a similar 24V modified Corrado to justify his pricing. It's a comp that I hadn't seen and certainly backs up his starting price argument. Thanks for the input to all our readership who know the seller and the build better than I did! -CJ
1992 was an interesting year of change at Volkswagen. At least for the next decade, it signaled the end of the hot water-cooled EA827-derived 4-cylinder models that had made it popular once again as a modern, efficient economy car that was capable of plenty of sport, too. 1992 was significant in this regard, because although the engine labored on for a bit, alongside the twin-cam, high-revving 16V GTI and GLI or the gutsy G60-supercharged Corrado came the new VR6 power unit. Displacing 2.8 liters, the new engine went without exotic forced-induction or peaky twin cams. Instead you just got low-end grunt and great noise, and 170-odd stampeding horses running across the front of your Volkswagen. In short order, the Passat, Jetta, GTI and even the EuroVan all moved to six cylinders.
1992 was even more notable because for the U.S. market it was the sole year where both the G60 and SLC VR6 were available together in the Corrado lineup. It was also unique because of the tones available; Corrados had been available previously in Nugget Yellow LK1B, but in 1992 it moved to Jasmin Yellow LK1D. It then promptly disappeared from the color catalog after few were ordered, making it one of the most infrequently seen tones on an already seldom seen car: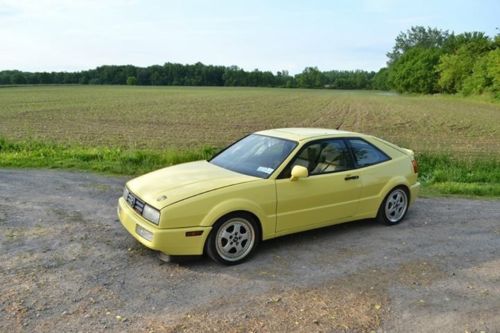 Year: 1992
Model: Corrado SLC
Engine: 2.8 liter narrow-angle VR6
Transmission: 5-speed manual
Mileage: 90,000 mi
Price: No Reserve Auction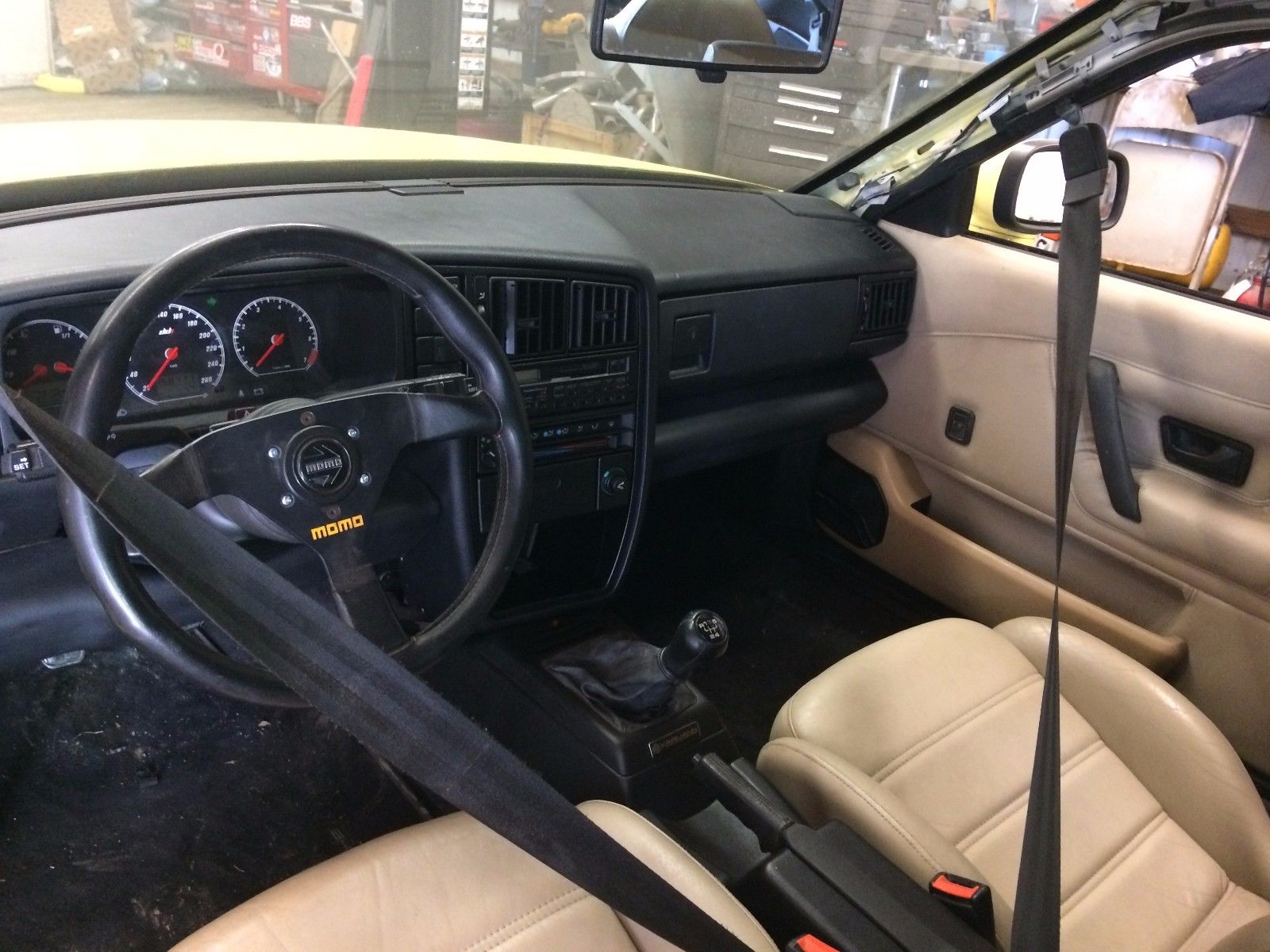 This is a 1992 Corrado SLC

Originally a California car, NO RUST.
1 of less than 10 in this color, K1D Jasmine Yellow was only offered in 1992 and I have never seen another personally.
This is my 12th Corrado and by far the best.
2003 GTI 24V VR6 BDF Engine, 15K original miles, COMPLETELY rebuilt, 1,000 miles since rebuild
Engine was built using ARP hardware, with stronger rods.
Megasquirt 3 Engine Management, tuned using a wideband O2 by a Professional.
>90K miles since new
I am the third owner to my knowledge
Photos of car on dolly are when I bought it 10 years ago, they show the condition before the rebuild
Fiber Images Carbon Fiber Hood (one corner near windshield has small chip)
MOMO steering wheel
Tan leather interior (not heated)
Car can be sold with mint Black Leather (heated) installed at buyers option for no additional cost. (Tan leather would not be included in this case)
Can be sold with Tan Leather installed and Black Leather uninstalled for Selling Price +$500
16×8 DP Motorsport Enduro Wheels (Only set in 5×100 fitment I have ever seen)
DDI indiglo gauge faces on 1992 European Gauge Cluster (stock gauge cluster can be included)
Coilovers
No Air Conditioning

Brand New Parts Installed 1,000 miles ago
Tie Rods
Wheel Bearings
Brake rotors and pads
Both driveshafts
Clutch
Timing Chains and guides
Rod and Main bearings
ARP rod and main bolts and studs
Head gasket
Thermostat housing parts
Radiator
Thermostatic Oil Cooler
Falken tires
Battery
Fuel Pump
Non-ABS brake conversion
90mm Euro front Lower Lip (new from dealer)
Lower bumper grille with tow hook covers (new from dealer)

Everything on the car works including spoiler.
The radio and speakers are original and work, though I believe 2/6 speakers are blown.
The car is a blast to drive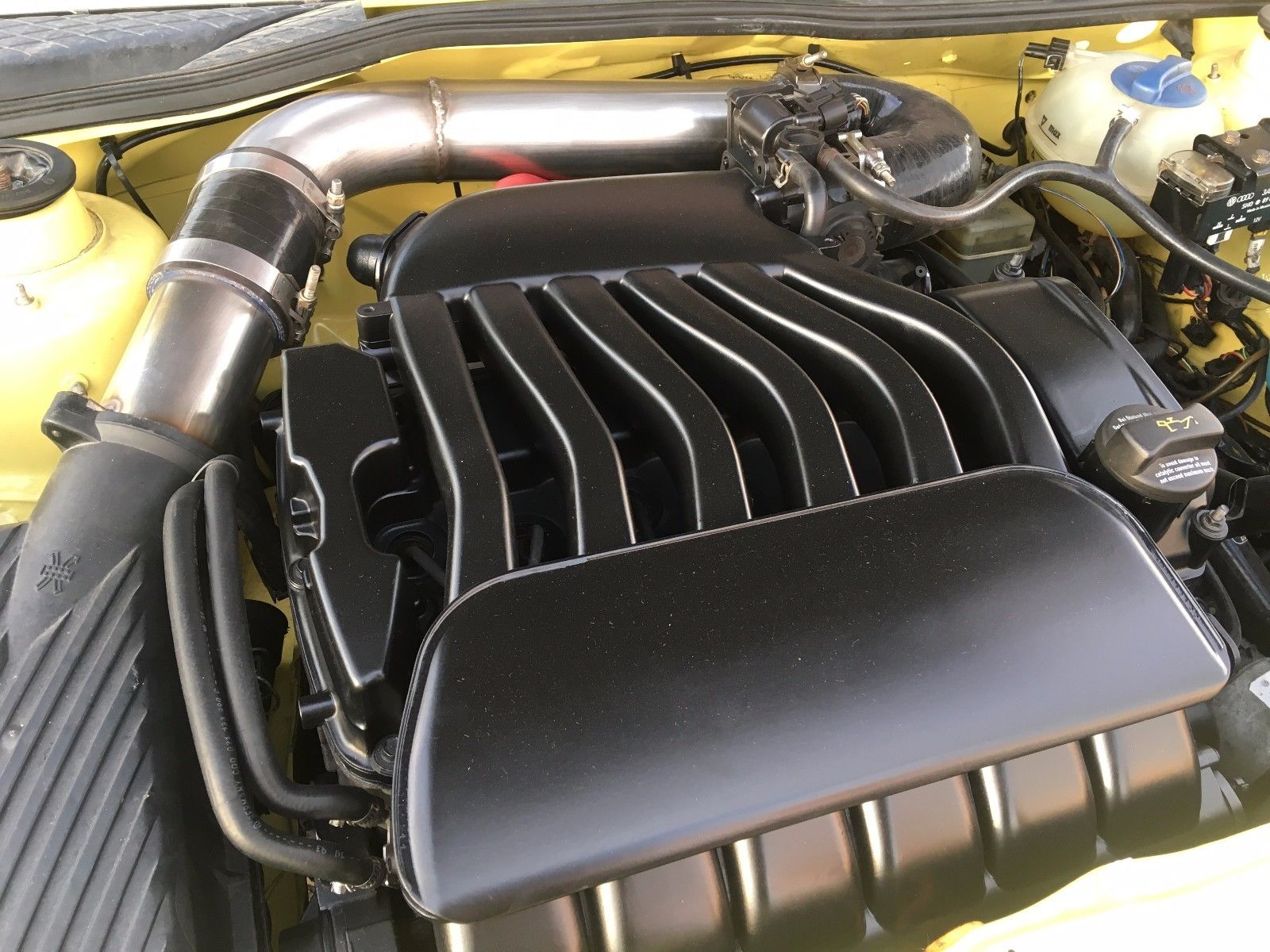 The photos are not great quality and the swap has necessitated removal of the air conditioning. But there's also a lot to like. First, the car was saved from being tossed away, and has been returned to running and driving condition. It's been turned up quite a bit, too – thanks to the addition of the BDF 24V VR6 from a newer GTI. Though it displaced the same capacity, the 10.5:1 compression and dual cams resulted in 200 horsepower at 6,200 RPMs and 195 lb.ft of torque; a healthy bump over the stock engine which wasn't exactly pokey to begin with. Why the motor needed to be rebuilt with only 15,000 miles reportedly on it isn't disclosed, but it appears that a lot of work has been done to get this car ready to drive. Solid numbers on how many Jasmin Yellow cars were brought in don't seem to exist, but the number is certainly small. The color itself is much closer to Porsche's pastel Lemon Yellow than the brighter Nugget or later Ginster yellows, making it an interesting and unusual pairing for the chassis. The tan leather and sweet wheels are well matched even though I think the ride height is a bit extreme, though with undisclosed coilovers it should be adjustable.
So, is this the one to get? Well, the opening price point is strong for a non-perfect, non-original Corrado. We've only seen a few trade for high numbers, but generally those are completely original time-warp cars. This one looks like a strong driver in a neat and the unusual outside color is a draw by itself. The seller's comparison of a similar example which recently sold for $10,000 would seem to justify his opening price point.
-Carter