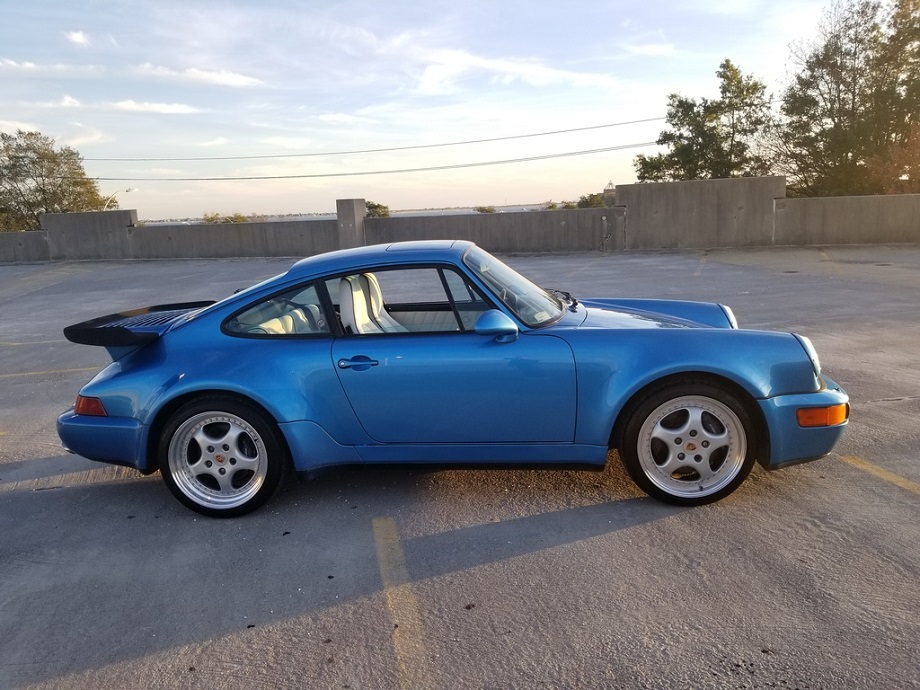 Update 12/31/2017 – the asking price on this 1991 Porsche 911 Turbo has dropped $20,000 to $109,995.
I always find it difficult to find 964 Turbos in interesting colors. Which is weird because of all the 911 models I feel like the 964 is the range I think had the largest number of unusual colors available. Porsche always has offered quite a variety, but it seemed with the 964 they let themselves go even further. But it seems buyers stuck with the more traditional options.
Here we have an obvious exception: a Tahoe Blue Metallic 1991 Porsche 911 Turbo, located in Brooklyn, with a color-to-sample Linen leather interior offset by a healthy dose of rootwood accents and 78,952 miles on it. I'm not very familiar with Tahoe Blue Metallic and this one is said to be 1 of only 3 Turbos equipped in this color combination. The extensive options list likely takes it to the top of that already exclusive company.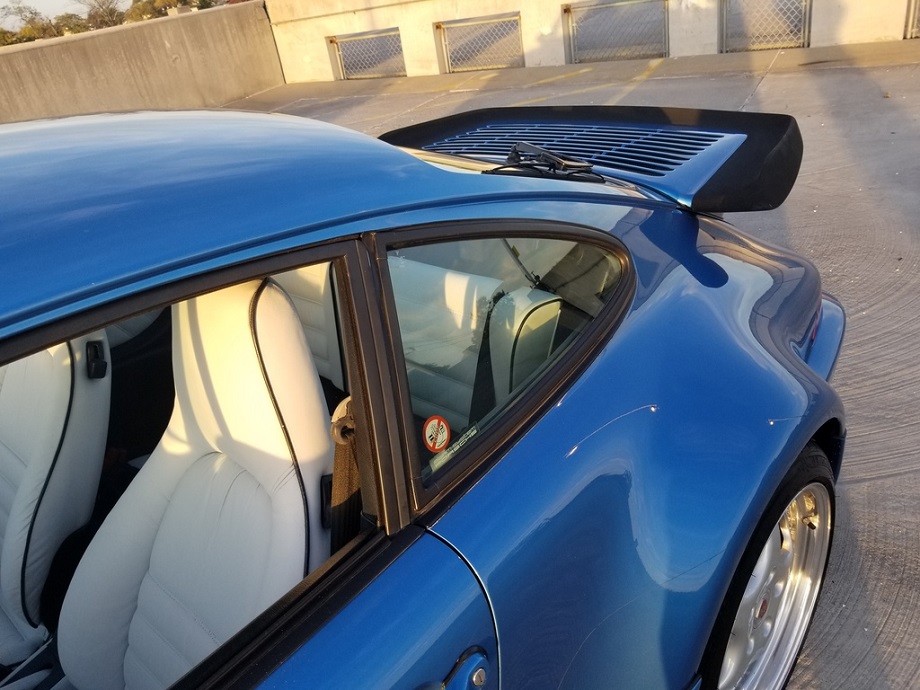 Year: 1991
Model: 911 Turbo
Engine: 3.3 liter turbocharged flat-6
Transmission: 5-speed manual
Mileage: 78,952 mi
Price: $109,995 Buy It Now
UP FOR SALE IS THIS RARE AND ONE OF A KIND 1991 PORSCHE 964 TURBO 1 OF 3 BUILT IN TAHOE BLUE METALLIC WITH PAINT TO SAMPLE WHITE LINEN LEATHER INTERIOR. THIS CAR HAS A VERY IMPRESSIVE CERTIFICATE OF AUTHENTICITY WITH OPTIONS INCLUDING

EXCLUSIVE EXTENDED CENTER CONSOLE
SUPPLE LEATHER SEATS
HEATED SEATS L/R
ELECTRIC SLIDING ROOF
DARK ROOTWOOD INSTRUMENT CARRIER
DARK ROOTWOOD SHIFTER LEVER KNOB
RIM CAPS W/ PORSCHE CRESTS
LEATHER GEARBOX TUNNEL
LEATHER TRAY BEHIND PARKING BRAKE
LEATHER CONTROL KNOBS
LEATHERGLOVE BOX KNOBS
LEATHER TURN SIGNALS / WIPER SWITCH
LEATHER POWER WINDOW SWITCHS
LEATHER FRESH AIR VENTS SIDE DASH
LEATHER FRESH AIR CENTER VENTS
LEATHERPARKING BRAKE LEVER
LEATHER FRONT BACKREST LOCK CONTROL
REAR WIDOW WASHING SYSTEM
LEATHER HEAT ADJUSTMENT SWITCHES
LEATHER DOOR ENTRANCE PANEL SILLS
TOTAL COST OF $118,728

THIS CAR HAS BEEN PART OF A PRIVATE COLLECTION FOR THE PAST 15 YEARS AND HAS BEEN LIGHTLY DRIVEN AND IMPECCABLY MAITAINED. MAJOR 13K SERVICE PERFORMED BACK IN 2012 AT 78,671 MILES AND THEN RECENTLY SERVICED AGAIN IN 2016. IF YOU HAVE ANY OTHER QUESTIONS FEEL FREE TO CALL ME AT 718-552-0042 ALSO INCLUDED IN THE SALE ARE THE ORIGINAL POLISHED WHEELS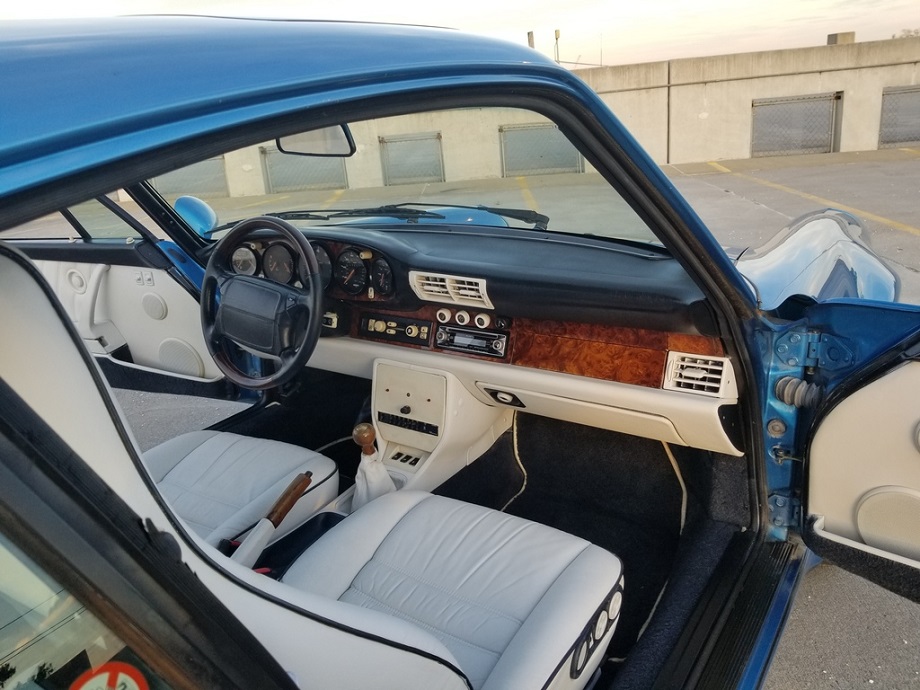 Let's talk about the interior because it's kind of insane. I can only assume the original owner asked the salesperson for a list of items that could be covered in leather, looked at the list and said, "Yes, all of it." The turn signal stalk is covered in leather! Same with the vents and control knobs! I'm speechless.
Those looking for a Turbo outfitted in the sportiest manner should look elsewhere as that's clearly not how this owner envisioned his car. But if you want leather and wood to adorn as much of your interior as possible, then this is the Turbo for you. The exterior color is beautiful and it does work well with the Linen interior. Both interior and exterior present quite well and even having seen almost 79K miles there's very little wear apparent. It's clearly been well cared for. It looks like it comes with some service records as well, though it's not clear how extensive those records are. This all makes for a good start for those searching for a very uniquely equipped 3.3-liter 964 Turbo. The asking price is fairly high given the mileage, but its rarity should still attract some attention.
-Rob