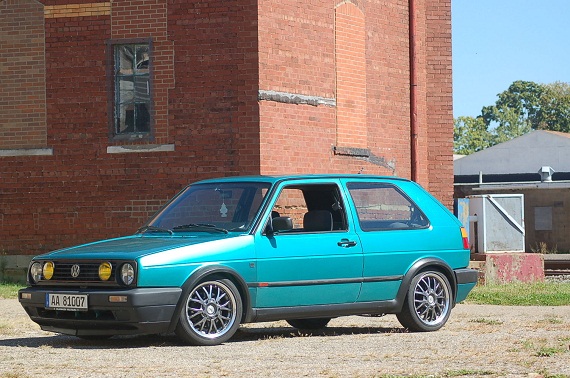 The Montana Green Mk.2 2.0 16V GTi has been a monster that has haunted my dreams since I first saw one. I'm not sure why it had such an impact on me, but it's undeniable how much I love this car. Every time I see one for sale I try to figure out some way to justify not buying it and every time the argument becomes a little less convincing. Fortunately for me, today's example isn't "the one" that I'd get – because today's example appears to be originally a 1.8 8V version which has had a serious motivation transplant in the form of the 2.8 VR6. Take a look: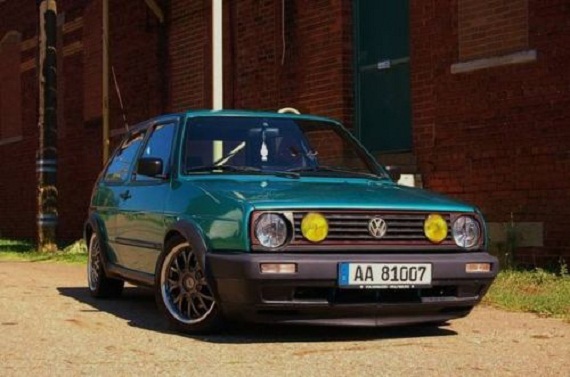 Year: 1992
Model: GTi
Engine: 2.8 liter narrow-angle VR6
Transmission: 5-speed manual
Mileage: 100,000 mi
Price: $4,200 Buy It Now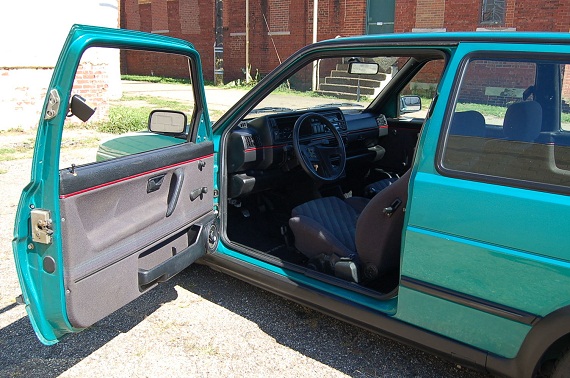 For sale is my 1992 RUST FREE GTI VR6. REAL GTI

DETAILS:
1992 Montana green GTI This is NOT A CLONE it is a REAL GTI

Rust free

Original paint expect for the front fenders ( the front fenders were replaced with euro fenders by previous owner)
VR6 5 speed Swap out of a Corrado, around 90,000 miles on it, runs and shifts good. ( driven daily)
Super Nice interior all in great shape. The drivers side seat has a small tear.
Super clean dash with no cracks.
Headliner is in perfect condition and sun roof works and doesnt leak.
Wind sheild has a few chips but all other glass is in great shape.
16″ wheels
bilstein struts and lowering springs
4 Wheel disc brakes
Brand new radiator and starter!
New axles and MAF sensor, installed last spring

Speedometer and Instrument Cluster works perfect, everything is wired in and working including warning lights

New Corrado Radiator and Starter installed this year!

Its ready to Drive and I drive this car daily to work. Im looking to go in another direction and that's why it is for sale.

Again this car is RUST FREE, Floors are solid, the bottoms of the doors are solid, the hatch is solid, no rust holes anywere!

occasionally it smokes a little while it idles And the E-brake doesn't work it will need cables replaced

So jump on your chance to own a rust free GTI! Euro plate is NOT sold with the car.

BODY:

The car has a Few scratches and some very small dents. The passenger rear body side molding is missing as well. Its an older car so please do not expect it to be

The Car is also Listed Locally for sale and I reserve the right to end the Auction at ANY TIME during this auction.

Call or TEXT with any questions or if you want to come see the car in person.

Alex (928)-533-0560
located in Canton,Ohio 44714

mileage on the body is Unknown—-

I have described the car to the Best of my knowledge. I have driven it for some time and it's a lot of fun. I am selling the car were is and AS IS. It is your responsibility to come and inspect it before you bid to see if this car is right for you before you bid. If you win the auction. The car is yours. Shipping is YOUR COST and responsibility to arrange. I will not be delivering the car. I can help arrange pick up or possibly drive it to a location for pick up but the Buyer will be paying me for my time and Fuel to do so. The car is located in Ohio and please take the time to find out what shipping cost is from ohio before you bid. Again shipping is your cost. The title will not be released until all funds are in my hand for the complete purchase price. I have a clear title ready to go. Thanks for looking and happy Bidding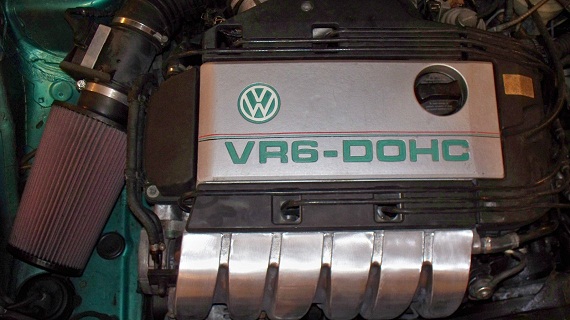 From memory, the Corrado transplant is the easier one to do into this chassis because they're very similar. Overall the car looks pretty good but certainly not perfect. There are a few dents, the front fenders shade don't quite match the rest of the car, the wheels are horrible, and there is some trim missing. To me none of those would be deal breakers, because I think this car is pretty reasonably priced at $4,200. Critical to Mk.2 GTis, there is no rust and the problems present couldn't be overcome without a little work. I'm guessing from the amount of replaced parts in the front that it suffered a frontal impact, and the Mk.2 is a fairly soft chassis so I'd check out that it was straight before pulling the trigger. It's not the car that haunts my dreams but I think it represents a neat way to get into a hot hatch that's pretty unique.
-Carter