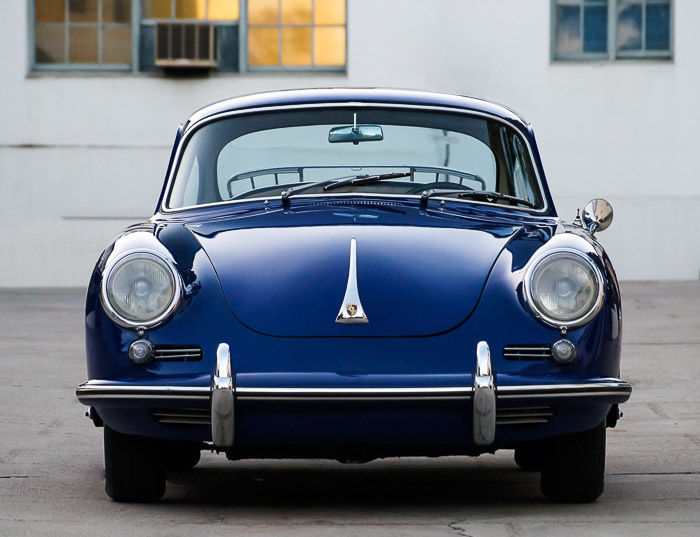 This post will not be about performance nor about driving excitement, rather it will be about beauty. While we primarily derive our enjoyment of any car from its mechanical abilities, we would be remiss if we ignored our other senses. A car that is quiet will always lack something in driving excitement relative to a car with a fantastic exhaust note. With many vintage cars it is precisely the fantastic noises that make up for their relative lack of performance compared with any modern machine. The same can be said for a car's appearance. We're all familiar with the wild beauty of a Lambo or a Zonda, but with a vintage car such as this 1964 Porsche 356C that beauty comes not through it garishness but through the grace of its curves and the perfect mix of polished chrome. It's the attention to minor details that allows us to stand back and simply stare. A 356C won't be fast; it won't stay glued to the road through high-speed switchbacks. But it will still allow for a degree of driving bliss that many modern machines cannot match. The example here is a fantastic combination of Bali Blue over a Saddle leatherette interior that's clearly been shown great care over the course of its life.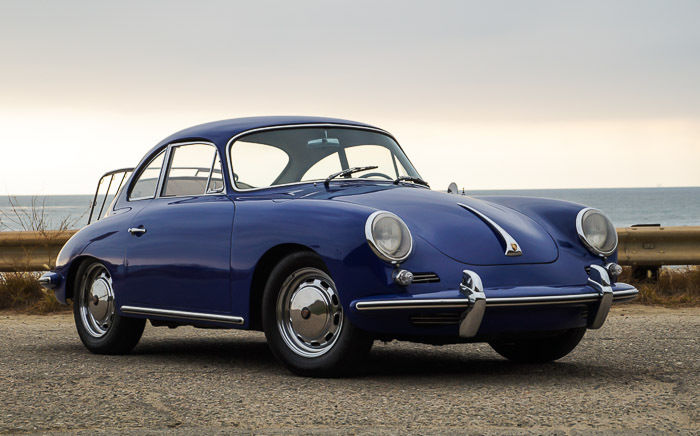 Year: 1964
Model: 356C
Engine: 1.6 liter flat-4
Transmission: 4-speed manual
Mileage: 77,395 mi
Price: Reserve Auction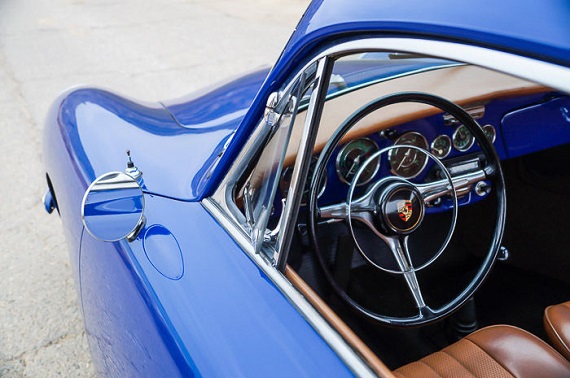 Offered for sale is an exceptionally solid, strong running and beautiful 1964 Porsche 356C Coupe finished in Bali Blue over a tan interior. Always a Southern California car, it has been garaged and cared for throughout its life and consequently has a solid and largely original undercarriage, with the exception of the battery box, which has been replaced. It's also always been conscientiously maintained, evidenced by a thick stack of receipts and service invoices going all the way back through 1968 and four documented owners. The current owner has had the car for more than 30 years and it's still titled on a California "Pink Slip" with both if its California "Black" license plates. Its correct 1600cc "C" engine has been rebuilt and the car is as strong running and fun to drive as any restored 356 we've owned, a pleasurable experience whether tooling around town or taking a long jaunt up the coast.

The car's Bali Blue finish is abundantly presentable, deep and lustrous and marred only by minimal imperfections, none of which are evident in any of the pictures. The body is very straight, the door and panel fits are all good and a magnet test reveals that there's no bondo or significant evidence of any accidents anywhere on the car. The chrome's been redone at some point and remains in good condition, as does all of the glass, free of any wiper scrapes or rock chips. The chrome wheels and colored crest hub caps are in great shape, the tires have plenty of remaining tread and the car comes with the charming optional rear luggage rack. The car's interior is equally as clean, the leatherette seats and interior panels showing only negligible wear, the carpets and rubber mats in excellent condition and the headliner still in great shape. The car also comes with its original spare, changing tools and partial tool kit.

Sold new to a Mr. W. Parness of Sherman Oaks, CA, the car was driven by him until 1969, at which point it was sold to a Mr. Taylor Gee of La Habra, CA. Well loved and frequently driven, he retained the car until the late 1970s, at which point it was sold to a Mr. Gregg L. Stern, of Manhattan Beach, CA. A significant collector, Mr. Stern was the then owner of the Big Sky Movie Ranch. Still in business today, Big Sky is a rambling independent film production facility and rural set originally made famous as the shooting location for such TV classics as Gunsmoke, Rawhide, Bonanza and Little House on the Prairie. Mr. Stern eventually thinned his collection, selling the car in 1982 to its current owner, a Los Angeles businessman. This owner has cared for and appreciated the car for the ensuing 31 years, first in Los Angeles and then here in Santa Barbara, using it predominately as a garaged and maintained weekend driver.

Now this beautiful example is looking for another caring owner who will continue to enjoy it, whether as the beautiful, solid, well-documented California weekend driver that it is today or as an excellent platform for a top tier restoration in the years to come. With the exception of the Italian supercars, perhaps no other marque has seen its classics generate more consistent appreciation over the last decade than Porsche, and acquiring an original, solid, documented California example is sure to yield rewards, in both monetary terms and enjoyment of ownership. Please bid accordingly

Please Note: The original pink slip for the vehicle has a clerical error showing that it's a 1965 model year car. We've researched the chassis number and can confirm that it is a 1964 model year example. As such, for exportation we would need to obtain a corrected California title, which is a simple process and generally takes two weeks. Please feel free to call or email if you have any additional questions.

We want this car to go to great home and would be happy to further discuss it and answer any questions, so please feel free to email us or call us at 805-202-4557. You can also visit us online at GoodmanReed.

Goodman Reed Motorcars

We've always had an appreciation for classic European cars and over the years have created an eclectic personal collection, which has afforded us the opportunity of meeting many other interesting enthusiasts, including the owner of this 356C. As such, this is a consignment car and can be seen by appointment at our warehouse in Santa Barbara. We try to give accurate descriptions of the cars we're selling, but we're enthusiasts, not experts, and we encourage and are happy to help facilitate personal or professional inspections. But please do so before bidding, as the alternative harms our ability to make sales to other interested parties who have done their proper due diligence before bidding

For U.S. buyers a 10% non-refundable deposit is required within 3 days of the auction's end, the balance to be paid within 7 days of the auction's end. Foreign buyers must pay in full within 7 business days of the auction's end. Buyer is responsible for shipping, however we'd be more that happy to help with recommendations and arrangements. The car is listed locally and we reserve the right to end the auction at any time should it sell prior to auction's end. Thanks for your interest.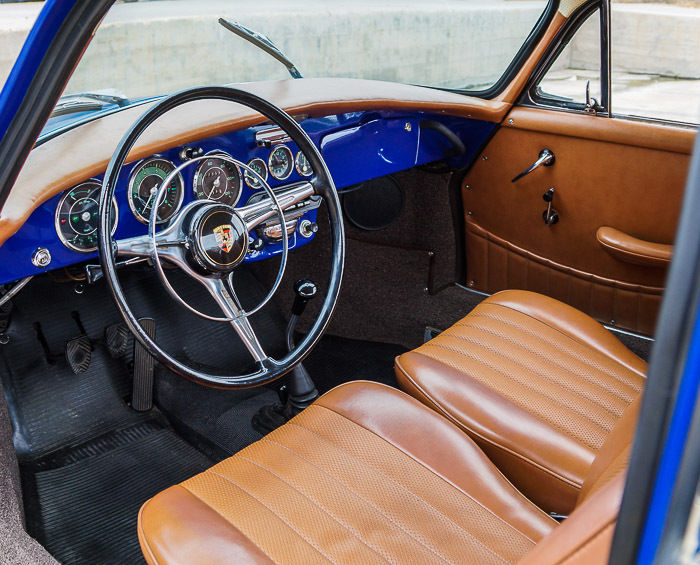 With the ocean as a backdrop this car looks absolutely fantastic! Porsche 356 values have seen quite a rise over the last few years and should certainly make for nice investments. Bidding here is currently at $46,100 with the reserve still on. At that price the car would be an excellent value, but I expect this will move up quite a bit before the auction ends. I can only imagine how enjoyable it would be to fire up the engine on a warm Saturday, roll down the windows, and head out for a drive along the coast.
-Rob