Edit 6/17/2017: This car has reappeared with new photos, a new listing and a $10,000 Buy It Now HERE!
The late 1980s saw an explosion of popularity in homologated race specials. There was the Quattro, fresh off the World Rally Championship. Though technically not a homologation, Porsche gave us a pretty popular option in the 944 Turbo which derived much of its technology from the successful 924 Carrera GTR/LM program. Of course, the real heavy hitters were the 190E 2.3/2.5-16 Cosworths from Mercedes-Benz and the superstar BMW M3. But all of those cars were pretty expensive; the Quattro and 944 Turbo were the best part of $40,000, the Benz hit the market at $37,000 while the slightly more affordable M3 stickered for $34,000. Still, inflation corrected, even the least expensive 1988 M3's sticker price would equate to roughly $69,000 in buying power today – hardly affordable to most.
However, for a little less than half of what the M3 cost, you could get a fair chunk of the high-revving European feel in the Jetta GLi. It hit the markets around $15,000, which felt like quite a lot considering a base Jetta cost only half that amount a few years early. But a lot of Jetta you got for that money. Like the M3, it had a deep front spoiler with integral brake ducting and a rear wing. It had a roof mounted antenna, too, and most Jetta GLis were full of power options like windows, mirrors, anti-lock brakes and sunroofs. Also like the M3 you got form-fitting Recaro seats, and light alloy BBS wheels. And at its heart was a high-revving double-overhead cam 16 valve motor hooked to a close ratio 5-speed manual gearbox. Of course, for $20,000 less than the M3, you weren't going to get a BMW – power, material and build quality, and the performance were all less than the Munich cars or the rest of that group previously mentioned. But impressive was the Jetta nonetheless, and the late run 16V GLis are still heavily appreciated today: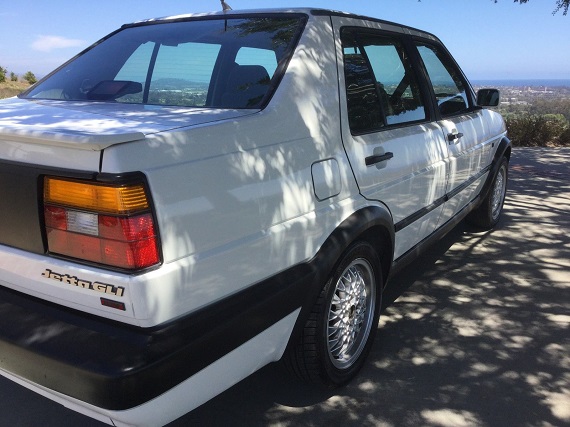 Year: 1992
Model: Jetta GLi 16V
Engine: 1.8 liter inline-4
Transmission: 5-speed manual
Mileage: 95,062 mi
Price: $3,789 Buy It Now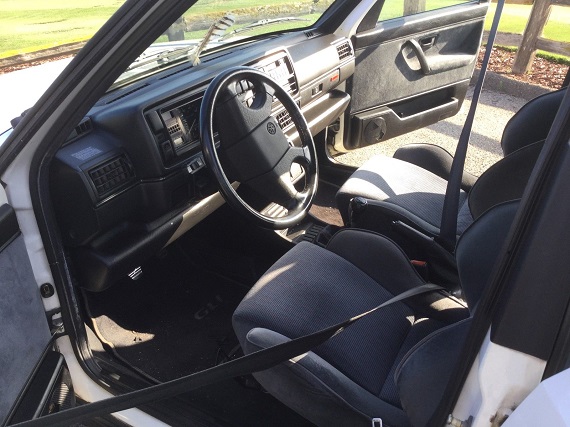 automobilemag.com/news/collectible-classic-1990-1992-volkswagen-jetta-gli It's in overall great shape, runs great, just passed smog inspection, upholstery is excellent, it's been very well maintained backed by a file of records, I believe it has everything described in the above link. Blanca (the name my daughter gave this GLI) for almost 25 years young has very few cosmetic flaws, that being said her head liner is a little droopy (typical for this year) a few small door dings, a crack in the windshield, dent on hood, ac and heater inoperable, blower works fine, all things a little TLC could make like new! Tires are good, this is very low original miles 95,062 for a '92. As the above link said, its on the cusp of becoming a classic so should maintain if not increase in its value. Overall Very clean looking inside and out!
As they did when new, the Volkswagens offer a slice of that high-performance pie on a shoestring budget. Can you even imagine an E30 M3 coming to market for less than $10,000 today? I've even seen rolling chassis with no motor ask higher than the $3,800 asking price for this GLi, and the same goes for 944 Turbos, Quattros and 190E 2.3s. Sure, this car doesn't have the style, presence, or ultimate speed of any of those, but it'll provide driving thrills and keep you smiling. The Alpine White paint is a nice understated look on the GLi, offset well by the silver BBSs and gray Recaro striped interior. It's also pretty easy to upkeep relative to the Tornado Red that was more popular, or the clearcoat failure prone Capri Green Metallic. Of course, for the low entry price the car isn't perfect and if you want it so you'll need to fix the air conditioning and headliner which won't be cheap but should be worthwhile. It's also missing at least one of the ridiculously expensive for what they are BBS RA center caps and cheap to replace Fuba mast. Still, for below $4,000, even if there are some headaches it's hard to see how you could go wrong on this Jetta.
-Carter