When discussing the 1987 GTI we featured on Tuesday, Brian made an excellent point. Ever since the Mk2 version, Volkswagen has been trying to recapture the magic of the original GTI. Somehow, every generation seems to come up a bit short in one way or the other. A big reason for this is the size. When you put a Mk1 and MkVI GTI side by side, the difference is enormous. So naturally, with an increase in mass, you would lose a bit of the nimbleness in the process.
For years, though, Europe has had an answer to the larger, successive generations of Golf GTIs with their Polo supermini. A B-segment sized hatchback, Volkswagen has offered a hot version of this car throughout the years, beginning with this particular model, the Polo G40. Never shy to test out new technologies on mainstream vehicles (see recent Passat W8), the Polo G40 had a supercharged, 1.3 liter four cylinder engine, a 40mm version of the 60mm supercharged used in the Corrado G60. This provided this hot hatch with 115 horsepower and capable of the dash to 60 mph in just over eight seconds, modest by today's standards, but still perfectly respectable.
With the first G40 being introduced in 1987, we might see a few of these trickle stateside eventually. This 1992 example has very low mileage and looks sharp in white with the black trim accents. A nice compliment to the white GTI Brian featured on Tuesday.
Year: 1992
Model: Polo G40
Engine: 1.3 liter supercharged inline four
Transmission: 5-speed manual
Mileage: 43,780 mi
Price: £6,495 (~ $9,830 USD)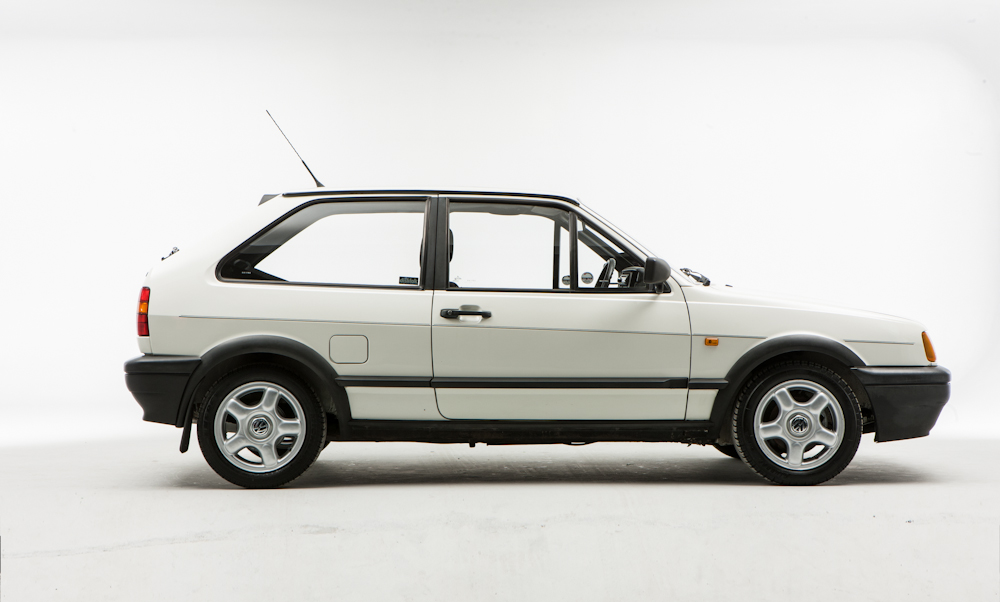 MODEL HISTORY
The Polo G40 Coupe first made an appearance at the 1985 Frankfurt Motor Show, named the Polo GT G40 and based on the established Mk2 Polo. This concept was subsequently built by Volkswagen in 1985 with three prototype cars that set a number of world endurance speed records, such as the 1.3 litre class records for speed over 24 hours, and speed over a distance of 3,107 miles. A couple of years passed and in 1987 with the records tucked under their belts Volkswagen produced a limited production number of just 500 Mk2 G40s in left hand drive that became available to customers in Europe. With such a limited run, these examples sold out almost immediately with many being purchased internally by Volkswagen employees.

The Mk2 G40 was never officially available in the UK and it wasn't until the face lift version of the Mk2 (Mk3 in the UK) was introduced. There were only minor specification changes including clear front indicators, tinted rear lights along with a new radio/cassette unit. Various other options were available such as front fog lamps and a sunroof. Volkswagen produced only 500 right hand drive G40 models for the UK, therefore becoming a rare sight on British roads these days. Together with their exclusivity and easy tuning potential, the Polo G40 has become exceptionally popular with collectors and enthusiasts alike, rightly earning its place in hot hatch history.

It was the engine that made the car so special. Volkswagen decided to equip the 1.3 engine with a supercharger for its immediate power delivery, rather than a turbo charger and its associated issues of cooling and turbo lag. Referred to by Volkswagen as the 'G-Lader' after the shape of its spiral displacer, the 1.3 G40 supercharged engine produced a maximum power output of 115 bhp at 6,000 rpm, and generated 109 lb ft of torque at 3,600 rpm. Performance figures now stood at an impressive 8.1 seconds (0-62mph) and a maximum top speed of 121 mph. With the increase in engine performance Volkswagen also equipped an uprated braking system that included 20mm ventilated front disc brakes, with ATE single-piston sliding calipers.

EQUIPMENT
Supercharger, Sunroof, Rear seat belts, CD player, Alloy wheels

EXTERIOR
This rare G40 is finished in Alpine white which makes for a great contrast with the black plastic wheel arch extensions and deep bumpers. After two days in our detailing studio the paintwork presents very well with a nice glossy shine. There are a couple of minor marks and imperfections consistent with the cars low mileage but nothing that detracts from the overall appearance. All of the plastic trim has held its colour and is free from scuffs or scratches. The glass and light lenses are all clean and free from chips or cracks.

INTERIOR
The interior of the G40 is first rate, the seats are very supportive and the driving position excellent as everything falls easily to hand. The seats show no wear to the fabric and there are no creases or sagging on the bolsters, the door trims are also well finished in matching fabric. None of the controls show any wear or damage and everything works as it should. The black carpets are unmarked throughout, the boot area is very clean and the rear parcel shelf is free from any after-market speakers.

ENGINE & TRANSMISSION
The car has been owned for the majority of its life by the same chap who was a qualified engineer, this has kept all the mechanics in first rate order and you can really appreciate the attention to detail when driving the car as it feels very tight and precise. Since arriving at 4 Star the car has been fully inspected and serviced and is now ready to be enjoyed on those twisting B-roads.

WHEELS, TYRES & BRAKES
This G40 has been fitted with a set of 14″ VW 5 spoke alloy wheels that are all in good condition bar a couple of minor curbing scuffs. The back tyres are about half worn and the fronts have been recently replaced and are showing minimal wear. The brakes are all in fine working order and pull the car up quickly in a straight line.

HISTORY FILE
This little G40 was first registered in August 1992 and stayed with its first owner for 2 years. It was then purchased by a Mr John Hawley, a keen car collector and engineer who kept the car in his garage for 19 years before passing it onto a friend of the family in 2011. Despite owning several other cars Mr Hawley kept the G40 in constant use clocking up a few thousand miles each year.

The car comes with lots of MOT certificates dating back to 1995 to fully verify the low mileage and quite a few of the old tax discs.
The asking price of nearly $10,000 USD is certainly eye watering for a sub Golf model, even if it is the hot version in mint condition. For most markets, right hand drive would be a detriment, but I'm guessing there are plenty of Volkswagen enthusiasts in the United Kingdom who would be interested in such a car, even if there are faster options out there for less money. I'd suspect maybe £1,000 to £2,000 off could be enough to entice the right buyer to take ownership.
-Paul