Warning!
This post is in our archives. Links in this post may have been updated to point to similar cars available to bid on eBay.
The Volkswagen Vanagon, or Transporter as it was known elsewhere in the world, was a box on wheels beloved by holiday makers, business owners and contractors involved in all sorts of trades. While the US was offered both passenger van and camper van variants, buyers in other markets could opt for a panel van, a three-door, double cab pickup (DoKa), or the variant we see here, a single cab pickup (SinKa). A few of these more utilitarian Transporters have made their way to North America, including this rig, a 1998 Single Cab Turbo Diesel with Syncro four-wheel drive.
The 1.6 liter turbocharged inline four diesel is mounted in the rear, similar to the usual water cooled, horizontally opposed four cylinder, or "Wasserboxer" that US customers were familiar with. The bed is rather different than what we are used to seeing with US pickups, as the sides fold down and there is a storage compartment with access on either side underneath the bed. This SinKa for sale in Ontario, Canada is a neat bit of kit for someone wanting a fuel efficient, go anywhere utility vehicle.
Year: 1990
Model: Transporter Single Cab Turbo Diesel
Engine: 1.6 liter turbocharged inline four diesel
Transmission: 5-speed manual
Mileage: 120,000 mi
Price: No reserve auction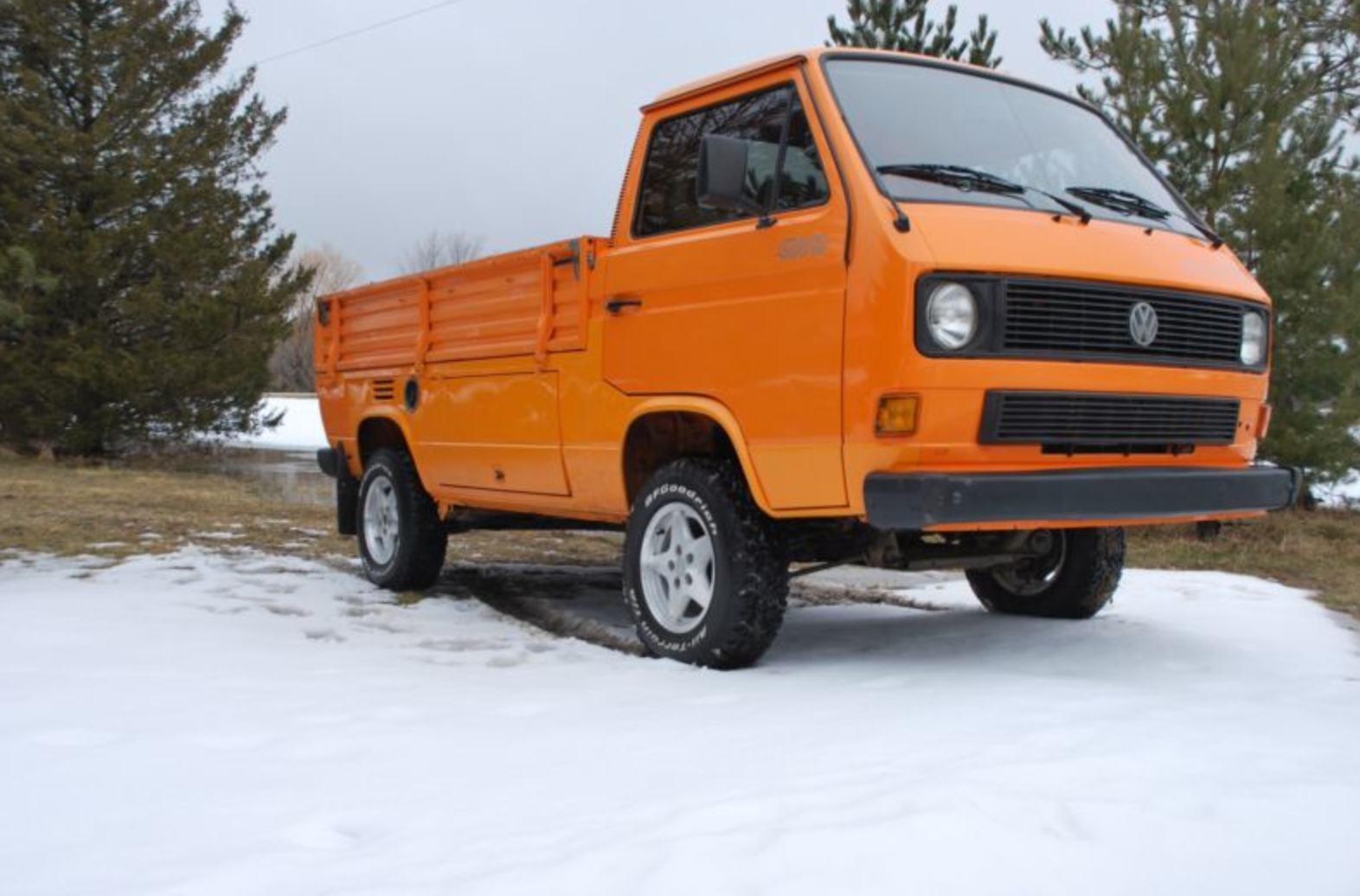 Very rare 1990 factory Turbo Diesel Syncro Single Cab Transporter. 207,000 kms/129K. 1.6L (JX code) Turbo Diesel, 4WD Syncro. Sold new in Germany as a workman's truck. It was maintained through it's life and drives very nicely it does however show regular "patina" as expected with a workhorses lifestyle. As the pictures show it still has plenty of curb appeal and generates compliments every time I drive it.

Mechanically, it starts excellent even in very cold weather. It has good power (similar or slightly better than a waterboxer) and yet turns excellent fuel economy. Some might claim to break the 30mpg mark but I've not quite been able to achieve this. The brakes have been inspected and renewed as necessary. They stop straight, firm and without shimmy/wobble. The steering feels tight and positive on the road. The trans shifts very smoothly between all gears, warm or cold. This is a non-locker unit. Oils and filters are fresh. Tires are brand new BF Goodrich All Terrains in 215/75 R15s. They're mounted on super rare Australian 5 spoke 5×112 T3 Alloys. Been saving these rims for years for the right rig. Personally I think they suit the truck perfectly.

Exterior, it's largely original paint with some touch ups over the years. It shows well. Windows have been tinted with quality Llumar tint. All lights, wipers and other safety gear works as it should. The undercarriage on this truck is very clean for its age. To me, it is the selling point of the truck. It must have never seen snow and seen only inside storage during it's life in Germany. Only the lightest surface rust on certain components, the rest are original paint. I have detailed undercarriage pictures I can send to interested parties. Working underneath is a real treat, as components come apart like they're supposed to! If you've ever worked on a salt encrusted vehicle you'll know preciously what I mean. Please review the pictures closely, I've tried to take very detailed and honest pictures of the truck. It shows well – the pictures clearly show that but it is 23 years old and was used as it was intended and as such it's not perfect nor is being advertised as such. For someone who want's a clean solid Turbo Diesel 4wd truck they can actually use – this is perfect.

Interior. Three person set up. I added an upgraded T3 seat with armrests. I tried to get a set that closely matched the 2 person bench and think I achieved that goal as well as possible with factory North American VW offerings. All the glass is in good condition. Gauges all work as they should. Both windows rise/lower properly and both vent wings open/secure as they should. Door handles inner and outer work as they should. The factory rubber flooring shows pretty good considering it's job and it's age. It has a bit of green paint that never bothered me enough to scrape or paint black – I'll leave that to the new owners discretion.

VIN: WV2ZZZ24ZLG094564. A 1990 model, not 1980 but eBay's system doesn't recognize imported VINs.

I have in my possession a clear Ontario registration/title. If the seller requires assistance with importing or shipping, I'll gladly assist but the costs are the buyers exclusively. I have plenty of other pictures. I can send them to interested parties. Thank you for taking the time read my ad.
We featured a practically new DoKa with less than 50 km on the odometer that was offered via a reserve auction back in November and didn't meet the reserve with a final bid around $42,000. That is certainly an outlier when it comes to these trucks. But don't underestimate this SinKa. I'd be more apt to bid on a truck like this, as it has a patina becoming of a work truck. There's been a fair amount of bidding interest, and if I had to wager a guess, I'd suspect this truck might change hands for a figure somewhere between $15,000 and $20,000.
-Paul