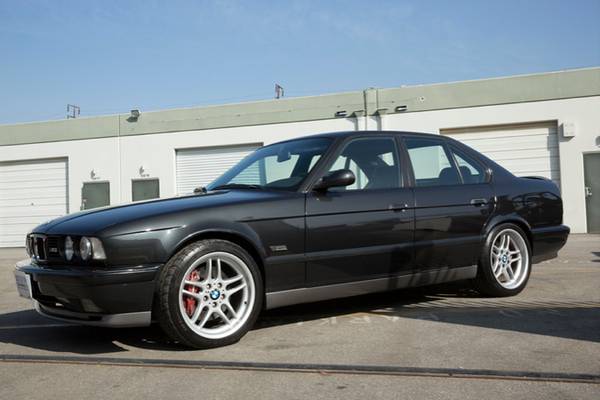 An interesting discussion developed around Andrew's E39 540i post and my subsequent E12 520i post; what's the best looking 5-series? One of our readers, William, suggested that it was the E34 – certainly a sentiment that I can appreciate. As his evidence, he submitted this car, probably the best example of how good a E34 can look – a European market M5 with the potent 3.8 liter S38. Whether or not you agree or contend that this was the best BMW, best E34, best M5 or best looking sedan ever, nearly everyone passing through these pages can appreciate that this is one great looking Teutonic piece of engineering; a driver's car in true sleeper form. It might not be the definitive M5 for everyone, but it's a pretty darn good example of how wonderful those two letters can be:
Year: 1993
Model: M5
Engine: 3.8 liter inline-6
Transmission: 5-speed manual
Mileage: 85,049 mi
Price: $20,000
Photo gallery here:
http://croatianstyle.smugmug.com/photos/swfpopup.mg?AlbumID=47359799&AlbumKey=c5TXPs

Euro Spec 1993 BMW M5 with the 3.8 liter engine hand-built at the BMW Motorsport facility in Garching, Germany between 1991 and 1995. From MRegistry "The final evolution of the S38 powerplant, the S38 B38, was introduced in later versions of the European-spec E34 M5. In this application, the bore was increased (to 94.6mm) and the stroke lengthened (to 90mm), raising the displacement to 3,795cc. Though the added capacity makes the S38 B38 the largest six-cylinder production BMW engine of the modern era, it represents only a portion of the major revisions developed by BMW Motorsport at this time. Others include:
-Larger intake and exhaust valves
-Lighter pistons
-Shorter connecting rods
-50mm throttle bodies (increased from 46mm)
-Increased compression to 10.5:1
-Bosch Motronic 3.3 engine management system
-Distributorless ignition with six coils
-Redesigned intake and exhaust manifolds
-Revised throttle butterfly linked to Motronic engine control
-Dual-mass flywheel with harmonic balancer
-Metal catalysts for reduced backpressure and better heat conduction

The S38 B38 is normally rated at 340 hp (ECE) or 347 hp (DIN) at 6,900 rpm and 295 lb/ft of torque at 4,750 rpm. However, a cleaner version was developed for Austria and Switzerland, rated at 334 hp (ECE) and later 327 hp (ECE). The S38 B38 can be identified by its grey (instead of black) cam cover surround."

This particular example was imported into California last year by myself from Japan, completely rust and accident free body/undercarriage that has never seen salt. These don't come up very often, here's your opportunity to get a great e34. Below is a detailed description:

It has been repainted in its beautiful, original, Diamantschwarz (Diamond Black) with contrasting Silver front air dam, side valances, and rear diffuser. The paint shines beautifully and is in excellent condition overall, though lazy prep work on the roof panel shows some lines when looking at it under fluorescents. This M5 is equipped with the M-Technic side mirrors and Shadowline (satin chrome) exterior trim in place of chrome. The wheels fitted are the very rare e34 specific forged and staggered M Parallels that have year old BF Goodrich wheels mounted with plenty of tread left. Odometer currently reads 136,874km or roughly 85,049mi.

The interior is upholstered in Schwarz Nappa Leather, including the center console, and door panels, which is in excellent condition, no marks on any of it. The leather steering wheel rim has the M tri-color stitching and the leather-wrapped shift knob has an illuminated shift pattern, no wear on either of these. An aftermarket Pioneer headunit has been installed, with two USB outputs as well as Bluetooth connectivity, charges and plays an iPhone. An original CD43 radio can be included for my list price. The air-conditioning blows cold and all electrical items/switches are functional, including the rear electric sun-shade, and front/rear seat heaters.

The engine oil and filter have been freshly changed with synthetic and an OEM filter. It idles smoothly, and provides the thrilling pull the S38B38 inline 6-cylinder engine is known for.

This Euro M5 has a Getrag 280/5 five-speed manual gearbox that is mated to a 3.91:1 final drive that empowers it to accelerate faster than North American Specification M5s, which are equipped with a taller 3.73:1 final drive. The gearbox shifts tightly and is quiet.

From MRegistry, "All 3.8-liter M5s are further fitted with the Adaptive M Suspension, an M-tuned version of the Electronic Damping Control system that was introduced in the E32 7 Series. This system electronically chooses the optimum shock rates based on sensors that gather road speed, steering input, acceleration/deceleration loads and lateral body movements. In addition, five-speed 3.8-liter M5s equipped with the Nurburgring Package and all six-speed E34 M5s have a control switch on the dashboard that allows the Adaptive M Suspension to be locked into its firmest setting during aggressive driving." This car has the Nurburgring Package.

It has been upgraded with larger Brembo brakes, front and rear, steering and suspension are all in excellent functioning condition, tight, and no known repairs are needed at this time. I replaced the intake boot as the original ones rubber had worn and a hole was present when depressed around the ring seal.

This is a rare opportunity for a BMW Motorsport enthusiast to own a car there are very few of in North America. It has been extremely well preserved over its 21 years, and is a much better choice than a cheaper project car. That said, there are a couple small issues: the headliner is loose on the sunroof panel and rear parcel shelf(quite common e34 issue), and the rear driver's side speaker doesn't operate at present. There is some wear on the driver's bolster, nothing a leather repair kit can't fix, no cracks in it or the seat bottom. Stone chips have blessed the lower front valence and a few spots on the nose of the hood where they have been touched up. Comes with a clean California title and can be shipped or driven anywhere across the country.

do NOT contact me with unsolicited services or offers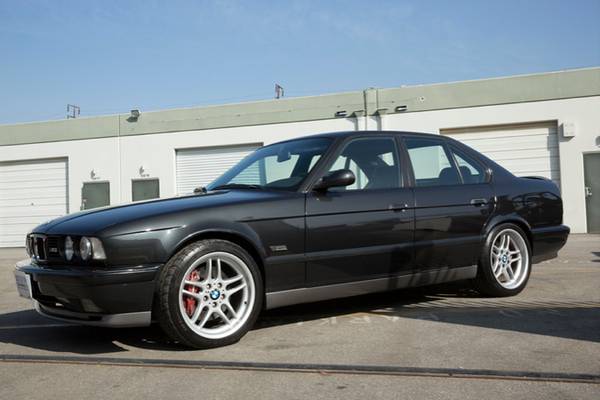 The seller definitely takes time to explain what makes the Euro M5, and in particular this example, quite special. And special it is, from the 3.8 S38 to the Shadowline, forged M-Parallel and M-Tech equipped exterior. The black over black will always be popular and this example stands apart from some of the Hurricane Cloth Euro examples I've written up in the past. The seller's gallery unfortunately doesn't translate well into these pages, but does outline the generally very good to excellent overall condition of the car. Of special note is the clean California title; undoubtedly, a major headache relieved for those wishing to buy a European market car. The result is one heck of a package with effectively all the heavy lifting done. That work comes at a justifiable premium; $20,000 is currently towards the top end of the E34 market, but in this case this car strikes me as a pretty good deal. It'd be hard to find an equal condition E28 at the same price as they continue to head upwards, and while you could get into a clean E39 it becomes a preference. The E34 was still a bit old-school compared to the E39 but still had a modern twist, performance and conveniences in a great looking understated package, and that's a recipe that I like.
Thanks again to William for a great spot!
-Carter